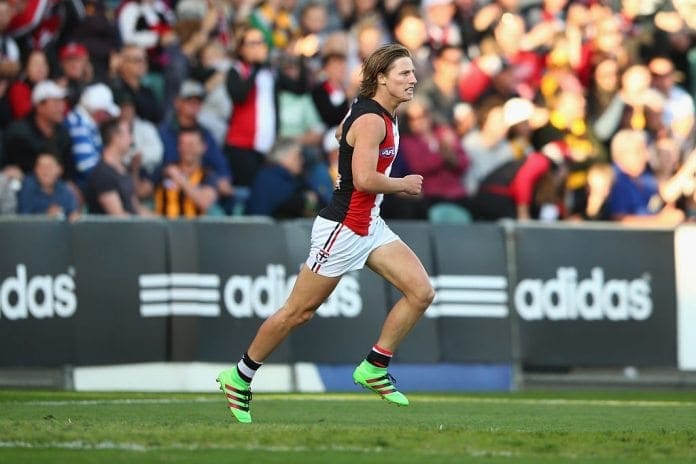 A Round 16 clash between Eastern Football League outfits Balwyn and Doncaster East was abandoned early on Saturday afternoon following a sickening incident that rendered former St Kilda forward Eli Templeton unconscious.
Templeton remains a listed member of Port Melbourne's VFL team, however, as Adam Skrobalak's side had a scheduled bye over the course of the weekend, the 26-year-old had been granted an opportunity to represent Balwyn at the local level.
In an incident that was described as "not malicious" by News Corp, Templeton was sent hurtling over the fence of Balwyn Park after colliding with former Docker and Bomber, Zac Clarke.
The Tasmanian then landed head-first on concrete, knocking him unconscious for at least two minutes.
As ambulances were called to the venue located on Cherry Road, a decision was made to abandon the contest despite Balwyn's 23-point lead at the time of the sickening knock.
Secondary reports have claimed that the home side was awarded the win and that Clarke had been reported for his role in the bump.
Speaking to The Herald Sun, former AFL coach and current Balwyn boss Rodney Eade claimed that all players involved in the fixture were left shaken by the event, also stating that the venue's boundary line remained painted in close proximity to the outer fence.
Balwyn president Richard Wilson also added that Templeton had made contact with the club on Saturday night and was expected to make a full recovery.
"He spoke on the phone last night, he's cognitive and speaking and passing all the tests, which means he's bascially going to be OK," Wilson told local footy scribe Paul Amy.
"It was one of those unfortunate things that can happen, if he'd been three metres down the field he wouldn't have hit anything."
In a brief social media statement posted by the Port Melbourne Football Club, the Borough professed that they were aware of the incident and expressed a desire for the public to respect Templeton's privacy during his recovery.
The formerly dreadlocked forward represented the Saints on 14 occasions between 2014 and 2016, with his time in the red, white and black punctuated harshly by a debilitating shoulder ailment sustained during St Kilda's clash against Brisbane in Wellington, New Zealand during his debut year.
Templeton joined the Linton Street side after being selected with the 3rd pick of the 2014 Rookie Draft before making the move to North Port and playing a starring role in the Borough's 2017 premiership.