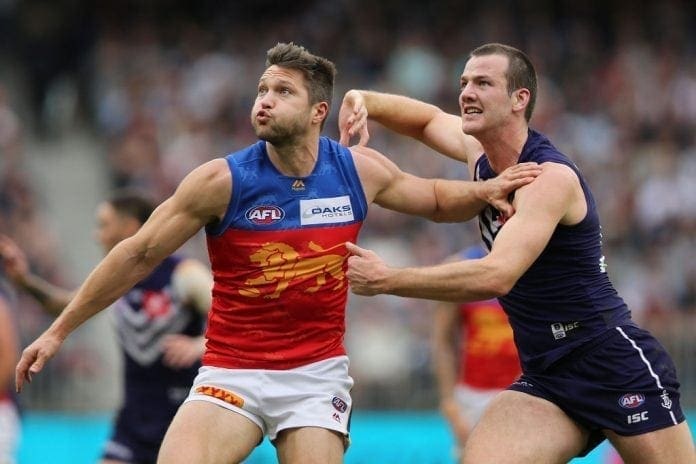 Brisbane Lions veteran Stefan Martin could be squeezed out of the club amid list cuts for 2021.
The AFL is still yet to make a call on list sizes for next year, leaving the 190-gamer in contract limbo after eight seasons at Brisbane.
Speaking on AFL Trade Radio, Lions head of football David Noble admitted that the 33-year old's future was up in the air.
"Stef fits into that unfortunately, he's been here and helped us through some really tough periods and we'd love to have more clarity not only for ourselves, but for Stef, to be able give him a better indication.
"We certainly see him as a player we've got some interest in, but we just don't know what it looks like with the list numbers.
"Unfortunately, it's not a great position to be in as a club, with a person as valued as Stef, but it's pretty much tied up with where the damn list numbers are and the TPP."
Martin has played 130 games for the Lions after crossing from Melbourne at the end of the 2012 season.
The ruckman was restricted to just eight games in 2020 due to injuries.
Noble also said he expects exciting defender Alex Witherden to stay at the club despite falling out of favour of Chris Fagan's best 22 this year.
Amid links to Victorian clubs, Noble said Witherden had a positive exit meeting with the Lions last week.
"Healthy internal competition is really good, and it helps drive players to improve, and certainly Alex understands there is competition in and around that," Noble said.
"He loves it up here, he understands where that sits. We only just had our exit meeting last week, and they're pretty quick, just 10 or 15 minutes, so you don't get a chance to go into a lot of detail, but at this stage, we expect him to be (at Brisbane)."