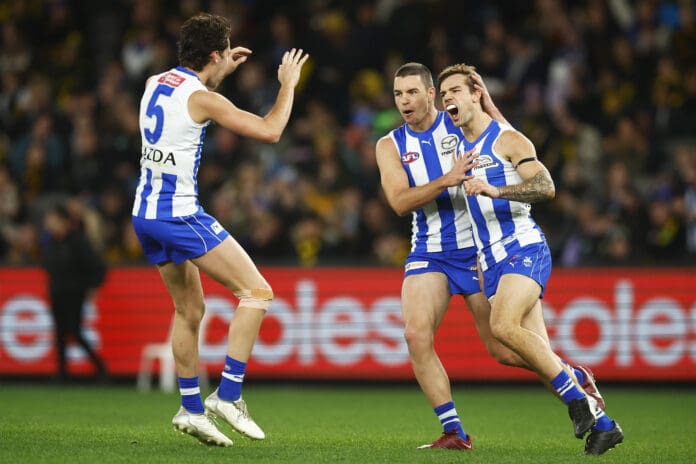 North Melbourne has released a timeline for the return of emerging star midfielder Luke Davies-Uniacke, as well as concussed pair Jy Simpkin and Hugh Greenwood.
The Roos revealed Davies-Uniacke, who has been rehabilitating a hamstring injury he suffered during the Kangaroos' Round 9 loss to Port Adelaide, is poised to put his hand up for selection after the club's bye in Round 15.
Unfortunately, it means the 24-year-old has been ruled out of contention for this Sunday's bout with the Western Bulldogs.
In an update to fans, North Melbourne head of performance Kevin White revealed the important hurdles Davies-Uniacke has cleared but reiterated the Roos will take a cautionary route.
"Luke has had a really strong week where we have officially cleared his speed and strength metrics," White told NMFC.com.au.
"The club will take a proactive approach of returning to gameplay after the bye in order to set Luke up with the greatest platform to finish the season off in strong fashion, given his interruptions across the first half of the year."
An AFL return is within reach for Luke Davies-Uniacke, but we won't see him this weekend.#Kangas

— North Melbourne FC (@NMFCOfficial) June 14, 2023
Meantime, integral midfield duo Simpkin and Greenwood, who each suffered head knocks during the Roos' Round 12's loss to Essendon, will be available for selection this weekend after fulfilling the AFL's concussion protocol mandate.
North Melbourne battle the Bulldogs on Sunday, June 18 at 4:40 PM AEST.