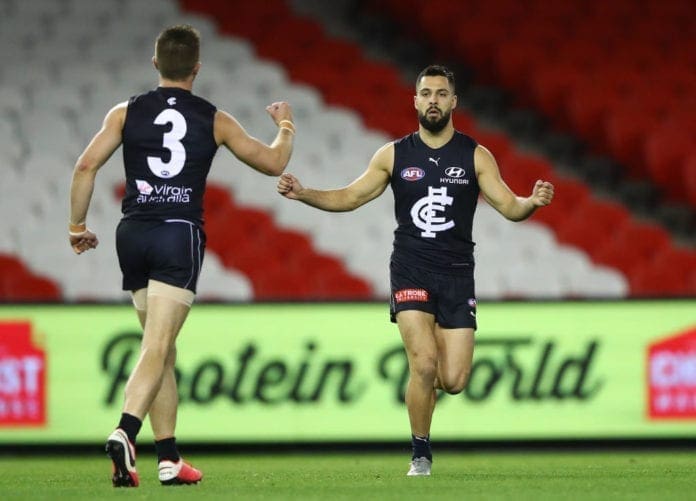 Delisted Carlton small-forward Michael Gibbons believes that the external review was a distraction to players, with the situation "getting to everyone".
While speaking on SEN Breakfast, Gibbons was asked about the review process, and how the players felt after the widespread media attention.
Gibbons admitted that it became a distraction to players, having an impact on the atmosphere and morale at the club. He also spoke about the toll it had on coaches and staff, who all felt in limbo about their future beyond the season.
"It was incredibly stressful," Gibbons said.
"If you talk to anyone throughout that time, a lot of people will try and play it off, but you've got coaches who don't know if they'll be there next year having to perform weekly and stay positive and players in the same position."
"It creates a, I wouldn't say toxic (environment), but it's pretty unspoken."
"When you sit down and have a chat to blokes towards the latter end of the year, it was getting to everyone."
The large amount of media attention surrounding the review meant that it was always on the minds of players and staff. He acknowledged how the constant media coverage played a role in effecting the players.
"No fault of the media, but it was in the media every day and it becomes a bit of a cycle," Gibbons added.
After months of speculation and reporting, Carlton began enacting their findings in late August.
The external review was damning for the club, resulting in a large staff turnover. This included chief executive Cain Liddle, Coach David Teague and a large number of other coaching staff.
Michael Voss (Senior), Aaron Hamil (Backline) and Ashley Hansen (Forward) headline Carlton's new coaches heading into 2022, while Brian Cook has also been recruited as the new CEO.
Gibbons won't be at the Blues as they move into a next chapter however. He was told last week that he would not be offered a new contract for 2022.
Thanks for everything Gibbo and Rama. 🙌

The Club can confirm that the pair will not be offered new contracts beyond 2021.

We wish them all the best for the future.

— Carlton FC (@CarltonFC) October 7, 2021
While sad about leaving the Blues, he still remains optimistic about his future in the league. The 26-year-old believes that he still has plenty of senior football left in him.
"Yeah, 100 per cent, I definitely want to get another crack at it," Gibbons said in relation to his future.
"I'm too stubborn not to. I 100 per cent want to continue the journey. It's just another bump in the road."
"...I definitely want to prove people wrong again."
Gibbons played 47 games for the Blues after making his debut with the club in 2019.