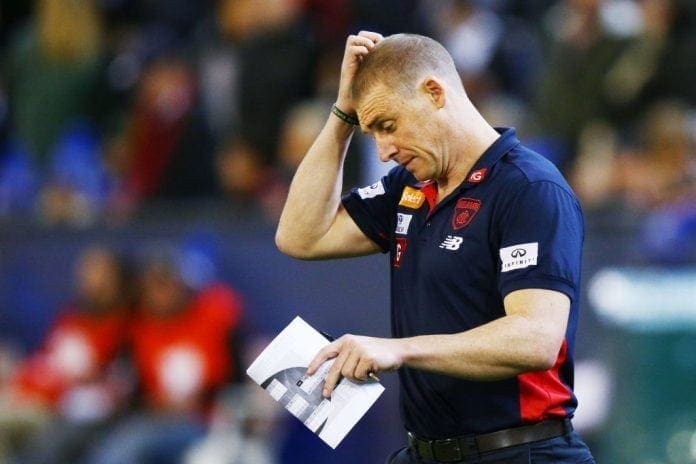 Melbourne coach Simon Goodwin has listed the Demons' worrying trend of second-half fadeouts as yet another factor in a defeat this season.
Across the course of the latter half of the year, the Demons have allowed trailing opponents back into the game, at times giving up a commanding chance for premiership points.
In a match that ended their 2022 campaign, the Demons conceded 11 second-half goals to Brisbane, booting just the five themselves to fall to the Queensland club by 13 points in a fiery battle at the MCG.
Speaking after the defeat, Goodwin said his side's inability to prevent clubs from 'mowing down leads' was again what cost them.
"Obviously disappointing and devastating," Goodwin said.
"I can only imagine our supporters, how they would feel. Our players and staff are all feeling exactly the same.
"The game swung a bit back their way. We weren't able to execute the basics of the game for long enough in the phases that we really value and we speak about this a lot.
"In finals generally your vulnerabilities come out in games and we've had some throughout the second half of the year, especially when we've lost games of footy, teams have been able to impact in the second half of games and mow down leads and it happened again tonight.
"Certainly not a shock in terms of that, but that's been a pretty consistent thing for us when we've been beaten.
"We've got some work to do. But you got to give Brisbane credit they kept in it, they stayed in it. They were converting well when they got their opportunities and the momentum shifted."
Plenty was made in the build up to Friday's match of the fitness of several keys names at Melbourne, including Christian Petracca (leg), Bayley Fritsch (knee), Jake Melksham (knee) and Charlie Spargo (throat), who all required treatment on respective ailments sustained the week prior.
Spargo was the only one of the Melbourne quartet who failed to train fully during the week, with Goodwin suggesting the club had no excuse when it came to their fitness for the semi-final.
"I don't think there'll be one club out there that wouldn't have sore players at this time," he said.
"I don't think Christian Petracca looked sore tonight, I think he actually played to a pretty high level. Bayley Fritsch kicked two goals. So we certainly won't be using that as an excuse.
"Our fadeouts have been a trend. It wasn't because injured players were out there."
The loss to Brisbane sees the Demons fail in their attempts to defend their premiership, with Goodwin flagging the club will have plenty to "unpack" ahead of Round 1 next year.
"This is a whole club thing," he added. "We're all in this together.
"It's not one thing that'll change. We'll unpack our program and we'll be pack it again."
A key story in the wake of Melbourne's exit is the future of young tall Luke Jackson, who remains unsigned and expected tp join Fremantle on a lucrative deal.
The Demons and Jackson had placed contract talks on hold throughout the back half of the year, but not reach a time for a decision to be made.
Goodwin revealed a call is likely to come in a matter of days.
"We'll have those conversations during the week with Luke," Goodwin said.
"We said we'd give him as much time as we can before he made a decision and I'm sure in the next few days we'll find out."
Friday night's loss saw Goodwin's side lose eight of their final 14 matches of the season, a record that followed their 10-0 start to the year.