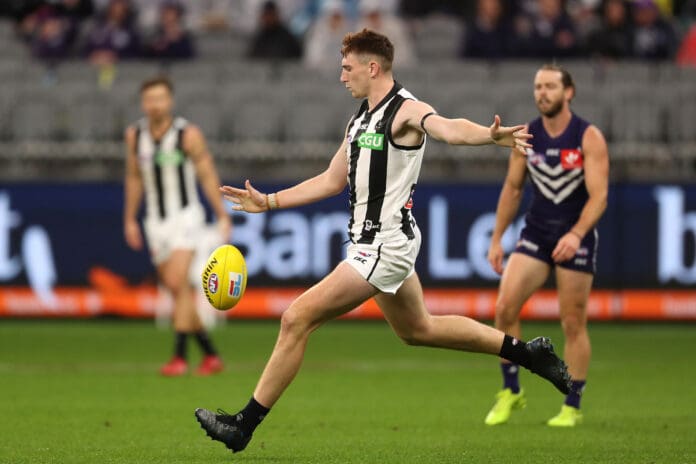 Contracted Collingwood defender Mark Keane is set to remain in Ireland rather than return to the Holden Centre for the 2022 AFL season.
According to reports from Irish sports journalist Maurice Brosnan of The 42, the 21-year-old is set to stay on with Munster-based Hurling club Ballygiblin and Gaelic county Cork instead of flying south to recommence his pre-season training period under Magpies coach, Craig McRae.
The Collingwood Football Club confirmed the GAA representative's egress on Friday morning AEDT.
Thanks for everything, Keaney!

All the best for what's to come in your next chapter.

— Collingwood FC (@CollingwoodFC) January 13, 2022
Speaking within a prepared statement, Keane wished to thank the club for the opportunity to expand his skillset and for their understanding upon his release from the nest.
"Although a tough call, I know remaining in Ireland and being with my family is the right decision for me at this time," Keane said.
"I have thoroughly enjoyed my time at the Pies, and I thank the club for giving me the opportunity to play AFL football.
"The club has greatly supported me for the duration of my stay in Australia and I will always appreciate that."
Collingwood's GM of Football Graham Wright delineated further on the decision-making process of both parties.
"We thank Mark for his contribution to the program over the past three years," Wright said.
"Unfortunately, Mark has suffered from homesickness his entire time at Collingwood. He went home early in August prior to the season finishing and returned after training had started in November.
"Mark didn't return for training in the New Year and we decided, along with Mark, that the rigours of AFL football combined with being away from home are too much for him at this time.
"We wish Mark all the best with his future endeavours and hope being home in Ireland is exactly what he needs."
Despite ending his 2021 campaign prematurely in an effort to return home to the Emerald Isle, Keane was reportedly expected back with the Woods this week.
The triple-sport athlete's decision to depart Collingwood comes in the wake of his compatriot Anton Tohill's choice to rebuff a one-year deal to stay on with the club last year.
While Keane's five AFL appearances since joining the Pies' ranks in 2018 see him sit on the inexperienced end of the spectrum, his unplanned exit will act as a dent to McRae's defensive stocks for the upcoming season.
A now Keane-less Collingwood are set to start their 2022 schedule against St Kilda at Marvel Stadium on Friday, March 18.
The Magpies will also face Hawthorn and Greater Western Sydney in pre-season stoushes ahead of Round 1.