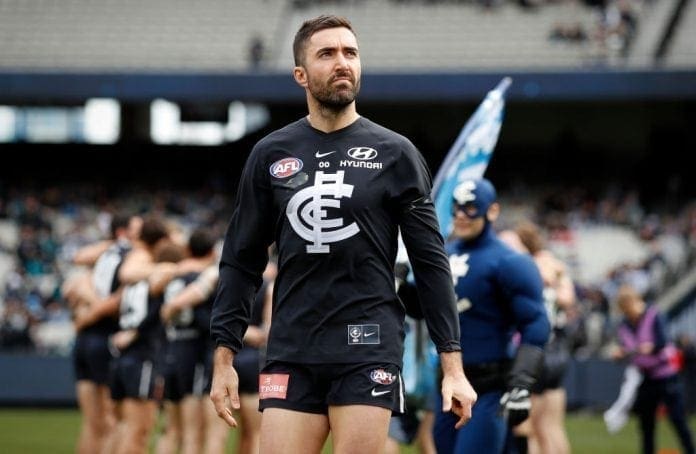 Could Kade Simpson come out of retirement?
The retired Blues champion has revealed he is open to an AFL return in this year's mid-season draft.
The former defender called time on his career at the end of last year after 342 senior games - third all-time for the Blues - to go down as one of the club's greats.
However, speaking on the Dyl and Friends podcast, Simpson said he has been training, keeping in good shape and believes he still has something to offer.
"I still wish I was playing, like 100 per cent," Simpson said.
"Even now, for some stupid reason, I still run and flog myself. In the back of my head I'm like, just imagine if someone … now with the mid-season draft and all that sort of stuff … I'm pretty fit still.
"If someone did come knocking, I'm ready."
Kade Simpson on whether he's ready to go in 2021 🌟 Listen to the full ep here - https://t.co/v69eiByFlt pic.twitter.com/Vdog55TO7D

— Dylan Buckley (@dylan_buckley) April 11, 2021
SEE ALSO: Calls for Carlton to change theme song due to racist history
Asked directly if he would be open to putting the boots back on, Simpson responded: "Yeah I think I'd consider it.
"I wouldn't play just for the sake of playing … (it would need to be) a team that's going to be challenging, that are looking like they're going to play finals."
The 2013 best and fairest winner has never agreed with the notion of leaving the game with more to give.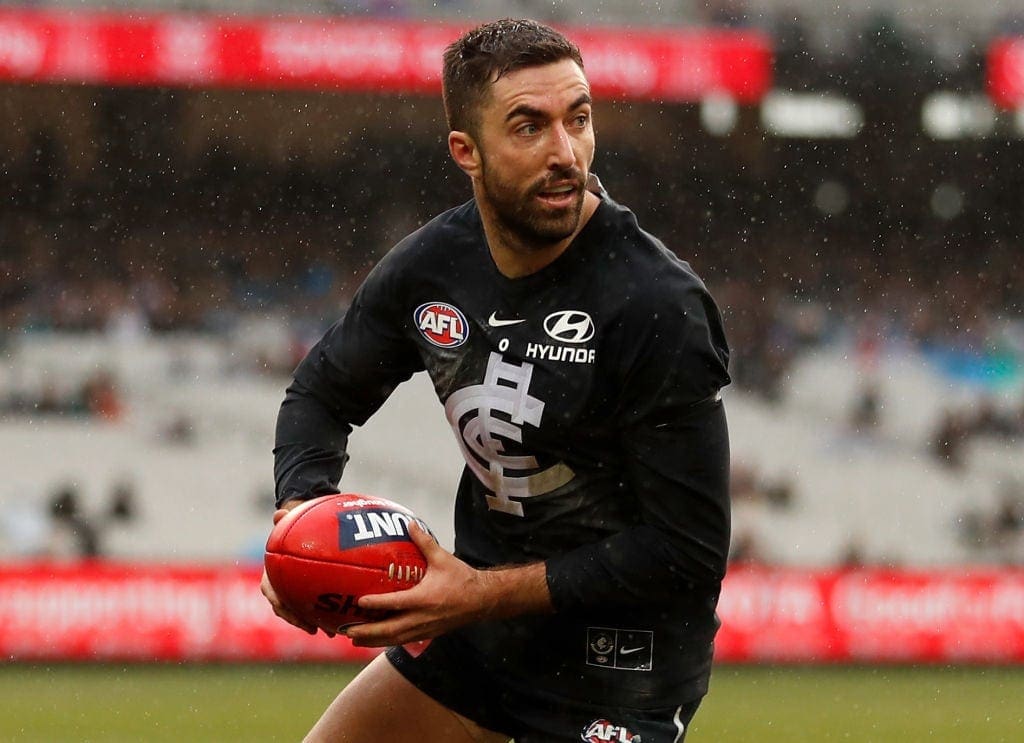 SEE ALSO: Carlton confirm cruel ACL blow for defender Caleb Marchbank
"Everyone is like, 'It's good to retire with a little bit left in the tank' and I think … 'What?' That makes no sense to me, I want to run that thing dry. That's like dying with money in the bank.
"Even with the way the game is played as well, this year is very different to last year which would again suit me as well.
"I wouldn't play just for the sake of playing … (it would need to be) a team that's going to be challenging, that are looking like they're going to play finals."