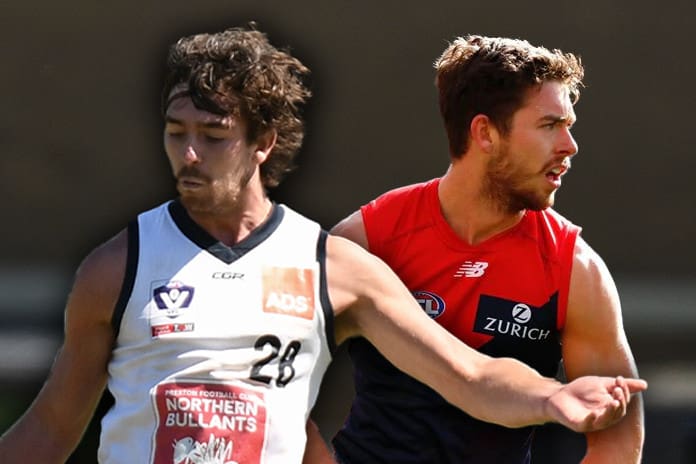 In a household that has fashioned a Swans champion, a premiership Bulldog and a Super Netball star, the Dunkley clan are often able to live out their sporting dreams.
For ex-Demon Kyle, the aspirations of AFL football came and went in less than two years, resulting in the Yarram youngster to question his devotion to the game.
A lost passion for football hadn't placed the midfielder off course however, with a renewed fire lit under the 21-year-old to prove to himself he possesses what it takes to return to the top.
Having been delisted by Melbourne just 18 months after joining the club, Dunkley was thrown back into the unknown and found his dream in the AFL had vanished almost as quickly as it had transpired.
A move to Essendon eventuated for the 2021 pre-season, but a shoulder injury would hamper any hope of returning to an AFL list and subsequently kept Dunkley to a handful of games for the VFL season.
Now listed with standalone VFL club the Northern Bullants for the year ahead, Dunkley is hoping to revive that love for football he once held.
Speaking to Zero Hanger, the former Melbourne midfielder opened up on the compounding impacts the past few seasons have had on his career, placing him in a spiral as he reflected on how he perceived the game.
"2020 was really hard, going up to the hub and then we didn't have the greatest year as a club and I suppose in a way I was pretty unhappy myself and where I was at," he said.
"From there it was pretty hard, then I left the Dees which made it hard again and then I did my shoulder early into 2021, which was another obstacle that I had to get over.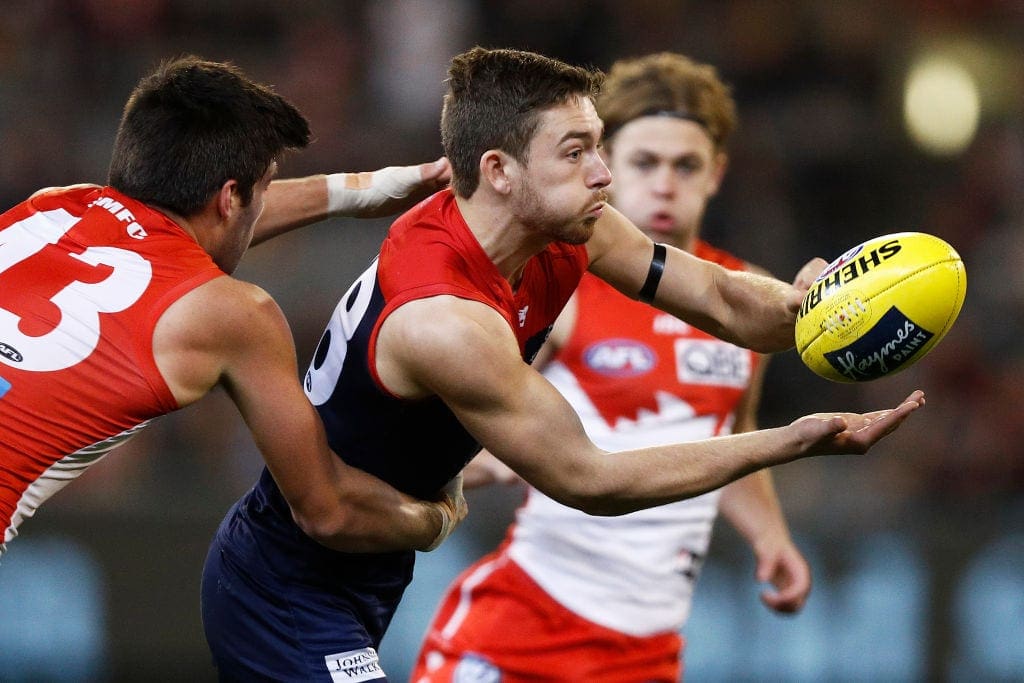 "That pre-season with the Essendon AFL boys over the 2020-2021 period, I loved it. I was having the time of my life, felt really good, really strong.
"It was just unlucky that I did my shoulder and that was pretty hard to deal with, and then I didn't get to play a lot of footy that year.
"The thoughts of footy in my head were still thinking back to when I finished up with Melbourne and I was in a bit of an average place.
"That's probably when I felt as though I was falling out of love with the game a little bit.
"It just got to the point where I went down and had to run around for the Bullants and I felt like that love and hunger is back.
"I'm sort of hoping to build on games this year and see if I can get back to where I want to get to."
Reflecting on his exit from Melbourne, Dunkley has come to accept the club's decision to part ways despite feeling as though he wasn't given the opportunities he may have deserved in return for his efforts.
The highly-rated onballer played five games in the red and blue, all of which came in the back-end of the year after being recruited as a Mid-Season draftee in May that year.
At the time, the Demons were pinned to third last on the ladder and looked to Dunkley as an answer to some of their engine room woes, plucking the prospect who was overlooked several months earlier at the National Draft.
After being touted as a potential late-round selection in 2018, Dunkley missed his first opening and was eventually seen among the best names on offer midway through the following year.
The rapid turnaround had placed him in the deep end in a matter of weeks. While several opportunities came to fruition, Dunkley wasn't a feature for the Demons after 2019, going uncapped the following season before having his ties with Melbourne cut.
"It was a battle for me going from playing TAC Cup as a 19-year-old then playing a couple of VFL games, playing an All-Stars game and then playing AFL within six or eight weeks," he said.
"It was pretty bizarre, you just ride the roller coaster and accept what's going on and go out and do your job.
"I felt like I was ready and it felt a bit harsh and I wasn't really given an opportunity across the whole season.
"In a way, I kind of want to prove a lot of guys wrong. But I'm not just doing it because of that, I'm doing it for myself."
After losing his love for football, Dunkley had turned to the local level for the 2022 season, joining Murray Football League side Barooga as former Port Adelaide and Western Bulldogs defender Jackson Trengrove stepped into his first year as senior coach of the Hawks.
A chance to train with the Bullants under Australian Football Hall of Fame member and Adelaide great Ben Hart sparked a newfound look on life, even renewing his adoration for football.
"It sort of just got to the point where I wasn't really sure what I wanted to do with footy," Dunkley said of this past pre-season.
"With COVID I didn't get to play a lot and then I hurt my shoulder early in the year too. I think I only played six or seven games last year... nowhere near enough of what I thought I was going to play.
"Toward the end of last year, honestly, I felt like I sort of needed to find that love for footy again.
"Looking to Jackson and Barooga, he was like 'we're here to help if you want?', then it got to mid-to-late January and I was talking to 'Harty' and a couple of the coaches about coming down for a run.
"I've loved it and haven't really looked back."
Having officially joined the Bullants just weeks out from their first practice match, Dunkley was also added to the AFL's lengthy list of COVID contingency top-up players as Northern aligned with Sydney, the club where his dad, Andrew, played 217 games.
Having already held a close relationship with the Swans given his past eligibility as a father-son selection, Dunkley has been able to rekindle his ties with the club's recruitment and list strategy manager Kinnear Beatson.
The AFL's health and safety protocols have already heavily impacted West Coast's list to start this season, with the "childhood dream" of playing for the Swans able to unfold for Dunkley should all his ducks line up.
"I've spoken to Kinnear Beatson and I've known Kinnear for a few years, when I was eligible to go father-son I had a fair bit to deal with him," Dunkley said.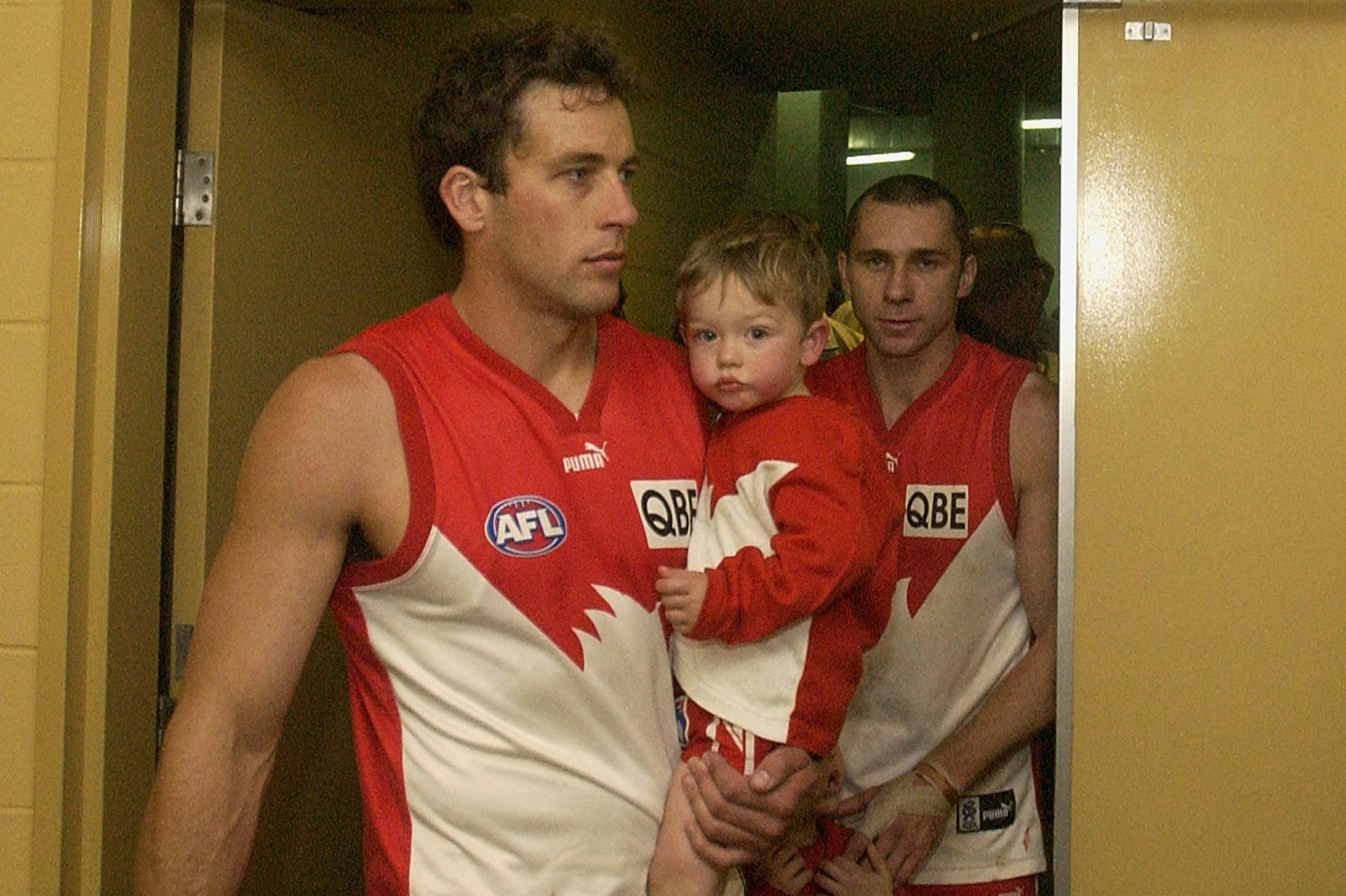 "It's pretty crazy in the way that it can work out, with what happened with West Coast after Round 1 it doesn't really take much at all. I could be running out in a Swans jumper, which would be pretty nice.
"We've had a couple of zoom calls with Kinnear and a couple of other guys from the Swans, just explaining about how can all work.
"If we do get the call-up and we have to play it's such a short turnaround that we sort of have to have everything ready to go.
"I'm trying to get myself ready. It's hard with work but I'm trying to do as much extra stuff as I can.
"It's a childhood dream, I wanted to play for Sydney growing up. Dad was there, we supported the Swans for such a long time.
"To be able to get there and play for them, should that be the case, I'd be stoked and it'd be unreal."
Having trained with his brother, Josh, across the off-season, Dunkley has been able to build on his fitness in anticipation of any chance that comes his way.
Now coming full circle in hope of snatching another chance in the AFL, the Gippsland Power product is ready to grab any opportunity that arises, whether that be with the Swans or elsewhere.
"I feel like I'm good enough to get there and good enough to play," he said.
"It's a goal within myself to try and get back to where I was. I feel like I'm bigger now and a little bit stronger.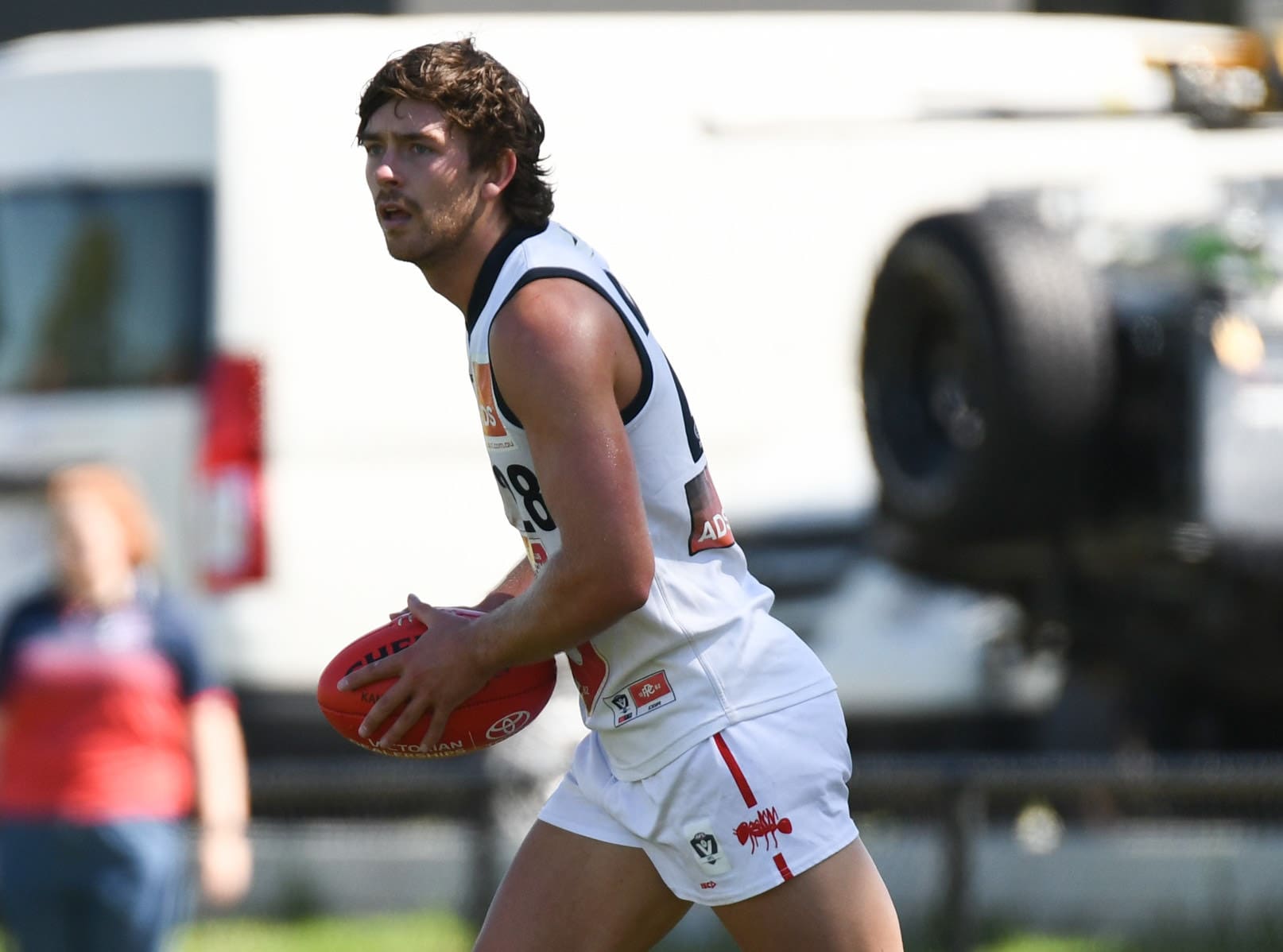 "Whether it be with Sydney on that top-up list or mid-season draft or even if it's the end of the year, I feel like I'm just trying to get myself ready.
"It's still a dream and something I really want to do. I'm not going to stop until I get there."
Kyle's move to Essendon across the 2020-21 summer had sparked external intrigue as the Bombers had attempted to pry Josh from the Western Bulldogs in the same off-season.
FOOTY TALKING POINTS: Josh Dunkley's defensive presence
The Dogs midfielder had requested a move to Tullamarine in what would have seen the brothers reunite in pulling on the red sash, with Kyle still vying for a spot on Ben Rutten's list.
A deal for Josh between the Bombers and Bulldogs failed to land, seeing the premiership onballer remain at Whitten Oval while Kyle continued to fight for one of the last remaining AFL list spots with Essendon.
"There was a bit in the media about Essendon and Josh and I and what was going on," he said.
"It didn't really turn out the way we wanted it to or how we thought it was going to turn out.
"If I wasn't going to play or get an opportunity with Essendon in the AFL then it was sort of leaning towards playing VFL there. It felt like where my next best opportunity was.
"Being able to do the AFL pre-season with them was another thing where I felt like I had an opportunity. I got to a point where I thought I was pretty close to getting put on [their list]. Then in the first practice game I did my shoulder."
Growing up, Kyle, along with Josh and sister Lara - now a member of the Queensland Firebirds - would be taken on lengthy after-school commutes from regional Victoria to Melbourne as many as three times per week.
They all had their own dreams to play the sports they loved, with the Dunkley brothers almost living out their shared desire.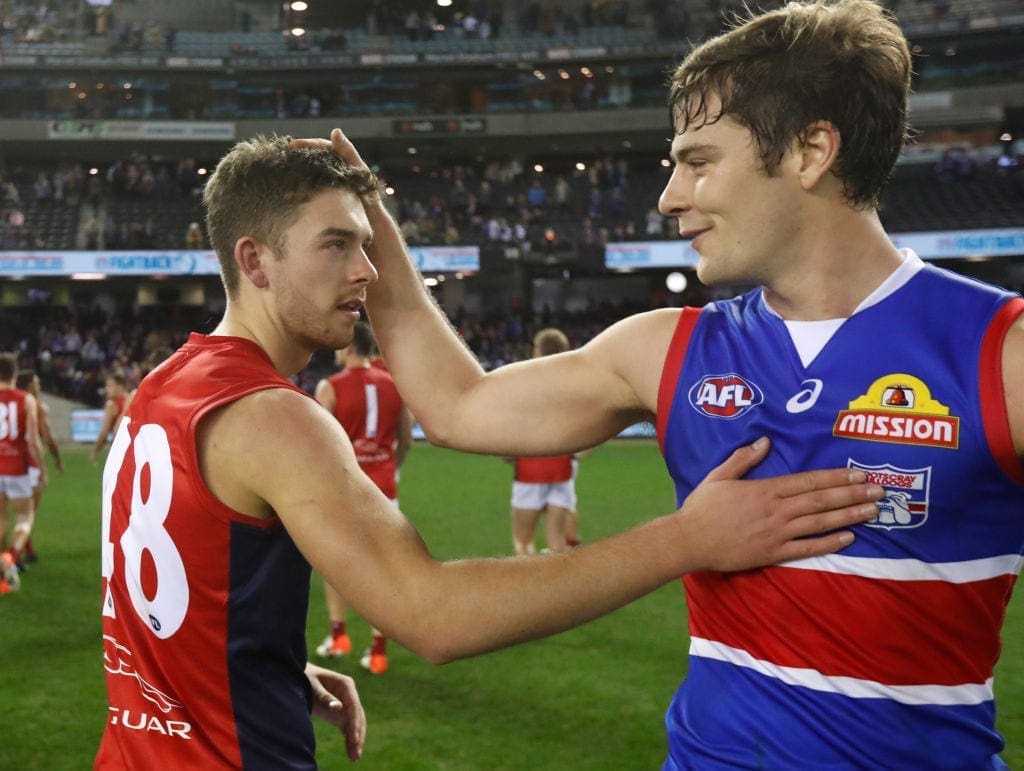 Dunkley was able to reflect on the moment his family gathered at their farm for the fleeting moments of the 2020 trade window, with Kyle and Josh having to remain on separate paths as their hopes of becoming teammates faded.
"Josh and I have always had a dream of being able to play together," Dunkley said.
"We were both for it. I still remember the last night of the trade [period]. Josh and I, mum and dad, gran and pa were sitting on the farm just around the campfire hoping for the best.
"It obviously didn't happen. It would have been nice for Josh and I, but at the same time, who knows what can happen in the future."