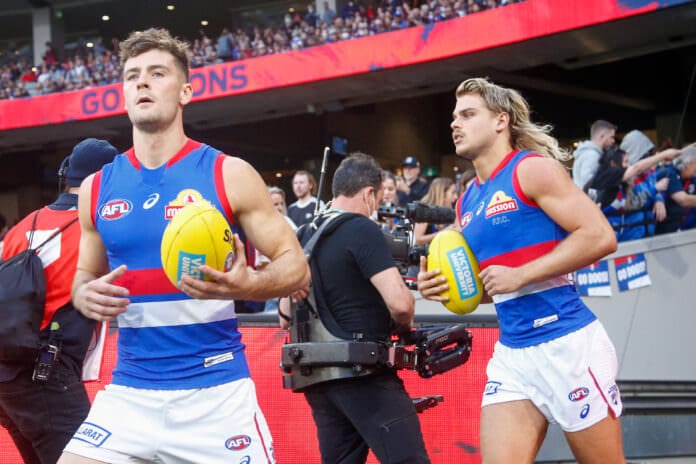 After a 0-2 start, the Bulldogs are on the winner's list after a close victory against the red-hot Sydney Swans.
Much of what we've come to love about the Bulldogs was on full display for the majority of the game.
The run in waves, the outnumbering at the contest, the ground ball presence and their trademark handball chains to surge forward was evident.
There was a sense of urgency to start well that wasn't apparent in the first two weeks.
It's remarkable to watch when they play this way.
There are a number of Bulldogs players who work the angles of their handballs so well (Treloar, Hunter and Liberatore in particular) to the point where they can make a great defensive team like the Sydney Swans look disorganised with their come forward to defend principles.
These handball chains are a thing of beauty when Bulldogs players are in sync:
But maybe even more important than the Bulldogs finding their offensive groove is how much stronger the Dogs looked defensively.
Let's not forget that Sydney was the highest-scoring team going into Round 3 and made their living scoring off turnovers and transitions from their defensive half.
We saw with Geelong that if you aren't prepared to defend and cover up your mistakes on turnover, Sydney will score on you.
The plan from Beveridge was evident.
In regards to defending in the forward half, the Dogs had a clear focus to close off Sydney's exits on the off-ball side - provide maximum pressure with their smalls (Weightman was sensational with this) and attempt to limit the ball use of Campbell and Blakey, two of Sydney's better drivers out the back half.
Yet, in order for the Dogs to defend in their forward half and keep Sydney in front of them, they had to win the territory battle and close off Sydney's exits outside of the stoppage.
To win the territory battle, grunt and ball-winning ability around the contest is key - enter Josh Dunkley.
Dunkley is a big-bodied midfielder, elite on the inside of a contest when given the licence to hunt and win his own ball.
Dunkley has his critics and some of it's warranted - he lacks the leg speed to damage teams on the outside and is an average kick with little variety in his type of kicks.
SEE ALSO: "I was in a bit of an average place": Ex-Demon still daring to dream
He has the versatility to play a mid-forward role, but has never really troubled defenders in 1v1 scenarios with his bodywork given his size and ranks average in contested marks for his position.
So a big-bodied midfielder who gets a lot of disposals but isn't damaging by foot? Sounds like an empty stat midfielder.
Well ... no.
The thing with Dunkley is he is one of, if not the best, disruptive midfielder in the AFL when he wants to be - outside of his impressive 31 disposals and six clearances on the weekend, he had 11 tackles. No other player on the ground had more than seven.
These weren't bottom-of-the-pack tackles either - Dunkley dispossesses midfielders with a clear path to dispose of the ball, creating an instant turnover opportunity for the Bulldogs to pounce on.
The below vision encapsulates the statement that Dunkley is a 'disruptive defensive midfielder'.
He first lays a diving tackle on Mills' that turns a definite inside 50 into a 50/50 disputed ball in the middle of the ground. Sydney wins the disputed ball but Dunkley doesn't stop there, following up again for another tackle, pinning Mills and winning a free kick. This kind of work rate without the ball can be game-changing.
Here's another scenario - a likely inside 50 for Sydney results in a midfielder stoppage due to Dunkley's desire to lay a smother. Inspirational stuff.
The combination in Dunkley's game to cause turnovers and disrupt defensively through his tackling and his ball-winning ability inside makes him a very valuable midfielder in modern AFL.
While the statistic can be overhyped, winning contested possession consistently builds trust with outside midfielders to hold their width and be dangerous as outlets - an important point when those players are Smith, Hunter, Daniel and Dale out of the backline.
Dunkley is pivotal to the success and balance of this Dog's midfield - he was inconsistent with his defensive pressure last year due to a mixture of injuries and lack of midfield minutes.
There isn't an expectation that he amasses 11 tackles every week but his desire to nullify opposing midfielders at the contest and cause turnovers when they arise will be crucial.
Dunkley is the biggest bull in the AFL when he doesn't have the ball in his hands. Keep an eye on him.