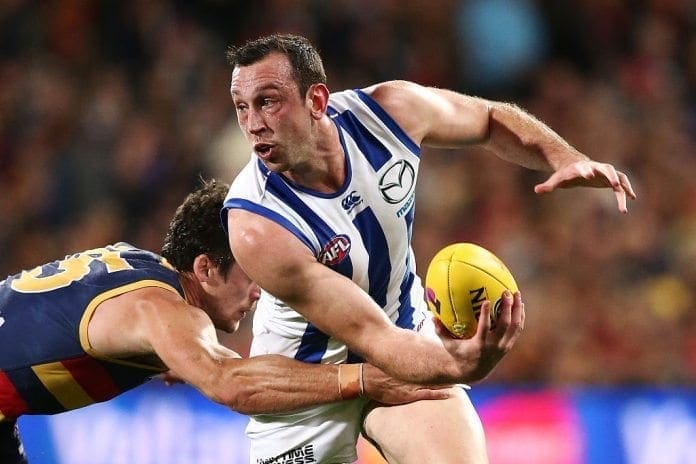 Todd Goldstein is set to become the sixth player to reach 300 games for North Melbourne this weekend, opening up on his journey to the milestone.
Goldstein, who was taken as Pick No.36 in the 2006 AFL Draft, first debuted for the Kangaroos in 2008 and has stayed loyal to the club since.
Speaking to media on Thursday ahead of North's Sunday afternoon clash, Goldstein admitted that he had always wanted to remain loyal to the club.
"I was always very open that I wanted to be a 300-game player for this footy club, I probably didn't, think it was possible over the last couple of years but that was always a goal of mine," Goldstein told reporters.
"Loyalty and being a one-club player is a big thing to me and a big thing for my family so I think that was something I've always dreamed of."
Goldstein outlined the pride which came with joining the 300 game club, particularly as a one-club player.
"I've been a part of this football club for 17 years now and you sort of get to know the history and the people behind the scenes... and I've been on the list with four of the five guys that have played 300 games before me so to see what the club means to Glenn Archer, Adam Simpson, Drew Petrie, Brent Harvey and our supporters is huge for me," he said.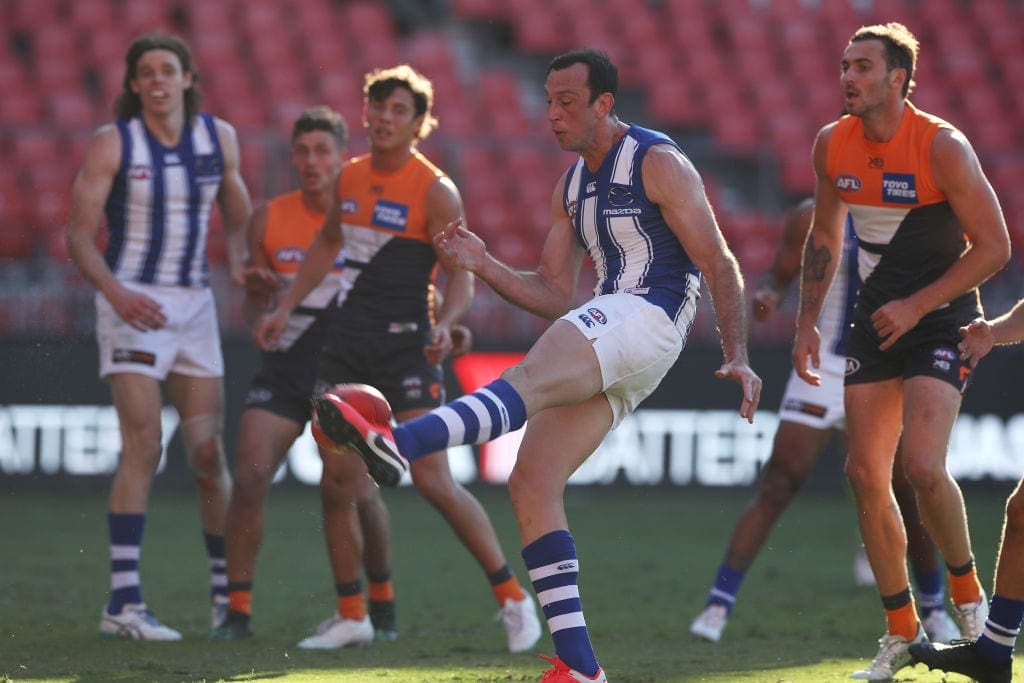 Goldstein has faced different injuries and form slumps throughout his career, however, with help from his wife, he has managed to persevere
"I think it's just the preparation I've done over many years now," Goldstein said.
"My wife was an elite athlete and also an exercise scientist so she writes a lot of my programs for me in the off-season and holds me to them, so the work I do in the off-season there definitely sets me up each year."
"And I think the training load over time has helped me well and I know how to recover and I know what my body needs."
Goldstein established himself as North's primary ruckman in 2011, establishing himself as one of the game's elite ruckman by 2015, ranking as the number one ruck in the competition and the number four player overall.
In 2021, Goldstein surpassed Aaron Sandilands for the record of most hitouts in VFL/AFL history.
"I'm very proud that I've been a ruckman my way, obviously I've had to adjust and adapt to different coaches and different game styles and what the game expects of us, but for the most part I've been able to do it my way," Goldstein said.
Goldstein will run out for game 300 against the Gold Coast Suns at Heritage Bank Stadium on Sunday at 4:40pm (AEST).