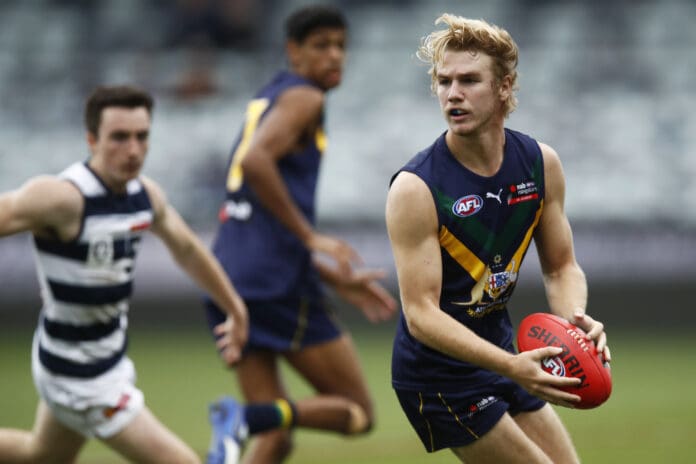 Impending number one draft pick Jason Horne-Francis has revealed that he can't see himself wearing anything other than a North Melbourne guernsey in 2022.
The 18-year-old has turned heads across his stint for SANFL side South Adelaide and remains the consensus choice to be taken with the opening selection of November's national draft.
While the Kangaroos will need to wait until November 24 until they can officially claim the burgeoning prospect with their first-ever use of pick 1, Horne-Francis explained that despite being grounded, a move to Arden Street seemed inevitable.
"It's hard not to when there's a lot of media stuff about it," he divulged after the SA draft combine on Saturday.
"They [North Melbourne] have spoken to me and said that.
"They're keen, obviously."
Jason Horne-Francis @southadelaidefc fronts the media after the NAB @AFL Combine 👍 pic.twitter.com/4JR2Srx0Fw

— SANFL (@SANFL) October 16, 2021
Though the South Australian was always going to garner interest from rival parties, North's GM of Football, Brady Rawlings rebuked an array of offers for the Shinboners' opening selection across the recent trade period.
With Rawlings' steadfastness all but sealing Horne-Francis' footballing fate, the kid at the centre of the bartering claimed he was flattered to have received such attention.
"It's a big honour to have clubs put up that for yourself," Horne-Francis said of Richmond and Adelaide's rumoured trade packages.
"It's a bit crazy but I feel like it'll take care of itself."
Though the timeline until late November already appears set in cement, Rawlings was still willing to cast some ambiguity earlier this week about how the cards may fall on draft night.
You can't talk about the 2021 NAB AFL Draft without mentioning these two future stars of the competition 🌟

Cal Twomey and Nat Edwards discuss what makes Nick Daicos and Jason Horne-Francis so good. pic.twitter.com/EvYeBexBuF

— AFL (@AFL) September 9, 2021
"He's [Horne-Francis] clearly right up the top with Nick Daicos and Sam Darcy. There are a couple of others that are very appealing as well at the pointy end," Rawlings stated via NMFC.com.au.
"Going into this season he was well and truly up the top, and he's had a terrific year.
"You can't put any better performances in than Jason Horne-Francis has done over the last couple of years."
Having played a pair of seasons for the club based out of Noarlunga, Horne-Francis believes that as he has already matched, and bettered, men to the ball, he is ready for an early blooding in the big league.
"I feel like I can make an impact straight away," he said.
"I'm excited to have footy as a job and you can do what you love every day."
SANFL talent manager Brenton Phillips agreed with this contention before praising Horne-Francis' 24 disposals, 11 clearances and three goals in South Adelaide's recent preliminary-final loss to Glenelg.
"I haven't seen too many 18-year-olds like that at that particular level pick up a side by the scruff of the neck and almost get them across the line," he was quoted by The Herald Sun.
"It highlights the maturity, the work ethic and the competitive nature."
Rawlings was also willing to tip his cap to the player who could very well better his haul of three Syd Barker Medals across 13-seasons in blue and white stripes.
Brady Rawlings on Jason Horne-Francis @ByMarcMcGowan @NMFCOfficial pic.twitter.com/4uzqnFOBiN

— giantroo (@giantroo) October 14, 2021
"His attributes are pretty special. He's got the ability to win the ball at ground level and in the air, he's great in clearance, his ground-level work is really good, he can run, he's got speed, and he's competitive," he continued.
"He brings a lot of the attributes we look for in players. The other thing with Jason is he's very flexible where he can play.
"He can play inside, he can play outside, he can play forward. We saw him back at SANFL level for part of the season as well.
"If we are to bring him into the club, he's got all the attributes we look for, and he's got the ability as we saw in that preliminary final to change a game."
How fun was watching Jason Horne-Francis last night 🤩 pic.twitter.com/jFXOQKksJy

— SANFL (@SANFL) September 25, 2021
Despite the fervour that usually comes at this stage of the year for talented teenagers, the 184cm mid-forward claimed it was his others, and not he, that was lapping up most of the media attention.
"I feel like I'm usually pretty good with the headspace and not looking into it too much," the looming Roo said.
"It is tough when your mum posts on Facebook every time she sees your face [in the media]."
Horne-Francis also suggested that his mother, Trish, was in the process of "slowly getting her head around" the fact that he will reside interstate next season.
Should the burden of expectation prove challenging across the course of the next month and change, Horne-Francis will be able to find immediate advice about the caper under his own roof.
Although the Panthers product is seen to hold the capabilities to become a superstar across multiple lines, Horne-Francis will be the second name in his immediate family to play at AFL level, after his step-father, Fabian Francis, enjoyed a 109-game career for the Demons, Bears and Power between 1991 and 2001.
"He's just like any other dad, just with a bit more knowledge of football," he said of the crowd favourite at Alberton.
"He's been really good to develop me as a person and player."
While there is a large sense of inescapability about Horne-Francis' future as a footballer, this quantity has been matched by ravenous Roos supporters that are desperate to add another hyphenated name to their steadily building roster.
As stated, the four-time premiers have never been afforded the right to use the opening pick in any draft, as 2021 represented the first time since 1972 that North Melbourne was foisted with the wooden spoon.