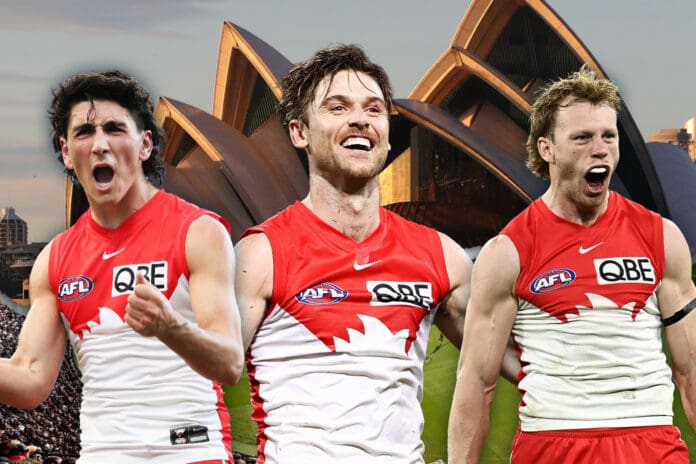 Quizzed on his emotions post a thrilling one-point preliminary final victory last weekend, Sydney Swans head coach John Longmire began his presser with two words.
"I'm OK," he said before illicitly smiling for a brief moment.
Longmire oversees a Sydney Swans outfit that commands, but respects, success. A side that has transitioned from 16th in 2020 to sixth in 2021, and now a grand final berth in 2022.
"We want to give these blokes a crack at playing finals every year. That's our role, as the footy department, is to give the players a crack at the finals every year and give your supporters some hope. We're pretty determined to do that," he continued.
"They're a good group. They've got some experience there, and some terrific young blokes that I really enjoy working with. Terrific staff... you get the right people in the right positions, and it gives you an opportunity."
Longmire's 'good group' is a grand final bearing list that has been immaculately curated, one that has regenerated on the run, and found an uncanny ability to pick up and foster a home for those on the outer.
That sentiment is no more en poste than a pre-season pickup of Paddy McCartin, who was de-listed by the Saints after 35 games, and almost walked away from his footy career after suffering the lingering effects of repeated concussions.
But the 2014 No.1 draft pick found a home in Sydney's VFL side in 2021, paving the way for him to join the senior list in 2022 in a reformed post in the backline alongside brother Tom.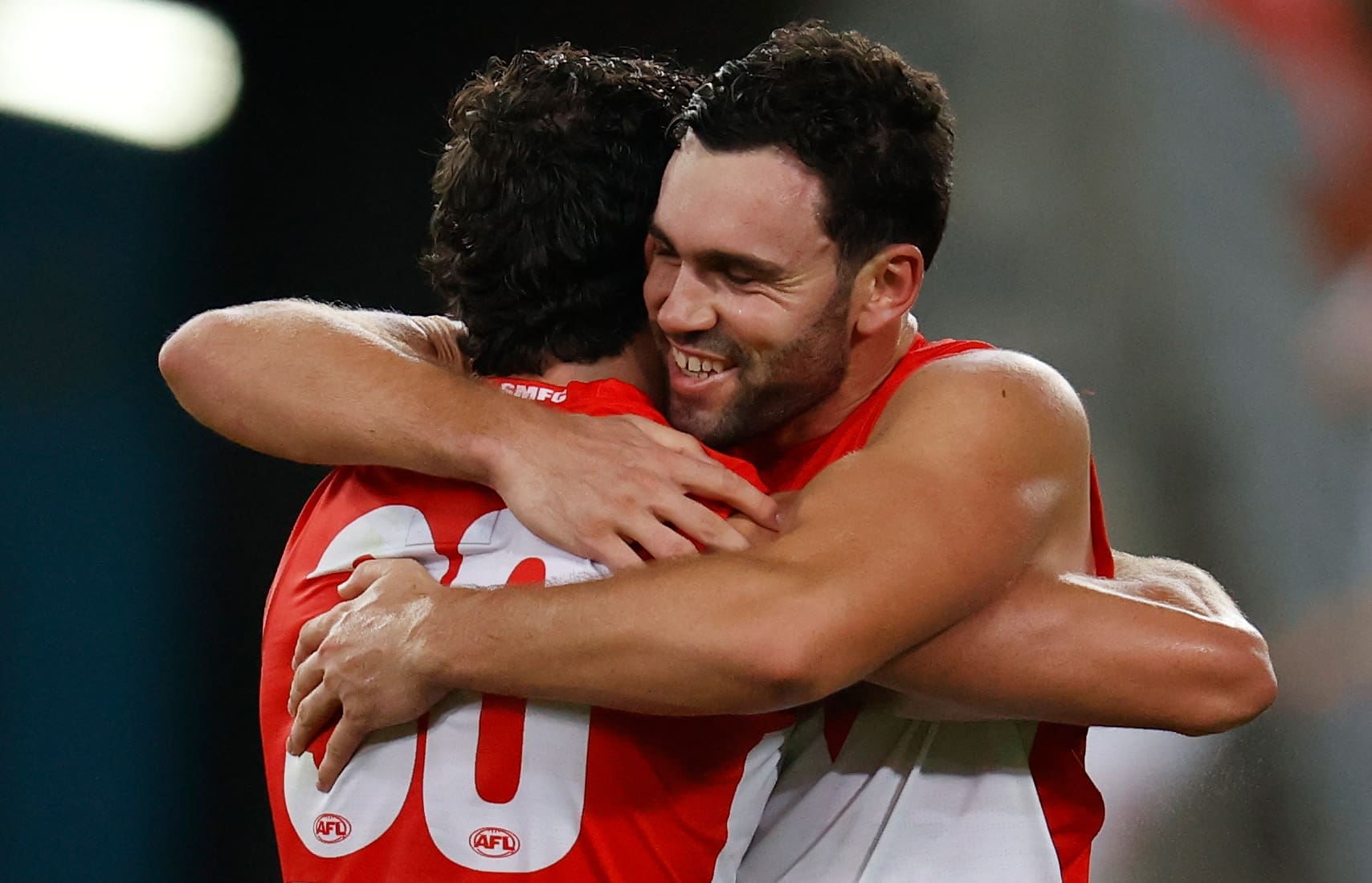 Another is Tom Hickey, who journeyed from Gold Coast to St Kilda to West Coast, before finding a home in Sydney in which his performances could blossom. According to AFL Player Ratings, he was best on ground in Sydney's Round 22 win over Collingwood, before being 12th, second and fifth best on ground in Sydney's next three outings.
It's a vision that, for the current squad, extends as far back as a decade ago when Dane Rampe and Jake Lloyd were picked up in the 2013 Rookie Draft, after Harry Cunningham was selected via the same means a year prior.
In 2016, Tom Papley, twice the season's leading goalkicker at the club, also joined the Swans from the Rookie Draft, alongside Robbie Fox's rookie-listing in the same year, both rounding out a seriously impressive lineup of once-rookie selections.
Ryan Clarke, despite managing 19 games in his final year at North Melbourne, was discarded to the Swans ahead of the 2019 season, becoming one of the side's most important role players in Sydney's finals campaign thus far.
The Swans' expected grand final lineup also includes a stack of young players who were recruited at the National Draft since their last grand final outing in 2016; Ollie Florent (Pick No.11 in 2016), Will Hayward (No.21 in 2016), Tom McCartin (No. 33 in 2017), James Rowbottom (No.25 in 2018), Justin McInerney (No.44 in 2018), Dylan Stephens (No.5 in 2019), Chad Warner (No.39 in 2019) and Logan McDonald (No. 4 in 2020).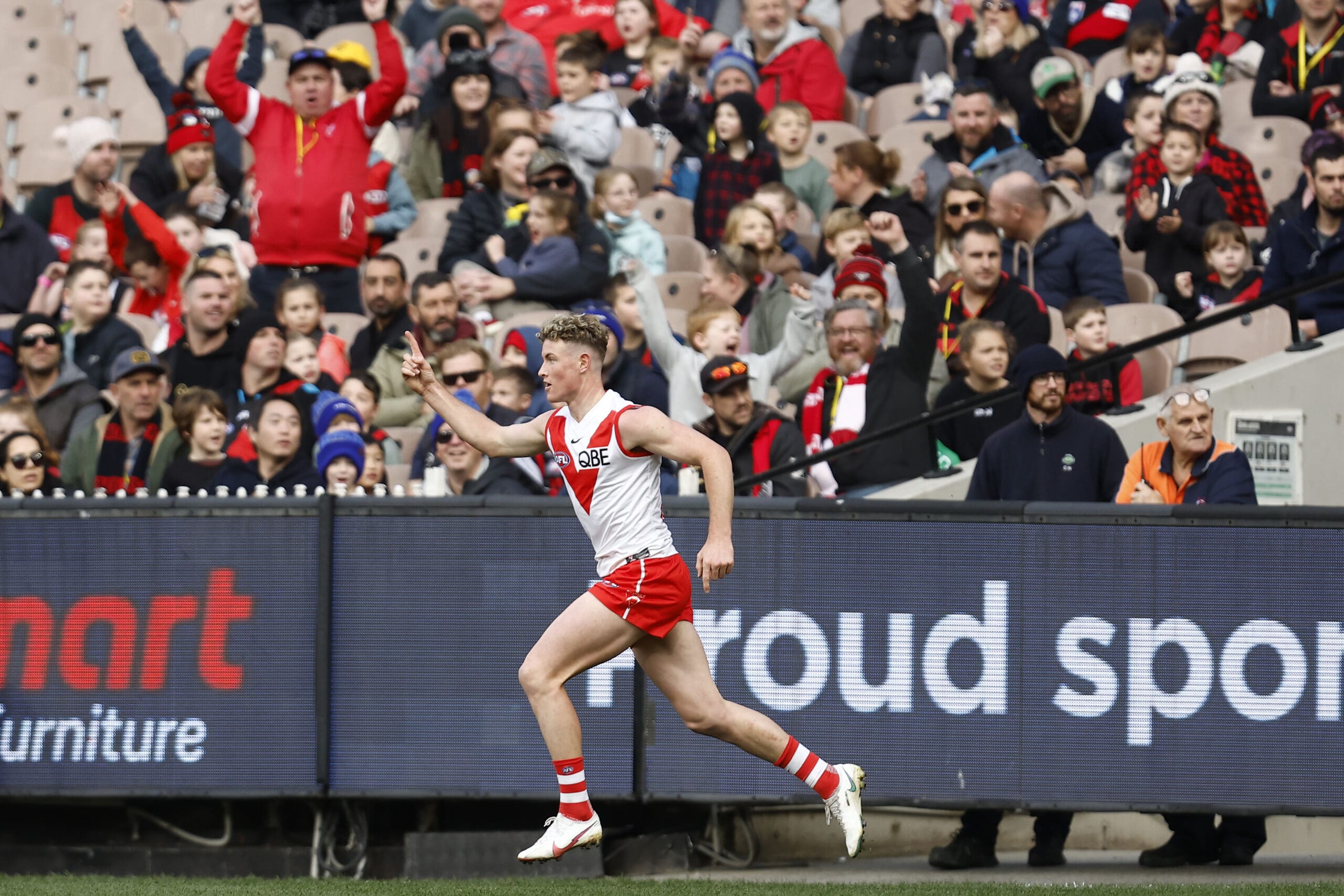 Over the leaner years of 2019 and 2020, in which they finished 15th and 16th, the Swans blooded that youth, with Longmire saying at the time that that phase was all about "exposing and looking at them in different positions and see(ing) what comes out of it".
Sydney's recruiting prowess can be inverted into being able to deal with parting ways with solid contributors, including Jordan Dawson and George Hewett in 2021.
Sprinkled into the Swans' mix is a smattering of old timers that were present in the last game of season 2012; Sam Reid, Josh P. Kennedy and Luke Parker - as well as Lance Franklin, albeit in the brown and gold of Hawthorn.
But the charm of this side's emergence is its homegrown talent, its young Sydneysiders who now play at the top level in their home town.
Rampe was plucked from University of New South Wales - East Sydney Bulldogs (UNSW-ES) when he joined the Swans.
UNSW-ES is also Errol Gulden and Nick Blakey's community club, a club that defeated Callum Mills' old stomping ground the North Shore Bombers in the AFL Sydney premier division grand final earlier this month.
Another big footy day. I was doing @northshorefc Team App & Twitter updates for @AFLSydney Grand Final. UNSW-ES were too good for North Shore today & we went down by 30 points. But always good to be at the coalface of the game. pic.twitter.com/YyZxq2LzEB

— Michael Shillito (@tealfooty) September 10, 2022
With them are Braeden Campbell from the Pennant Hills Demons and Sam Wicks from the Manly Warringah Wolves, culminating in an eclectic representation of the eastern, or Swans' half of the city.
Also on Sydney's list are Sam Naismith (North Shore), Lachlan McAndrew (Manly), Marc Sheather (Pennant Hills) and James Bell (UNSW-ES).
The common denominator amongst the Sydney-based recruits, of course, being the Sydney Swans Academy, a 12-year-old venture into growing and developing footballing talent in New South Wales.
The Swans Academy, alongside those of the Gold Coast Suns, Brisbane Lions, and GWS Giants, were designed to address the paucity of access to the National Draft for young players in New South Wales and Queensland.
Using the existing brands of the AFL teams, their intention is to establish and develop a talent base in non-traditional AFL zones of the country, to then nurture and grow to a level where it rivals the talent base and access to the draft across the rest of the football-loving states.
Sydney have maintained an advantage in retaining and investing in its young talent despite the restrictions being placed on them through the draft value index, but the major concession the Swans make in this space is the Academy's $1 million per year price tag.
It's clear that New South Wales, the country's most populous state, has a stack of sporting talent that may not have been directed to Australian rules football otherwise, with just 17 players from New South Wales picked up in the draft in the ten years to 2014.
Lewis Roberts-Thomson, Kieren Jack, Nick Davis and Jarrad McVeigh have been widely heralded as recent Sydney-bred stars of the game, although at times viewed as outliers.
But now, Sydney's team is represented by a fair pick of New South Welshman, the fruits of the academy no more evident than the Newcastle-produced Isaac Heeney's one-liner post-game last Saturday night.
"I chose the right sport, that's for sure," he said.
"The Swans fans, it is an amazing club and culture. Bring on next week, I can't wait."
Callum Mills on @abcsport: I got a coffee before the game yesterday & I got cheered out of the cafe. I couldn't stop laughing. I was like what is going on here, this isn't Sydney… there's Swans hats everywhere, people wishing you good luck, it's awesome to see the city behind us

— Corbin Middlemas (@CorbinMiddlemas) September 18, 2022
Tadhg Kennelly, who played in Sydney's 72-year drought-breaking premiership in 2005, told ABC Grandstand post-game on Saturday that part of the Swans' list strategy is the exigence of keeping this team competitive in a "four football code market" of around five million people.
Kennelly's then-coach Paul Roos recently endorsed the renovation over rebuild model, saying "young players learn how to win games... teams that choose to rebuild are going about it the wrong way".
There are two games at play with the Sydney Swans, keep them competitive on the field, and subsequently, capture the Harbour City's attention off the field. The Swans have missed the finals just three times since 2002 - the year in which Longmire joined the club as an assistant coach, before he succeeded Roos as head coach ahead of the 2011 season.
The buzz and hype around the Swans this week is palpable, with Kennelly going on the claim he has never lived through such an augmented level of interest in the side.
In the past five years, several private schools in the eastern suburbs and north shore of Sydney, historically rugby union institutions, have been progressively trading cross bars for goal and point posts.
NSW/ACT's participation numbers indicate a near 200 per cent increase in player numbers in the past decade, although, it has now been four decades since the Swans relocated north.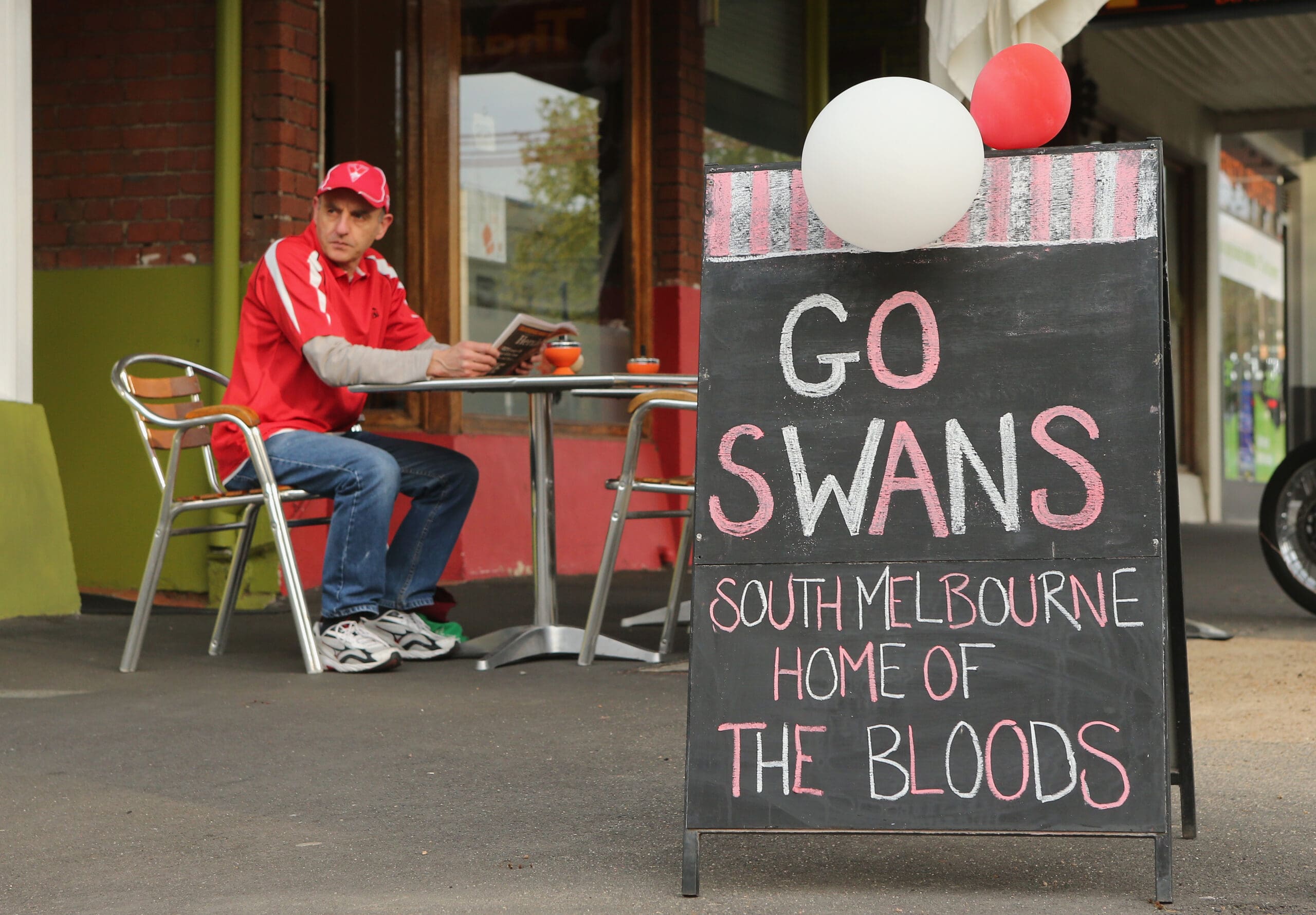 The Swans permanently left Albert Park for Moore Park in 1982, a year that yielded an average of 15,993 fans in the stands for their first season, including 12,221 people who turned up to see the Swans' Round 15 win over Geelong.
But the most recent edition of a Swans-Cats date at the SCG saw double that figure of 12,221 enter the field on a Friday night in Round 2.
At that moment, Lance Franklin slotted a set shot at the Bradman-Noble stand end of the ground, his 1000th career goal, inviting a swarm of Sydney love onto the ground.
Franklin recently announced he will be a Swan for another year, adding to an original nine-year contract signed ahead of the 2014 season - a time span in which he has reached two grand finals in the red and white.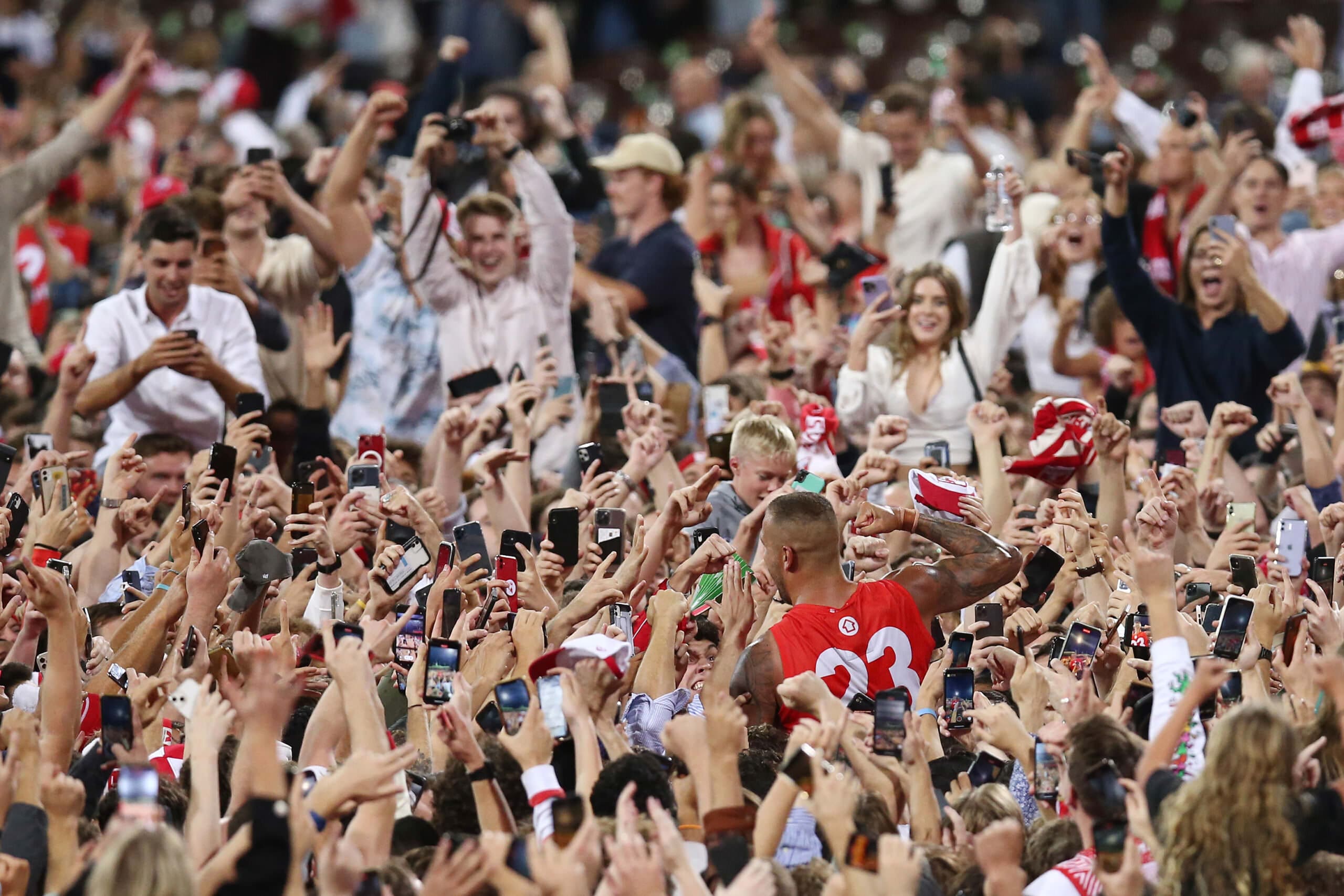 Sydney enter the Grand Final this weekend having won nine games on the trot, enduring no mishap since a Round 16 loss to Essendon at the MCG, while the Cats themselves house a winning streak that dates back to May 14, a 10-point loss to St Kilda under the roof at Marvel.
Remarkably, the Cats and the Swans, both VFL foundation clubs, and established in 1859 and 1874 respectively, will meet in the season decider for the first time ever.