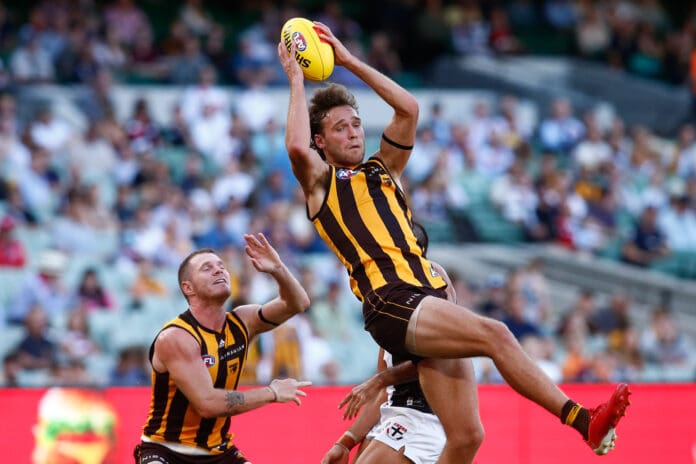 Every year Champion Data releases their list of 'elite' players and every year
fans cry foul that someone from their team has been omitted.
A lot of the time, this uproar is justified – but much of the angst is derived from CD not really releasing their criteria for labelling someone as the best of the best.
It can seem like understanding the stat company's formula is akin to mastering
advanced calculus, but it's worth remembering that Champion Data emphasises
positional impact much more than other measures of success.
AFL-focussed awards like the All-Australian team or the Brownlow Medal are almost exclusively focused on midfielders, and amassing disposals or goals seems to be the preferred measure of impact.
Now that we have a five-game sample size, let's dive into some of the 'lesser light' defenders from the CD list of elite and take a look at their 2022 stats to see
whether they stack up.
To reside on this list, the player must never have:
- Been in the AA squad of 40
- Finished top 3 in their club's BnF
- Finished top 10 a Brownlow
- Won a premiership
- Won a Rising Star
This criteria for selection may seem a bit arbitrary – so think of it as a homage to Champion Data.
General Defenders
Zac Williams
Zac Williams is an interesting case. He was one of Carlton's first high-profile
recruits for their new era, and has finished top five in BnF voting for a stacked GWS
team that made the grand final in 2019.
Based off his career so far, Williams isn't really a shocking selection for 'elite'
status. Much of the vitriol and ridicule sent his way is due to his lucrative
contract – reported at $900k a year – which does seem a bit pricey for a half-
back flanker that Kane Cornes suggested "doesn't defend".
But, like Carlton, his 2022 isn't off to a bad start at all.
For someone that is supposedly unwilling to defend, Williams actually ranks elite
for Contested Defensive one-on-ones, averaging around 1.8 per game. He's also
above average for spoils (2.4), ground ball gets (4.2) and one-percenters (2.8).
Admittedly, some other defensive metrics don't really flatter him. His contested
defensive loss percentage is 44.4%, which is quite high (elite defenders are
usually between 20 and 30%). Additionally, he is average for tackles and below
average for pressure acts.
But it's Williams' offensive properties that likely propelled him to 'elite'. He ranks
elite for bounces (3.6), kicks (19.4) and rebound 50s (7.4). For context, 2021
rebounds leader Daniel Rich averaged 7.96 per game, only 0.5 above Williams'
current rate.
It's clear that Zac Williams' drive off half-back for Carlton is one of the keys to
their 4-1 start. Whether his weaker defensive stats offset his offensive prowess,
however, is something you'll have to decide for yourself.
Jack Sinclair
There are a few on this list who you can look at and have an animated debate
either way regarding their status as elite.
Jack Sinclair is no longer one of those players.
Like Carlton, the Saints are off to a pretty hot start, and the 27-year-old's
evolution into a top-line defender/midfielder has played a huge part.
For starters, his disposal averages have taken a huge leap for someone as established as Sinclair is – from 21.1 in 2021 to 27.2 this season. Sinclair ranks elite for...take a breath...tackles, clearances, handballs, disposals, AFL Fantasy, bounces, contested possessions, ground ball gets, score involvements and pressure acts. All of this from someone who averages a comparatively low CBA, with an attendance rate of around 35.5% up to Round 4.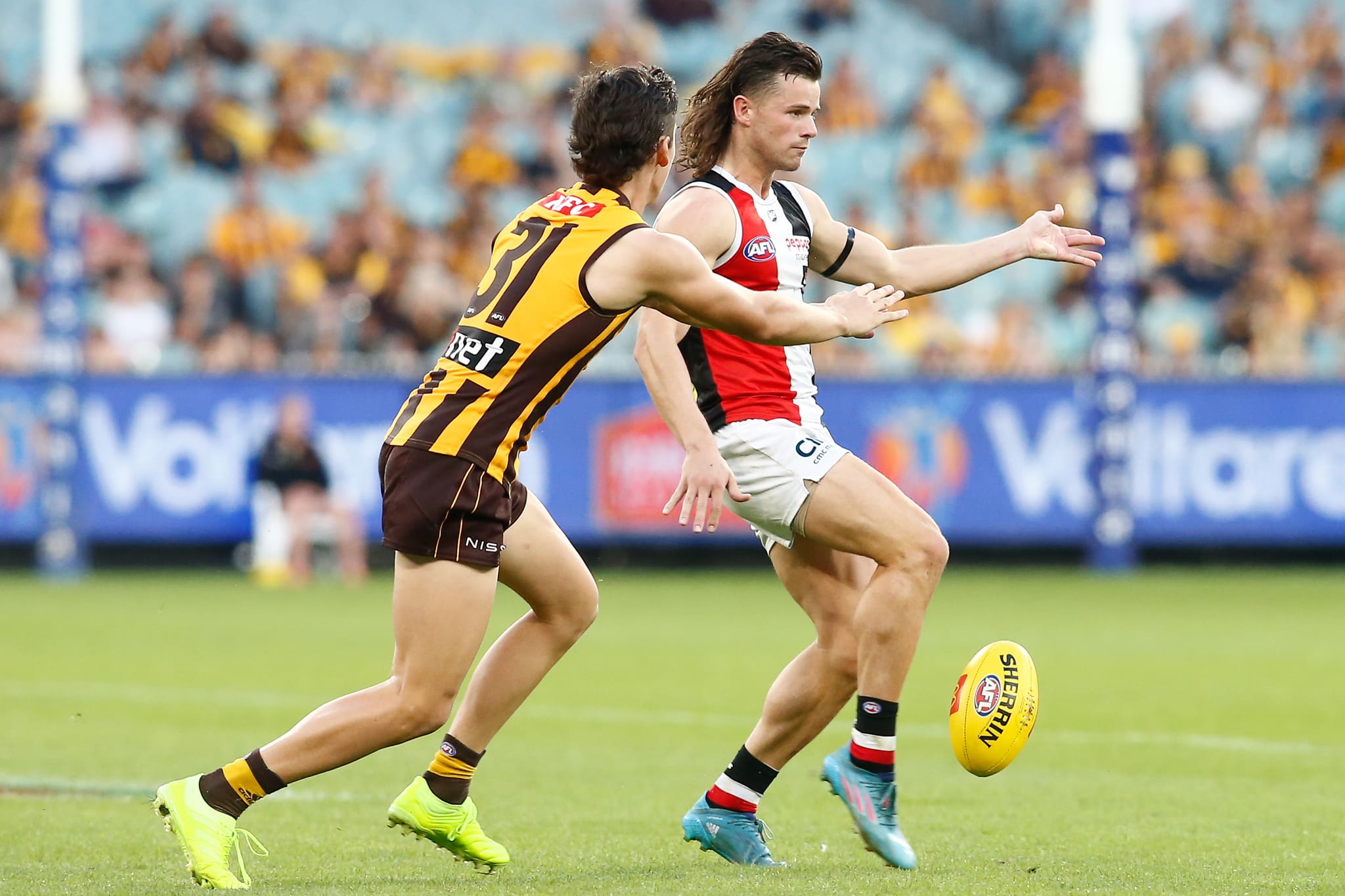 That is a pretty long line of high-ranking statistics, but they don't even tell the
full story. Sinclair, if not taking kick-ins, will often sit in the middle of the corridor
during rebound 50s. He is charged with being the primary decision-maker for
thrusts forward – if the Saints switch, drive it straight through the middle, or
deliver inside 50, he will often be responsible for these plays.
If this rich vein of form keeps up, he's going to be a shoo-in for Champion Data's
follow up list in early 2023.
Nick Hind
Nick Hind moved from St Kilda to Essendon ahead of the 2021 season and re-ignited his career as an electric spark in the Bombers' back six.
Like Williams, Hind's impact isn't really his defensive work. He doesn't attend
many one-on-ones, is average for pressure acts and below average for spoils.
What Hind is known for is his speed. In 2021, Hind was the fastest player in the
AFL, clocking up speeds of 36 km/h – which is about Olympic level if sustained
over a longer distance.
Since then, his stats have dropped off a bit, reflecting Essendon's stumbling start to the new season. What made his 2021 campaign so explosive was his ability as a rebounding defender to impact the scoreboard and break lines. He was benchmarked as elite for score involvements, inside 50s, bounces and goal assists, while above average for score launches and rebound 50s.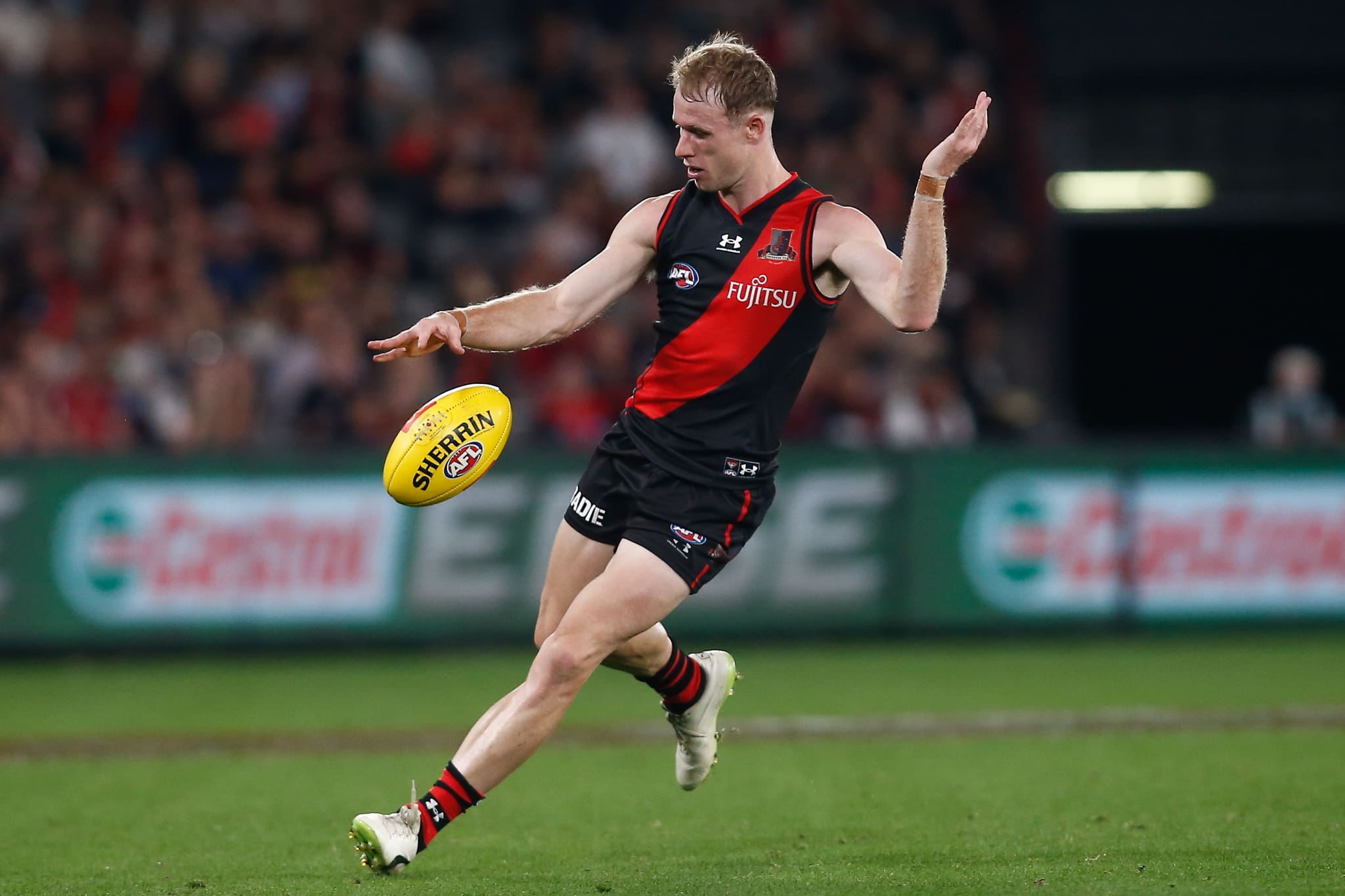 In 2022, the only above metric he has maintained as elite has been bounces. In
fact, aside from goal assists, he is ranked as average or below average in the
rest of these stats that made him so effective just a year ago.
Can he, and the Bombers, turn it around going forward this year?
Jack Scrimshaw
Jack Scrimshaw formed a key part of Hawthorn's aggressive, impactful 2021
backline that saw them beat a number of top four teams come the latter half of the
season.
As all coaches monotonously declare during press conferences, injury creates
opportunity. Scrimshaw's rise to 'elite' status came off the back of Sicily's
season-ending ACL injury, grasping the position of Hawthorn's intercepting,
rebounding decision-maker off half-back.
There are two key categories that best outline Scrimshaw's impact – the first of
which is his marking ability. Last season, he was ranked as elite for intercept
marking (2.4 per game) and contested marks (0.7). Scrimshaw is still considered
elite for his intercept marking (2.0), but his overall marking and contested marking
has dropped off a bit.
The second element to look at is Scrimshaw's kicking. It's worth prefacing that
efficiency is a flawed, and almost useless stat without actually watching games.
If you're only kicking it 15m sideways five times a game, you're probably not an
elite kick, even if the stats say so.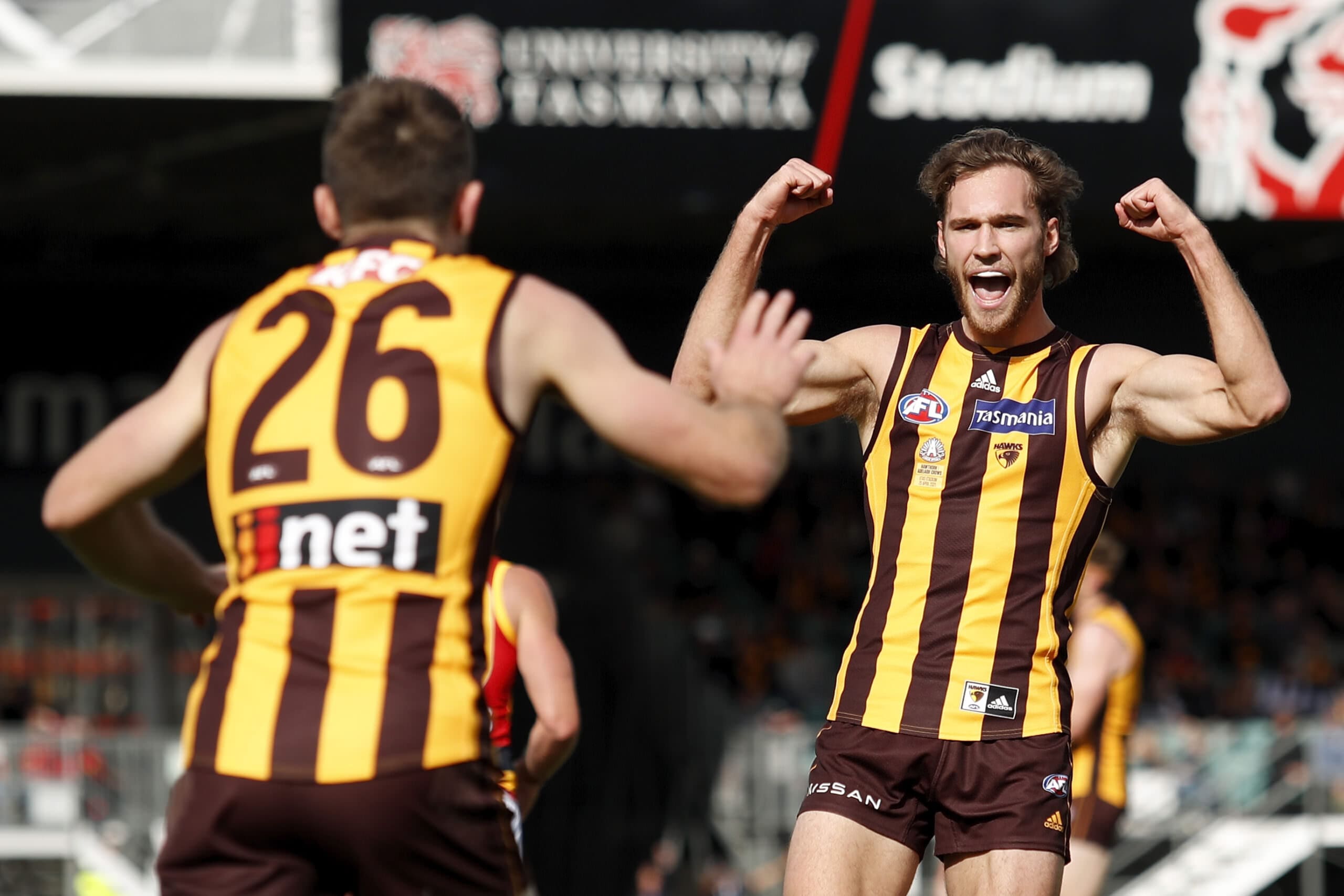 But we've watched enough Scrimshaw to know – he is an elite kick. He can roost
it 50, pinpoint targets in the corridor, and deliver truly inside 50.
His stats haven't quite held up as strongly through the start of 2022, but this was
to be expected with Sicily's return.
There's no doubt that Scrimshaw is one of Hawthorn's most important players,
and his impact on games goes beyond what you can gleam from basic stats.
However, is this enough to make him elite? You can decide.
Aaron Hall
After a couple of impressive seasons in the midfield for Gold Coast, Hall fell out
of favour at the club and was traded to North Melbourne. For a year or two, it
appeared his career may be over, only playing in six games throughout both
2018 and 2019.
However, Hall managed to repurpose his skillset as a rebounding defender in
2021 and became one of the highest disposal-winning defenders in the
competition.
If you watched North Melbourne last year, it's easy to have the impression a lot
of these stats weren't exactly hard-earned. The Kangaroos struggled with
breaking presses in 2021, and this resulted in a lot of sideways ball for their two
key defensive decision-makers – Hall and Ziebell.
But this is over-simplifying Hall's impact. I don't care who you are – averaging
28 disposals in a game of AFL takes serious skill. That's 28 times that the opposition doesn't have the ball, 28 times that he's released pressure off his teammates, 28 times that they might be able to launch an attack on goal.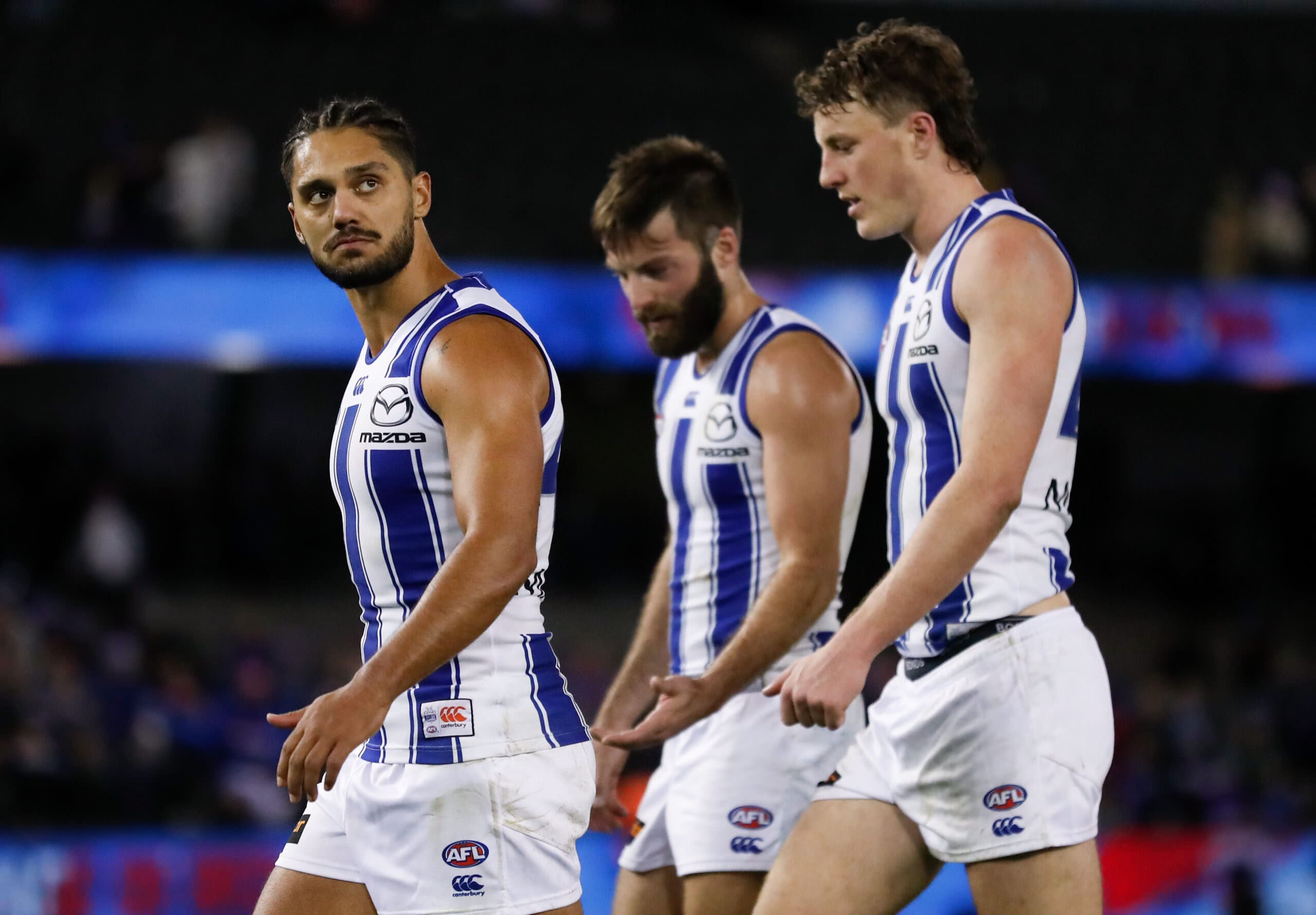 But it's more than just getting the ball. Hall was rated elite for rebound 50s and
score involvements in 2021. Many of North's successful forays forward of centre
were on the back of Hall's use from the backline.
His 2022 season hasn't quite reached the same heights, although he is still rated
as elite for rebound 50s, while adding 5% to his kicking efficiency.
Unfortunately, a brutal hamstring injury to Hall will hamper his ability to build
into this year, and it remains to be seen how much time he will miss.