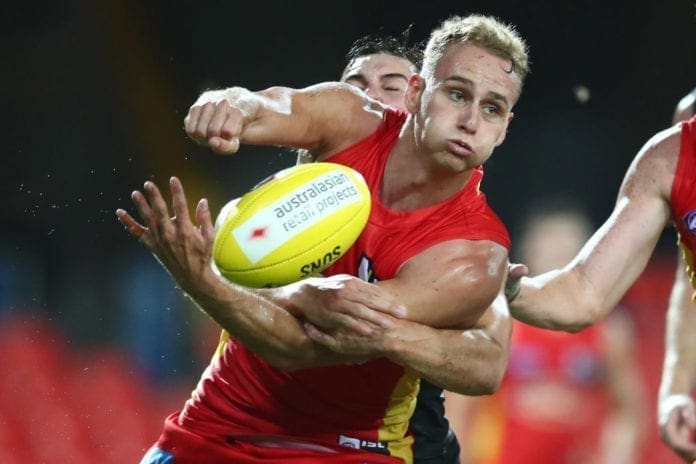 Gold Coast midfielder Will Brodie is eyeing a big 2021 season after smashing the club's annual 2km time trail and solidifying change ahead of next season.
Brodie beat his personal best in the 2km run by 30 seconds, impressing not only himself but his teammates too as they rushed to congratulate the man they knew had worked so hard in the past 12 months.
The midfielder has returned to pre-season looking better than ever and is in the best shape he has been during his four years with the Suns.
After only playing one game in 2020, Brodie wanted more opportunity and a change, even with two years left on his contract.
The club came to a common ground with the 22-year-old and saw him on the market for a short time before plans changed.
No solid offers came Brodie's way and in that moment, ensured his return for Gold Coast in 2021 with more determination than ever.
The main issue for Brodie over the years has been the inability to ensure consistent contests and being able to see the game through, something he strived to change this pre-season.
"I've never been a gifted aerobic runner," Brodie told AFL.com.au.
"It's something that's always been on the list to work on.
"Over the off-season we targeted that and narrowed the focus to get it as good as possible.
"We came up with a plan and I cut four or five kilos off.
"We ran over the off-season heaps. It was the main focus for me. To come back and get a good result was good reward for that effort."
The midfielder found himself in stiff competition last year with Hugh Greenwood and Matt Rowell joining the team, as well as skipper Dave Swallow and Touk Miller already solidifying their spots in the midfield.
Coach Stuart Dew wants Brodie to be able to be interchangeable, like a Ben Ainsworth, capable of being an onballer and a significant forward player.
"My body has matured a lot," Brodie said.
"I feel like I'm able to back up sessions more, I'm able to train at a higher intensity than I could my first few years.
"Making the decision to cut weight has really helped. I haven't been this light since I was 18 or 19.
"Carrying less weight around has been a tough thing to do but a great decision.
"It's just been a calorie-counting, nutrition thing. I've lost a bit of muscle, but I've lost a bit of fat as well. I've sacrificed that bit of size to improve my ability to run."
Brodie's career average disposals currently sits at 19, with tackles at 4.9 and kicks an average of 8.2.
Brodie has acknowledged his frustrations about his the last few seasons but is hoping to continue to build in 2021 with a team he has connected with and feels apart of.
"I love it here. I haven't played a lot of games, but I feel as a player I've continued to develop and improve," he said.
"Hopefully this will be my year."