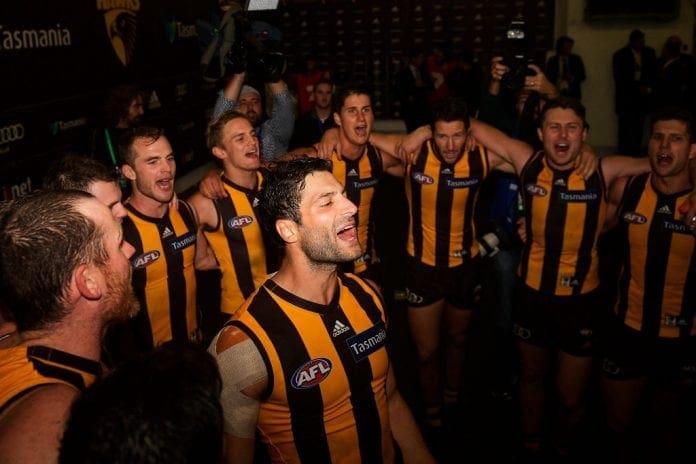 Hawthorn defender David Mirra finally got to live out his dream last Sunday, after running on to the MCG for his AFL debut.
Mirra has been in the Hawthorn camp for eight years, after joining Box Hill in the VFL after he wasn't selected in the 2009 National Draft.
The 27-year-old spent his entire career at the Hawks' affiliate side because moving on to the rookie list during last year's draft, before going on to debut against the Demons.
Hawthorn vice-captain Isaac Smith spoke to RSN radio on Wednesday about Mirra's debut, and recalled a hilarious practical joke the club's video department made for the defender last year.
"Even though he wasn't involved with the Hawthorn Football Club for 10 years, Box Hill are so aligned with Hawthorn that he spent so much time around the club," Smith said.
"The funny thing is they made a joke when he played in last year's intra-club and they made a 50-game intra-club video for him because he's played in that many intra-club games for the club but couldn't get on the list. He took that really well and that was hilarious."
Smith said Mirra certainly deserved his opportunity to play in an AFL game, and was thrilled the mature-age defender finally got to live out his dream.
"It was a big, exciting time for the footy club. I know there was a heap of Box Hill people there for him and it was a massive day for Hawthorn as well. It was awesome to see him get his chance," Smith said.
"I think even just drafting him has brought Box Hill and Hawthorn together.
"It's amazing that you can just pick a guy up that's been trying for ten years and he can have such a big influence on the group."
Mirra recorded 18 disposals and six rebound 50s in Hawthorn's 67-point win over Melbourne.