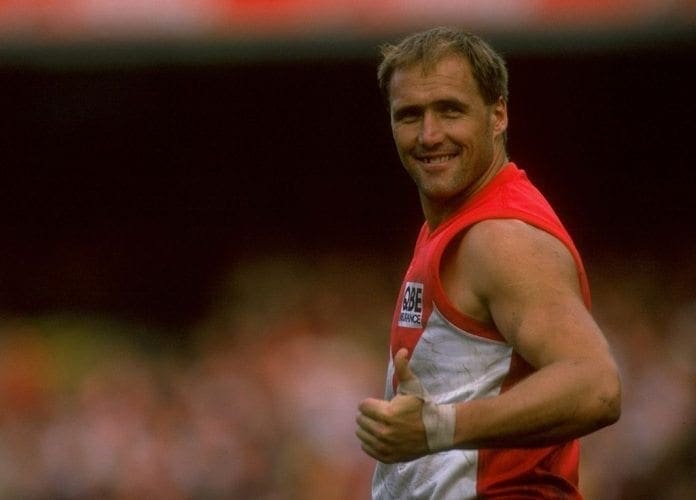 It's hard not to be nostalgic when looking back on past eras that saw full-forwards as dominant forces in our game.
In the previous decades, supporters flocked to watch powerhouse forwards kick huge bags from either end.
The greatest goalkickers had legendary status, resembling rock stars far more than they did athletes.
But those days are long over.
The AFL now risks losing one of it's greatest traditions; fans storming of the ground after someone kicks a century in a season.
In the 13 seasons between 1984 and 1996, the ton was reached 20 different times. But now, in the 13 seasons since 2008, no one has even looked like reaching the milestone.
For a brief period at the beginning of this year, there was talk the big forward was back. New rules and longer paced games had some hoping there would be a return to old.
Sadly, this was wishful thinking.
The AFL has long been fighting a losing battle to increase scoring and to keep games flowing.
We've seen many great forwards this century but almost none of them have been able to dominate like we've seen in decades before.
The lone warrior in this fight has been the great 'Buddy' Franklin.
Like the greatest forwards of the 20th century, Buddy's has a presence that demands your attention.
His dominance has been so great that many have speculated he will be the last player to kick 100 goals in a season and 1,000 goals in a career.
But as Buddy enters the twilight of his career, you can't help but fear we are witnessing a dying breed. Like the Tasmanian tiger, could this be the last glimpse of a 'superstar' forward?
Coming off injury in his 17th season, Franklin sits 7th on the Coleman despite having missed several games. As impressive as this is for a 34-year-old, it's an indictment on the current crop of forwards.
In fact, if the current order stays the same until the end of the year, five out of the top eight in the Coleman race will be past 31-years-of-age. This is a remarkable stat for a position that demands such speed and athleticism.
So where is it all going wrong?
Commentators and analysts have spent plenty of time pointing fingers at those they find responsible. And there are the obvious culprits.
The AFL industry is increasingly business-focused, and financially the stakes are enormous.
As more money pours into the game, the employment of coaches, trainers and fitness staff has increased ten-fold.
Modern footballers are drilled to the minute with structures, zones and game plans, and teams are built from the defence. Coaches have been on a war path to eradicate instinctual footy.
Around the turn of the century, coaches shifted focus towards an even spread of inside-50 entries. It became too predictable to choose the same target over and over again.
But there is another important factor that is often overlooked when having this conversation; maybe the current crop of forwards just isn't as good?
Throughout the 80's and 90's, the calibre of key forwards was ridiculous.
Names like Lockett, Dunstall and Ablett were as big as the game itself and kicked bags for fun on the weekly.
Surely if the players were in the league today, the 100-goal milestone would be under threat once again?
The AFL today has does not have such luxury talent. This chasm goes a long way to explain the goal-kicking drought.
So is there simply a dip in the current talent available or does today's AFL environment no longer cater for the same level of dominance?
Clearly, footballers are now more team-orientated than ever before.
Young players now undergo media training as soon as they step foot in the club. The increasingly sanitised media environment has partially robbed us of the game's most charismatic players.
The pressures placed on key-forwards have been detrimental to their development for some time. Apart from Nick Riewoldt in 2000, no forward taken at pick no.1 has successfully lived up to the expectations placed upon them.
But these external challenges don't fully explain why no one has kicked 82 goals in a season for over a decade.
And it also doesn't explain why, in the top-10 of the Coleman, there is only one key-forward (Josh Bruce) within the prime 25-29 year-old age bracket.
SEE ALSO: Season over for Bulldogs forward
Maybe the missing piece is waiting for the next 'Wayne Carey' to come through the system...
Luckily for us, there is hope on the horizon.
Young guns like Aaron Naughton (21yo), Ben and Max King (21yo) and Jamarra Ugle-Hagan (19yo) will all drive the new wave coming through. Carlton's Harry McKay also looks set to dominate for many years with the 23-year-old well ahead in this year's Coleman.
This crop of youngsters already appears far stronger than the ones currently in their prime.
So although it looks like Buddy's 1000th goal might be last big milestone for some time, it doesn't mean it will be the last.
It's only a matter of time before an all-time-great forward gets drafted again...
Surely the AFL has a few legends left to come.