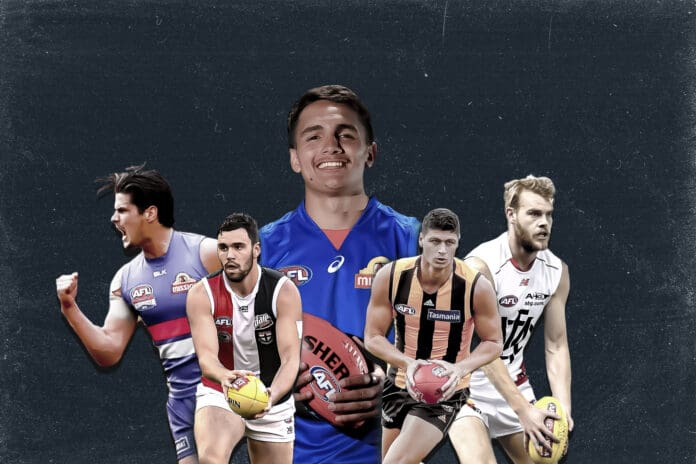 Jamarra Ugle-Hagan made his highly-anticipated debut last weekend, and it was a nervy start for the 19-year-old.
It was clear he was feeling the pressure as the whole footy world watched on. Managing just seven disposals, no goals and a few fumbles, Ugle-Hagan looked to be lacking a bit of confidence.
Last week, Paul Roos questioned the decision to debut Ugle-Hagan off the back of his underwhelming form in the VFL.
"He's not going in in good form, that's not a good sign for a young player. You want your young players playing well before they come into the team, and in confidence," Roos said.
"I have some really strong views how to develop talent. You develop talent in the VFL, in the lower leagues, you bring them in when they're in really good form."
Jamarra's talent is unquestionable.
JAMARRA UGLE-HAGAN
Forward

Bulldogs
As the number one pick in the 2020 draft, there has certainly been plenty of hype for the youngster.
Comparisons to the great 'Buddy' Franklin are drawn every time the kid's name is mentioned.
What an enormously high-bar to live up to.
Earlier in the year, speculation went wild with suggestions a trade could be on the cards for the prized pup. Few first-year players are subjected to such treatment, and it must be having an affect on the youngster.
Still, Ugle-Hagan is currently in the honeymoon period that all No.1 picks experience.
SEE ALSO: Covid chaos: trio of teams linked to Tier 1 exposure site
For the first couple years, he can bathe in the love and fan-fare of a footy-world anticipating an exciting career ahead, but the years that follow will be far more bumpy.
As the weight of expectation bears down on him, history has taught us that nothing short of brilliance will be accepted.
The news cycle can quickly turn a top pick from future star to a looming disappointment, and no one feels this more than key-forwards.
Since the AFL's introduction of the draft system, only one key-forward chosen with the first pick has been an unequivocal success; Nick Riewoldt.
It's no wonder that so many of the highly touted spearheads haven't lived up to expectations, as no position relies more on confidence and form.
SEE ALSO: Bulldogs list manager explains why club's first round pick on the table
Jack Watts is perhaps the most famous example of this.
Taken first in the 2008 draft, many hoped Watts could turn around Melbourne's fortunes and lead the club towards success.
Watts was used as a marketing tool for long-suffering Demons fans and the hype was enormous.
Picked early in his first season despite lacking form, Watts was targeted and smashed in a Queen's birthday debut game that has since become infamous.
Watts was never able to gather any confidence throughout his career, and received constant criticism for his position in the draft - something that he had absolutely no control over.
SEE ALSO: Disgruntled ex-Dog eyes off political post
In the years since Watts, three more key-forwards were taken first in the draft.
Jonathon Patton, Tom Boyd and Paddy McCartin managed less than 200 games between them and all retired early from the league. Additionally, they have since admitted struggles with their mental health.
Recent history is clearly not on Jamarra's side.
There is obviously an enormous leap from juniors to the AFL.
Boyd, for example, played all his juniors being twice the size of anyone else. The difficulty in transitioning to a league full of similar-sized opponents is often underestimated.
SEE ALSO: Dusty hospitalised with kidney injury, but Tigers find their familiar roar
The toll on the mind and the body was just too much for many to handle. It speaks volumes that it took a player of Riewoldt's character to rise above the pressure.
For over two decades, nearly every successful number one pick has been a midfielder, and it's no surprise.
A midfielder might get over 100 chances to have an impact on the game, where a key-forward might only get a handful if they're fortunate.
With little opportunity to dominate in today's footy, key-forwards find it near impossible to meet expectations immediately.
Ugle-Hagan will have to be the best forward drafted in nearly two decades if he is to meet these ridiculously high standards. He may still achieve this, but clearly it's far too much pressure to lump on a teenager.
While we are all desperate to see what this kid can achieve, the AFL public needs to show some patience.
Stop the comparisons and wait until he's ready.
We need to let him play footy.