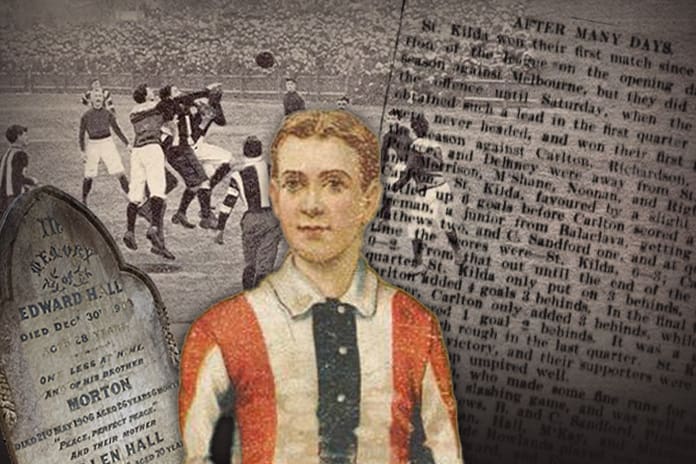 Throughout any of life's countless pursuits, grit and determination have often meant little, unless these efforts and drive happen to intersect with Lady Luck.
Good fortune has often trumped iron will across the course of history. Just ask the unsinkable Violet Jessop and those just jabbed up with penicillin.
The concept also extends across football's boundary line, with the likes of Stephen Milne, Alex Johnson, Greg Madigan and Aaron Keating enjoying fortunes found on all sides of the tumbling dice.
However, if you keep pouring through the catalogue of footballers who have felt the sun shine down on them, you aren't likely to find many blacksmiths from Ballarat throughout your travels.

Following Tom Campbell's sole appearance as a Saint in Cairns earlier this year, the St Kilda Football Club has had 1634 heroes with haloes represent them across the course of their time in the competition.
And while Campbell tasted defeat amongst the soupy humidity of the far north in Round 7, the loss only sought to add the gigantic ruckman to an even larger list of Saints all too familiar with the sensation.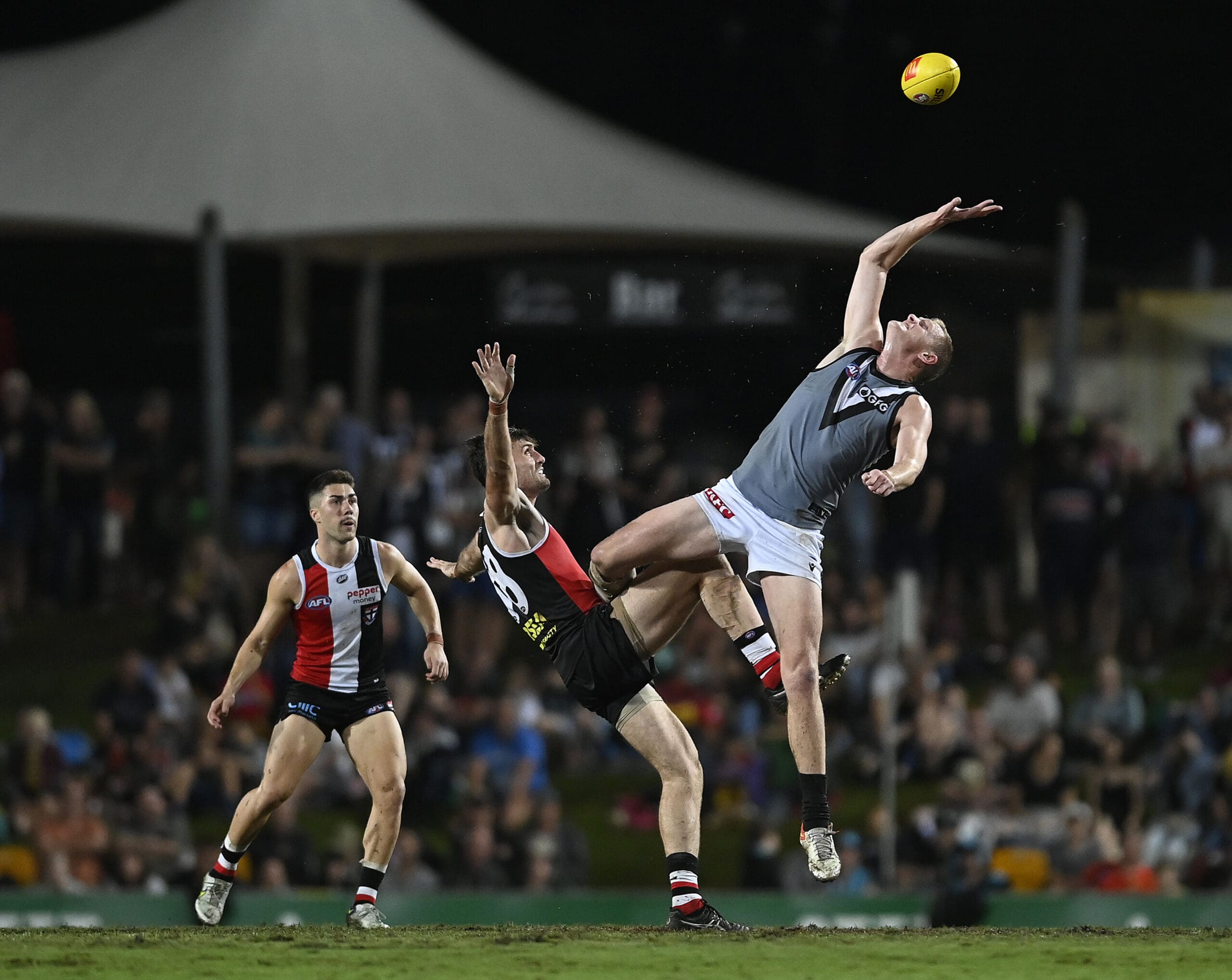 After slogging away in the VFA for nearly a quarter of a century, St Kilda – along with Carlton, Collingwood, Essendon, Fitzroy, Geelong, Melbourne and South Melbourne – broke away to form the VFL in 1897.
Yet, while each of their advisories would eventually fly their first premiership flag by the time 1926 had ticked around, it would take the boys in red, white and black more than full three seasons just to win their first game.
Across the course of this historic nadir, it is near-certain that no member of the seaside club felt the full brunt of worry and woe more than their pioneering utility, Edward 'Ted' Hall.
Save for the handful of nuggets that can be picked from the brain of St Kilda savant and club historian, Russell Holmesby, little is known publically of Hall, aside his known proficiency with forge and anvil, as well as his tragic on-field record.
Exactly a century before 'Big, Bad Barry' first stalked St Kilda's halls, Ted made the journey down from the churned-up goldfields of Victoria's central highlands, seeking a fortune of a different kind. After running out for club sides Marlton and Windsor, Hall linked up with St Kilda for their final VFA season in 1896, playing 10 games and slotting 9 goals for the 9th placed sinners.
But while able to walk off the playing fields of Melbourne having tasted success on six occasions that particular season, by the time St Kilda had joined the Blues, Pies, Dons, Roys, Cats, Dees and Swans in abdicating ahead of the first VFL campaign, the club's eternal rot had begun to set in.
Under the watch of inaugural skipper William Shaw, St Kilda ran out for 48 fixtures across the opening 3 seasons of the rebel league, losing each by an average margin of more than 53 points, with rock bottom being reached following a seismic hiding at the hands of Geelong after posting just a solitary behind for the entire afternoon.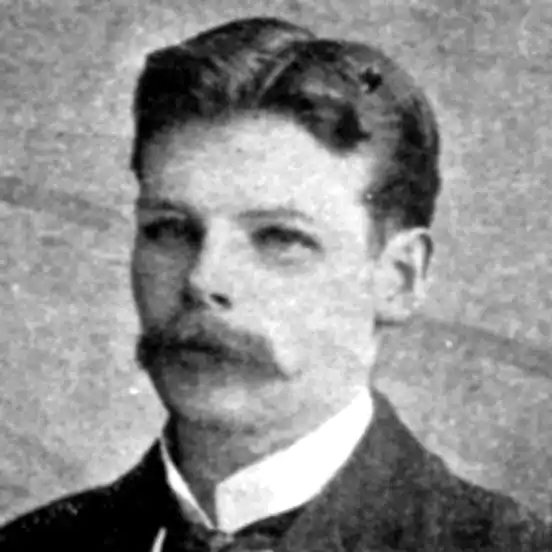 Still, with Shaw making way for Cecil Sandford ahead of the 1900 season, the seasiders' fortunes were fleetingly reversed in Round 1, after claiming their first league win over eventual premiers Melbourne following an arduous weeklong review.
Yet, while these patient pioneers were able to finally toast some success, Hall's chalice remained bone dry, having failed to take the field that groundbreaking afternoon.
Whether despondent, disillusioned or down to just the lint in his hip pocket, the Ballarat native removed himself from the lineup for St Kilda's Round 2 date with South Melbourne, instead choosing to umpire Geelong's clash against Collingwood the same day down the highway.
And though a wage would be earned at Corio Oval that afternoon, Hall's performance in white was lambasted, with the now-shuttered Australasian newspaper decrying him, with the then 24-year-old resuming his fruitless playing career the very next week.
''The new field umpire, Hall, had a big task in hand and scarcely succeeded in rising to the occasion."
Despite being best known for pioneering the fast-food industry and making a redheaded clown and a patty thief household names, McDonald's founder Ray Kroc was never one to offer blind luck on his set menu.
While happy to preach that fortune was a by-product of toil and that the harder one worked, the luckier they got, the mere fact that Kroc's model to feed the masses was stolen means that his credo should probably be consumed with a salty pickle or two.
Though his words have since been co-opted by brands, teachers and coaches the globe over, those that have had their blood, sweat and tears amount to little have long seen the sentiment offer about the same nourishment as a McFlurry.
By the time the final bell had sounded on St Kilda's 39-point loss to Fitzroy during Round 11, 1901, Hall's VFL record stood at no wins from 62 starts. But having spent time in a Victorian guernsey, and seeing more positional changes than the yet-to-be-established Soviet border, it is clear that very few corners were being cut.
However, just as tides are timed to change and every dog eventually has its day, the Blacksmith's elbow grease would soon pay dividends.
Prior to the following weekend's set of matches, only the most incorrigible or inebriated of punters would have been parting with any sovereigns to back a St Kilda victory - even though the league's long-term losers were fixtured to face William Stuckey's battered Blues.
While Carlton would soon commence their opening golden era, claiming the 1906, 1907 and 1908 flags in succession, when the 'Baggers' made the trip down to the Junction Oval in mid-July of 1901, the club had never finished a season above the ladder's 7th rung.
But with their hapless opponents still bogged within a winless run stretching 435 days, sportswriters of the day could have been forgiven for having filed their copy well before the opening bell.
With the aid of a breeze running between Albert Park Lake and Fitzroy Street, Hall's teammates slammed on six first-quarter majors to spring out to a lead large enough to see bookies sweating bullets.
Yet, in a drop-off familiar to those that back Brett Ratten's present-day Saints, Carlton careened back into the contest with three straight of their own before the half.
Whether the wind died off, or the legs of the competition's pair of cellar-dwellers simply gained weight like most of Kroc's customers, the second half provided just two goals and with them, a drought-breaking win for the side who still has a trademark on producing torment rather than temerity.
In his brief review for The Argus newspaper, lauded scribe of the day 'Old Boy' described the scenes of delight, paying special praise to Val Robertson's "slashing game" on a wing.
Although it is not known where St Kilda's celebrations took them that night, or whether any of them bothered to turn up for work the following Monday, what is close to certain is that no member of their congregation will have enjoyed themselves more than Ted Hall.
On the other hand, it is also known that by the time the flagons and tankards had been emptied and the throes of a suburb-wide hangover had set in, Hall's career had reached its apex, with far more than just games lost in the seasons to come.
For those of you who are prone to reading a book's final page first, you will know that Hall's time with the club came to an end after only 10 more outings.
You will also know that of the galaxy's worth of footballers who have crashed through crepe paper banners, Hall's career was capped after just a solitary win from 73 starts, gifting him the ignominy of the lowest winning percentage of any AFL/VFL player to have made 50 or more appearances – 1.57 per cent.
Less chronicled is that after departing his beachside dwellings, the boy from the bush returned to his roots, taking up lodgings in the Gippsland town of Boolarra, presumably rekindling his trade.
But with cruel irony often littered throughout the eulogies of the unlucky, at almost the exact time Hall made tracks for the sticks, St Kilda started to finally thatch together strings of wins, finishing their 1903 season with 7 to their name.
And with the final arrow of outrageous misfortune fired, Hall's life came to an end just months shy of his 28th birthday after contracting Phthisis Pulmonalis, an acute form of tuberculosis.
The average age life expectancy for men of this era was 49.
With St Kilda set to meet Carlton this Friday night at a stadium with enough bells and whistles to melt the minds of all those alive during Australia's federation, the Saints will be afforded their latest chance to chip away at their dismal record against the burgeoning Blues.
Over the course of their 223 previous dates against one another, Carlton has routinely crushed the men from the southern suburbs, with St Kilda's win-rate sitting at a preposterously poor 24.2 per cent.
Still, this return could have always been fractionally worse had it not been for the sun shining on their most luckless son one breezy afternoon well over a century ago.