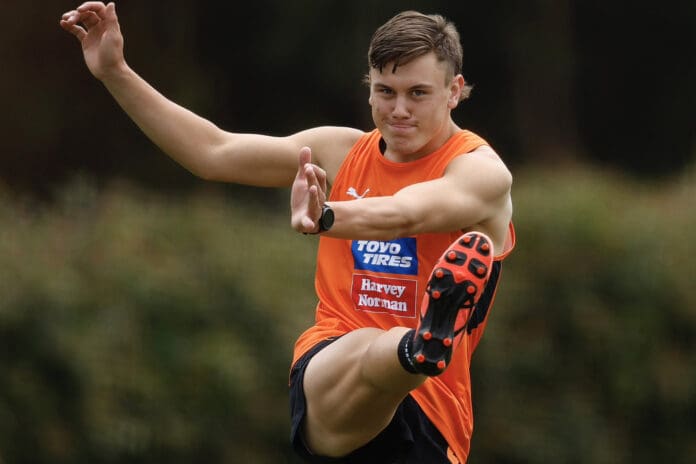 GWS rookie midfielder Harry Rowston will make his AFL debut this weekend when the Giants travel to Optus Stadium to play the West Coast Eagles.
Rowston, taken by the Giants with the No. 16 selection in last year's National Draft, impressed GWS' coaching staff throughout the pre-season and has been rewarded with a senior debut.
The 18-year-old was informed on Friday by club captain Toby Greene that he'd be making his maiden AFL appearance, expressing his overwhelming excitement.
"My head's still spinning, I can't believe it," Rowston said on Friday.
"I haven't slept all week thinking about it. To finally know is pretty exciting. I couldn't be happier."
Rowston has been involved in GWS' Academy system since the first year he was eligible.
"I've been through every rank, I've been with (fellow draftee) Nick Madden as well so to be here with him is pretty cool, and now to be playing for the Giants, it's a lifelong dream come true."
Rowston described his relationship with Giants AFLW head coach and former Academy head coach Cam Bernasconi, who was present when Rowston was informed of his selection.
"Me and 'Berna' have had a pretty good connection the past couple of years and he's probably one that I dedicate being here to him," Rowston said.
"For the last couple of years, he's really taken my footy to the next level. It just shows the connections you make through the Academy, it's just amazing to be able to share those sorts of experiences with him."
The youngster shared a few of the instructions he has received from coach Adam Kingsley in the lead-up to Sunday's game against the Eagles.
"Just get in there and compete," he continued.
"Hit bodies, tackle hard, those are the things I got drafted for and the things that 'Kingers' has wanted me to show out on the footy field so I'll just go out there and have a crack and try and get the win."
Rowston, the latest product of the Giants Academy, made his way to Western Sydney after GWS matched a bid from the Swans on draft night for the young rover.
The final squads for Sunday's clash between the Giants and Eagles are set to be announced on Friday at 5:00 PM AEDT.