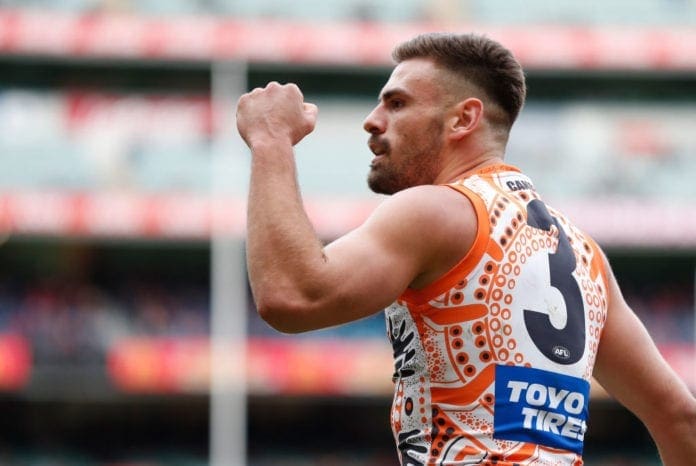 GWS coach Adam Kingsley has revealed star midfielder Stephen Coniglio had blurred vision hours ahead of Saturday's Elimination Final win against St Kilda, with subsequent tests leading to the forced late change that saw the ex-Giants skipper miss the four-goal win.
Coniglio was struck by a ball at training on Thursday at the Giants' main session, with the 29-year-old not showing any symptoms or issues shortly after the incident. However, the onballer flagged that his vision was impacted days later.
Following a consultation with the club's doctor, Coniglio was ruled out of the contest an hour from the final bounce, with Xavier O'Halloran brought into Kingsley's side for the must-win match.
"Main training on Thursday he just got a knock in the eye, the ball hit him in the eye," Kingsley told reporters after the win.
"Didn't think anything of it at the time. Didn't have any eye issues. But this morning he flagged he had a little bit of blurred vision from that knock.
"Our Doc checked him out and did a full concussion test to make sure everything was A-OK. It was just a bit of blurred vision, so we didn't want to risk it. Playing against the Saints we knew it was going to be a high contest team, we didn't want him to get caught by surprise in the periphery."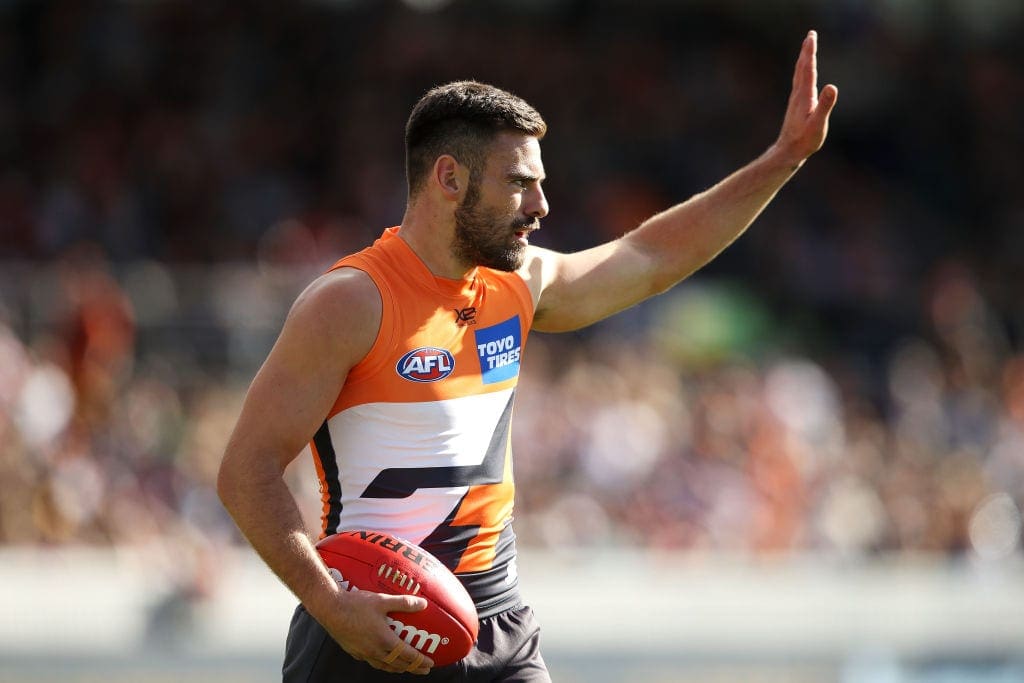 Kingsley spoke on the pleasure of seeing his depth options stand tall in the absence of Coiglio, with O'Halloran having an impact in an outside midfield role, while second-year midfielder Finn Callaghan flourished in his first final in what was his first appearance in six weeks following an Achilles issue.
The Giants are likely to welcome Coniglio back for their trip to Adelaide Oval to face Port Adelaide, pending further tests, with Kingsley noting his side's "depth is building" at the right time.
"Xavier O'Halloran came into the side and played predominantly wing. Finn Callaghan was back fit so that certainly helps. I thought he had a great game today," the Giants coach said.
"I feel like we've got adequate cover there. Obviously we would've loved Stephen to play today but I think our depth is building it's it's still quite young but they've played predominantly across the year. so they're building that experience.
"There's no better experience than a final at the 'G."
Coniglio wasn't the only key Giant facing concerns in the lead-up to Saturday's final, with key defender Sam Taylor battling a race against the clock to overcome a hamstring injury.
Kingsley initially had a line through's the All-Australian defender's name early into the week, only for Taylor to overcome any niggling concerns before being cleared to take on Saints forward Max King in what was a crucial matchup in the proceedings.
"I must say, earlier on in the week I probably wasn't thinking of playing him," Kingsley said of Taylor's chances.
"I had a chat with him during the week and he seemed really confident. Our medical, fitness and high-performance staff did a wonderful job preparing him to play. This was two weeks ago, not just for the last session of the week.
"He got through the last session of the week without any issues, no soreness, woke up the following morning with no soreness. It's a big game, we needed to win it, so let's take the risk."
The Giants have defied the odds this year in Kingsley's maiden campaign in the coaches box, with a final win seemingly a pipedream for most after their bottom three finish in 2022.
For Kingsley, his belief has only continued to build from the pre-season, with the 'Orange Tsunami' on full display in the second half of this year and through September.
"I guess as the years progressed, we've improved significantly. We started to play a recognisable brand, I think, that I felt would stack up against high-quality opponents,"
"Towards the end of the season, when we're up and going pretty well, I think it was possible around then.
"It's a hard one to answer because I do we have that inner belief, right from the pre-season, that we had a really strong group. We just didn't necessarily show it in the first 10 rounds of the season, but we had signs, we just weren't doing it for long enough.
"The group I have tremendous belief in. When they play that style of footy, they're really hard to beat. That's certainly what we pride ourselves on."
The 24-point win over the Saints at the MCG saw the Giants claim a victory at their 11th separate venue in 2023 alone, with the New South Wales side one of the best travelling clubs across the season.
Kingsley's men will need to bounce back from the 51-point loss they suffered against the Power in Round 22 to keep their season alive however, with the Giants well aware of the task at hand in their return to South Australia next Saturday.
"We enjoy playing away. We enjoy playing at home a little bit more, but getting away together as a group we have real confidence in our preparation," Kingsley said.
"Our medical staff and our high-performance staff have a great routine with our players and prepare them really well.
"We're not worried about playing away games. We've won in a lot of different venues across this year. Port Adelaide really handed us a lesson about a month ago over in Adelaide, so it's gonna be a tough game."
The Giants will meet Port Adelaide at Adelaide Oval on Saturday at 7:10pm local time.