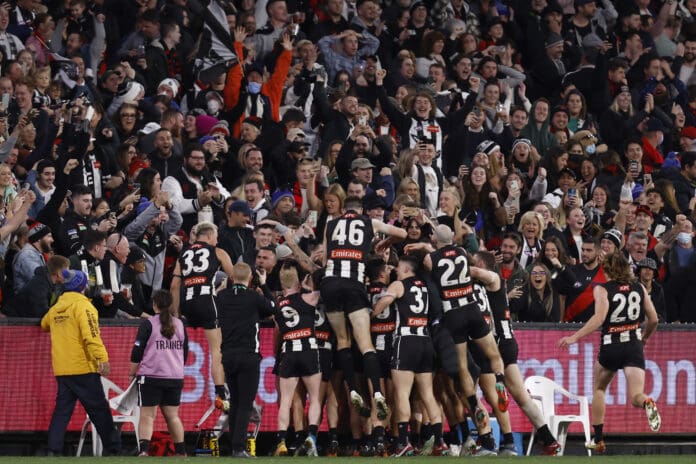 Jamie Elliott's post-siren goal to sink Essendon will go down as one of the most iconic moments in the club's recent history.
An end-to-end run after Bomber Harrison Jones' missed chance at the city end of the MCG saw the Magpies forward have the chance to extend Collingwood's winning run to nine games.
With the siren sounding as he began his set shot routine, Elliott delivered on the big stage with a pinpoint kick flying through the goals.
The pandamonium sent the AFL world into shock, prompting plenty of reactions to the stunning finish.
UNBELIEVABLE 🤯

JAMIE ELLIOTT WINS IT AFTER THE SIREN!#AFLPiesDons pic.twitter.com/IjAIukwYWr

— AFL (@AFL) July 24, 2022
That cele 🔥 Ice in his veins ❄️ pic.twitter.com/2MSb4ADwCC

— Brayden Cocks (@brayden_cocks) July 24, 2022
Give Jamie Elliott the keys to the city fr

— Collingwood FC (@CollingwoodFC) July 24, 2022
Jamie Elliot 👏👏👏

— Charles Cameron (@CharlesRanger23) July 24, 2022
Craig McRae's surely gotta buy a lotto ticket now #AFLPiesDons

— Danielle Sorati (@dansorati) July 24, 2022
Never In doubt.

— Dane Swan (@swandane) July 24, 2022
Holy hell. What a friggin kick on the siren. Incredible, Jamie Elliott.

Sport hey. #AFLPiesDons

— Daniel Garb (@DanielGarb) July 24, 2022
Attention was also placed on Essendon's failure to negate Collingwood's ball movement after Jones' set shot, with Darcy Moore and Trent Bianco linking up to move the ball from one arc to the other in a matter of seconds.
With a two-point buffer being all that separated the two sides, many were quick to point out Essendon's poor defensive structure.
Essendon's defensive set up and pressure after the goal was non-existent.

The first two Pies kicks were to guys in plenty of space. Who was on Bianco?#AFL #AFLPiesDons https://t.co/RzpwXz1Qst

— Matt Turner (@mattturner1986) July 24, 2022
Just, you know, leave 10 players unattended assuming you kick the goal? Peak Essendon

— Ben 🏆 (@benno_76) July 24, 2022
How did Essendon not defend that transition at all?

— Nic Negrepontis (@NicNegrepontis) July 24, 2022
How did essendon not have the zone set up for that ball movement. #AFLPiesDons

— Jake Benoiton (@JakeBenoiton) July 24, 2022
How appropriate to cough that up by conceding a score after the oppo take it the length of the ground. #AFLPiesDons

— Marcus Uhe (@MarcusUhe) July 24, 2022
Incredible game. Heaps of what-if moments for both teams, but for Jake Kelly and Kyle Langford to allow one of the smallest blokes on the ground Jamie Elliott take a chest mark really is inexcusable #AFLPiesDons

— Ronny Lerner (@RonnyLerner) July 24, 2022
Essendondy #aflpiesdons

— Andrew Wu (@wutube) July 24, 2022