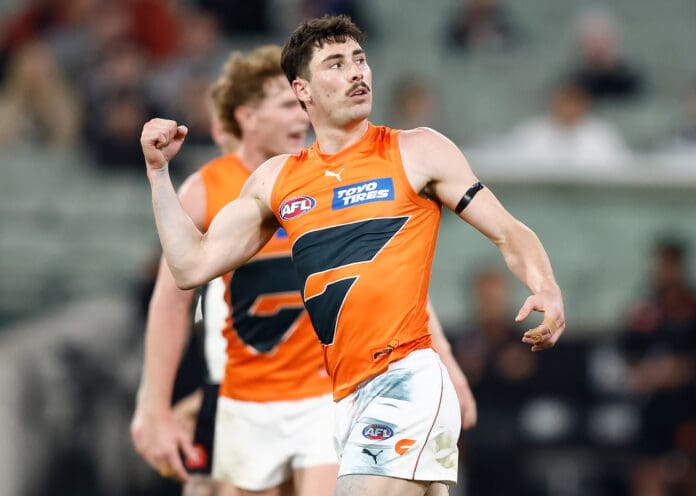 GWS defender Lachie Ash has never needed to look far for a mentor.
The farm-raised country kid would only need to bounce off his old man for advice on footy and life, while both friends and foes on the field have been avenues in helping perfect his game as a defender.
After being swooped on as the fourth pick in the 2019 National Draft, Ash has amassed 69 games by the midway mark of his fourth season, quickly cementing his place at senior level for the Giants.
And while the Invergordon native has begun to reach new heights this year, Ash has always reflected on the flaws in his game.
In a candid interview with Zero Hanger, Ash spoke on the harsh markings he's placed on himself across his short time in the competition.
"I think the club has shown a lot of faith in me. I probably haven't started my career as well as I would've liked, a bit of inconsistency and probably a reflection of how the team has gone over the past couple of years really," Ash said.
"I've felt this year I've gotten to know more of what it takes to perform at a consistent level week in and week out. I'm starting to feel really comfortable and that allows you to lead and help those young guys who might be going through similar things I went through.
"Cads (Aaron Cadman) probably hasn't started his career the way he would have liked to, Finn (Callaghan) had a few injuries in his first year and Ryan Angwin was running around in the reserves for a while but is now getting an opportunity."
The austere nature of Ash's self-reflection may stem from his Dad's "constructive criticism" from his earliest days as a footballer, the flashy flanker believes.
Stephen Ash, renowned in his zenith as a starring local footballer for country town clubs Shepparton, Albury, and Invergordon, is a famous name around the Goulburn Valley and Ovens and Murray competitions for his long-ranging career through the 1980s and '90s.
Often on the trip home after junior footy to the family orchard would Ash senior hand down some harsh truths to his son, maybe to wrought a future AFL footballer who himself would hold high personal standards.
Often looking to 'check himself' with each performance in the orange and charcoal, Ash said he won't be adjusting how he assesses his own game.
"That probably comes from Dad," Ash said of his occasional unkind self-examinations.
"He was always, I wouldn't say negative, but it was always constructive criticism in the car on the way home from games growing up. It'd be the four or five things we didn't do well before the things that I did do well that would come up first.
"I think that's a reflection on me, you've just got to check yourself a little bit in that sense, but I think that's sort of just a reflection of the club and the drive that all of us young guys have and knowing where we want to get to.
"We're not really satisfied with being competitive in games, we want to win games and we want to be challenging to play finals. In the back end of this year, we have great belief that if we can string together some good games, it's pretty tight between us and the bottom half of the eight.
"I feel like I have been a tough marker on myself, but I'm not sure that'll change anytime soon."
But no matter the feedback - be it personal or from his No.1 mentor - Ash will always be happy to have his father in his corner.
"He was a pretty good footballer himself, so I probably wouldn't be where I am today without him to be honest," he said. "Growing up he was always involved in my teams, whether that was as an assistant coach or a runner.
"I've got a very good relationship with Dad. He watches most games, whether that's on the telly or coming to most games. and he's always got a good read on things and is a good one to bounce ideas off away from the coaching staff as well.
"Smile, Ashy, smile!"

An emotional Kia Power to Surprise as a shocked Lachie Ash learns of his debut and calls his parents to tell them the news. pic.twitter.com/PprmhYUXqu

— GWS GIANTS (@GWSGIANTS) June 18, 2020
"He's definitely a good one to have in my corner, there's no way that I'd be where I am today without him."
Stephen Ash also has a hands-on approach to helping his son with life outside of football and working closely with his manager, with all parties set to come together as early as this week to discuss the 21-year-old's future in Sydney's west.
Ash is among a bevy of Giants players part of the Hemisphere Management Group stable, with talks between Dave Trotter, GWS, and the Ash clan set to be rekindled as the Giants defender reaches the last few months of his contract with the club.
Holding off negotiations until the midriff of this year, Ash looked to find clarity in his role and in the trajectory the club is on before potentially signing on the dotted line.
"I've just wanted to get some consistency in my performances, see where the direction of the team is going, where we're at, and if I'm still enjoying things," he said.
"Everything is going really well. We said we were gonna wait until the midpoint of the year and then go from there. My manager is coming up to Sydney (this week), so we'll have a more in-depth about that and then go from there.
"I'm sure that will take care of itself. I'm focusing on hopefully winning a few games in the next few weeks and making a late run for finals.
"We've got a lot of boys at the club that are Hemisphere boys, there might be close to 12 of us.
"I'm with Dave Trotter and he does a fantastic job for me, just giving me advice on everyday things as well as football. Dad is and has been pretty heavily involved, they've got a great relationship.
"They've both been awesome for me."
Ash's hunger to find a compatible role under new coach Adam Kingsley has remained his top priority through 2023, having seen his magnet move across all lines of the whiteboard in recent seasons.
After returning to the family farm at the end of last year, like every year, Ash was able to reflect on his past season with the Giants before flicking the switch for his fourth campaign in the AFL.
"Last year was pretty frustrating. I got flicked around a lot positional-wise, I played a lot of games but wasn't able to get that consistency. Whether it was through injuries, mid-game, or if the team wasn't going well I just seemed to be the one getting flicked around more often than not," Ash told Zero Hanger. 
"I just wanted to really work on my fundamentals to bring that consistency up. So no matter where I played, that consistent level could be relied upon.
"Adam and the whole new coaching staff coming in has been a really exciting opportunity. (I'm) trying to put last year behind me and really not focus on it at all, just look forward to the challenge of trying to impress a new coaching staff and learning a new game plan."
The desire for consistency follows a "whirlwind" start to Ash's career, having joined the Giants shortly after their 2019 Grand Final defeat only to see his maiden season placed in doubt due to the COVID pandemic.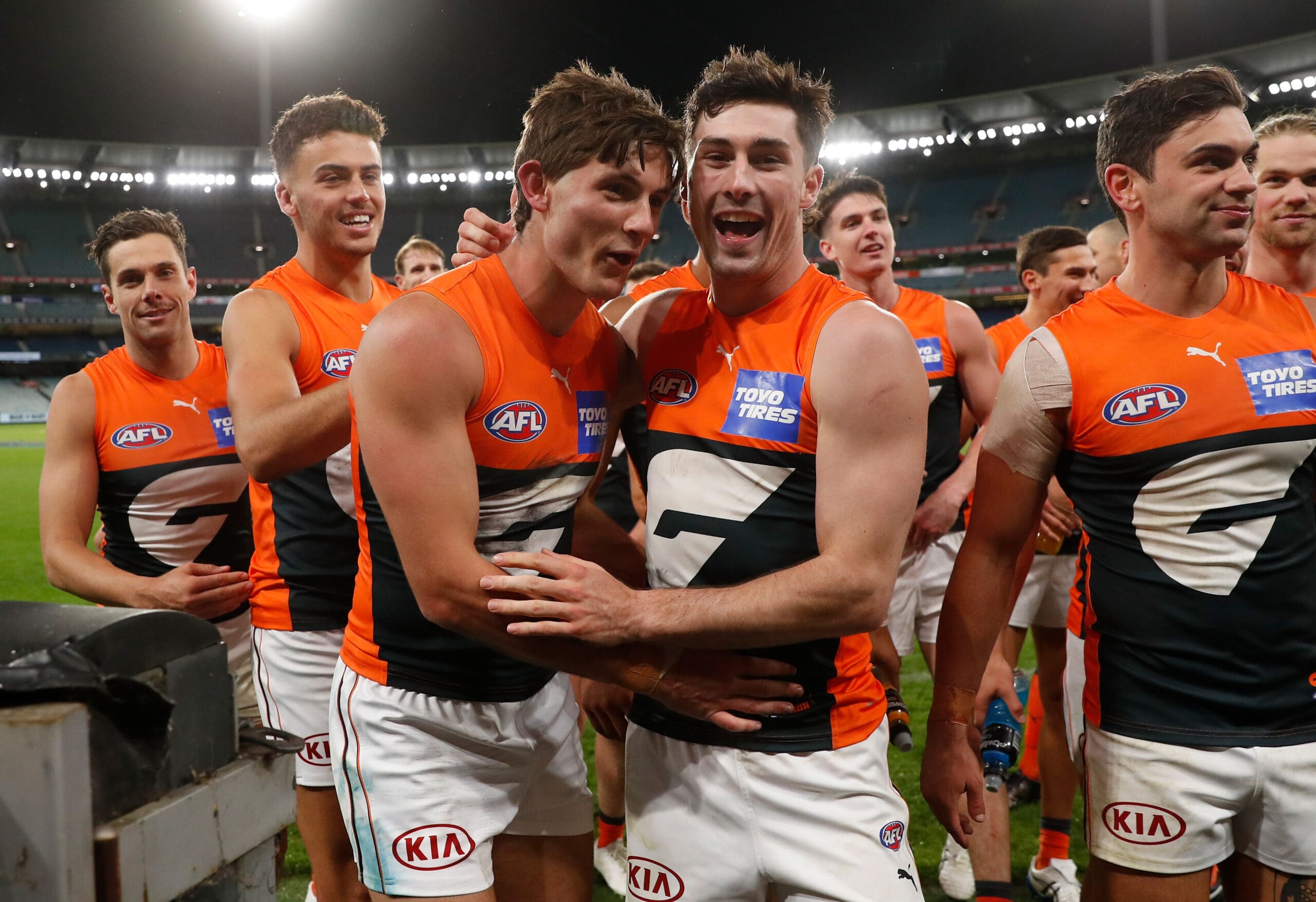 Ash would head back to Invergordon and use the time he had working with his dad and walking to his local ground to keep his skills intact.
While a debut would come in Round 3, it'd be held in mid-June due to the AFL's delayed season, with Ash managing to feature in a dozen matches throughout the 2020 season - most of which was spent in quarantine hubs with teammates.
Ash's sophomore campaign would again be riddled by COVID complications, while the 2022 season looked to have the competition in the clear, only for GWS to start their season in dismay, eventually parting ways with senior coach Leon Cameron and ending the year with six wins.
"I was talking to Tom Green earlier this pre-season that we still haven't had a normal year. We're going into our fourth year and we sort of haven't had a normal year," Ash said.
"Obviously our first was heavily COVID-interrupted, second year semi-COVID-interrupted, and then last year with Leon and the club parting ways and then having a caretaker coach for 12-13 weeks.
"It has been a bit of a whirlwind start to my career. But I've enjoyed every minute of it. I love Sydney and all the boys are first class."
Life is very different in isolation for young gun Lachie Ash as he returns to his family farm, mixing work with his burgeoning football career. pic.twitter.com/siDyWMkVkD

— GWS GIANTS (@GWSGIANTS) April 28, 2020
With a new coach now leading the league's youngest club, Ash has found clarity in his duty to the club thanks to his new mentor in Kingsley.
After being shifted through midfield, the attacking third, and at times in run-with roles, the pacey backman has resumed his role in defence for the entirety of this season.
While happy to play a fluid role for the betterment of Kingsley's plans, Ash has welcomed the coach's "very clear" instructions that his best football will come at half-back - a move Ash can only agree with.
"I'm not too fussed where I play. I'm happy to do whatever is best for the team. If I was to choose where I would play I think I feel most comfortable at half-back and able to have the game in front of me," he said.
"It best suits my attributes, breaking lines and using my kicking. I've always sort of said I'm not too fussed and that I'm happy to do whatever it takes for us to be successful, but that would be would be my preferred position.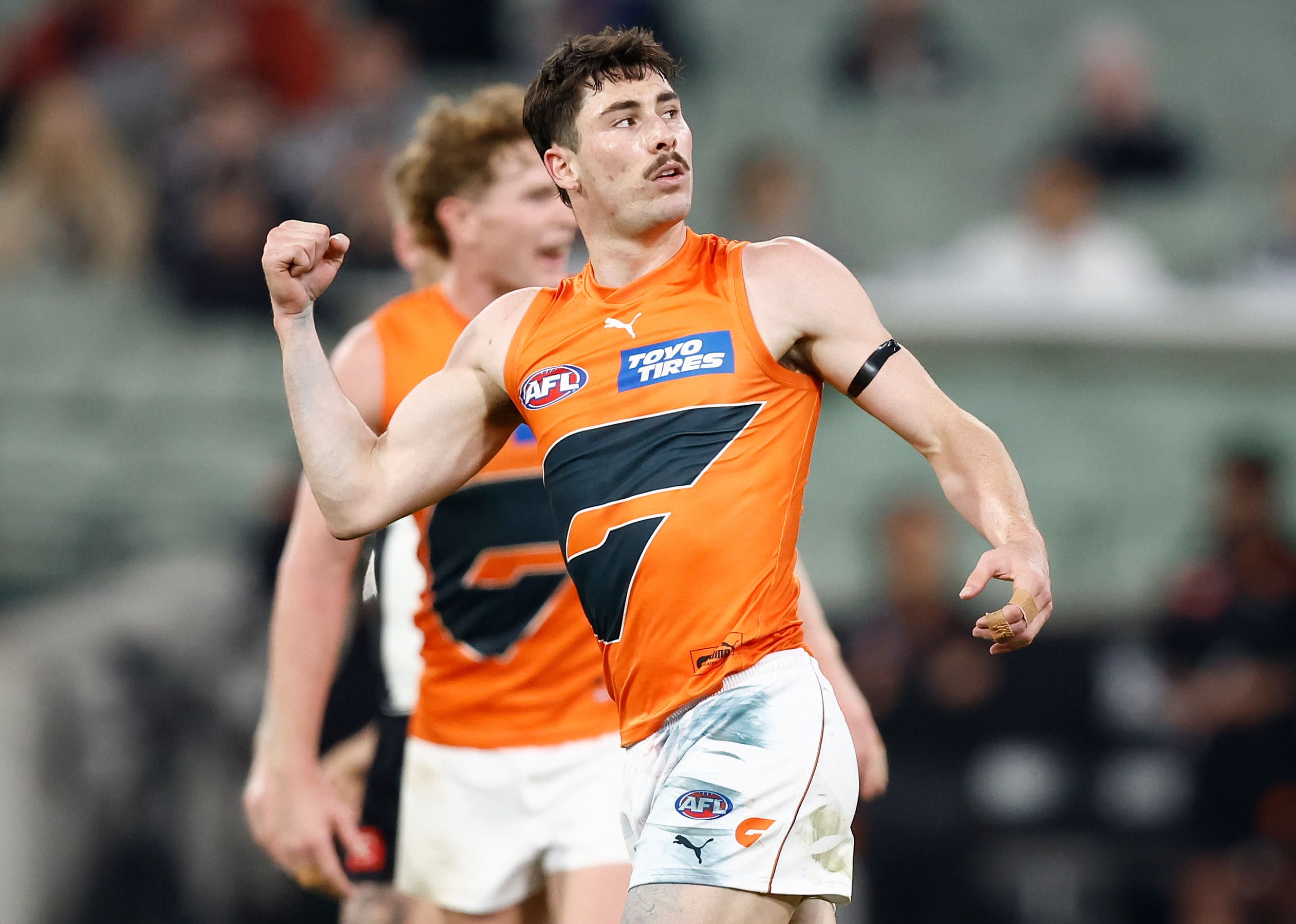 "I'm really enjoying it, playing consistent games and some okay footy at the start of this year, it has been really enjoyable.
"(Kingsley) was very clear early days that he sees me as a half-back and that's where he wanted to play me. He's been pretty happy with how we've been tracking so I can't see a positional move in the near future, but who knows later on in the year."
Ash has never needed to look far for mentors or inspiration. His Dad was a Team of the Century member for Victorian local club Albury despite just two seasons with the Tigers, noted as a gritty midfielder and back-pocket.
A debut year at GWS saw Ash surrounded by All-Australian and premiership talent, with current teammate Lachie Whitfield and former club larrikin Heath Shaw both nurturing the young flanker as he cut his teeth at the top level.
While Shaw's guidance would only last 12 months before he called time on his career, Whitfield and Ash are now forming a lethal partnership in Kingsley's rearguard.
The new Giants coach and former Richmond assistant had Ash studying tapes of Tigers defender Daniel Rioli to learn his tendencies as a run and carry backman, while Ash has also looked toward All-Australian pair Bailey Dale and Jack Sinclair for further help.
"I've watched a lot of Bailey Dale over the last few years, what he and Jack Sinclair do well and the areas of my game that I don't do well that they do and how I can bring them up to an elite level," Ash said.
"Adam came from Richmond and coached Daniel Rioli, so he's told me to watch a lot of Daniel Rioli and the way he goes about it. We play a very similar system, so just watching the things that he does really well, knowing the time to attack and the time to defend.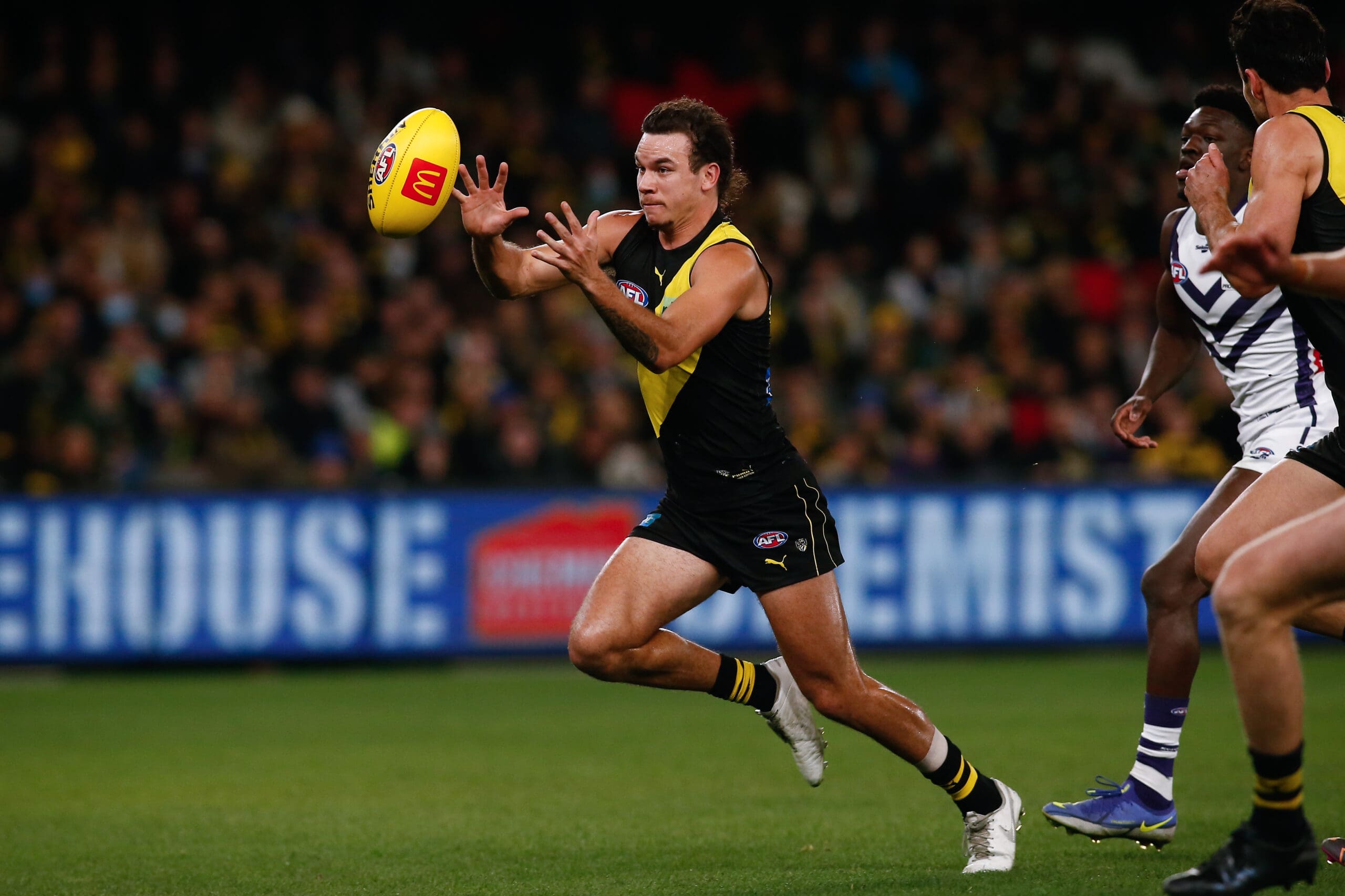 "I've got a great mentor at the club in Lachie Whitfield. He probably hasn't had the greatest last 12 months, but this year I think he's been super. His numbers and his impact have been amazing for us.
"He's been flying under the radar this year, which is funny given he's an All-Australian. But he's a great person for me to both play alongside and learn off. He's a hell of a player.
"Heath Shaw was massive for me in my first year. He took me under his wing a little bit and just tried to teach me the basics of defending, because truth be told I didn't really know how to defend when I first came into the club.
"He joked often that I was taking his job. But I can't thank him enough in terms of what he did for me and taking me under his wing and helping me. Zac Williams as well.
"There were so many guys that helped me in my first year in getting up to scratch to play AFL footy. I was running around in my first few games not really making decisions on my own, just getting directed and told where to go the whole time. It was such a tight-knit group and so experienced, so I definitely got very lucky in my first year, it was a nice introduction."