MATCH CENTRE
GRAND FINAL
COLLINGWOOD
V
BRISBANE


MCG
Live Commentary
COLLINGWOOD WIN! COLLINGWOOD WIN!
FULL TIME - THE MAGPIES HOLD ON BY 4 POINTS! 
What a game!
Bobby Hill was named as the 2023 Norm Smith Medal for his four-goal game. A bonafide match-winner on the biggest of stages.
0:34 - Tom Mitchell wins a high tackle and the Pies just need to hold the ball for 30 seconds.
1:33 - GOAL: LIONS GET ONE BACK! McCluggage centres one to Daniher, who plays on immediately and snaps one home. Four points in it!
2:40 - Crisp, who has been brilliant all day, takes a much-needed mark 60m from goal. The Pies are able to run down some of the clock.
3:55 - A BIG mark from Andrews over Frampton in defence. Critical, but the Lions are still needing two goals to take back the league with less than four minutes left.
4:23 - GOAL: Berry concedes a 50m penalty on the wing after a mark to Sidebottom. The veteran Magpie is brought forward to near the 50m line. He goes back, takes his shot and LAUNCHES IT RIGHT THROUGH THE MIDDLE! PIES BY 10!
5:10 - GOALL THE PIES GET ONE BACK STRAIGHT AWAY! Daicos' clever hands see De Goey take possession, straighten up from 50 and slot home another!
5:31 - GOAL: LIONS IN FRONT! LIONS IN FRONT! Cameron and Maynard battled in a one-on-one, with the ball coming out the back, Cameron fumbled his way to the square and eventually got hands to it to boot it through! Brisbane by 2!
9:15 - BEHIND: Hipwood takes a mark 55m out and uses his full 30. His set shot drifts to the right for another Lions behind.
CROWD: 100,024
10:28 - BEHIND: Coleman lets fly from outside 50 but his shot starts and stays right for a minor score.
SUB CHANGE: Jarryd Lyons has come into the game in place of Callum Ah Chee
13:32 - BEHIND: McCarthy takes a nice mark over Howe 60m from goal. He pushes back quickly and picks off Daniher on the lead 30m out. Joe shanks it to the right. Big missed chance.
15:12 - BEHIND: The ball is rushed over after a long-range attempt by De Goey lands in the pocket.
INJURY: After a big marking contest, Mason Cox has gone down to the rooms. Update to come.
17:04 - BEHIND: Hill takes another mark inside 50 off a De Goey pass. He goes back from 45m out on no angle and puts it to the left for another miss.
18:01 - BEHIND: Nick Daicos fires a quick shot on goal from the middle of Collingwood's forward 50 but it's punched over the line by Andrews.
IT ALL COMES DOWN TO THIS!
Three-Quarter Time
Collingwood: 10.15.75
Brisbane: 11.5.71
0:08 - BEHIND: Lincoln McCarthy fails to take back the lead right on the eve of 3QT with his set shot from a tough angle.
5:09 - BEHIND: Another missed chance for the Magpies, with their in-form forward Bobby Hill pulling his set shot to the right from 40m out on a small angle.
6:16 - BEHIND: An awkward attempt from Mason Cox right near the goalline goes across the face for a minor score.
7:15 - GOAL: The Lions go end-to-end after getting possession back, with a long pass to Robertson from Ah Chee pinpoint. The former turns around and boots one home from close range. Lions in front by 3.
7:35 - Lipinski puts one OOTF in the pocket from a rushed attempt after the ball came free from a ball-up.
8:07 - BEHIND: A high ball into open space near the pocket for the Magpies sits up for Mihocek, who taps it over to Ginnivan on the run. Near the boundary line the Collingwood small forward looks to dribble one through but it clatters into the post.
10:15 - A ball-up in the Lions' forward 50 falls straight into Darcy Cameron's hands, but the Magpies ruckman's quick attempt to clear the ball by boot goes out on the full 35m from goal. Zorko steps up to take the kick, but his centring pass lands in the hands of Tom Mitchell.
10:51 - GOAL: Hugh McCluggage takes a mark on the wing against Markov, who moves from his mark after being told to stand. The Lions midfielder is taken into shooting distance and nails his set-shot from 35m out. One against the grain for Brisbane to narrow Collingwood's lead to two points.
11:46 - BEHIND: Starcevich managed to lose a Daicos tackle in defensive 50 before Maynard arrives for another tackle and the Lions defender is pinged for holding the ball. The Collingwood defender's set shot from 45m out near the boundary started off well before drifting left and hitting the post.
15:20 - BEHIND: A Jaspa Fletcher kick forward sits up for Steele Sidebottom near the goalsquare, with the Magpies veteran letting it bounce and the Sherrin ricochets toward the line before trickling over for a behind.
16:15 - BEHIND: Collingwood again work the ball from one side of the field to another before finding Jamie Elliott 50m from goal on the flank. He takes his full 30 seconds before dropping a pass to the advantage of Mason Cox, who can hold onto it. A short clearing kick from Lester lands on the chest of Elliott who is 15m closer than his last kick. Again his attempt falls short before being rushed over for a behind.
19:07 - BEHIND: An early behind to the Magpies through Billy Frampton after Collingwood worked the ball forward from the centre clearance.
HALF TIME
Collingwood: 9.9.63
Brisbane: 9.3.57
Bobby Hill has been the star of the show so far, booting four first-half goals and taking a spectacular mark in the second term.
Keidean Coleman has a game-high 22 touches across half-back for the Lions, while Nick Daicos leads the way for the Pies with 19 disposals of his own to go with a goal.
Zac Bailey has been a bright spark for Brisbane with 2.1 and three clearances
0:00 - GOAL: Collingwood take back the lead after the siren as Hoskin-Elliott finds Crisp alone 45m from goal with just seconds left in the half. He goes back and slots his second for the quarter to have Collingwood up by a kick at the main break!
0:58 - GOAL: Daniher flies for a stong mark in the pocket and ties the game up once again with a nice set shot from a tough angle.
1:51 - GOAL: BOBBY HILL HAS FOUR! A long kick into the pocket is fumbled by the small forward but he gathers, steps around and snaps from the pocket to get the lead back.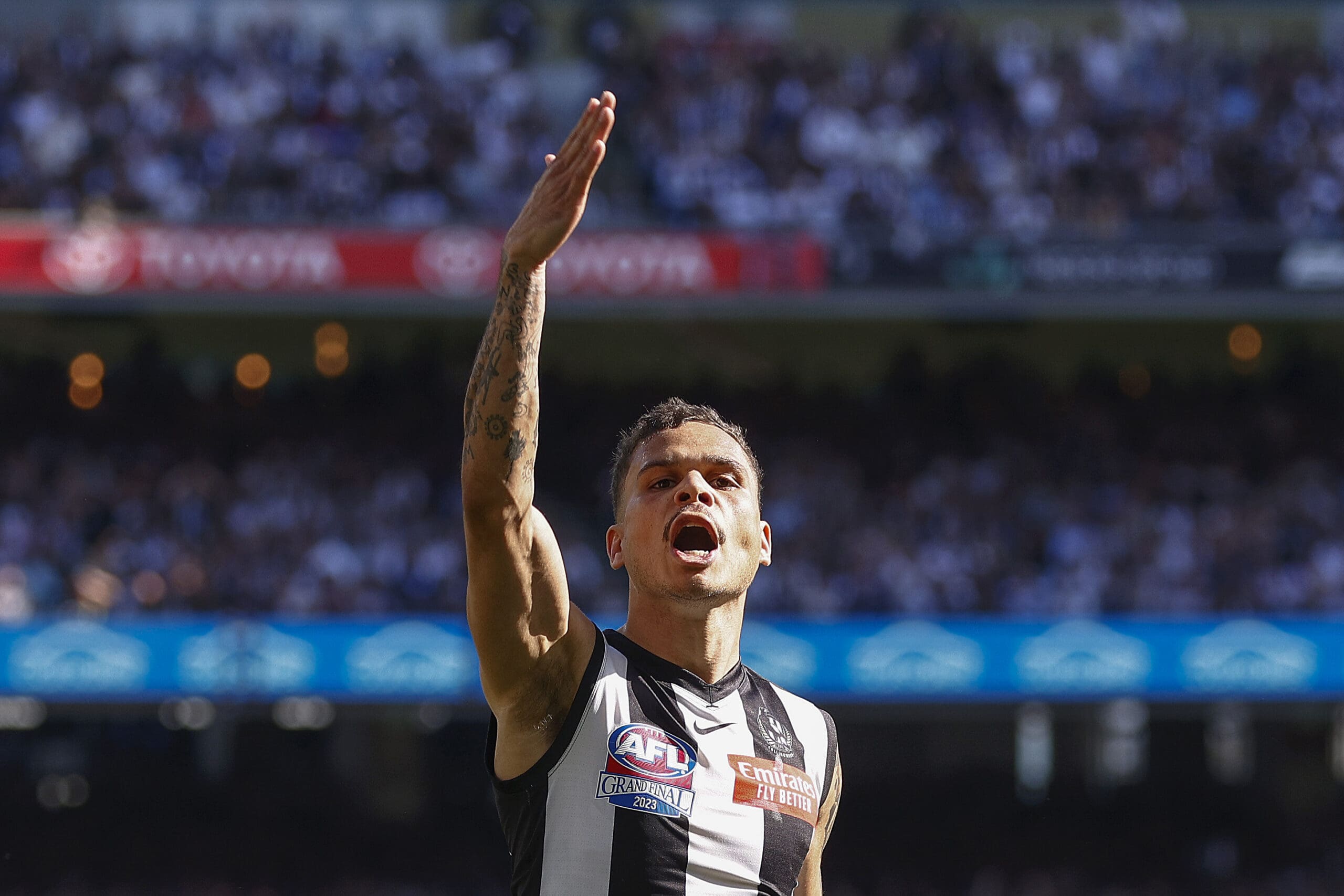 3:23 - BEHIND: Dunkley lowers his eyes from 50m out but the fall doesn't get a glove on it as Cameron and Quaynor contest, with the Sherrin passing through for a point. Scores level!
4:17 - BEHIND: The Magpies move it out of the centre clearance cleanly as a smart kick from McCreery spots up Ginnivan 40m from goal. His snap attempt from range falls short and is punched over the line. It does give the Pies the lead though.
5:06 - GOAL: WHAT A GRAB! Bobby Hill flies high on the move over Starcevich to get on the end of a long Howe pass. The Magpies forward goes back from 30m out, no angle, and slots his third for the day!
Bobby Hill gets 🆙 for a super grab!#AFLGF pic.twitter.com/kaKVIpync8

— 7AFL (@7AFL) September 30, 2023
6:26 - BEHIND: Markov shoots from range but it falls short and a little wide to be punched over the line by Coleman.
7:05 - GOAL: Mitchell spots up Crisp out wide just inside 50, with a mark paid shortly after Berry made contact and knocked it loose. Crisp goes back and LAUNCHES one home to bring the Lions' lead down to 7.
7:54 - GOAL: McCarthy slots one home from a difficult angle after he ran toward the boundary and got on the end of a McCluggage handball.
8:15 - BEHIND: The Lions are ramping up the pressure and their latest tackle sees McCrerry pinged for holding the ball in his defensive 50. Zac Bailey won the kick, but his shot was wayward to the left.
9:47 - GOAL: Some quick hands from Fletcher and Robertson see Daniher out the back and alone in the near goalsquare. The Brisbane spearhead kicks one home with comfort to take back the lead.
11:20 - BEHIND: McCreery gets out the back on centre wing and puts the wheels on against Wilmot. With a Lions defender standing in his way McCreery is forced to kick from distance and his shot trickles to the wrong side of the goalpost.
12:15 - BEHIND: A long kick towards goal by Josh Daicos isn't marked by either Frampton or Andrews, with the Lions managing to quickly punch the ball over the line before any further danger arises.
A Magpie has been ruled out of the Grand Final following this big bump.

READ >>> https://t.co/0xRbZHPSx4 pic.twitter.com/pjfjm1ltK0

— Zero Hanger (@zerohanger) September 30, 2023
14:41 - BEHIND: McCreery sends a high snap goalward but it drifts to the right for a minor score from range.
15:32 - GOAL: Charlie Cameron gets out the back of a Lions counterattack and his leg speed is too much for Moore, with the Lions livewire slotting one home in close range.
16:52 - GOAL: Some balanced and smart ball movement sees a number of Magpies link up on the wing before finding Bobby Hill on the lead 35m from goal. He goes back and boots his second of the first half with ease.
18:15 - BEHIND: Lachie Neale finds some space 45m from goal thanks to some evasiveness, but his shot on goal is to the left.
18:53 - GOAL: A dribbling ball into the hot spot bounces up to Callum Ah Chee, who finds an open Hugh McCluggage with a handball and the Lions winger snaps truly from 25m out.
SUB CHANGE - Nathan Murphy (concussion) has been replaced by Patrick Lipinski. An early blow for the Magpies defender.
19:37 - GOAL: A quick goal for the Lions as Charlie Cameron crumbs a marking contest 40m from goal before balancing himself and snapping one home.
QUARTER TIME
Collingwood: 4.4.28
Brisbane: 3.0.18
00:00 - GOAL: De Goey marks the ball just outside 50 and immediately turns his back on goal to see out the final 10 seconds of the quarter. He goes back and SLOTS IT HOME to carrying a 10-point lead into the first break.
0:55 - BEHIND: A shot on the run from 50m out from Jack Crisp starts and stays to the right.
1:36 - GOAL: Mihocek gets one back for Collingwood, slotting home the sixth major of the quarter with some brilliance on the boundary after gathering and snapping off one step.
INJURY: A suspected finger issue for Brisbane midfielder Josh Dunkley, who came from the ground with less than three minutes left in the first term.
3:38 - BEHIND: A big contested grab from Mason Cox 25m from goal on a 45-degree angle, but it's skewed to the right.
INJURY: A likely HIA coming up for Collingwood defender Nathan Murphy after a collision with Lincoln McCarthy. He was slow to get to his feet and was taken straight off the ground in the hands of club trainers.
Nathan Murphy is coming straight off for assessment after this #AFLGF pic.twitter.com/yLINE8p3BU

— 7AFL (@7AFL) September 30, 2023
4:46 - GOAL: WHAT A SNAG! Zac Bailey gets his second after shaking off two defenders on the boundary before bending one through on his right foot from 30m out
NOTE: Lion Keidean Coleman carrying his good form into today's game. He has eight touches with more than five minutes left in the opening term.
8:07 - GOAL: The Lions get their second through McCarthy, who gets front and centre for the handball receive 50m from goal and slots it on the run to narrow the Magpies' lead to 2 points.
9:43 - BEHIND: Jamie Elliott sets sail from 55m out on the flank with a set-shot attempt. His kick begins wide but curls back to record a point. Pies by 8.
10:50 - BEHIND: McCreery missed what he should've kicked from close range and in play. He dropped a difficult mark in the pocket before gathering and running towards goal, only for his dribbling effort to go to the wrong side of the right goalpost.
13:09 - GOAL: Bailey gathers from a ball-up from outside 50 on the flank, and on his wrong side he slots a long-range shot on the run to get the Lions' first
The tap from McInerney, the goal from Bailey! Class 🔥#AFLGF pic.twitter.com/EAzVLv6qgg

— 7AFL (@7AFL) September 30, 2023
14:30 - The Lions get their first forward 50 entry of the day as Daniher launches a long pass to Hipwood in the far pocket. The Latter wrestles with Sidebottom and Moore before drawing a high free-kick near the boundary. His set shot is shanked to the left and goes OOTF.
16:14 - GOAL: The Pies get forward from the centre once again before Elliott and McCreery combine before the latter finds Hill open inside 50. The Collingwood small forward marks and slots his set-shot from 35m on a minor angle.
17:08 - GOAL: Nick Daicos earns a high free-kick after a tackle from Ryan Lester and Jarrod Berry. 30m out from goal on no angle, and the Magpies young gun slots the first of the game! A good one to have in the sweep for sure.
20:00 (remaining) - An underwhelming start as the umpire calls back the opening bounce. We eventually get underway and the Lions fumbled the opening clearance, Josh Daicos gets the first kick forward but the Pies can't capitalise.
Pre-Game
Hello and welcome to the Zero Hanger's live coverage of the 2023 AFL Grand Final between the Collingwood Magpies and Brisbane Lions. Ahead of the 2:30pm (AEST) opening bounce we'll be providing pre-game notes and insights before getting stuck into the action with comments and news throughout the game.
COIN TOSS - Brisbane captain Lachie Neale won the toss and elected to kick to the Punt Road End.
2:25pm - Premiership Cup Ambassador Josh Kennedy has brought the cup onto the field, passing it on to the two cup presenters Peter Moore and Leigh Matthews.
2:00pm - The players are heading back onto the ground shortly after an electric performance from KISS, with both sides set to run out from 2:13pm.
The coin toss is scheduled for 2:28pm following a Welcome to Country and the National Anthem.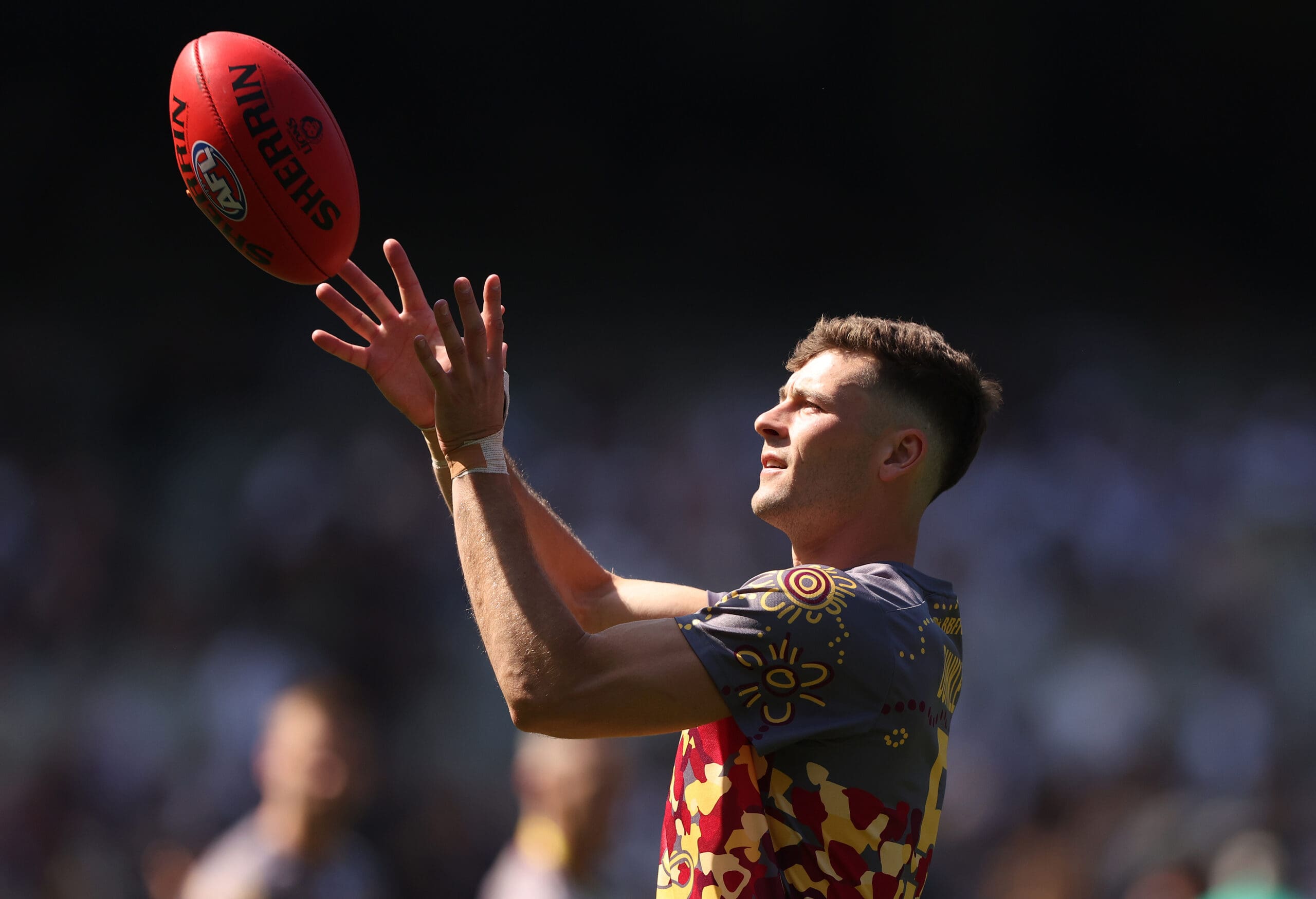 Final Teams: Pies and Lions announce subs
Both Collingwood and Brisbane have locked in their tactical subs and have made no late changes to their sides for the grand final.
As already confirmed, midfielder Patrick Lipinski will be Collingwood's tactical sub, with Lions veteran Jarryd Lyons to take on the role for his side after serving as the sub so far this September.
Blues and Brisbane father-sons shine in Future Stars curtain raiser
Carlton father-son prospect Ben Camporeale took out the best-on-ground honours in this morning's U17 Future Stars game, collecting a game-high 30 disposals to steer Team Naitanui to a win.
The clash saw the leading names for the 2024 AFL Draft do battle, with twin brothers Ben and Lucas Camporeale - sons of 200+ game ex-Carlton player Scott, face-off as a number of familiar surnames featured.
Levi Ashcroft, son of Brisbane champion Marcus and brother to Lions rookie Will, was among the best for Team Selwood, with South Australian Tyler Welsh, son of Scott, and Rome Burgoyne, son of Peter, also featuring.
Read up on the full match summary and stats HERE.
Cats speedster wins Grand Final Sprint
Geelong young gun Max Holmes took out the Grand Final Sprint, living up to his favouritism for the pre-game event in what was an easy victory in the end for the third-year Cats speedster.
Holmes, the son of former Olympian Lee Naylor, took an early lead in the final and didn't look back, claiming the win by several lengths over Brisbane's Jaxon Prior. The Geelong midfielder claimed his heat run with comfort as Prior finished second to Holmes in both of his runs.
Melbourne's Jed Adams and Port Adelaide's Jed McEntee would trail in the final to earn respectable finishes, while Essendon's Nic Martin, Adelaide's Mitch Hinge, Bulldog Ed Richards and Hawthorn's Josh Weddle also made the final run.
Holmes becomes the third Geelong player to win the sprint after Jordan Clark (2020) and Jordan Murdoch (2014), while current teammate Patrick Dangerfield was a three-time winner during his days as an Adelaide Crow.
AFL sponsors Coles have donated $5,000 to Ladder, an organisation providing young people mentoring, in honour of Holmes' win.
Holmes and hosed! 🥇

The @GeelongCats' Max Holmes blitzes the field to win the 2023 AFL Grand Final Sprint 👏 #AFLGF pic.twitter.com/Mkyt8JCnkL

— 7AFL (@7AFL) September 30, 2023
Lions claim early win as defender wins Longest Kick with near-70m BOMB
Retiring Brisbane veteran Daniel Rich has taken out the 2023 Longest Kick competition with a 69.5-metre kick across the Yarra River.
The long-range kicking crown is an extra omen for the Lions ahead of their grand final against the Magpies, with Rich, who won't be partaking in the game, still able to strut his stuff pre-game.
After taking the lead through the opening round, Rich went further in the final five with his longest kick of the day being the difference ahead of former Geelong and Hawthorn winger Isaac Smith (68.3m) and Carlton great Brendan Fevola (67.3m).
Blues backman Adam Saad (64.0m) and Essendon's Mason Redman (60.9m) would also finish in the top five.
Hawthorn captain James Sicily, Bulldogs youngster Jamarra Ugle-Hagan, Demon Trent Rivers, 2023 draft prospect Arie Schoenmaker and former Carlton and Gold Coast ruckman Daniel Gorringe also participated.
2023 Longest Kick leaderboard: 
Daniel Rich 69.5m
Isaac Smith 68.3m
Brendan Fevola 67.3m
Adam Saad 64.0m
Mason Redman 60.9m
Build-up
The Magpies will head into the decider as favourites despite falling to the Lions on both occasions earlier this year, with neither affair occurring at the MCG - where Brisbane have won one of their past 15 matches at the venue.
Brisbane will be buoyed by the fact they'll enter the game unchanged from the side that wrestled a preliminary final comeback win over Carlton a week ago, with injured defender Jack Payne not risked for the grand final following an ankle issue.
Collingwood have made a pair of changes, with key forward Dan McStay forced out of the game with a high-grade MCL sprain sustained in the narrow win over GWS, with recruit Billy Frampton named as his replacement. Senior coach Craig McRae decided to promote tactical sub Jack Ginnivan into his starting side for the decider, with midfielder Patrick Lipinski confirmed to take his place as the sub after starting in the Magpies' finals series so far.
Answers for all of your pre-game questions can be found HERE with our ULTIMATE matchday guide.
Match Summary
Score Breakdown
1
2
3
4
4.4


28

9.9


63

10.15


75

12.18


90

3.0


18

9.3


57

11.5


71

13.8


86
Best On Ground
Team Stats


Disposals
MATCH
364.2
2023 AVG.
9468
2023 TOTAL
341.1
2023 AVG.
8868
2023 TOTAL
Contested Possessions
MATCH
132.3
2023 AVG.
3441
2023 TOTAL
135.8
2023 AVG.
3530
2023 TOTAL
Kicks
MATCH
213.5
2023 AVG.
5552
2023 TOTAL
223
2023 AVG.
5799
2023 TOTAL
Handballs
MATCH
150.6
2023 AVG.
3916
2023 TOTAL
118
2023 AVG.
3069
2023 TOTAL
Frees For
MATCH
18.2
2023 AVG.
472
2023 TOTAL
Clearances
MATCH
36.9
2023 AVG.
960
2023 TOTAL
42.2
2023 AVG.
1098
2023 TOTAL
Centre Clearances
MATCH
11.6
2023 AVG.
301
2023 TOTAL
13.3
2023 AVG.
345
2023 TOTAL
Stoppages
MATCH
25.3
2023 AVG.
659
2023 TOTAL
Inside50s
MATCH
52.6
2023 AVG.
1367
2023 TOTAL
56.6
2023 AVG.
1471
2023 TOTAL
Marks
MATCH
90
2023 AVG.
2341
2023 TOTAL
98.9
2023 AVG.
2572
2023 TOTAL
Marks Inside50s
MATCH
12.8
2023 AVG.
333
2023 TOTAL
13.7
2023 AVG.
355
2023 TOTAL
Contested Marks
MATCH
10.6
2023 AVG.
276
2023 TOTAL
11.5
2023 AVG.
298
2023 TOTAL
Tackles
MATCH
64.1
2023 AVG.
1667
2023 TOTAL
55.6
2023 AVG.
1445
2023 TOTAL
Hit Outs
MATCH
38.2
2023 AVG.
992
2023 TOTAL
Player Stats
Team Line-Ups


Collingwood

IN
B. Frampton
OUT
D. McStay

| | |
| --- | --- |
| B | N. Murphy, D. Moore, J. Howe |
| HB | B. Maynard, B. Frampton, I. Quaynor |
| C | S. Sidebottom, S. Pendlebury, O. Markov |
| HF | B. Hill, B. Mihocek, J. Elliott |
| F | B. McCreery, J. De Goey, J. Daicos |
| FOL | M. Cox, N. Daicos, J. Crisp |
| I/C | T. Mitchell, D. Cameron, W. Hoskin-Elliott, J. Ginnivan |
| EMG | P. Lipinski |

Brisbane

| | |
| --- | --- |
| B | B. Starcevich, H. Andrews, D. Gardiner |
| HB | C. McKenna, R. Lester, D. Wilmot |
| C | H. McCluggage, J. Dunkley, D. Zorko |
| HF | C. Cameron, E. Hipwood, C. Ah Chee |
| F | C. Rayner, J. Daniher, Z. Bailey |
| FOL | O. McInerney, L. Neale, J. Berry |
| I/C | D. Robertson, L. McCarthy, K. Coleman, J. Fletcher |
| EMG | J. Lyons |
Preview
Ladder Position
Previous 5 Games

Collingwood

Brisbane