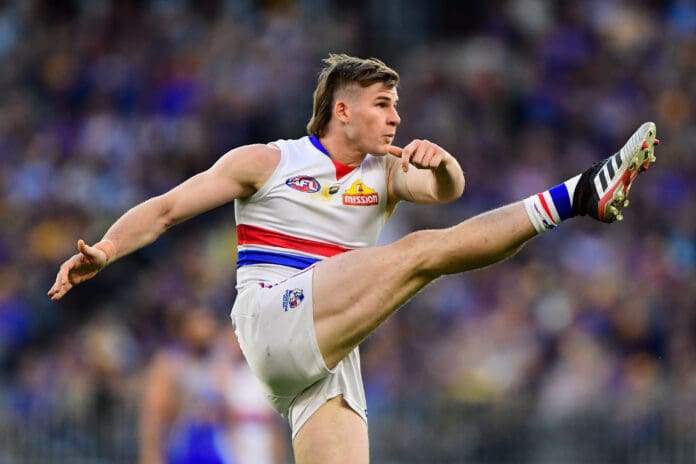 Former Western Bulldogs forward Billy Gowers has revealed he almost gave the game away during the 2019 season.
Gowers played 33 games for the Western Bulldogs across three seasons and was the leading goal-kicker in 2018 before being cut from Luke Beveridge's side two years later.
Gowers has since defected to Queensland club and VFL contender Southport, featuring as a key forward for the sharks in the new-look 22-team competition.
Speaking on the Real Talk with Beno podcast, Gowers spoke about how he lost the love of the football during a tough period of his career.
"I wasn't loving it and I think it happens far too often these days, too many blokes don't like it but there's no point saying you don't like it at the time because that's your livelihood and your job at the time," Gowers said.
"There wasn't the constant enjoyment you get at junior footy or even that I have at the moment playing at Southport."
Gowers said that the pressure that comes with playing footy in Melbourne almost became too much and made him question his career.
"The whole Melbourne footy bubble was one big reason (for wanting to retire), just the media and scrutiny that comes with football," he added.
"It's a hard one to talk about because there's a number of different reasons, I didn't really like the side of it where people recognised you, I thought when I was younger that would be cool but when it actually happened it freaked me out."
Gowers hurt his ankle mid-way through the 2019 season but says the injury was a blessing and a key reason he chose to continue playing.
"I played the first 10 or 11 games in my second year at the Dogs and then hurt my ankle, and by then I had fallen completely out of love with the game," he said.
"It (the injury) was probably the best thing could happen to me.
BILLY GOWERS


Bulldogs

2020 SEASON AVG

7
Disposals

1
Marks

1.3
Inside50s
"I gritted through a bit prior to the injury and I was very close to calling it quits altogether to be honest, I hadn't spoken to many people about it.
"It was getting pretty close to retirement at that stage. I was thinking that way for a certain reason. I'd spoken to a couple of people really close to me and told them that I wanted to retire.
"It was almost down to that week that I did my ankle, I went away in the bye weekend and had a good think about it all. The injury gave me a bit of freedom and refreshment in my mind to concentrate on that and not footy."
Media pressure came Gowers way last year when in the hub as an article was written about Gowers' Supercoach stats from a game - which were modest.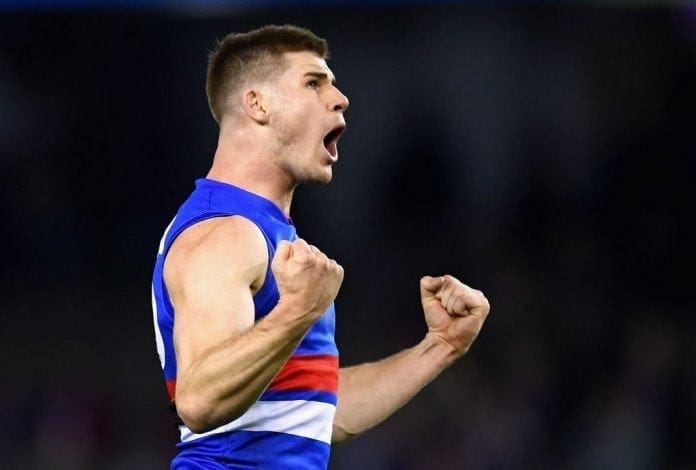 Gowers admitted that the article did get to him but also his family and friends.
"I didn't actually see the article until many family and friends reached out to me to say not to worry about it," Gowers said.
"Someone from the media contacted me and asked if I was alright to speak to the journalist who wrote the article who didn't understand the repercussions of his article.
"He very nicely apologised to me for writing the article because he was struggling from the backlash from the article.
"It impacted me because my friends and family got so involved and emotionally connected to not only that article but a lot of negative comments and traction throughout social media and the media.
"I knew I hadn't played a great game obviously but as well as individual comments and messages and threats and all that excess baggage that comes along with being a professional footballer was multiplied over that time because of that article."
Gowers has started the 2021 season in fine form for Southport, booting 14 goals from fives games and is one of the most dangerous forwards in the VFL.
When asked if he'd be interested in playing at the elite level again Gowers said he'd be open to the idea under the right circumstances.
"I've definitely got half an eye on playing again at the highest level, but for me this year is about getting back to enjoying my footy and having fun with it," he said.
"If a club was to come knocking I'd obviously seriously consider it, but it would have to be the right club and I'd have to be really keen."
Gowers is yet to nominate for the June 2021 Mid-Season Draft, with the final deadline to enter coming on May 25.
Southport will face the Gold Coast Suns reserves on Friday night as the Sharks look to improve on their 4-1 start.