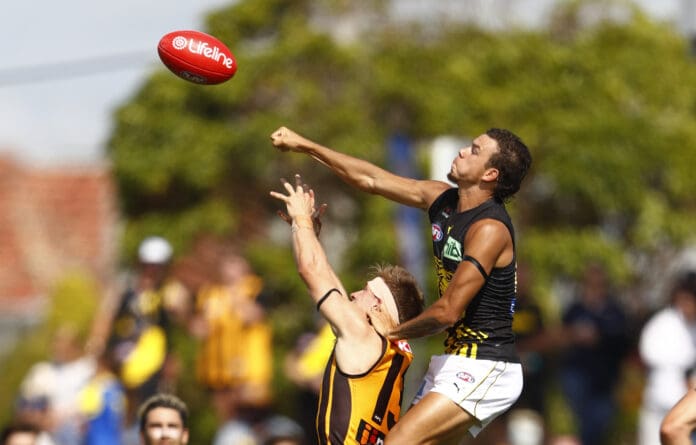 It's been enjoyable to watch Daniel Rioli's move to the backline.
Rioli has struggled for consistency and impact the last couple of years after a terrific start as a small forward. After seemingly running out of options, having dropped and reinstated him numerous times, Damien Hardwick trialled Rioli at half-back towards the end of 2021.‍
There were signs. Some good, some bad and some disastrous. Learning to be accountable and reliable as a defender, especially against the elite athletes that are high half forwards, is always going to be an adjustment.
The offensive side of things came easy for Rioli. He has the pace to break the lines which Richmond desperately need. Excluding Short, Richmond are sorely lacking in this area after the retirement of Bachar Houli. Rioli provides that. But it was apparent last year that his defensive mistakes outweighed any benefit on the offensive end.
However, it's clear he's gone to work in this area. A full pre-season in defence helps, as some of those deficiencies have been ironed out.
He's progressed in one-on-one scenarios to the point where Richmond are comfortable leaving him in those scenarios. He's making sounder decisions of when to come off his man and get involved offensively or when to remain accountable until the ball is won.
A perfect example here, as he defends first then gets involved offensively (with a slick over the head handball if you don't mind).
He's also been damaging with the ball, averaging 20 disposals, seven marks, two inside 50s, four rebound 50's and four score involvements at 86% disposal efficiency a game.
86% disposal efficiency at 20 disposals a game is an absurdly good clip even if Rioli is taking kick-outs. He has a great leg and is creative out of the back half.
Four score involvements per game for a small defender is a great return. Here, he surges out of half-back after identifying Richmond have won the clearance and sets up a scoring chain.
This is a great example of a coach who's open-minded to positional changes and remains flexible in their initial assessment of a player.
Such positional changes, especially from a forward to defensive role, can work wonders for a team if that player is given time to grow and adjust.
Players can transform from a delisting candidate to a best 22 player (Jayden Laverde). Others can go from showing flashes to an All-Australian star (Bailey Dale).
Whilst Rioli is more likely the former than the latter, it's a better position than where he was not too long ago. Teams should experiment with their players more often, especially when their output becomes stale in one position.