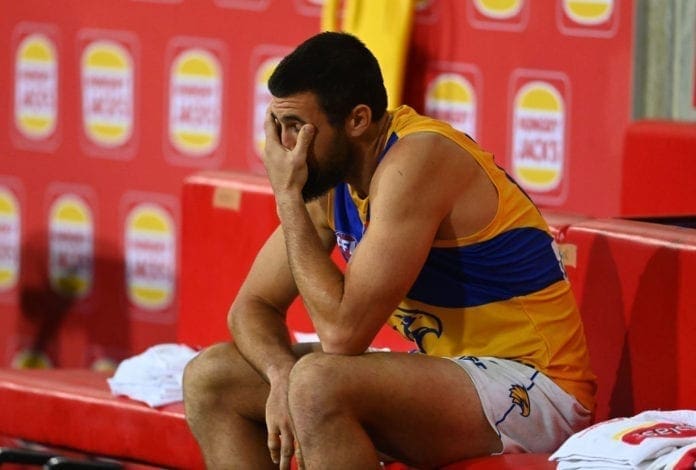 The West Coast Eagles lost to the Giants on the weekend by 16 points on the road. On the surface, not really a disastrous loss against a team that is quite underrated.
Yet, the way in which they lost is cause for concern. The Eagles simply didn't want to work.
We've noted this statistical pairing a number of times this year because we believe it's the perfect measurement of when a team has minimal desire to defend. Here it is.
GWS won the disposal count by 101 (405 – 304) yet had 31 more tackles than the Eagles. They had the ball for a far greater portion of the game yet out-tackled the Eagles with far less opportunities.
Finals are built on pressure around the ball – you only need to look at Richmond in recent times to see that. I understand the Eagles play a different game style, a kick-mark retention, contested marking reliant, ultra efficient going Inside 50 game style. But a lack of pressure will not hold up in finals regardless of how efficient they can be.
In their 2018 premiership season, whilst they weren't league leading, they were 12th in tackles per game. Their pressure rating (Champion Data give us access to this please) was shown a number of times on the TV and it was well below that of the Giants.
It isn't just their pressure around the ball either. West Coast are really struggling to both stop scores and/or create counter attacking opportunities from defensive 50 entries.

Looking at these rankings – there's not a lot different to last year!
Yet, the numbers when the ball is in their defensive 50 numbers are worrying. Per Fox Sports, West Coast is 17th for conceding scores when it enters their defensive 50. They are now 2nd worst in the league for rebound 50's out of defence.
A poor rebound 50 ranking can be misleading because a team may just be on average getting more inside 50's than their opponent and therefore have less opportunities to rebound the ball. Yet, this isn't really the case for the Eagles.
The Bulldogs are 18th for Rebound 50's – the only team worse than the Eagles. Yet that's because they have the highest Inside 50 team/opponent differential in 2021 – they average 13.6 more Inside 50's than their opponent (AFL best). To compare, the Eagles rank 9th and only average 0.4 more I50's than their opponents.
So whilst everyone talks about the Eagles' efficiency going inside 50, they are struggling to defend and rebound from their own defensive 50. Without having access to data detailing where the Eagles are scoring most from (D50, Turnover, Stoppage etc), it would be shocking if they generate any scoring opportunities from their D50 given those poor numbers.
West Coast have suffered from injuries all year and it must be noted.
When you lose important players like McGovern, Shuey, Yeo, Ryan, Duggan and Barrass for long periods of the season so far no doubt this is going to have an impact on how the team performs.
But GWS weren't exactly light on injuries either.
An injury list of Coniglio, Greene, Daniels, Hogan, Davis, De Boer, Perryman, Kennedy, Preuss etc is arguably the worst in the league – yet they came with the effort and intensity from the beginning that the Eagles sorely lacked.
An uncontested mark by one of GWS's best players in the goal square was symbolic of the Eagles lack of desire or want to defend – Waterman didn't want to go.
At the moment that's the difference between a Deven Robertson at a premiership contender in Brisbane who is fighting for his spot and puts his body on the line for his team and a role player in Waterman who doesn't wish to defend as a forward.
It isn't panic stations by any stretch for West Coast – they are 6-4 and in the 8 even with a really poor away record. But the worrying signs are there. Poor defensive pressure is a fixable thing.
But teams flirt with danger when they play with an on/off switch. The competition is too even to decide when to defend and when not too. It has to become a habit, something ingrained in the team. Expect a response against Essendon.
This article was originally published at Footy Talking Points.