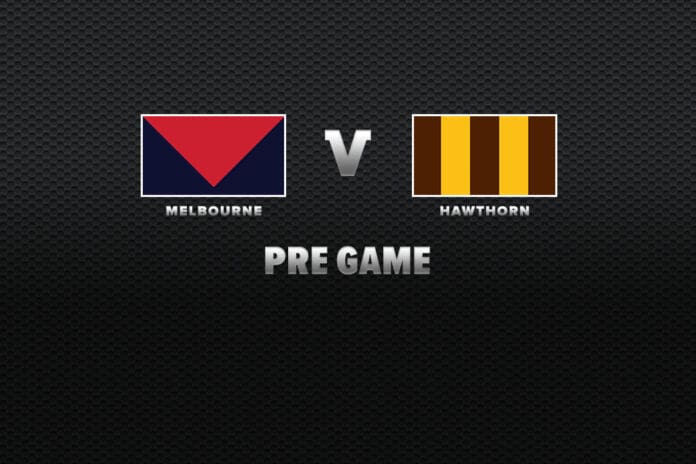 Melbourne and Hawthorn have finalised their lineups for the match at MCG.
Irishman Conor Nash is a late out after being linked with a Covid exposure site in Melbourne. James Cousins has replaced him in the side.
Tom Sparrow (Demons) and Jai Newcombe (Hawks) are the medical subs for tonight's clash.
Melbourne

IN
A. Vandenberg
OUT
J. Harmes

| | |
| --- | --- |
| B | J. Hunt, S. May, J. Lever |
| HB | M. Hibberd, H. Petty, C. Salem |
| C | J. Jordon, C. Petracca, E. Langdon |
| HF | K. Pickett, T. McDonald, A. Brayshaw |
| F | A. Neal-Bullen, B. Brown, B. Fritsch |
| FOL | M. Gawn, C. Oliver, J. Viney |
| I/C | L. Jackson, C. Spargo, A. Vandenberg, T. Rivers |
| EMG | T. Sparrow, . , . |

Hawthorn

IN
J. Newcombe, J. Cousins, M. Lewis, N. Reeves, T. O'Brien
OUT
C. Jiath, C. Nash, J. Scrimshaw, J. Ceglar, O. Hanrahan

| | |
| --- | --- |
| B | D. Grainger-Barras, K. Hartigan, D. Howe |
| HB | S. Burgoyne, S. Frost, L. Bramble |
| C | D. Moore, J. Worpel, J. Cousins |
| HF | E. Jeka, L. Breust, J. O'Meara |
| F | J. Koschitzke, T. O'Brien, M. Lewis |
| FOL | B. McEvoy, T. Mitchell, L. Shiels |
| I/C | T. Phillips, D. Greaves, N. Reeves, T. Brockman |
| EMG | J. Newcombe, . , . |