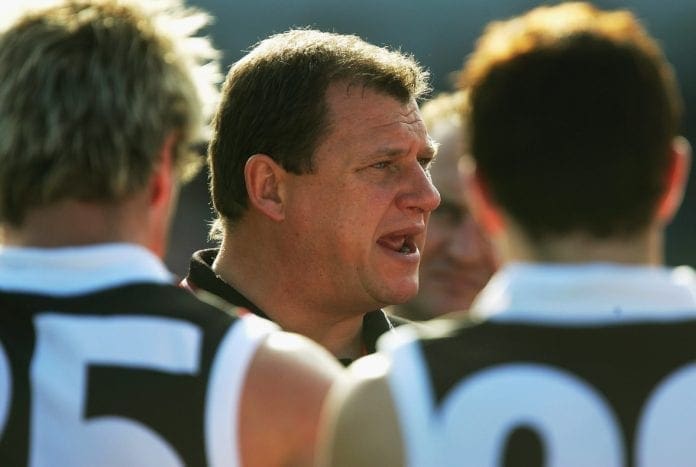 The St Kilda footy club has been accused of being "just happy playing AFL" by former coach, Grant Thomas.
Thomas put the clubs' desire to strive for the top prize into question and called for a change in culture at the board level.
Thomas spoke on SEN Radio on Tuesday, "There are two types of teams in the competition — one that's in the premiership business and the others that are just sort of playing AFL," he said.
The 63-year-old's latest comments come in the wake of similar comments he made to St Kilda's unofficial podcast 'Unpluggered' in June.
During said interview, the former Saints player and steward claimed the Moorabbin-based club was "littered with incompetency and bad decisions".
Has there been a more polarising figure in the history of the @stkildafc than @Thomo_Grant?!

Like him or not, he loves our footy club like we all do, and he's always willing to chat on our show and share his experiences, views and opinions.#TogetherWeRise #Unpluggered

— Unpluggered Podcast 🔴⚪⚫ (@unpluggered) October 19, 2021
The Saints had a lacklustre season in 2021, where their inconsistency in form saw them finish 10th.
"Their best is finals, but the gap tells me that there is something wrong somewhere," Thomas added.
"You don't have wild fluctuations in performances unless there's something not quite right."
The Saints now hold the longest-running Premiership drought having not won the top prize since 1966.
"I can't see us winning a premiership in the next year or two, and if we don't win it in the next year or two, that list… well where is it?" Thomas continued.
"That means we're another decade away and that doesn't sit well with me.
"It's achievable and you can do it, but you've got to make hard decisions."
Thomas suggested that adding influential businessman Larry Benge to the board could help spark the culture change required to enter the premiership race.
Confusion has arisen as a result of the Saints quiet trade period where they missed out on North Ruckman Tristan Xerri. Fox Footy's Tom Morris told Trading Day the "confused" list strategy has only narrowed their small window of opportunity for premiership success.
"Why are they going so heavily at the draft and not trying to bring players in to play finals next year?" Morris said.
"But you would've thought if their list was as it was this year and didn't play finals – and didn't really get close, let's be honest – then they should be trying to bring in established players rather than the draft picks if that is what their aim is."