A total of 886 players are understood to have nominated for next Monday's National Draft, with players from the NAB League, state league and numerous former AFL players hopeful of landing on an AFL list spot.
The draft, which will take place over two nights beginning next Monday, November 28, will see up to 83 prospects injected into the AFL, while the Rookie Draft will follow next Wednesday for those that missed out on an initial opportunity.
The full list of nominations, which has been obtained by News Corp, consists of over 200 NAB League prospects, while over 250 players from the SANFL and WAFL have also lodged their names.
Headlined by Brisbane father-son gun Will Ashcroft, the NAB League is expected to dominate the opening night of the draft, which will see only the first round of the count named.
GWV Rebels forward Aaron Cadman might edge out Ashcroft as the Giants' selection at Pick 1, while fellow Victorians George Wardlaw, Harry Sheezel and Elijah Tsatas are predicted to round out the top five.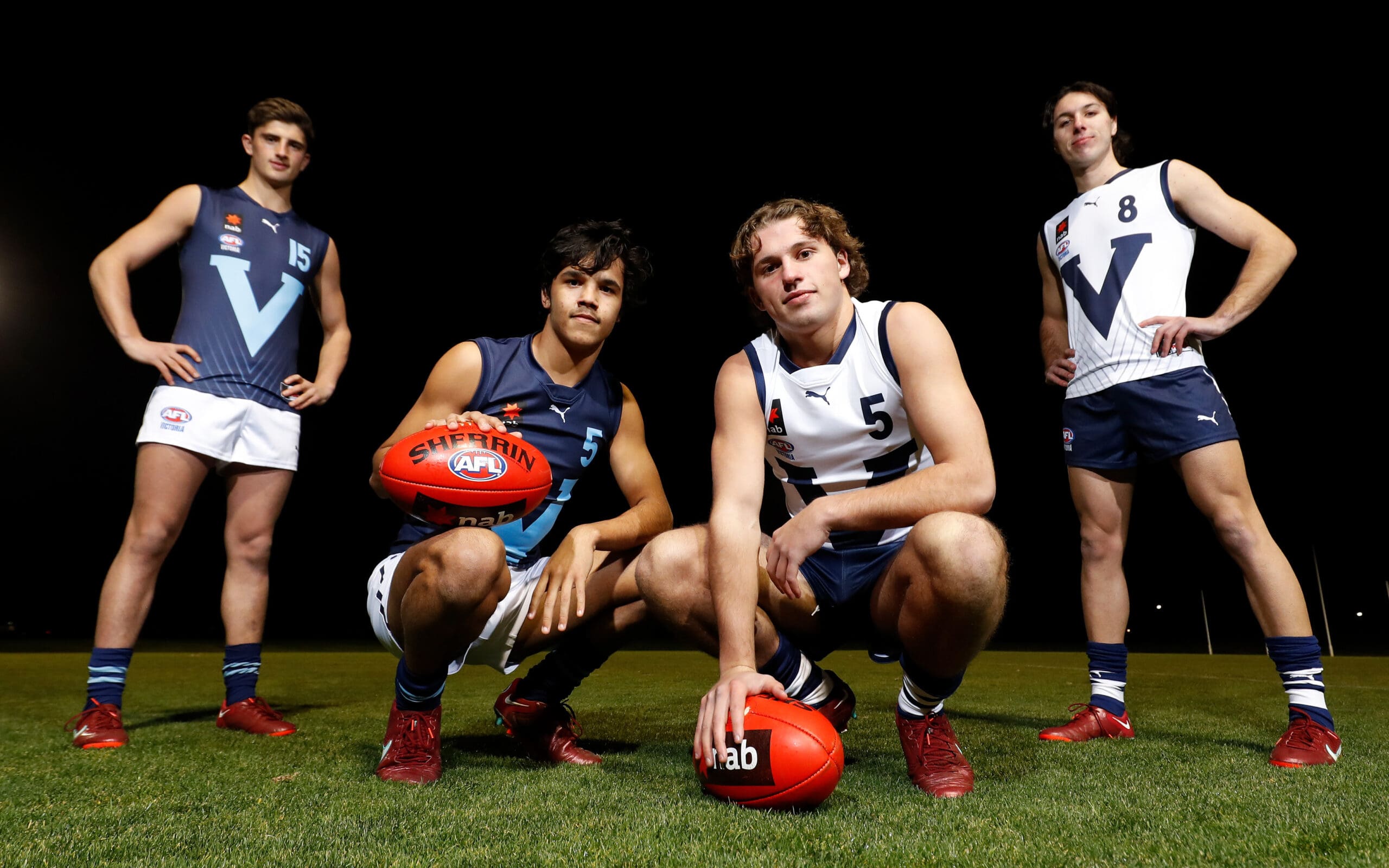 While these str teenagers will be hoping their AFL dream comes true, a bevy of former AFL players are in the hunt for a second chance in the league.
Former Richmond pair Sydney Stack and Jake Aarts are among those who have nominated for the National Draft, along with former Collingwood duo and brothers Tyler and Callum Brown, ex-Roo and Hawk Jed Anderson, and delisted Docker Connor Blakely.
Nominations for the National Draft closed at 3:00pm (AEDT) on Monday.
Full 2022 National Draft Nominees List (via The Herald Sun)
| | | | | | |
| --- | --- | --- | --- | --- | --- |
| Name | Surname | Date of Birth | Current Club | Current League | Player Category |
| Jake | Aarts | 8-Dec-94 | Richmond Tigers (AFL) | AFL | Category 2 |
| Tahj | Abberley | 23-Apr-02 | Brisbane Lions (VFL) | VFL | Category 2 |
| Jed | Adams | 14-May-04 | Peel Thunder (West Australian Football League (WAFL)) | West Australian Football League (WAFL) | Category 2 |
| Ajang | Ajang | 1-Jan-97 | Perth (West Australian Football League (WAFL)) | West Australian Football League (WAFL) | Category 2 |
| Matthew | Aldous | 21-Feb-04 | Eastern Ranges (NAB League) | NAB League | Category 2 |
| Luca | Alessio | 31-Oct-04 | Calder Cannons (NAB League) | NAB League | Category 2 |
| Sahaf | Ali | 27-Jul-03 | Eastern Ranges | NAB League | Category 2 |
| Toby | Alker | 16-Mar-03 | UNSW Eastern Suburbs Bulldogs | AFL Sydney | Category 2 |
| Edward | Allan | 26-May-04 | Claremont (West Australian Football League (WAFL)) | West Australian Football League (WAFL) | Category 2 |
| Matthew | Allen | 18-Oct-97 | Glenelg (South Australia National Football League (SANFL) | South Australia National Football League (SANFL) | Category 2 |
| Angus | Anderson | 25-May-03 | Sawtell Toormina Saints | AFL North Coast | Category 2 |
| Corbin | Anderson | 4-May-04 | Echuca Football Club | Goulburn Valley Football League | Category 2 |
| Hamish | Anderson | 21-May-04 | Sawtell Toormina Saints | AFL North Coast | Category 2 |
| Jakob | Anderson | 12-Sep-04 | Sandringham Dragons (NAB League) | NAB League | Category 2 |
| Jed | Anderson | 2-Feb-94 | North Melbourne Kangaroos (AFL) | AFL | Category 1 |
| William | Anderson | 10-Jul-04 | BRIGADES FOOTBALL CLUB | Great Northern Football League | Category 2 |
| Ben | Andrews | 3-Jan-03 | Sandringham Dragons (NAB League) | NAB League | Category 2 |
| Ben | Archard | 20-Nov-94 | Essendon (VFL) | VFL | Category 2 |
| Harrison | Arnold | 8-Apr-99 | Brisbane Lions (VFL) | VFL | Category 2 |
| Jake | Arundell | 2-Dec-02 | Rowville Hawks Football Club | Eastern Football Netball League | Category 2 |
| Will | Ashcroft | 6-May-04 | Sandringham Dragons (NAB League) | NAB League | Category 2 |
| Yu Yu | Ashwin | 12-Jul-04 | Oakleigh Chargers (NAB League) | NAB League | Category 2 |
| Ashtyn | Atkinson | 20-Jul-04 | Murray Bushrangers (NAB League) | NAB League | Category 2 |
| Jack | Atkinson | 7-Oct-04 | Sandringham Dragons (NAB League) | NAB League | Category 2 |
| Kydan | Atkinson | 28-Jan-04 | Murray Bushrangers (NAB League) | NAB League | Category 2 |
| Joseph | Atley | 4-Aug-98 | Essendon (VFL) | VFL | Category 2 |
| Frane | Babic | 10-Jul-00 | West Adelaide (SANFL) | South Australia National Football League (SANFL) | Category 2 |
| Jhye | Baddeley-Kelly | 11-May-96 | Coburg (VFL) | VFL | Category 2 |
| Angus | Bade | 25-Mar-03 | Footscray | VFL | Category 2 |
| Luke | Bailey | 24-Jan-04 | Dandenong Stingrays (NAB League) | NAB League | Category 2 |
| Kaleb | Baines | 14-Apr-04 | Broadbeach AFC | AFL Queensland League | Category 2 |
| Jordyn | Baker | 10-May-04 | East Perth (West Australian Football League (WAFL)) | West Australian Football League (WAFL) | Category 2 |
| Mark | Baker | 22-Feb-99 | Cobram Football Club | Murray Football League | Category 2 |
| Austin | Ball | 2-Jan-03 | Inner West Magpies | AFL Sydney | Category 2 |
| Jamieson | Ballantyne | 16-Apr-03 | Greater Western Victoria Rebels (NAB League) | NAB League | Category 2 |
| Connor | Ballenden | 29-Mar-99 | Eagles (SANFL) | South Australia National Football League (SANFL) | Category 2 |
| Ralph | Bamblett | 1-May-04 | Bundoora | Northern Football Netball League (NFNL) | Category 2 |
| Ethan | Barbieri | 28-Oct-04 | Subiaco (West Australian Football League (WAFL)) | West Australian Football League (WAFL) | Category 2 |
| Nathan | Barkla | 30-Mar-04 | Eagles (SANFL) | South Australia National Football League (SANFL) | Category 2 |
| Jackson | Barling | 17-Aug-01 | Northern Bullants (VFL) | VFL | Category 2 |
| Guy | Barnes | 12-May-00 | Peel Thunder (West Australian Football League (WAFL)) | West Australian Football League (WAFL) | Category 2 |
| Noah | Barnes | 6-Jan-04 | Northern Knights (NAB League) | NAB League | Category 2 |
| Charlie | Barnett | 24-Aug-04 | Bendigo Pioneers (NAB League) | NAB League | Category 2 |
| Harry | Barnett | 22-Jan-04 | West Adelaide (SANFL) | South Australia National Football League (SANFL) | Category 2 |
| Mitchell | Barron | 9-Feb-04 | Claremont (West Australian Football League (WAFL)) | West Australian Football League (WAFL) | Category 2 |
| Jake | Bartholomaeus | 27-Aug-97 | Sydney Swans (VFL) | VFL | Category 2 |
| Benjamin | Bath | 22-Jan-03 | Euroa Football Netball Club Inc. | Goulburn Valley Football League | Category 2 |
| Nathan | Battaglia | 1-Mar-04 | Sydney University | AFL Sydney | Category 2 |
| Hugh | Beasley | 12-Nov-95 | Box Hill Hawks (VFL) | VFL | Category 2 |
| Max | Beattie | 18-Nov-03 | Wodonga Raiders Football Club | Ovens & Murray Football Netball League (OMFNL) | Category 2 |
| Zac | Becker | 21-Sep-03 | Sturt | South Australia National Football League (SANFL) | Category 2 |
| Luke | Beecken | 18-Apr-01 | Eagles (SANFL) | South Australia National Football League (SANFL) | Category 2 |
| Matthew | Belbasis | 13-Aug-95 | West Preston-Lakeside Football Club | Northern Football Netball League (NFNL) | Category 2 |
| Jack | Bell | 26-Jan-01 | Casey Demons (VFL) | VFL | Category 2 |
| James | Bell | 10-Feb-99 | Sydney Swans (AFL) | AFL | Category 2 |
| William | Bella | 31-Jan-03 | Palm Beach Currumbin AFC | AFL Queensland League | Category 2 |
| Ryan | Bennell | 11-Jan-00 | Peel Thunder (West Australian Football League (WAFL)) | West Australian Football League (WAFL) | Category 2 |
| Traye | Bennell | 8-Jan-95 | Peel Thunder (West Australian Football League (WAFL)) | West Australian Football League (WAFL) | Category 2 |
| Joshua | Bennetts | 9-Aug-04 | Eastern Ranges (NAB League) | NAB League | Category 2 |
| Shaun | Bennier | 24-Feb-04 | North Adelaide | South Australia National Football League (SANFL) | Category 2 |
| Lachlan | Benton | 8-Feb-03 | Sandringham Dragons (NAB League) | NAB League | Category 2 |
| Bradley | Bernacki | 2-Nov-99 | Essendon (VFL) | VFL | Category 2 |
| Kane | Bevan | 25-Apr-04 | West Perth (West Australian Football League (WAFL)) | West Australian Football League (WAFL) | Category 2 |
| Riley | Bice | 26-Sep-00 | Albury Football Club | Ovens & Murray Football Netball League (OMFNL) | Category 2 |
| Jaxon | Binns | 29-Oct-04 | Dandenong Stingrays | NAB League | Category 2 |
| Isaac | Birt | 4-Jul-03 | South Adelaide | South Australia National Football League (SANFL) | Category 2 |
| Max | Blacker | 14-Jul-04 | North Adelaide | South Australia National Football League (SANFL) | Category 2 |
| Connor | Blakely | 2-Mar-96 | Fremantle Dockers (AFL) | AFL | Category 2 |
| Tom | Blechynden | 10-Jan-00 | South Fremantle (West Australian Football League (WAFL)) | West Australian Football League (WAFL) | Category 2 |
| Jacob | Blight | 14-Dec-01 | Claremont (West Australian Football League (WAFL)) | West Australian Football League (WAFL) | Category 2 |
| Hugh | Bond | 25-Sep-04 | North Ballarat Football Netball Club | Ballarat Football Netball League | Category 2 |
| Flynn | Bongiorno | 15-Jul-04 | Old Brighton Grammarians | Victorian Amateur Football Association (VAFA) | Category 2 |
| Chase | Bourne | 6-May-04 | South Fremantle (West Australian Football League (WAFL)) | West Australian Football League (WAFL) | Category 2 |
| Gennaro | Bove | 14-Jan-02 | Werribee (VFL) | VFL | Category 2 |
| Tom | Bower | 20-Aug-04 | Oakleigh Chargers (NAB League) | NAB League | Category 2 |
| Charlie | Bowes | 13-Mar-02 | Noosa AFC | AFL Queensland League | Category 2 |
| Jackson | Bowne | 31-Dec-02 | Richmond (VFL) | VFL | Category 2 |
| Ethan | Boyd | 20-Aug-04 | Greater Western Victoria Rebels (NAB League) | NAB League | Category 2 |
| Jack | Boyd | 7-Jan-01 | Northern Bullants (VFL) | VFL | Category 2 |
| Angus | Bradley | 6-Dec-03 | South Adelaide | South Australia National Football League (SANFL) | Category 2 |
| Noah | Bradshaw | 1-Jan-03 | Murray Bushrangers (NAB League) | NAB League | Category 2 |
| Austin | Bradtke | 27-May-00 | Frankston (VFL) | VFL | Category 2 |
| Kaelan | Bradtke | 21-May-01 | Corowa Rutherglen Football Club | Ovens & Murray Football Netball League (OMFNL) | Category 2 |
| Shadeau | Brain | 13-Feb-04 | Noosa AFC | AFL Queensland League | Category 2 |
| Liam | Brandis | 10-Feb-04 | South Fremantle (West Australian Football League (WAFL)) | West Australian Football League (WAFL) | Category 2 |
| Jed | Brereton | 9-Jun-03 | Bendigo Pioneers (NAB League) | NAB League | Category 2 |
| Sam | Breuer | 26-Jun-03 | Sturt | South Australia National Football League (SANFL) | Category 2 |
| Heath | Briggs | 28-Sep-00 | Katherine South | Big Rivers Football League | Category 2 |
| Jack | Briskey | 18-Jan-02 | Port Melbourne (VFL) | VFL | Category 2 |
| Jackson | Broadbent | 2-Dec-04 | Peel Thunder (West Australian Football League (WAFL)) | West Australian Football League (WAFL) | Category 2 |
| Hayden | Brokensha | 22-Mar-04 | Glenelg (South Australia National Football League (SANFL) | South Australia National Football League (SANFL) | Category 2 |
| Callum | Brown | 27-Apr-98 | Collingwood Magpies (AFL) | AFL | Category 2 |
| Finn | Brown | 16-Dec-03 | Broadbeach AFC | AFL Queensland League | Category 2 |
| Jack | Brown | 22-Jan-04 | Calder Cannons (NAB League) | NAB League | Category 2 |
| Tyler | Brown | 9-Dec-99 | Collingwood Magpies (AFL) | AFL | Category 2 |
| Joshua | Browne | 3-Jan-03 | West Coast Eagles (West Australian Football League (WAFL)) | West Australian Football League (WAFL) | Category 2 |
| Tristan | Bryce | 29-Aug-03 | Peel Thunder (West Australian Football League (WAFL)) | West Australian Football League (WAFL) | Category 2 |
| Zachary | Buck | 12-Jul-02 | Eagles (SANFL) | South Australia National Football League (SANFL) | Category 2 |
| Jack | Buller | 16-May-01 | Claremont (West Australian Football League (WAFL)) | West Australian Football League (WAFL) | Category 2 |
| Coby | Burgiel | 9-Sep-04 | Gippsland Power (NAB League) | NAB League | Category 2 |
| Trent | Burgoyne | 2-Oct-01 | Port Adelaide (SANFL) | South Australia National Football League (SANFL) | Category 2 |
| Caleb | Burquest | 10-Apr-04 | Calder Cannons (NAB League) | NAB League | Category 2 |
| Elijah | Burrows | 24-May-03 | East Fremantle (West Australian Football League (WAFL)) | West Australian Football League (WAFL) | Category 2 |
| Jedd | Busslinger | 11-Mar-04 | East Perth (West Australian Football League (WAFL)) | West Australian Football League (WAFL) | Category 2 |
| Briley | Butler | 1-Jun-04 | Lower Plenty Bears (FIDA) | Football Integration Development Association (FIDA) | Category 2 |
| Louis | Butler | 26-Aug-01 | Western Bulldogs (AFL) | AFL | Category 2 |
| Harry | Butterworth | 29-Jan-04 | Bundoora | Northern Football Netball League (NFNL) | Category 2 |
| Wylie | Buzza | 2-Mar-96 | Brisbane Lions (VFL) | VFL | Category 2 |
| Angus | Byrne | 8-Sep-98 | Geelong Cats (VFL) | VFL | Category 2 |
| Charlie | Byrne | 26-Oct-02 | Geelong | VFL | Category 2 |
| Aaron | Cadman | 3-Mar-04 | Greater Western Victoria Rebels (NAB League) | NAB League | Category 2 |
| Ned | Cahill | 11-Jan-01 | Carlton (VFL) | VFL | Category 2 |
| Vinnie | Caia | 10-Jul-04 | Gippsland Power (NAB League) | NAB League | Category 2 |
| Jackson | Callow | 11-Jun-02 | Norwood (South Australia National Football League (SANFL) | South Australia National Football League (SANFL) | Category 2 |
| Benjamin | Cameron | 26-May-04 | Bendigo Pioneers (NAB League) | NAB League | Category 2 |
| Xavier | Cameron | 17-Jul-04 | Hermit Park AFC | AFL Townsville | Category 2 |
| Anthony | Caminiti | 9-Dec-03 | Northern Knights (NAB League) | NAB League | Category 2 |
| Jack | Campbell | 10-Mar-04 | Wilston Grange AFC | AFL Queensland League | Category 2 |
| Seth | Campbell | 29-Dec-04 | North Launceston Football Club Inc | Tasmanian State League (TSL) | Category 2 |
| Taj | Campbell-Farrell | 29-Jun-04 | Dandenong Stingrays (NAB League) | NAB League | Category 2 |
| Daniel | Capiron | 14-Jun-96 | Geelong Cats (VFL) | VFL | Category 2 |
| Jayden | Cappeau | 28-May-03 | East Perth (West Australian Football League (WAFL)) | West Australian Football League (WAFL) | Category 2 |
| Thomas | Cappellari | 8-Apr-04 | Myrtleford Football Club | Ovens & Murray Football Netball League (OMFNL) | Category 2 |
| Adam | Carafa | 22-Feb-01 | Banyule Football Club | Northern Football Netball League (NFNL) | Category 2 |
| Connor | Carbone | 29-Apr-04 | Peel Thunder (West Australian Football League (WAFL)) | West Australian Football League (WAFL) | Category 2 |
| Malachy | Carruthers | 5-May-02 | Sturt | South Australia National Football League (SANFL) | Category 2 |
| Hunter | Carter | 1-Jan-04 | North Adelaide | South Australia National Football League (SANFL) | Category 2 |
| Noah | Casalini | 2-Jul-01 | North Adelaide | South Australia National Football League (SANFL) | Category 2 |
| Darcy | Cassar | 31-Jul-01 | Werribee (VFL) | VFL | Category 2 |
| Ben | Cavarra | 20-Dec-95 | Box Hill Hawks (VFL) | VFL | Category 2 |
| Mitchell | Chafer | 25-Apr-99 | Geelong Cats (VFL) | VFL | Category 2 |
| Thanakhan | Chaichana | 20-Jun-04 | East Perth (West Australian Football League (WAFL)) | West Australian Football League (WAFL) | Category 2 |
| Jye | Chalcraft | 2-May-01 | Geelong Cats (VFL) | VFL | Category 2 |
| Will | Chandler | 13-Dec-01 | Glenelg (South Australia National Football League (SANFL) | South Australia National Football League (SANFL) | Category 2 |
| Joshua | Chatfield | 2-Aug-00 | Footscray Bulldogs (VFL) | VFL | Category 2 |
| Leyton | Chisholm | 17-Apr-00 | GWS Giants (VFL) | VFL | Category 2 |
| Aviela | Choka | 25-Sep-04 | Northern Knights (NAB League) | NAB League | Category 2 |
| Will | Christie | 14-Jul-00 | Geelong Cats (VFL) | VFL | Category 2 |
| Jack | Chubb | 26-Feb-04 | Northern Knights (NAB League) | NAB League | Category 2 |
| Alex | Cincotta | 17-Dec-96 | Carlton (VFL) | VFL | Category 2 |
| Blake | Ciscato | 15-Jun-04 | Camden Cats | AFL Sydney | Category 2 |
| Jhye | Clark | 23-Jul-04 | Geelong Falcons (NAB League) | NAB League | Category 2 |
| Charlie | Clarke | 4-Jan-04 | Sandringham Dragons (NAB League) | NAB League | Category 2 |
| Matthew | Clarkson | 11-Sep-04 | Sandringham Dragons (NAB League) | NAB League | Category 2 |
| Oscar | Clavarino | 22-May-99 | South Adelaide | South Australia National Football League (SANFL) | Category 2 |
| Jack | Cleaver | 22-May-04 | East Fremantle (West Australian Football League (WAFL)) | West Australian Football League (WAFL) | Category 2 |
| Will | Clifford | 12-Nov-04 | Tigers Football Club (Tasmanian State League (TSL)) | Tasmanian State League (TSL) | Category 2 |
| Max | Clohesy | 12-Feb-04 | Murray Bushrangers | NAB League | Category 2 |
| Ted | Clohesy | 6-Sep-04 | Geelong Falcons (NAB League) | NAB League | Category 2 |
| Nakia | Cockatoo | 23-Oct-96 | Brisbane | AFL | Category 2 |
| Koby | Cockshell | 6-Dec-04 | South Adelaide | South Australia National Football League (SANFL) | Category 2 |
| Tyson | Coe | 21-Oct-04 | West Adelaide (SANFL) | South Australia National Football League (SANFL) | Category 2 |
| Liam | Coghlan | 19-Apr-01 | Box Hill Hawks (VFL) | VFL | Category 2 |
| Harry | Cole | 3-Sep-04 | Claremont (West Australian Football League (WAFL)) | West Australian Football League (WAFL) | Category 2 |
| Nicholas | Collier | 29-Apr-04 | Dandenong Stingrays (NAB League) | NAB League | Category 2 |
| Riley | Collier-Dawkins | 3-Feb-00 | Richmond Tigers (AFL) | AFL | Category 2 |
| Owen | Collins | 26-Jul-04 | Sherwood Districts AFC | AFL Queensland League | Category 2 |
| Harrison | Collopy | 25-May-03 | Dandenong Stingrays (NAB League) | NAB League | Category 2 |
| Sam | Conforti | 15-Mar-02 | Essendon (VFL) | VFL | Category 2 |
| Jacob | Conlan | 3-Sep-99 | Albury Football Club | Ovens & Murray Football Netball League (OMFNL) | Category 2 |
| Lucas | Conlan | 19-Mar-01 | Albury Football Club | Ovens & Murray Football Netball League (OMFNL) | Category 2 |
| Sam | Conway | 17-May-99 | Werribee (VFL) | VFL | Category 2 |
| Lukas | Cooke | 26-Sep-03 | Eagles (SANFL) | South Australia National Football League (SANFL) | Category 2 |
| Will | Coomblas | 6-Aug-98 | Sturt | South Australia National Football League (SANFL) | Category 2 |
| Joshua | Cooper | 5-Feb-04 | Brisbane Lions Academy | AFL Queensland League | Category 2 |
| Nathan | Cooper | 30-Aug-97 | Werribee (VFL) | VFL | Category 2 |
| Billy | Cootee | 18-Dec-02 | Essendon (VFL) | VFL | Category 2 |
| Marlin | Corbett | 18-Feb-04 | Gold Coast | VFL | Category 2 |
| Samuel | Cosmo | 16-Jul-04 | Coorparoo Senior AFC | AFL Queensland League | Category 2 |
| Blake | Couling | 19-May-04 | Gippsland Power (NAB League) | NAB League | Category 2 |
| Lachlan | Cowan | 1-Dec-04 | North Launceston Football Club Inc | Tasmanian State League (TSL) | Category 2 |
| Mitchell | Cox | 24-Mar-97 | Brisbane | AFL | Category 2 |
| Rhaiarn | Cox | 1-Mar-01 | Palmerston Magpies | Northern Territory Football League (NTFL) | Category 2 |
| Cooper | Craig-Peters | 10-Nov-01 | Footscray Bulldogs (VFL) | VFL | Category 2 |
| Darcy | Craven | 22-Jul-04 | East Perth (West Australian Football League (WAFL)) | West Australian Football League (WAFL) | Category 2 |
| Harry | Creasey | 28-Jan-98 | West Coast Eagles (West Australian Football League (WAFL)) | West Australian Football League (WAFL) | Category 2 |
| James | Creighton | 29-Mar-04 | Sandringham Dragons (NAB League) | NAB League | Category 2 |
| Joshua | Cripps | 13-Aug-02 | Carlton (VFL) | VFL | Category 2 |
| Ben | Crocker | 19-Feb-97 | Carlton (VFL) | VFL | Category 2 |
| Paddy | Cross | 14-Feb-03 | Gippsland Power (NAB League) | NAB League | Category 2 |
| Brayden | Crossley | 16-Aug-99 | Southport (VFL) | VFL | Category 2 |
| Mitch | Crowden | 28-Apr-99 | Fremantle Dockers (AFL) | AFL | Category 2 |
| Ned | Crowe | 7-Jan-03 | Sandringham Dragons (NAB League) | NAB League | Category 2 |
| Lewis | Crump | 5-Jun-04 | Claremont (West Australian Football League (WAFL)) | West Australian Football League (WAFL) | Category 2 |
| Isaac | Cullen | 3-Mar-04 | Calder Cannons (NAB League) | NAB League | Category 2 |
| Lachlan | Cullen | 16-Feb-00 | Peel Thunder (West Australian Football League (WAFL)) | West Australian Football League (WAFL) | Category 2 |
| Edward | Curnow | 7-Nov-89 | Carlton Blue (AFL) | AFL | Category 2 |
| Angus | Curry | 5-Oct-04 | Oakleigh Chargers (NAB League) | NAB League | Category 2 |
| Joel | Cusack | 21-Mar-98 | Beaumaris FC | Victorian Amateur Football Association (VAFA) | Category 2 |
| Rhys | Dakin | 12-Jul-04 | Blackburn | Eastern Football Netball League | Category 2 |
| Adam | D'Aloia | 9-Apr-04 | Eagles (SANFL) | South Australia National Football League (SANFL) | Category 2 |
| Ed | Dalton | 2-Nov-04 | Praharan Assumption | Victorian Amateur Football League | Category 2 |
| Alwyn | Davey | 26-Feb-04 | Oakleigh Chargers | NAB League | Category 2 |
| Jayden | Davey | 26-Feb-04 | Oakleigh Chargers | NAB League | Category 2 |
| Hugh | Davies | 28-Sep-04 | Claremont (West Australian Football League (WAFL)) | West Australian Football League (WAFL) | Category 2 |
| Justin | Davies | 29-Apr-03 | Dandenong Stingrays (NAB League) | NAB League | Category 2 |
| Benjamin | Davis | 19-May-97 | Adelaide Crows (AFL) | AFL | Category 2 |
| Jayden | Davis | 26-Jun-03 | Glenelg (South Australia National Football League (SANFL) | South Australia National Football League (SANFL) | Category 2 |
| Oliver | Davis | 18-Jul-02 | South Adelaide | South Australia National Football League (SANFL) | Category 2 |
| Philip | Davis | 30-Aug-90 | GWS Giants (AFL) | AFL | Category 2 |
| Jacob | Dawson | 3-Nov-99 | Southport (VFL) | VFL | Category 2 |
| Taine | Dawson | 15-Nov-04 | Broadbeach AFC | AFL Queensland League | Category 2 |
| Benjamin | De Bolfo | 21-Jun-02 | Northern Bullants (VFL) | VFL | Category 2 |
| Adam | Deakin | 16-Aug-04 | Central District | South Australia National Football League (SANFL) | Category 2 |
| Kye | Declase | 15-Oct-96 | Werribee (VFL) | VFL | Category 2 |
| Liam | Delahunty | 13-Feb-01 | West Adelaide (SANFL) | South Australia National Football League (SANFL) | Category 2 |
| Jed | Denahy | 16-Nov-04 | Castlemaine Football and Netball Club | Bendigo Football Netball League | Category 2 |
| Zackary | Derksen | 3-Nov-98 | Wilston Grange AFC | AFL Queensland League | Category 2 |
| William | Derrington | 20-Dec-04 | Cairns Saints (AFL Cairns) | AFL Cairns | Category 2 |
| Tyrell | Dewar | 27-Mar-04 | Subiaco (West Australian Football League (WAFL)) | West Australian Football League (WAFL) | Category 2 |
| charlie | di stefano | 24-Apr-04 | Murray Bushrangers (NAB League) | NAB League | Category 2 |
| Nash | Dignan | 27-Jan-04 | Bendigo Pioneers (NAB League) | NAB League | Category 2 |
| Nate | Dimanlig | 10-Mar-04 | West Perth (West Australian Football League (WAFL)) | West Australian Football League (WAFL) | Category 2 |
| Joshua | D'Intinosante | 7-Jul-01 | Coburg (VFL) | VFL | Category 2 |
| Kade | Dittmar | 14-Jan-03 | East Perth (West Australian Football League (WAFL)) | West Australian Football League (WAFL) | Category 2 |
| Kaleb | Djordevic | 2-Sep-04 | Oakleigh Chargers (NAB League) | NAB League | Category 2 |
| Mitchell | Dodos | 3-Nov-04 | Kyabram Football & Netball Club | Goulburn Valley Football League | Category 2 |
| Ethan | Donaghy | 14-Oct-03 | Peel Thunder (West Australian Football League (WAFL)) | West Australian Football League (WAFL) | Category 2 |
| Sam | Donegan | 18-Aug-03 | St Albans (AFL Barwon FNL) | AFL Barwon FNL | Category 2 |
| Jordan | Douglas | 11-Sep-04 | South Fremantle (West Australian Football League (WAFL)) | West Australian Football League (WAFL) | Category 2 |
| Billy | Dowling | 1-Jul-04 | North Adelaide | South Australia National Football League (SANFL) | Category 2 |
| Connor | Downie | 31-May-02 | Hawthorn Hawks (AFL) | AFL | Category 2 |
| Tom | Downie | 27-Apr-93 | Williamstown (VFL) | VFL | Category 2 |
| Patrick | Dozzi | 27-Jun-03 | Northern Knights (NAB League) | NAB League | Category 2 |
| Billy | Drake | 14-Jul-99 | Ivanhoe | Victorian Amateur Football League | Category 2 |
| Joshua | Draper | 8-Feb-04 | Peel Thunder (West Australian Football League (WAFL)) | West Australian Football League (WAFL) | Category 2 |
| Blake | Drury | 11-Jan-04 | Oakleigh Chargers (NAB League) | NAB League | Category 2 |
| Isaiah | Dudley | 30-Apr-03 | Central District | South Australia National Football League (SANFL) | Category 2 |
| Taylin | Duman | 18-Apr-98 | Frankston (VFL) | VFL | Category 2 |
| Charlie | Duncan | 12-Jan-04 | South Adelaide | South Australia National Football League (SANFL) | Category 2 |
| Oscar | Duncan | 24-Oct-03 | Oakleigh Chargers (NAB League) | NAB League | Category 2 |
| Elliot | Dunkin | 27-Jun-98 | South Adelaide | South Australia National Football League (SANFL) | Category 2 |
| Oliver | Eastland | 21-May-98 | Claremont (West Australian Football League (WAFL)) | West Australian Football League (WAFL) | Category 2 |
| Jared | Eckersley | 22-Mar-04 | Broadbeach AFC | AFL Queensland League | Category 2 |
| Darcy | Edmends | 28-May-04 | Northern Knights (NAB League) | NAB League | Category 2 |
| Angus | Edwards | 3-Jul-03 | East Coast Eagles | AFL Sydney | Category 2 |
| Ben | Edwards | 26-Feb-99 | Claremont (West Australian Football League (WAFL)) | West Australian Football League (WAFL) | Category 2 |
| Joshua | Edwards | 22-Feb-03 | West Coast Eagles (West Australian Football League (WAFL)) | West Australian Football League (WAFL) | Category 2 |
| Thomas | Edwards | 20-May-00 | Swan Districts (West Australian Football League (WAFL)) | West Australian Football League (WAFL) | Category 2 |
| William | Edwards | 8-May-03 | North Shore Bombers AFC | AFL Sydney | Category 2 |
| Carlos | Egan | 28-Jan-04 | Calder Cannons (NAB League) | NAB League | Category 2 |
| Mutaz | El nour | 14-Aug-01 | Caroline Springs | Riddell District Football Netball League (RDFNL) | Category 2 |
| Harrison | Elbourne | 10-Feb-04 | GWS Giants Academy | NAB League | Category 2 |
| Hamish | Ellem | 14-Aug-01 | West Adelaide (SANFL) | South Australia National Football League (SANFL) | Category 2 |
| William | Elliott | 11-Jun-04 | Oakleigh Chargers (NAB League) | NAB League | Category 2 |
| Corey | Ellison | 24-Aug-00 | Casey Demons (VFL) | VFL | Category 2 |
| Finn | Emile-Brennan | 7-May-04 | Dandenong Stingrays (NAB League) | NAB League | Category 2 |
| Tom | Emmett | 30-Nov-01 | Sturt | South Australia National Football League (SANFL) | Category 2 |
| Jordan | Endemann | 30-Aug-03 | UNSW Eastern Suburbs Bulldogs | AFL Sydney | Category 2 |
| Luke | English | 20-Aug-00 | East Fremantle (West Australian Football League (WAFL)) | West Australian Football League (WAFL) | Category 2 |
| Tadhg | Evans | 28-May-04 | Lara | AFL Barwon FNL | Category 2 |
| Thomas | Evans | 2-Mar-03 | Williamstown (VFL) | VFL | Category 2 |
| Jacob | Evitt | 10-Mar-04 | Subiaco (West Australian Football League (WAFL)) | West Australian Football League (WAFL) | Category 2 |
| Ryan | Eyers | 22-Apr-03 | Murray Bushrangers (NAB League) | NAB League | Category 2 |
| Joshua | Eyre | 24-Oct-02 | Essendon Bombers (AFL) | AFL | Category 2 |
| Benjamin | Fairbank | 31-Jan-04 | Perth (West Australian Football League (WAFL)) | West Australian Football League (WAFL) | Category 2 |
| Thomas | Feehan | 5-Aug-04 | Sandringham Dragons (NAB League) | NAB League | Category 2 |
| Ronald | Fejo | 16-Dec-01 | Katherine South | Big Rivers Football League | Category 2 |
| Luke | Fellows | 25-Feb-03 | GWS Giants | VFL | Category 2 |
| Morgan | Ferres | 13-Mar-03 | Gold Coast Suns (VFL) | VFL | Category 2 |
| Blake | Fidge | 6-Jan-04 | Mannum Football Club (River Murray Football League) 2 | River Murray Football League | Category 2 |
| Byron | Finch | 21-Oct-04 | Peel Thunder (West Australian Football League (WAFL)) | West Australian Football League (WAFL) | Category 2 |
| Karl | Finlay | 14-Jul-01 | North Adelaide | South Australia National Football League (SANFL) | Category 2 |
| Joel | Fitzgerald | 8-Aug-03 | Essendon (VFL) | VFL | Category 2 |
| Riley | Fitzroy | 4-Mar-03 | Sydney University | AFL Sydney | Category 2 |
| Jaspa | Fletcher | 24-Feb-04 | Brisbane Lions | NAB League | Category 2 |
| Felix | Flockart | 5-Nov-01 | Port Melbourne (VFL) | VFL | Category 2 |
| Jake | Florenca | 15-Aug-97 | South Fremantle (West Australian Football League (WAFL)) | West Australian Football League (WAFL) | Category 2 |
| Harry | Flynn | 26-Jun-04 | Eastern Ranges (NAB League) | NAB League | Category 2 |
| Felix | Fogaty | 9-Jun-04 | Greater Western Victoria Rebels | NAB League | Category 2 |
| Jed | Foggo | 13-May-03 | Gold Coast | VFL | Category 2 |
| Matthew | Foley | 18-Aug-04 | Calder Cannons (NAB League) | NAB League | Category 2 |
| Zac | Foot | 24-Dec-00 | Southport (VFL) | VFL | Category 2 |
| Phoenix | Foster | 12-Sep-04 | Norwood (South Australia National Football League (SANFL) | South Australia National Football League (SANFL) | Category 2 |
| Kobe | Foster | 30-Oct-03 | East Perth (West Australian Football League (WAFL)) | West Australian Football League (WAFL) | Category 2 |
| Sam | Fowler | 2-Nov-98 | Collingwood (VFL) | VFL | Category 2 |
| William | Francou | 4-Mar-04 | North Adelaide | South Australia National Football League (SANFL) | Category 2 |
| Manguru | Frederick | 17-May-00 | Port Adelaide | AFL | Category 2 |
| Hamish | Free | 23-Jul-98 | South Fremantle (West Australian Football League (WAFL)) | West Australian Football League (WAFL) | Category 2 |
| Thomas | Freeman | 6-Apr-99 | Casey Demons (VFL) | VFL | Category 2 |
| Samuel | Frost | 17-Sep-02 | GWS Giants (VFL) | VFL | Category 2 |
| Ryan | Fuss | 16-Jul-04 | Norwood (South Australia National Football League (SANFL) | South Australia National Football League (SANFL) | Category 2 |
| Levi | Fyffe | 19-Oct-04 | Labrador AFC | AFL Queensland League | Category 2 |
| Noah | Gadsby | 12-Mar-02 | Williamstown (VFL) | VFL | Category 2 |
| Zayne | Galea | 14-Aug-03 | Western Jets (NAB League) | NAB League | Category 2 |
| Harvey | Gallagher | 26-Sep-03 | Bendigo Pioneers (NAB League) | NAB League | Category 2 |
| Rhys | Galvin | 18-Aug-04 | Gippsland Power (NAB League) | NAB League | Category 2 |
| Tye | Gander | 4-Apr-04 | St George Dragons | AFL Sydney | Category 2 |
| Jarrod | Garlett | 3-May-96 | Kambalda Football Club (Goldfields Football League) | Goldfields Football League | Category 2 |
| Joel | Garner | 21-May-99 | Footscray Bulldogs (VFL) | VFL | Category 2 |
| William | Garner | 7-Mar-01 | Box Hill Hawks (VFL) | VFL | Category 2 |
| Jenson | Garnham | 19-Aug-03 | Gippsland Power (NAB League) | NAB League | Category 2 |
| Jhett | Gaskett | 21-May-04 | Western Jets (NAB League) | NAB League | Category 2 |
| Daniel | Gathercole | 6-Aug-04 | West Perth (West Australian Football League (WAFL)) | West Australian Football League (WAFL) | Category 2 |
| Clayton | Gay | 23-Mar-02 | West Adelaide (SANFL) | South Australia National Football League (SANFL) | Category 2 |
| Flynn | Gentile | 14-Feb-03 | Coburg (VFL) | VFL | Category 2 |
| Brayden | George | 13-Jan-04 | Murray Bushrangers (NAB League) | NAB League | Category 2 |
| Luke | Giacometti | 19-Apr-03 | North Shore Bombers AFC | AFL Sydney | Category 2 |
| Darcy | Gilbert | 7-Jun-04 | Sandringham Dragons (NAB League) | NAB League | Category 2 |
| Sam | Gilbey | 14-May-04 | Claremont (West Australian Football League (WAFL)) | West Australian Football League (WAFL) | Category 2 |
| Hayden | Gill | 3-Jun-02 | Carlton (VFL) | VFL | Category 2 |
| Jason | Gillbee | 15-May-04 | Bendigo Pioneeers | NAB League | Category 2 |
| Tom | Gillett | 22-Aug-03 | Geelong Falcons (NAB League) | NAB League | Category 2 |
| Joshua | Gillow | 8-Jul-04 | Launceston Football Club (Tasmanian State League (TSL)) | Tasmanian State League (TSL) | Category 2 |
| Ryan | Gilmore | 28-Aug-00 | Southport (VFL) | VFL | Category 2 |
| Reuben | Ginbey | 10-Sep-04 | East Perth (West Australian Football League (WAFL)) | West Australian Football League (WAFL) | Category 2 |
| William | Glanvill | 17-Jul-03 | West Adelaide (SANFL) | South Australia National Football League (SANFL) | Category 2 |
| Lachlan | Godden | 3-Sep-02 | Essendon (VFL) | VFL | Category 2 |
| Luke | Goetz | 3-Dec-97 | Bell Park | AFL Barwon FNL | Category 2 |
| Joshua | Gore | 29-May-01 | West Adelaide (SANFL) | South Australia National Football League (SANFL) | Category 2 |
| Thomas | Gorman | 30-Aug-04 | Murray Bushrangers | NAB League | Category 2 |
| Kieran | Gowdie | 9-Apr-02 | Claremont (West Australian Football League (WAFL)) | West Australian Football League (WAFL) | Category 2 |
| Ethan | Grace | 1-Nov-03 | East Coast Eagles | AFL Sydney | Category 2 |
| Thomas | Graham | 28-Jul-00 | Norwood (South Australia National Football League (SANFL) | South Australia National Football League (SANFL) | Category 2 |
| Tom | Graham | 6-Aug-02 | East Perth (West Australian Football League (WAFL)) | West Australian Football League (WAFL) | Category 2 |
| Harry | Grant | 3-Jul-01 | Central District | South Australia National Football League (SANFL) | Category 2 |
| Sam | Grant | 4-Apr-03 | Northern Knights (NAB League) | NAB League | Category 2 |
| Joshua | Green | 24-Jul-02 | GWS Giants (VFL) | VFL | Category 2 |
| Lachlan | Green | 19-Jul-02 | Yarraville Seddon Eagles | Western Region Football League (WRFL) | Category 2 |
| Steely | Green | 9-Jan-04 | South Fremantle (West Australian Football League (WAFL)) | West Australian Football League (WAFL) | Category 2 |
| Riley | Greene | 15-Oct-01 | Brisbane | VFL | Category 2 |
| Zachary | Greeves | 22-Apr-04 | Eastern Ranges (NAB League) | NAB League | Category 2 |
| George | Grey | 31-Jan-01 | Casey Demons (VFL) | VFL | Category 2 |
| Harrison | Grintell | 4-Nov-02 | GWS Giants | VFL | Category 2 |
| Lachlan | Grubb | 7-Dec-02 | North Adelaide | South Australia National Football League (SANFL) | Category 2 |
| Max | Gruzewski | 21-Jul-04 | Oakleigh Chargers (NAB League) | NAB League | Category 2 |
| Aaron | Gundry | 17-Feb-01 | Carlton | VFL | Category 2 |
| Joshua | Guthrie | 21-Feb-96 | North Melbourne (VFL) | VFL | Category 2 |
| Keanu | Haddow | 23-Aug-02 | East Fremantle (West Australian Football League (WAFL)) | West Australian Football League (WAFL) | Category 2 |
| Jed | Hagan | 15-Oct-04 | East Fremantle (West Australian Football League (WAFL)) | West Australian Football League (WAFL) | Category 2 |
| Max | Hall | 15-Apr-02 | Box Hill Hawks (VFL) | VFL | Category 2 |
| Tom | Hallett | 12-May-04 | East Perth (West Australian Football League (WAFL)) | West Australian Football League (WAFL) | Category 2 |
| Mitchell | Hallinan | 15-Jun-03 | Strathfieldsaye Football Netball Club Inc. | Bendigo Football Netball League | Category 2 |
| Benjamin | Ham | 8-Sep-04 | Northern Knights (NAB League) | NAB League | Category 2 |
| Brayden | Ham | 25-Apr-99 | Essendon Bombers (AFL) | AFL | Category 2 |
| Charlie | Ham | 11-Nov-02 | Werribee (VFL) | VFL | Category 2 |
| Hugh | Hamilton | 24-Sep-03 | Carlton | VFL | Category 2 |
| Joshua | Hamilton | 26-Mar-04 | Northern Knights (NAB League) | NAB League | Category 2 |
| Thomas | Hamilton | 1-Feb-04 | Gippsland Power (NAB League) | NAB League | Category 2 |
| Blake | Hansen | 8-Apr-04 | Eagles (SANFL) | South Australia National Football League (SANFL) | Category 2 |
| Ethan | Hansen | 25-Jun-00 | West Coast Eagles (West Australian Football League (WAFL)) | West Australian Football League (WAFL) | Category 2 |
| Robert | Hansen | 13-Mar-04 | Subiaco (West Australian Football League (WAFL)) | West Australian Football League (WAFL) | Category 2 |
| Matthew | Harms | 13-Jun-03 | Sandringham (VFL) | VFL | Category 2 |
| Cody | Harrington | 9-Oct-04 | Broadbeach AFC | AFL Queensland League | Category 2 |
| Austin | Harris | 30-Apr-03 | Essendon (VFL) | VFL | Category 2 |
| Jack | Harrop | 17-Aug-04 | Eastern Ranges | NAB League | Category 2 |
| Fletcher | Hart | 1-Jul-03 | Murray Bushrangers (NAB League) | NAB League | Category 2 |
| Michael | Hartley | 7-Jun-93 | Collingwood (VFL) | VFL | Category 2 |
| Cooper | Harvey | 12-Jul-04 | Northern Knights | NAB League | Category 2 |
| Dane | Harvey | 10-May-04 | Northern Knights (NAB League) | NAB League | Category 2 |
| Mason | Hawkins | 2-Apr-02 | Box Hill Hawks (VFL) | VFL | Category 2 |
| Cooper | Hayes | 14-Apr-04 | Geelong Falcons (NAB League) | NAB League | Category 2 |
| Lewis | Hayes | 17-Dec-04 | Eastern Ranges (NAB League) | NAB League | Category 2 |
| Adam | Heath | 24-Mar-03 | North Adelaide | South Australia National Football League (SANFL) | Category 2 |
| Ryan | Hebron | 3-May-97 | GWS Giants (VFL) | VFL | Category 2 |
| Mason | Helleren | 2-Mar-04 | Eastern Ranges | NAB League | Category 2 |
| Benjamin | Hempel | 7-Jun-04 | Sandringham Dragons (NAB League) | NAB League | Category 2 |
| Bailey | Henderson | 20-Oct-99 | Richmond | VFL | Category 2 |
| Elijah | Hewett | 27-May-04 | Swan Districts (West Australian Football League (WAFL)) | West Australian Football League (WAFL) | Category 2 |
| Liam | Hickmott | 26-Jul-99 | Subiaco (West Australian Football League (WAFL)) | West Australian Football League (WAFL) | Category 2 |
| Matthew | Higgins | 1-Jul-04 | Bayswater | Eastern Football Netball League | Category 2 |
| Benjamin | High | 22-Apr-04 | North Shore Bombers AFC | AFL Sydney | Category 2 |
| Dyson | Hilder | 31-Mar-01 | North Adelaide | South Australia National Football League (SANFL) | Category 2 |
| Daniel | Hill | 16-Aug-03 | Perth (West Australian Football League (WAFL)) | West Australian Football League (WAFL) | Category 2 |
| Oscar | Hine-Baston | 18-Oct-04 | Perth (West Australian Football League (WAFL)) | West Australian Football League (WAFL) | Category 2 |
| Darby | Hipwell | 15-Aug-02 | Sandringham (VFL) | VFL | Category 2 |
| Tom | Hird | 28-Mar-01 | Essendon | AFL | Category 2 |
| Tristan | Hobley | 30-Jun-00 | West Perth (West Australian Football League (WAFL)) | West Australian Football League (WAFL) | Category 2 |
| Jack | Hodges | 17-Mar-04 | North Adelaide | South Australia National Football League (SANFL) | Category 2 |
| Thomas | Hofert | 19-Apr-02 | Port Melbourne (VFL) | VFL | Category 2 |
| Darcy | Hogg | 1-Nov-04 | Northern Knights (NAB League) | NAB League | Category 2 |
| Sam | Hoghton | 16-Aug-04 | Officer Senior Football Club (AFL Outer East Senior) | AFL Outer East Senior Football | Category 2 |
| Oliver | Hollands | 16-Jan-04 | Murray Bushrangers (NAB League) | NAB League | Category 2 |
| Euriah | Hollard | 3-Nov-03 | Geelong Falcons (NAB League) | NAB League | Category 2 |
| Matthew | hollier | 20-May-04 | Brisbane Lions Academy | AFL Queensland League | Category 2 |
| Harvey | Hooper | 10-Jun-97 | Port Melbourne (VFL) | VFL | Category 2 |
| Jamie | Hope | 11-Jan-04 | Sandringham Dragons (NAB League) | NAB League | Category 2 |
| Marty | Hore | 5-Mar-96 | North Melbourne | VFL | Category 2 |
| Stuart | Horner | 4-Oct-97 | Box Hill Hawks (VFL) | VFL | Category 2 |
| Joshua | Hotchkin | 8-Sep-01 | Port Melbourne (VFL) | VFL | Category 2 |
| Olli | Hotton | 6-Sep-04 | Sandringham Dragons (NAB League) | NAB League | Category 2 |
| Thomas | Howard | 30-Sep-03 | North Melbourne (VFL) | VFL | Category 2 |
| Daniel | Howe | 4-Dec-95 | Hawthorn Hawks (AFL) | AFL | Category 2 |
| Harvey | Howe | 26-Oct-04 | Gippsland Power (NAB League) | NAB League | Category 2 |
| Mitchell | Howson | 19-Mar-03 | Aspley Hornets AFC | AFL Queensland League | Category 2 |
| William | Hubik | 23-Nov-04 | Calder Cannons (NAB League) | NAB League | Category 2 |
| Isaac | Hucker | 10-Apr-04 | Greater Western Victoria Rebels (NAB League) | NAB League | Category 2 |
| Liam | Hude | 18-Sep-04 | Sherwood Districts AFC | AFL Queensland League | Category 2 |
| Vincent | Huf | 18-Jan-04 | Greater Western Victoria Rebels (NAB League) | NAB League | Category 2 |
| Bailey | Humphrey | 11-Sep-04 | Gippsland Power (NAB League) | NAB League | Category 2 |
| Paul | Hunter | 9-Feb-93 | Port Melbourne (VFL) | VFL | Category 2 |
| Campbell | Hustwaite | 28-Sep-00 | Collingwood (VFL) | VFL | Category 2 |
| Henry | Hustwaite | 20-Jul-04 | Dandenong Stingrays (NAB League) | NAB League | Category 2 |
| Noah | Hyde | 15-Jun-04 | Norwood (South Australia National Football League (SANFL) | South Australia National Football League (SANFL) | Category 2 |
| Nathan | Ireland | 27-Feb-00 | Swan Districts (West Australian Football League (WAFL)) | West Australian Football League (WAFL) | Category 2 |
| Brandon | Jackson-Martin | 25-May-04 | North Adelaide | South Australia National Football League (SANFL) | Category 2 |
| Alexander | Jacobs | 22-Sep-03 | Maroochydore AFC | AFL Queensland League | Category 2 |
| Antonio | James | 31-Jul-03 | Darwin Buffaloes | Northern Territory Football League (NTFL) | Category 2 |
| Jamieson | Jarvis | 12-Jul-03 | Calder Cannons | NAB League | Category 2 |
| Matthew | Jefferson | 8-Mar-04 | Oakleigh Chargers (NAB League) | NAB League | Category 2 |
| Neville | Jetta | 12-Feb-90 | Collingwood (VFL) | VFL | Category 2 |
| Austin | Johnson | 26-Dec-01 | Richmond (VFL) | VFL | Category 2 |
| Matthew | Johnson | 23-Sep-00 | Casey Demons (VFL) | VFL | Category 2 |
| Preston | Johnson | 10-Jan-04 | Oakleigh Chargers (NAB League) | NAB League | Category 2 |
| Jack | Johnston | 5-Jul-02 | Port Melbourne (VFL) | VFL | Category 2 |
| Lloyd | Johnston | 21-Sep-04 | Northern Territory (NAB League) | NAB League | Category 2 |
| Lachlan | Jolly | 3-Oct-04 | Waubra Football Netball Club | Central Highlands Football League | Category 2 |
| Darcy | Jones | 3-Apr-04 | Swan Districts (West Australian Football League (WAFL)) | West Australian Football League (WAFL) | Category 2 |
| Harrison | Jones | 18-Mar-04 | Dandenong Stingrays (NAB League) | NAB League | Category 2 |
| Jamie | Jones | 17-Jul-03 | Central District | South Australia National Football League (SANFL) | Category 2 |
| Liam | Jones | 22-Apr-04 | Launceston Football Club (Tasmanian State League (TSL)) | Tasmanian State League (TSL) | Category 2 |
| Brayden | Jones | 7-Aug-03 | Swan Districts (West Australian Football League (WAFL)) | West Australian Football League (WAFL) | Category 2 |
| Darragh | Joyce | 23-Apr-97 | St Kilda Saints (AFL) | AFL | Category 2 |
| Griffith | Julian | 31-May-04 | West Perth (West Australian Football League (WAFL)) | West Australian Football League (WAFL) | Category 2 |
| Deacon | Kalpakis | 11-Jul-04 | Northern Knights (NAB League) | NAB League | Category 2 |
| Kim | Kantilla | 20-Feb-99 | Tiwi Bombers (Northern Territory FL) | Northern Territory Football League (NTFL) | Category 2 |
| Isaac | Keeler | 23-Apr-04 | North Adelaide | South Australia National Football League (SANFL) | Category 2 |
| Josh | Kemp | 13-Apr-00 | Coburg (VFL) | VFL | Category 2 |
| Jaymie | Kempson | 27-May-03 | East Burwood | Eastern Football Netball League | Category 2 |
| Billy | King | 1-Jun-04 | Cardiff (Seniors) | AFL Hunter Central Coast Seniors | Category 2 |
| Michael | Kiraly | 9-Jan-04 | Bendigo Pioneers (NAB League) | NAB League | Category 2 |
| Austin | Kirby | 22-Oct-03 | East Point Football Netball Club | Ballarat Football Netball League | Category 2 |
| Indhi | Kirk | 31-Aug-04 | UNSW Eastern Suburbs Bulldogs | AFL Sydney | Category 2 |
| Cameron | Kirkland | 31-Oct-04 | South Adelaide | South Australia National Football League (SANFL) | Category 2 |
| Jet | Kneebone | 21-Jul-04 | Geelong Falcons | NAB League | Category 2 |
| Kobe | Knight | 18-May-04 | Northern Knights (NAB League) | NAB League | Category 2 |
| Max | Knobel | 27-Jun-04 | Gippsland Power (NAB League) | NAB League | Category 2 |
| Billy | Kolyniuk | 12-Aug-03 | Western Jets (NAB League) | NAB League | Category 2 |
| Jacob | Konstanty | 9-Nov-04 | Drouin Football Club | Gippsland League | Category 2 |
| Oscar | Kregar | 1-Aug-04 | West Adelaide (SANFL) | South Australia National Football League (SANFL) | Category 2 |
| Michael | Ktona | 24-Mar-03 | Williamstown (VFL) | VFL | Category 2 |
| Mitchell | Kunigiskis | 8-Jan-04 | Pennant Hills Demons | AFL Sydney | Category 2 |
| Joshua | Kuppen | 11-Jan-03 | Western Jets (NAB League) | NAB League | Category 2 |
| Bruno | Laguda | 14-Apr-97 | Essendon (VFL) | VFL | Category 2 |
| Campbell | Lake | 11-Aug-04 | Labrador AFC | AFL Queensland League | Category 2 |
| Will | Lambert | 18-Mar-04 | Beaumaris FC | Victorian Amateur Football Association (VAFA) | Category 2 |
| Cooper | Langan | 29-Sep-04 | Western Jets (NAB League) | NAB League | Category 2 |
| Jerome | Lawrence | 18-Jul-03 | Oakleigh Chargers (NAB League) | NAB League | Category 2 |
| Luke | Lawrence | 16-Mar-04 | Mangoplah Cookardinia United Eastlakes FNC(Senior) | Riverina Football League | Category 2 |
| Brandon | Leary | 13-May-03 | North Launceston Football Club Inc | Tasmanian State League (TSL) | Category 2 |
| Rory | Lehmann | 19-Oct-95 | Eagles (SANFL) | South Australia National Football League (SANFL) | Category 2 |
| Tyreece | Leiu | 14-Apr-03 | Carlton (VFL) | VFL | Category 2 |
| Oliver | Lemchens | 12-Mar-04 | Foster Football Club (Mid Gippsland Football Netball League) | Mid Gippsland Football Netball League | Category 2 |
| Harry | Lemmey | 30-Jan-04 | West Adelaide (SANFL) | South Australia National Football League (SANFL) | Category 2 |
| Ryan | Lester | 26-Aug-92 | Brisbane | AFL | Category 2 |
| Caleb | Lewis | 29-Sep-03 | St Bedes / Mentone Tigers AFC | Victorian Amateur Football Association (VAFA) | Category 2 |
| Jack | Lewis | 11-Apr-00 | Adelaide Football Club | South Australia National Football League (SANFL) | Category 2 |
| James | Lewis | 19-Aug-03 | Sherwood Districts AFC | AFL Queensland League | Category 2 |
| Michael | Lewis | 13-Aug-02 | Carlton (VFL) | VFL | Category 2 |
| Jarrod | Lienert | 5-Aug-94 | St Kilda Saints (AFL) | AFL | Category 2 |
| Matthew | Ling | 21-Apr-99 | Geelong Cats (VFL) | VFL | Category 2 |
| Brinn | Little | 14-Apr-03 | Palm Beach Currumbin AFC | AFL Queensland League | Category 2 |
| Matty | Lloyd | 2-Nov-00 | Newtown & Chilwell | AFL Barwon FNL | Category 2 |
| Flynn | Loader | 14-Jan-03 | Greater Western Victoria Rebels (NAB League) | NAB League | Category 2 |
| Jye | Lockett | 17-Jan-03 | Gold Coast Suns | VFL | Category 2 |
| Jay | Lockhart | 3-Feb-96 | Southport (VFL) | VFL | Category 2 |
| Nigel | Lockyer | 3-Jul-97 | North Adelaide | South Australia National Football League (SANFL) | Category 2 |
| Jacob | Lohmann | 23-Jul-00 | Sandringham (VFL) | VFL | Category 2 |
| Goy | Lok | 28-Aug-97 | Sandringham (VFL) | VFL | Category 2 |
| Noah | Long | 23-Aug-04 | Bendigo Pioneeers | NAB League | Category 2 |
| Jedd | Longmire | 14-Jun-04 | Corowa Rutherglen Football Club | Ovens & Murray Football Netball League (OMFNL) | Category 2 |
| Thomas | Longmire | 20-May-03 | UNSW Eastern Suburbs Bulldogs | AFL Sydney | Category 2 |
| Archie | Lovelock | 19-Dec-04 | Glenelg (South Australia National Football League (SANFL) | South Australia National Football League (SANFL) | Category 2 |
| Liam | Loverso | 14-May-04 | Oakleigh Chargers | NAB League | Category 2 |
| Baynen | Lowe | 29-Jul-03 | Norwood (South Australia National Football League (SANFL) | South Australia National Football League (SANFL) | Category 2 |
| Oliver | Lowe | 18-Sep-02 | Sandringham (VFL) | VFL | Category 2 |
| Deng | Lual | 8-Mar-04 | Greater Western Victoria Rebels (NAB League) | NAB League | Category 2 |
| Jordan | Lukac | 18-Sep-02 | Eagles (SANFL) | South Australia National Football League (SANFL) | Category 2 |
| Alexander | Lukic | 7-Jan-03 | Coburg (VFL) | VFL | Category 2 |
| Bradley | Lynch | 11-Jul-97 | Broadbeach AFC | AFL Queensland League | Category 2 |
| Bailey | Macdonald | 4-Aug-04 | Oakleigh Chargers (NAB League) | NAB League | Category 2 |
| Cameron | Mackenzie | 21-Jan-04 | Sandringham Dragons (NAB League) | NAB League | Category 2 |
| Ewan | Mackinlay | 18-Jul-03 | Murray Bushrangers (NAB League) | NAB League | Category 2 |
| Luca | Macnab | 6-Sep-03 | Sandringham Dragons (NAB League) | NAB League | Category 2 |
| Rohan | MacNeill | 19-Oct-04 | Claremont (West Australian Football League (WAFL)) | West Australian Football League (WAFL) | Category 2 |
| Ewan | Macpherson | 9-Jan-02 | Footscray Bulldogs (VFL) | VFL | Category 2 |
| Nicholas | Madden | 17-May-04 | Osborne | Hume Football Netball League | Category 2 |
| Jack | Madgen | 25-Apr-93 | Collingwood Magpies (AFL) | AFL | Category 2 |
| Jaiden | Magor | 16-Feb-04 | South Adelaide | South Australia National Football League (SANFL) | Category 2 |
| Zavier | Maher | 5-May-02 | Carlton (VFL) | VFL | Category 2 |
| Jack | Maibaum | 27-Mar-98 | Coburg (VFL) | VFL | Category 2 |
| Jack | Manly | 4-Feb-04 | Wilston Grange AFC | AFL Queensland League | Category 2 |
| Shaun | Mannagh | 6-Aug-97 | Werribee (VFL) | VFL | Category 2 |
| Archi | Manton | 29-Mar-01 | Port Melbourne (VFL) | VFL | Category 2 |
| Oskar | Manton | 4-Feb-00 | Port Melbourne (VFL) | VFL | Category 2 |
| Tristan | Maple | 8-Jan-04 | Greater Western Victoria Rebels (NAB League) | NAB League | Category 2 |
| Saverio | Marafioti | 31-Mar-03 | West Perth (West Australian Football League (WAFL)) | West Australian Football League (WAFL) | Category 2 |
| Ryan | Maric | 6-Sep-04 | Gippsland Power (NAB League) | NAB League | Category 2 |
| Oleg | Markov | 8-May-96 | Gold Coast Suns (AFL) | AFL | Category 2 |
| Eddie | Marning | 26-Jun-03 | St George Dragons | AFL Sydney | Category 2 |
| Trent | Marotta | 6-Jun-04 | Eastern Ranges (NAB League) | NAB League | Category 2 |
| Kyle | Marshall | 10-Apr-04 | South Adelaide | South Australia National Football League (SANFL) | Category 2 |
| Tex | Marsham | 9-Dec-04 | Nar Nar Goon Football Club | West Gippsland Football Netball Competition | Category 2 |
| Jack | Maruff | 30-Jan-04 | Northern Knights | NAB League | Category 2 |
| Damian | Mascitti | 18-Aug-92 | Box Hill Hawks (VFL) | VFL | Category 2 |
| Nicholas | Mathewes | 26-Nov-04 | St Bernards | Victorian Amateur Football League | Category 2 |
| Bailey | Maxwell | 12-Nov-04 | East Perth (West Australian Football League (WAFL)) | West Australian Football League (WAFL) | Category 2 |
| Archer | May | 27-Aug-04 | Sandringham Dragons (NAB League) | NAB League | Category 2 |
| Sam | Mayes | 20-May-94 | Port Adelaide Power (AFL) | AFL | Category 2 |
| Jude | Mazzucchelli | 10-Dec-04 | East Perth (West Australian Football League (WAFL)) | West Australian Football League (WAFL) | Category 2 |
| Cian | Mc Bride | 19-Apr-01 | Essendon Bombers (AFL) | AFL | Category 2 |
| Tom | Mccaffrey | 14-Feb-96 | Werribee | VFL | Category 2 |
| Tom | McCallum | 15-Sep-04 | Clarence Football Club (Tasmanian State League (TSL) | Tasmanian State League (TSL) | Category 2 |
| Ben | McCarthy | 19-Mar-04 | Brisbane Lions Academy | NAB League | Category 2 |
| Lachlan | McCluskey | 10-Feb-04 | Sandringham Dragons (NAB League) | NAB League | Category 2 |
| Billy | McCormack | 15-Jan-01 | Central District | South Australia National Football League (SANFL) | Category 2 |
| Jason | McCormick | 11-Feb-04 | Northern Knights (NAB League) | NAB League | Category 2 |
| Connor | McDonald | 26-Nov-04 | Perth (West Australian Football League (WAFL)) | West Australian Football League (WAFL) | Category 2 |
| Connor | McFadyen | 4-Dec-00 | Brisbane Lions (AFL) | AFL | Category 2 |
| Reuben | McGuire | 27-May-01 | East Fremantle (West Australian Football League (WAFL)) | West Australian Football League (WAFL) | Category 2 |
| Jack | Mchale | 30-Aug-99 | Sandringham (VFL) | VFL | Category 2 |
| Solomon | Mckay | 26-Dec-03 | Bendigo Pioneers (NAB League) | NAB League | Category 2 |
| Matt | McKenzie | 4-Nov-98 | North Adelaide | South Australia National Football League (SANFL) | Category 2 |
| Tom | McKenzie | 23-Jun-00 | Coburg (VFL) | VFL | Category 2 |
| Nicholas | Mclarty | 10-Jan-04 | Beverley Hills JFC | Yarra Junior Football League (YJFL) | Category 2 |
| Brodie | McLaughlin | 20-Nov-97 | Frankston (VFL) | VFL | Category 2 |
| Jez | McLennan | 7-Sep-00 | Gold Coast Suns (AFL) | AFL | Category 2 |
| Louie | Mclennan | 23-Jan-04 | Other | AFL Queensland League | Category 2 |
| Angus | McLennan | 2-Sep-03 | Sandringham Dragons (NAB League) | NAB League | Category 2 |
| Liam | McMahon | 2-May-02 | Collingwood Magpies (AFL) | AFL | Category 2 |
| Jackson | McMenamin | 29-Mar-04 | Western Jets (NAB League) | NAB League | Category 2 |
| Riley | Mcmillan | 12-Apr-04 | Wilston Grange AFC | AFL Queensland League | Category 2 |
| Toby | McMullin | 6-Aug-04 | Sandringham Dragons (NAB League) | NAB League | Category 2 |
| Andrew | McPherson | 20-Jun-99 | Adelaide Crows (AFL) | AFL | Category 2 |
| toby | Mcquilkin | 10-Nov-00 | South Fremantle (West Australian Football League (WAFL)) | West Australian Football League (WAFL) | Category 2 |
| Luke | Meadows | 16-Nov-94 | West Perth (West Australian Football League (WAFL)) | West Australian Football League (WAFL) | Category 2 |
| Thomas | Medhat | 16-Aug-00 | East Perth (West Australian Football League (WAFL)) | West Australian Football League (WAFL) | Category 2 |
| Matt | Menhennet | 19-Sep-74 | Waubra Football Netball Club | Central Highlands Football League | Category 2 |
| Luke | Michael | 19-Mar-04 | West Perth (West Australian Football League (WAFL)) | West Australian Football League (WAFL) | Category 2 |
| Max | Michalanney | 26-Feb-04 | Norwood (South Australia National Football League (SANFL) | South Australia National Football League (SANFL) | Category 2 |
| Bryce | Milford | 8-Jul-02 | Casey Demons (VFL) | VFL | Category 2 |
| Darcy | Miller | 16-Apr-04 | East Perth (West Australian Football League (WAFL)) | West Australian Football League (WAFL) | Category 2 |
| Mackinley | Miller | 24-Mar-03 | Glenelg (South Australia National Football League (SANFL) | South Australia National Football League (SANFL) | Category 2 |
| Mitch | Miller | 11-Dec-04 | East Perth (West Australian Football League (WAFL)) | West Australian Football League (WAFL) | Category 2 |
| Jackson | Mills | 11-Nov-03 | Wilston Grange AFC | AFL Queensland League | Category 2 |
| Tyson | Milne | 28-Oct-01 | Sandringham (VFL) | VFL | Category 2 |
| Xavier | Milner | 10-Aug-04 | East Perth (West Australian Football League (WAFL)) | West Australian Football League (WAFL) | Category 2 |
| Darcy | Minchella | 7-Aug-04 | West Adelaide (SANFL) | South Australia National Football League (SANFL) | Category 2 |
| Caleb | Mitchell | 10-Aug-04 | Murray Bushrangers (NAB League) | NAB League | Category 2 |
| Seamus | Mitchell | 3-Jul-02 | Hawthorn Hawks (AFL) | AFL | Category 2 |
| Max | Mitchell-Russell | 3-Oct-98 | North Melbourne (VFL) | VFL | Category 2 |
| Charlie | Molan | 23-Jan-03 | Williamstown (VFL) | VFL | Category 2 |
| Zach | Molloy | 12-Dec-01 | Collingwood | VFL | Category 2 |
| Maximus | Monaghan | 27-May-02 | GWS Giants (VFL) | VFL | Category 2 |
| Rhett | Montgomerie | 10-Jun-00 | Central District | South Australia National Football League (SANFL) | Category 2 |
| Harper | Montgomery | 12-May-04 | North Adelaide | South Australia National Football League (SANFL) | Category 2 |
| Ned | Moodie | 31-Mar-04 | Dandenong Stingrays (NAB League) | NAB League | Category 2 |
| Oliver | Moran | 17-Nov-03 | Cheltenham Football Club | Southern Football Netball League | Category 2 |
| Taine | Moraschi | 27-Feb-04 | Griffith Swans FNC (Seniors) | Riverina Football League | Category 2 |
| Jesh | Morgan | 18-Jun-04 | Noosa AFC | AFL Queensland League | Category 2 |
| Hamish | Morrison | 6-Sep-04 | UNSW Eastern Suburbs Bulldogs | AFL Sydney | Category 2 |
| Harry | Morrison | 7-Nov-98 | Sydney Swans (VFL) | VFL | Category 2 |
| Mitchell | Moschetti | 13-Sep-03 | Carlton (VFL) | VFL | Category 2 |
| Tyler | Mouritz | 14-Dec-03 | West Perth (West Australian Football League (WAFL)) | West Australian Football League (WAFL) | Category 2 |
| Ben | Moyle | 6-Nov-03 | Oakleigh Chargers (NAB League) | NAB League | Category 2 |
| Max | Mumme | 9-Sep-03 | Claremont (West Australian Football League (WAFL)) | West Australian Football League (WAFL) | Category 2 |
| Anthony | Munkara | 3-Oct-04 | Northern Territory (NAB League) | NAB League | Category 2 |
| Oscar | Murdoch | 24-Sep-04 | Geelong Falcons (NAB League) | NAB League | Category 2 |
| Rory | Murison | 24-Apr-04 | Subiaco (West Australian Football League (WAFL)) | West Australian Football League (WAFL) | Category 2 |
| Cooper | Murley | 20-Jun-03 | Collingwood Magpies (AFL) | AFL | Category 2 |
| Hamish | Murphy | 17-Oct-00 | North Melbourne (VFL) | VFL | Category 2 |
| Toby | Murray | 3-Nov-03 | Murray Bushrangers (NAB League) | NAB League | Category 2 |
| Kobe | Mutch | 18-Mar-98 | South Adelaide | South Australia National Football League (SANFL) | Category 2 |
| Trent | Mynott | 4-Oct-99 | Frankston (VFL) | VFL | Category 2 |
| James | Nadalin | 23-Aug-03 | Northern Knights (NAB League) | NAB League | Category 2 |
| Patrick | Naish | 15-Jan-99 | West Coast Eagles (AFL) | AFL | Category 2 |
| Jacob | Naismith | 17-Jun-04 | Northern Knights (NAB League) | NAB League | Category 2 |
| Sam | Naismith | 16-Jul-92 | Sydney Swans (AFL) | AFL | Category 2 |
| Jak | Nardino | 3-Jun-99 | Beaumaris FC | Victorian Amateur Football Association (VAFA) | Category 2 |
| Quinton | Narkle | 3-Dec-97 | Geelong Cats (AFL) | AFL | Category 2 |
| Colby | Nayna | 17-Apr-03 | Frankston (VFL) | VFL | Category 2 |
| Samuel | Nehme | 12-Mar-04 | Oakleigh Chargers (NAB League) | NAB League | Category 2 |
| Luke | Nelson | 30-Jul-97 | Coburg (VFL) | VFL | Category 2 |
| Jack | Newitt | 13-Feb-03 | Calder Cannons (NAB League) | NAB League | Category 2 |
| Lucas | Newman | 19-Jan-04 | Sydney University | AFL Sydney | Category 2 |
| Nicholas | Newton | 13-May-04 | Lavington Panthers Football & Netball Club | Ovens & Murray Football Netball League (OMFNL) | Category 2 |
| Jake | Nicholas | 6-Apr-04 | Sandringham Dragons (NAB League) | NAB League | Category 2 |
| Joshua | Nicholls | 7-Mar-04 | St George Dragons | AFL Sydney | Category 2 |
| Jacob | Nihill | 14-Apr-04 | Bendigo Pioneers (NAB League) | NAB League | Category 2 |
| Jaxson | Nihill | 25-Oct-04 | Mount Pleasant Football Club (HDFNL) | Heathcote District Football Netball League | Category 2 |
| Alex | Noblet | 31-Jan-04 | Oakleigh Chargers (NAB League) | NAB League | Category 2 |
| Olivier | Northam | 28-Jul-04 | Geelong Falcons (NAB League) | NAB League | Category 2 |
| Tyler | Norton | 8-May-03 | Murray Bushrangers | NAB League | Category 2 |
| Hugo | Nosiara | 14-Jun-04 | Dandenong Stingrays (NAB League) | NAB League | Category 2 |
| James | O'Connor | 31-Dec-02 | Box Hill Hawks (VFL) | VFL | Category 2 |
| Finbar | O'Dwyer | 24-Jul-00 | Williamstown (VFL) | VFL | Category 2 |
| Roan | O'Hehir | 10-Mar-04 | South Fremantle (West Australian Football League (WAFL)) | West Australian Football League (WAFL) | Category 2 |
| Hudson | O'Keeffe | 16-Dec-04 | Oakleigh Chargers (NAB League) | NAB League | Category 2 |
| Blake | O'Leary | 6-Jul-01 | Frankston (VFL) | VFL | Category 2 |
| Heath | Ollington | 10-Dec-04 | Tasmania | NAB League | Category 2 |
| Blayne | O'Loughlin | 11-Jan-03 | North Adelaide | South Australia National Football League (SANFL) | Category 2 |
| Mitchell | O'Neill | 21-Feb-01 | South Adelaide | South Australia National Football League (SANFL) | Category 2 |
| Daniel | Orgill | 3-Oct-01 | Footscray Bulldogs (VFL) | VFL | Category 2 |
| Jack | O'Sullivan | 22-Oct-04 | Oakleigh Chargers (NAB League) | NAB League | Category 2 |
| Tom | O'Sullivan | 2-Aug-04 | Calder Cannons (NAB League) | NAB League | Category 2 |
| Oscar | O'Toole | 10-Sep-03 | Camden Cats | AFL Sydney | Category 2 |
| Cameron | Owen | 28-May-04 | Clarence Football Club (Tasmanian State League (TSL) | Tasmanian State League (TSL) | Category 2 |
| Samuel | Paea | 14-Jul-02 | Werribee (VFL) | VFL | Category 2 |
| Reggie | Palmer | 30-Sep-04 | Greater Western Victoria Rebels (NAB League) | NAB League | Category 2 |
| Lachlan | Papley | 19-Feb-02 | St Bernards | Victorian Amateur Football Association (VAFA) | Category 2 |
| Jarrad | Parish | 15-Feb-03 | Glenelg (South Australia National Football League (SANFL) | South Australia National Football League (SANFL) | Category 2 |
| Paul | Pascu | 20-Aug-04 | Calder Cannons (NAB League) | NAB League | Category 2 |
| Lochlan | Paton | 18-Nov-03 | West Perth (West Australian Football League (WAFL)) | West Australian Football League (WAFL) | Category 2 |
| Jaelen | Pavlidis | 21-Sep-03 | Western Jets (NAB League) | NAB League | Category 2 |
| Matthew | Payne | 6-Mar-04 | Western Jets (NAB League) | NAB League | Category 2 |
| Jye | Peacock | 26-Jul-04 | Eastern Ranges | NAB League | Category 2 |
| Eli | Pearce | 16-Jan-04 | Bendigo Pioneers (NAB League) | NAB League | Category 2 |
| Will | Pearce | 17-Jan-03 | Eagles (SANFL) | South Australia National Football League (SANFL) | Category 2 |
| Harvey | Pedler | 18-Oct-04 | Norwood (South Australia National Football League (SANFL) | South Australia National Football League (SANFL) | Category 2 |
| Caelen | Penny | 4-Oct-98 | West Coast Eagles (West Australian Football League (WAFL)) | West Australian Football League (WAFL) | Category 2 |
| Rye | Penny | 1-Mar-04 | Calder Cannons (NAB League) | NAB League | Category 2 |
| Angus | Perry | 27-Jul-04 | Oakleigh Chargers (NAB League) | NAB League | Category 2 |
| Max | Pescud | 13-Apr-02 | Southport (VFL) | VFL | Category 2 |
| Jovan | Petric | 17-Apr-04 | Western Jets (NAB League) | NAB League | Category 2 |
| Kye | Pfrengle | 2-Nov-02 | Sydney Swans (VFL) | VFL | Category 2 |
| Baxter | Philip | 15-Jun-04 | Perth (West Australian Football League (WAFL)) | West Australian Football League (WAFL) | Category 2 |
| Mattaes | Phillipou | 27-Dec-04 | Eagles (SANFL) | South Australia National Football League (SANFL) | Category 2 |
| Ethan | Phillips | 17-Jul-99 | Port Melbourne (VFL) | VFL | Category 2 |
| Tom | Phillips | 7-May-96 | Hawthorn Hawks (AFL) | AFL | Category 2 |
| Zac | Phillips | 15-Aug-02 | Eagles (SANFL) | South Australia National Football League (SANFL) | Category 2 |
| Stirling | Phipps-Parsons | 1-May-03 | Sturt | South Australia National Football League (SANFL) | Category 2 |
| Ryan | Pickering | 25-Sep-02 | Broadbeach AFC | AFL Queensland League | Category 2 |
| Jermaine | Pickett | 31-May-03 | South Fremantle (West Australian Football League (WAFL)) | West Australian Football League (WAFL) | Category 2 |
| Nate | Pipicelli | 25-May-04 | Gippsland Power (NAB League) | NAB League | Category 2 |
| Damon | Pitt | 23-Mar-04 | Norwood (South Australia National Football League (SANFL) | South Australia National Football League (SANFL) | Category 2 |
| Christian | Poe | 4-Sep-04 | The Basin | Eastern Football Netball League | Category 2 |
| Jared | Polec | 12-Oct-92 | North Melbourne Kangaroos (AFL) | AFL | Category 2 |
| Luke | Polson | 10-Apr-03 | Peel Thunder (West Australian Football League (WAFL)) | West Australian Football League (WAFL) | Category 2 |
| Jack | Poole | 9-Oct-03 | Perth (West Australian Football League (WAFL)) | West Australian Football League (WAFL) | Category 2 |
| Brody | Pope | 7-Jun-04 | Greater Western Victoria Rebels (NAB League) | NAB League | Category 2 |
| Callum | Porter | 22-Feb-99 | Box Hill Hawks (VFL) | VFL | Category 2 |
| Dayne | Posthuma | 17-Mar-04 | Queanbeyan Tigers - Senior | AFL Canberra | Category 2 |
| Caleb | Poulter | 12-Oct-02 | Collingwood Magpies (AFL) | AFL | Category 2 |
| Marshall | Poynter | 28-Apr-03 | East Coast Eagles | AFL Sydney | Category 2 |
| Vanish | Prasad | 4-Jun-04 | Cranbourne Eagles Football Club | Southern Football Netball League | Category 2 |
| Tyson | Pratt | 16-Dec-03 | Norwood (South Australia National Football League (SANFL) | South Australia National Football League (SANFL) | Category 2 |
| Kyle | Presbury | 14-Jan-97 | Central District | South Australia National Football League (SANFL) | Category 2 |
| Corey | Preston | 18-Dec-02 | Williamstown (VFL) | VFL | Category 2 |
| Zakery | Pretty | 27-Jul-01 | Peel Thunder (West Australian Football League (WAFL)) | West Australian Football League (WAFL) | Category 2 |
| Charlie | Pridham | 3-Mar-03 | West Adelaide (SANFL) | South Australia National Football League (SANFL) | Category 2 |
| Phoenix | Prince | 3-Mar-04 | Pascoe Vale | Essendon District Football League (EDFL) | Category 2 |
| Thomas | Prole | 23-Oct-04 | Other | Not Applicable | Category 2 |
| Liam | Puncher | 26-Aug-03 | North Shore Bombers AFC | AFL Sydney | Category 2 |
| Nicholas | Quigg | 11-Jun-04 | Murray Bushrangers (NAB League) | NAB League | Category 2 |
| Sebastian | Quirk | 9-Jan-02 | GWS Giants (VFL) | VFL | Category 2 |
| Taj | Rahui | 17-Oct-04 | Norwood (South Australia National Football League (SANFL) | South Australia National Football League (SANFL) | Category 2 |
| Jack | Raines | 16-Oct-02 | Collingwood (VFL) | VFL | Category 2 |
| Heath | Ramshaw | 21-Aug-02 | Carlton (VFL) | VFL | Category 2 |
| Jay | Rantall | 10-Jun-01 | Norwood (South Australia National Football League (SANFL) | South Australia National Football League (SANFL) | Category 2 |
| Stefan | Rasinac | 5-Nov-97 | Essendon (VFL) | VFL | Category 2 |
| Lachlan | Rathjen | 10-Feb-03 | Gippsland Power | NAB League | Category 2 |
| Brad | Rauter | 11-Mar-03 | Queanbeyan Tigers - Senior | AFL Canberra | Category 2 |
| Lewis | Rayson | 14-Jan-03 | Glenelg | Southern Football Netball League | Category 2 |
| Corey | Reardon | 3-Feb-01 | Undera Football Netball Club | Kyabram District Football Netball League | Category 2 |
| Muoteer | Reech | 13-May-04 | St Marys (AFL Barwon FNL) | AFL Barwon FNL | Category 2 |
| Finn | Reed | 7-Jan-04 | Central District | South Australia National Football League (SANFL) | Category 2 |
| Bailey | Reeves | 17-Apr-02 | Central District | South Australia National Football League (SANFL) | Category 2 |
| Ethan | Regan | 9-Apr-03 | East Perth (West Australian Football League (WAFL)) | West Australian Football League (WAFL) | Category 2 |
| Lachlan | Reidy | 4-Jun-04 | Eastern Ranges | NAB League | Category 2 |
| Liam | Reidy | 14-Jun-00 | Frankston (VFL) | VFL | Category 2 |
| James | Rendell | 9-May-00 | Frankston (VFL) | VFL | Category 2 |
| Bruce | Reville | 22-Feb-01 | Brisbane Lions (VFL) | VFL | Category 2 |
| Kye | Reynoldson | 7-Jan-04 | Broadbeach AFC | AFL Queensland League | Category 2 |
| Osca | Riccardi | 23-Aug-04 | Geelong Falcons (NAB League) | NAB League | Category 2 |
| James | Richards | 27-Jan-00 | Sturt | South Australia National Football League (SANFL) | Category 2 |
| Joe | Richards | 23-Nov-99 | Wangaratta Football & Netball Club Inc | Ovens & Murray Football Netball League (OMFNL) | Category 2 |
| Flynn | Riley | 5-Apr-04 | Northern Knights (NAB League) | NAB League | Category 2 |
| Emilio | Rinaudo | 20-Aug-02 | Essendon (VFL) | VFL | Category 2 |
| Ethan | Roberts | 28-Jul-04 | Inner West Magpies | AFL Sydney | Category 2 |
| Kye | Roberts | 20-Jul-03 | West Adelaide (SANFL) | South Australia National Football League (SANFL) | Category 2 |
| Thomas | Roberts | 24-Nov-98 | Collingwood (VFL) | VFL | Category 2 |
| Bililign | Robertson | 8-Apr-04 | Inner West Magpies | AFL Sydney | Category 2 |
| Lachlan | Robinson | 18-Feb-03 | Mt Eliza Football Netball Club (MPNFL) | MPNFL | Category 2 |
| Luke | Rockley | 21-Sep-04 | South Fremantle (West Australian Football League (WAFL)) | West Australian Football League (WAFL) | Category 2 |
| Reuben | Rode | 12-May-04 | Calder Cannons (NAB League) | NAB League | Category 2 |
| Bailey | Rogers | 22-Mar-97 | Claremont (West Australian Football League (WAFL)) | West Australian Football League (WAFL) | Category 2 |
| Felix | Rogers | 30-Jan-03 | North Shore Bombers AFC | AFL Sydney | Category 2 |
| Samuel | Rogers | 28-Mar-04 | Oakleigh Chargers (NAB League) | NAB League | Category 2 |
| Ben | Ronke | 18-Dec-97 | Sydney Swans (AFL) | AFL | Category 2 |
| Pierce | Roseby | 4-Jan-02 | Frankston (VFL) | VFL | Category 2 |
| Fraser | Rosman | 30-May-02 | Melbourne Demons (AFL) | AFL | Category 2 |
| Jack | Rossimel | 5-Nov-03 | Northern Knights (NAB League) | NAB League | Category 2 |
| Marco | Rossmann | 12-Apr-02 | Glenelg (South Australia National Football League (SANFL) | South Australia National Football League (SANFL) | Category 2 |
| Christopher | Rousakis | 16-May-04 | Sandringham Dragons | NAB League | Category 2 |
| James | Rowe | 17-Sep-99 | Adelaide Crows (AFL) | AFL | Category 2 |
| Mitchell | Rowe | 26-May-04 | Sandringham Dragons (NAB League) | NAB League | Category 2 |
| Thomas | Rowland | 7-Mar-03 | Western Jets (NAB League) | NAB League | Category 2 |
| Brady | Rowles | 12-Feb-01 | Werribee (VFL) | VFL | Category 2 |
| Harry | Rowston | 12-Aug-04 | Griffith Swans FNC (Seniors) | Riverina Football League | Category 2 |
| Jack | Rule | 3-Jan-04 | Inner West Magpies | AFL Sydney | Category 2 |
| Jed | Rule | 10-Jun-03 | Oakleigh Chargers | NAB League | Category 2 |
| Joel | Rush | 14-Nov-04 | Peel Thunder (West Australian Football League (WAFL)) | West Australian Football League (WAFL) | Category 2 |
| Brayden | Ryan | 2-Mar-04 | Eastern Ranges (NAB League) | NAB League | Category 2 |
| Kobe | Ryan | 17-Feb-04 | West Adelaide (SANFL) | South Australia National Football League (SANFL) | Category 2 |
| Luke | Ryan | 4-Feb-04 | Cora Lynn Football Club | West Gippsland Football Netball Competition | Category 2 |
| Matthew | Ryan | 11-Jul-04 | Northern Knights (NAB League) | NAB League | Category 2 |
| Mitchell | Ryan | 6-Jun-03 | Sandringham Dragons (NAB League) | NAB League | Category 2 |
| Jakob | Ryan | 20-Sep-04 | Glenelg (South Australia National Football League (SANFL) | South Australia National Football League (SANFL) | Category 2 |
| Patrick | Ryan | 20-Aug-04 | Wagga Tigers FNC (Senior) | Riverina Football League | Category 2 |
| Kelsey | Rypstra | 2-May-04 | North Adelaide | South Australia National Football League (SANFL) | Category 2 |
| William | Sabolch | 17-Apr-04 | Inner West Magpies | AFL Sydney | Category 2 |
| Nicholas | Sadler | 8-Jan-04 | Sturt | South Australia National Football League (SANFL) | Category 2 |
| Luke | Said | 14-Jul-04 | Calder Cannons | NAB League | Category 2 |
| Joseph | Salmon | 15-Jul-01 | St Marys (Northern Territory FL) | Northern Territory Football League (NTFL) | Category 2 |
| Hayden | Sampson | 2-Mar-00 | South Adelaide | South Australia National Football League (SANFL) | Category 2 |
| Zyton | Santillo | 19-Oct-03 | North Adelaide | South Australia National Football League (SANFL) | Category 2 |
| Jack | Saunders | 11-Feb-02 | Hawthorn Hawks (AFL) | AFL | Category 2 |
| Galen | Savigni | 26-Mar-02 | Subiaco (West Australian Football League (WAFL)) | West Australian Football League (WAFL) | Category 2 |
| Jasper | Scaife | 30-Sep-04 | West Perth (West Australian Football League (WAFL)) | West Australian Football League (WAFL) | Category 2 |
| Lachlan | Scannell | 16-Aug-04 | Glenelg (South Australia National Football League (SANFL) | South Australia National Football League (SANFL) | Category 2 |
| Zac | Schafer | 18-Apr-04 | North Ringwood | Eastern Football Netball League | Category 2 |
| Mitchell | Schofield | 13-Nov-01 | East Perth (West Australian Football League (WAFL)) | West Australian Football League (WAFL) | Category 2 |
| Taj | Schofield | 7-Sep-02 | Port Adelaide Power (AFL) | AFL | Category 2 |
| Joel | Scholtes | 21-Jun-04 | Gippsland Power (NAB League) | NAB League | Category 2 |
| Jonti | Schuback | 18-Mar-04 | Gippsland Power (NAB League) | NAB League | Category 2 |
| Angus | Schumacher | 16-Mar-99 | East Perth (West Australian Football League (WAFL)) | West Australian Football League (WAFL) | Category 2 |
| Nathan | Scollo | 6-Jan-04 | Sandringham Dragons (NAB League) | NAB League | Category 2 |
| Jayke | Scott | 10-May-04 | East Fremantle (West Australian Football League (WAFL)) | West Australian Football League (WAFL) | Category 2 |
| Thomas | Scully | 2-Nov-04 | West Adelaide (SANFL) | South Australia National Football League (SANFL) | Category 2 |
| Ty | Sears | 22-Jan-02 | Perth (West Australian Football League (WAFL)) | West Australian Football League (WAFL) | Category 2 |
| Anthony | Seaton | 27-Mar-00 | Sandringham (VFL) | VFL | Category 2 |
| Paul | Seedsman | 22-Jan-92 | Adelaide Crows (AFL) | AFL | Category 2 |
| Jarred | Seiter | 17-Feb-04 | Northern Knights (NAB League) | NAB League | Category 2 |
| Liam | Serong | 7-Aug-04 | Gippsland Power (NAB League) | NAB League | Category 2 |
| oliver | sestan | 15-Apr-04 | Mansfield Football Club | Goulburn Valley Football League | Category 2 |
| Will | Sexton | 7-Apr-03 | Yarrawonga Football Netball Club | Ovens & Murray Football Netball League (OMFNL) | Category 2 |
| Matthew | Shannon | 8-Apr-97 | Carlton (VFL) | VFL | Category 2 |
| Will | Shaw | 14-Jun-01 | GWS Giants (AFL) | AFL | Category 2 |
| Harry | Sheezel | 13-Oct-04 | Sandringham Dragons (NAB League) | NAB League | Category 2 |
| Nicholas | Shipley | 25-Jun-99 | Sydney Swans (VFL) | VFL | Category 2 |
| Braidy | Simpson | 28-Aug-04 | Tasmania | NAB League | Category 2 |
| Archie | Sinnott | 28-Jul-04 | Geelong Falcons (NAB League) | NAB League | Category 2 |
| Hamish | Sinnott | 25-Nov-03 | Greater Western Victoria Rebels (NAB League) | NAB League | Category 2 |
| Tyron | Smallwood | 8-Apr-00 | Claremont (West Australian Football League (WAFL)) | West Australian Football League (WAFL) | Category 2 |
| Willem | Smit | 17-Jul-03 | Manly Warringah Wolves | AFL Sydney | Category 2 |
| Baker | Smith | 26-Aug-03 | Clarence Football Club (Tasmanian State League (TSL) | Tasmanian State League (TSL) | Category 2 |
| Connor | Smith | 16-Jun-04 | Eastern Ranges | NAB League | Category 2 |
| Cooper | Smith | 11-Jun-02 | North Melbourne (VFL) | VFL | Category 2 |
| Ely | Smith | 13-Sep-00 | South Adelaide | South Australia National Football League (SANFL) | Category 2 |
| Hayden | Smith | 16-Nov-04 | Eastern Ranges | NAB League | Category 2 |
| Josh | Smith | 20-May-01 | Casey Demons (VFL) | VFL | Category 2 |
| Kaleb | Smith | 20-Nov-04 | East Fremantle (West Australian Football League (WAFL)) | West Australian Football League (WAFL) | Category 2 |
| Kyan | Smith | 9-Aug-04 | South Adelaide | South Australia National Football League (SANFL) | Category 2 |
| Thomas | Smith | 8-Mar-04 | Swan Districts (West Australian Football League (WAFL)) | West Australian Football League (WAFL) | Category 2 |
| Lachlan | Spinks | 6-Aug-04 | Gippsland Power | NAB League | Category 2 |
| Will | Splann | 25-Oct-03 | North Hobart Football Club (Tasmanian State League (TSL)) | Tasmanian State League (TSL) | Category 2 |
| Riley | Sprigg | 31-Jul-03 | West Perth (West Australian Football League (WAFL)) | West Australian Football League (WAFL) | Category 2 |
| Zachary | Sproule | 12-May-98 | South Adelaide | South Australia National Football League (SANFL) | Category 2 |
| Lachlan | Squire | 25-Jul-01 | West Adelaide (SANFL) | South Australia National Football League (SANFL) | Category 2 |
| Mitchell | Sruk | 24-Nov-03 | Box Hill Hawks (VFL) | VFL | Category 2 |
| Sydney | Stack | 28-Apr-00 | Richmond Tigers (AFL) | AFL | Category 2 |
| Hugh | Stagg | 11-Apr-03 | Glenelg (South Australia National Football League (SANFL) | South Australia National Football League (SANFL) | Category 2 |
| Roan | Steele | 22-Oct-01 | Casey Demons (VFL) | VFL | Category 2 |
| Oscar | Steene | 23-Aug-03 | West Adelaide (SANFL) | South Australia National Football League (SANFL) | Category 2 |
| Jake | Stein | 17-Jan-94 | GWS Giants (AFL) | AFL | Category 2 |
| Tom | Stern | 23-Jun-04 | Warragul Football Netball Club | Gippsland League | Category 2 |
| Archie | Stevens | 27-Jun-03 | Carlton (VFL) | VFL | Category 2 |
| Bode | Stevens | 26-May-03 | Bendigo Pioneers (NAB League) | NAB League | Category 2 |
| Joel | Stevens | 13-May-00 | West Adelaide (SANFL) | South Australia National Football League (SANFL) | Category 2 |
| Nicholas | Stevens | 23-Mar-02 | Geelong Cats (AFL) | AFL | Category 2 |
| Michael | Stingel | 14-Dec-02 | North Launceston Football Club Inc | Tasmanian State League (TSL) | Category 2 |
| Liam | Stocker | 23-Jan-00 | Carlton Blue (AFL) | AFL | Category 2 |
| Ryley | Stoddart | 15-Oct-99 | Frankston (VFL) | VFL | Category 2 |
| Lachlan | Street | 25-Jun-98 | Richmond (VFL) | VFL | Category 2 |
| Luke | Strnadica | 1-Jan-98 | West Coast Eagles (AFL) | AFL | Category 2 |
| Zachary | Strom | 12-Feb-94 | South Fremantle (West Australian Football League (WAFL)) | West Australian Football League (WAFL) | Category 2 |
| Kyde | Stubbs | 20-Jan-04 | Subiaco (West Australian Football League (WAFL)) | West Australian Football League (WAFL) | Category 2 |
| Samuel | Stubbs | 24-Feb-97 | Perth (West Australian Football League (WAFL)) | West Australian Football League (WAFL) | Category 2 |
| Ryan | Sturgess | 16-Nov-01 | Coburg (VFL) | VFL | Category 2 |
| Joshua | Sukuroski | 7-Jan-04 | Claremont (West Australian Football League (WAFL)) | West Australian Football League (WAFL) | Category 2 |
| Lachlan | Sullivan | 25-Sep-97 | Footscray Bulldogs (VFL) | VFL | Category 2 |
| Jay | Summers | 19-May-04 | Griffith Swans FNC (Seniors) | Riverina Football League | Category 2 |
| Lachlan | Swaney | 30-Jan-01 | Carlton (VFL) | VFL | Category 2 |
| Frank | Szekely | 13-Aug-99 | North Adelaide | South Australia National Football League (SANFL) | Category 2 |
| Mitch | Szybkowski | 9-Jan-04 | Dandenong Stingrays (NAB League) | NAB League | Category 2 |
| Will | Tasker | 16-Apr-02 | North Adelaide | South Australia National Football League (SANFL) | Category 2 |
| Billy | Taylor | 26-Feb-04 | Dandenong Stingrays (NAB League) | NAB League | Category 2 |
| Elias | Taylor | 15-Oct-04 | Old Carey Grammarians | Victorian Amateur Football Association (VAFA) | Category 2 |
| Elijah | Taylor | 1-May-01 | East Perth (West Australian Football League (WAFL)) | West Australian Football League (WAFL) | Category 2 |
| Joshua | Taylor-Thorpe | 6-Aug-04 | South Fremantle (West Australian Football League (WAFL)) | West Australian Football League (WAFL) | Category 2 |
| Luke | Teal | 20-May-04 | Oakleigh Chargers (NAB League) | NAB League | Category 2 |
| Beau | Tedcastle | 29-Mar-04 | East Point Football Netball Club | Ballarat Football Netball League | Category 2 |
| Zakary | Tetlow | 17-Jan-04 | East Perth (West Australian Football League (WAFL)) | West Australian Football League (WAFL) | Category 2 |
| Beau | Thomas | 16-Jun-04 | Central District | South Australia National Football League (SANFL) | Category 2 |
| Giacomo | Thomas | 8-Feb-02 | Essendon Doutta Stars | Essendon District Football League (EDFL) | Category 2 |
| Max | Thompson | 7-Jan-03 | Coburg (VFL) | VFL | Category 2 |
| Jaylon | Thorpe | 2-Nov-94 | Box Hill Hawks (VFL) | VFL | Category 2 |
| Fraser | Thurlow | 6-Jan-93 | Southport (VFL) | VFL | Category 2 |
| James | Tidemann | 30-Aug-04 | North Shore Bombers AFC | AFL Sydney | Category 2 |
| Patrick | Tidemann | 9-Feb-04 | Mt Barker Football Club | Hills Football League SA | Category 2 |
| Ziggy | Toledo | 15-Apr-04 | Dandenong Stingrays | NAB League | Category 2 |
| Jonathan | Tomasiello | 22-Feb-04 | Northern Knights (NAB League) | NAB League | Category 2 |
| Bailey | Tome | 22-Jun-04 | Mt Gravatt AFC (South East Queensland Juniors) | South East Queensland Juniors (SEQJ) | Category 2 |
| Brodie | Tonkin | 20-Jan-02 | Northern Bullants (VFL) | VFL | Category 2 |
| Jake | Torney | 24-May-04 | Brisbane Lions Academy | AFL Queensland League | Category 2 |
| Will | Torode | 12-May-04 | Sturt | South Australia National Football League (SANFL) | Category 2 |
| Corey | Tregenza-Cashell | 14-Dec-03 | Peel Thunder (West Australian Football League (WAFL)) | West Australian Football League (WAFL) | Category 2 |
| Jake | Trembath | 3-Mar-04 | Park Orchards | Eastern Football Netball League | Category 2 |
| Will | Trevena | 23-Sep-04 | Glenelg (South Australia National Football League (SANFL) | South Australia National Football League (SANFL) | Category 2 |
| Zane | Trew | 26-Apr-02 | West Coast Eagles (AFL) | AFL | Category 2 |
| Toby | Triffett | 24-Feb-02 | Brisbane Lions (VFL) | VFL | Category 2 |
| Joel | Trudgeon | 13-Aug-02 | Carlton (VFL) | VFL | Category 2 |
| Elijah | Tsatas | 18-Oct-04 | Oakleigh Chargers (NAB League) | NAB League | Category 2 |
| Brodie | Tuck | 6-Dec-04 | Central District | South Australia National Football League (SANFL) | Category 2 |
| Clay | Tucker | 9-Aug-04 | Eastern Ranges (NAB League) | NAB League | Category 2 |
| Sam | Tucker | 7-Jan-02 | Richmond (VFL) | VFL | Category 2 |
| Scott | Tuia | 7-Aug-03 | Peel Thunder (West Australian Football League (WAFL)) | West Australian Football League (WAFL) | Category 2 |
| Lachlan | Turley | 18-Sep-03 | South Fremantle (West Australian Football League (WAFL)) | West Australian Football League (WAFL) | Category 2 |
| Brett | Turner | 11-Jan-96 | Adelaide Crows (AFL) | AFL | Category 2 |
| Kye | Turner | 6-Feb-02 | Frankston (VFL) | VFL | Category 2 |
| Fraser | Turner | 26-Dec-00 | East Fremantle (West Australian Football League (WAFL)) | West Australian Football League (WAFL) | Category 2 |
| Ryan | Valentine | 27-Jul-02 | Casey Demons (VFL) | VFL | Category 2 |
| Bailey | Van De Heuvel | 31-Jul-98 | Footscray Bulldogs (VFL) | VFL | Category 2 |
| James | Van Es | 7-Aug-04 | Greater Western Victoria Rebels (NAB League) | NAB League | Category 2 |
| Alex | van Wyk | 1-Jul-04 | Norwood (South Australia National Football League (SANFL) | South Australia National Football League (SANFL) | Category 2 |
| Giorgio | Varagiannis | 19-Jan-02 | Caulfield Grammarians | Victorian Amateur Football Association (VAFA) | Category 2 |
| Jean-Luc | Velissaris | 27-Aug-98 | Northern Bullants (VFL) | VFL | Category 2 |
| Will | Verrall | 11-Mar-04 | South Adelaide | South Australia National Football League (SANFL) | Category 2 |
| Callum | Verrell | 22-Apr-04 | Eastern Ranges (NAB League) | NAB League | Category 2 |
| Cooper | Vickery | 16-Dec-04 | Gippsland Power (NAB League) | NAB League | Category 2 |
| Casey | Voss | 14-Sep-00 | Sturt | South Australia National Football League (SANFL) | Category 2 |
| Jackson | Voss | 16-Feb-01 | Frankston (VFL) | VFL | Category 2 |
| Riley | Voulanas | 31-May-04 | Oakleigh Chargers (NAB League) | NAB League | Category 2 |
| Tristen | Waack | 14-Feb-03 | Morwell Football Netball Club | Gippsland League | Category 2 |
| Corey | Wagner | 23-Mar-97 | Port Melbourne (VFL) | VFL | Category 2 |
| Christopher | Walker | 17-Oct-02 | East Fremantle (West Australian Football League (WAFL)) | West Australian Football League (WAFL) | Category 2 |
| Ethan | Walker | 4-Mar-04 | North Adelaide | South Australia National Football League (SANFL) | Category 2 |
| Jake | Walker | 17-Jul-04 | Glenelg (South Australia National Football League (SANFL) | South Australia National Football League (SANFL) | Category 2 |
| Josh | Walker | 12-Nov-92 | North Melbourne Kangaroos (AFL) | AFL | Category 2 |
| Mathew | Walker | 14-Feb-00 | North Melbourne | VFL | Category 2 |
| Patrick | Walker | 9-Jul-02 | Norwood (South Australia National Football League (SANFL) | South Australia National Football League (SANFL) | Category 2 |
| Mitch | Wallis | 24-Oct-92 | Western Bulldogs (AFL) | AFL | Category 2 |
| Tyson | Walls | 5-Mar-04 | Norwood (South Australia National Football League (SANFL) | South Australia National Football League (SANFL) | Category 2 |
| Max | Walton | 6-Nov-03 | Box Hill Hawks (VFL) | VFL | Category 2 |
| George | Wardlaw | 11-Jun-04 | Oakleigh Chargers (NAB League) | NAB League | Category 2 |
| Tommy | Warner | 7-Jun-04 | Oakleigh Chargers (NAB League) | NAB League | Category 2 |
| Alec | Waterman | 19-Aug-96 | Essendon Bombers (AFL) | AFL | Category 2 |
| Bede | Waters | 5-Jul-03 | Balwyn | Eastern Football Netball League | Category 2 |
| Blake | Watson | 2-Aug-99 | Sandringham (VFL) | VFL | Category 2 |
| Jake | Watson | 4-May-04 | Perth (West Australian Football League (WAFL)) | West Australian Football League (WAFL) | Category 2 |
| Ryley | Watson | 5-Apr-04 | Osborne | Hume Football Netball League | Category 2 |
| Tobe | Watson | 3-Dec-97 | Swan Districts (West Australian Football League (WAFL)) | West Australian Football League (WAFL) | Category 2 |
| Tylar | Watts | 14-Apr-00 | Geelong West Giants (AFL Barwon FNL) | AFL Barwon FNL | Category 2 |
| Christian | Webster | 16-Jul-04 | Pennant Hills Demons | AFL Sydney | Category 2 |
| Joshua | Weddle | 25-May-04 | Oakleigh Chargers | Nab League | Category 2 |
| Jackson | Weidemann | 2-Mar-00 | Port Melbourne (VFL) | VFL | Category 2 |
| Bayleigh | Welsh | 19-Jan-02 | Mt Eliza Football Netball Club (MPNFL) | MPNFL | Category 2 |
| Joel | Western | 12-Oct-02 | Fremantle Dockers (AFL) | AFL | Category 2 |
| James | White | 4-May-04 | Turvey Park FNC (Senior) | Riverina Football League | Category 2 |
| Jordan | White | 8-Oct-04 | West Adelaide (SANFL) | South Australia National Football League (SANFL) | Category 2 |
| Mitch | White | 10-Apr-96 | Casey Demons (VFL) | VFL | Category 2 |
| Dylan | White | 26-May-03 | West Adelaide (SANFL) | South Australia National Football League (SANFL) | Category 2 |
| Luca | Whitelum | 16-Jul-03 | Central District | South Australia National Football League (SANFL) | Category 2 |
| Dane | Whitnall | 25-Jan-03 | Calder Cannons (NAB League) | NAB League | Category 2 |
| Harrison | Wigg | 16-Oct-96 | North Adelaide | South Australia National Football League (SANFL) | Category 2 |
| Joel | Wilkinson | 29-Nov-91 | Other | VFL | Category 2 |
| Conrad | Williams | 30-Nov-04 | Claremont (West Australian Football League (WAFL)) | West Australian Football League (WAFL) | Category 2 |
| Dylan | Williams | 1-Jul-01 | Port Adelaide Power (AFL) | AFL | Category 2 |
| Nicholas | Williams | 2-May-04 | Surfers Paradise AFC | AFL Queensland League | Category 2 |
| Owen | Williams | 5-Mar-04 | Dandenong Stingrays (NAB League) | NAB League | Category 2 |
| Zane | Williams | 5-Jun-01 | Eagles (SANFL) | South Australia National Football League (SANFL) | Category 2 |
| Tom | Williamson | 12-Dec-98 | North Melbourne (VFL) | VFL | Category 2 |
| Conor | Willis | 24-Dec-04 | Lavington Panthers Junior Football Club | Albury Wodonga Junior Football League | Category 2 |
| Declan | Willmore | 12-May-04 | Calder Cannons (NAB League) | NAB League | Category 2 |
| Christian | Wilson | 30-Oct-04 | South Fremantle (West Australian Football League (WAFL)) | West Australian Football League (WAFL) | Category 2 |
| Louis | Wilson | 27-Dec-03 | Sydney University | AFL Sydney | Category 2 |
| Thomas | Wilson | 24-Jun-97 | Collingwood Magpies (AFL) | AFL | Category 2 |
| Isiah | Winder | 16-May-02 | West Coast Eagles (AFL) | AFL | Category 2 |
| Kai | Windsor | 27-Jan-04 | Eastern Ranges (NAB League) | NAB League | Category 2 |
| Hughen | Wissman | 1-Nov-04 | North Adelaide | South Australia National Football League (SANFL) | Category 2 |
| William | Wolf | 30-Jun-04 | Claremont (West Australian Football League (WAFL)) | West Australian Football League (WAFL) | Category 2 |
| Boyd | Woodcock | 5-Mar-00 | Southport (VFL) | VFL | Category 2 |
| Ben | Woodfull | 23-Jan-03 | Williamstown (VFL) | VFL | Category 2 |
| Flynn | Woodward | 6-Jan-04 | Ainslie Tricolours - Seniors | AFL Canberra | Category 2 |
| Brady | Wright | 19-Feb-04 | Greater Western Victoria Rebels (NAB League) | NAB League | Category 2 |
| Ethan | Wright | 27-Jul-04 | Oakleigh Chargers (NAB League) | NAB League | Category 2 |
| Natha | Wright | 28-Oct-02 | Labrador AFC | AFL Queensland League | Category 2 |
| Lachlan | Wynd | 6-Jun-01 | Box Hill Hawks (VFL) | VFL | Category 2 |
| Luke | Yeo | 10-Jun-04 | East Fremantle (West Australian Football League (WAFL)) | West Australian Football League (WAFL) | Category 2 |
| Joshua | Young | 10-Feb-04 | Labrador AFC | AFL Queensland League | Category 2 |
| Levi | Young | 1-Apr-04 | Murray Bushrangers (NAB League) | NAB League | Category 2 |
| Levi | Young | 15-Jan-04 | Subiaco (West Australian Football League (WAFL)) | West Australian Football League (WAFL) | Category 2 |
| Tylar | Young | 5-Sep-98 | Richmond (VFL) | VFL | Category 2 |
| Charles | Zavarella | 4-Jul-03 | Hawthorn AFC | Victorian Amateur Football Association (VAFA) | Category 2 |
| Max | Zavarella | 4-Jul-03 | Hawthorn AFC | Victorian Amateur Football Association (VAFA) | Category 2 |
| Lewis | Zolnier-Owens | 20-Dec-04 | Swan Districts (West Australian Football League (WAFL)) | West Australian Football League (WAFL) | Category 2 |