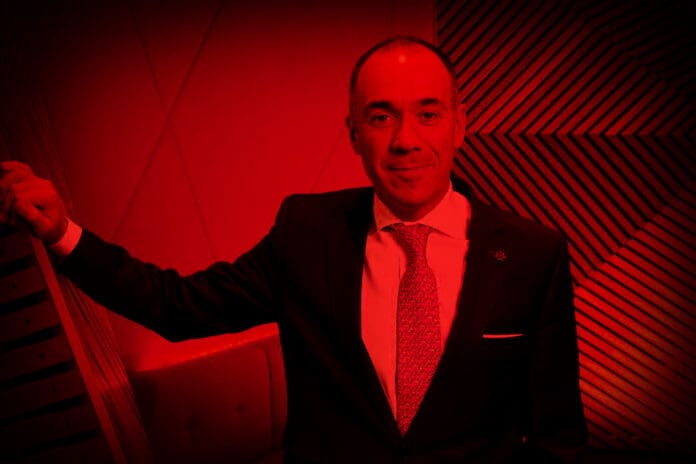 Just a day after obtaining the high office at Tullamarine, Essendon CEO Andrew Thorburn has resigned from his seat following community backlash surrounding his relationship with the City on a Hill church group.
The 57-year-old was placed squarely in the crosshairs due to his position chairing the church organisation which holds problematic views towards abortion and homosexuality at their core.
In a statement released from Tullamarine on Tuesday evening, Essendon President David Barham stated that the recently reshuffled board was content to receive Thorburn's resignation in light of revelations.
"As soon as the comments relating to a 2013 sermon from a pastor, at the City of the Hill church came to light this morning, we acted immediately to clarify the publicly espoused views on the organisation's official website, which are in direct contradiction to our values as a Club," Barham wrote.
"Essendon is committed to providing an inclusive, diverse and a safe Club, where everyone is welcome and respected.
"The Board made clear that, despite these not being views that Andrew Thorburn has expressed personally and that were also made prior to him taking up his role as Chairman, he couldn't continue to serve in his dual roles at the Essendon Football Club and as Chairman of City on the Hill.
"The Board respects Andrew's decision."
Earlier on Tuesday, Zero Hanger spoke with Jason Tuazon-McCheyne, the Founder and Co-President of 'Purple Bombers' - Essendon's official LGBTIQ+ Supporter Group - who contented that both roles could not be maintained in good faith.
"Our first response is that it's incredibly disappointing, and a bad call for us," Tuazon-McCheyne said.
"The issue for us is that he is the chair of another organisation that actually campaigns and works against LGBTIQ+ people. That is a fact.
"He needs to resign from that role if he is going to be the CEO of the Essendon Football club."
In a communication to Zero Hanger this evening, Tuazon-McCheyne expressed relief following Thorburn's resignation.
"I honestly thought he'd choose the club before his church, but he made the right decision as the values do not sync between the two organisations."
Bombers President Barham went on to state that "discrimination based on race, sex, religion, gender, sexual identity or orientation, or physical or mental disability" before stressing that neither he nor the board was "aware of the comments from the 2013 sermon until we read about them this morning."
Thorburn himself spoke on SEN radio on Tuesday morning, failing to take the chance to distance himself from City on a Hill's problematic dogma.
"Not everyone in the church agrees with those views (anti-abortion and anti-gay), but it's very important in a society that those views can be expressed," Thorburn said.
Hours later, via his personal Linkedin account, Thorburn professed that despite his devotion to the Dons, his commitment to his religion held a greater importance.
In a lengthy statement, Thorburn also asserted that he was unwilling to "compromise" his beliefs, irrespective of the backlash he and his church had received.
"Today it became clear to me that my personal Christian faith is not tolerated or permitted in the public square, at least by some and perhaps by many," he wrote.
"I was being required to compromise beyond a level that my conscience allowed. People should be able to hold different views on complex personal and moral matters, and be able to live and work together, even with those differences, and always with respect. Behaviour is the key. This is all an important part of a tolerant and diverse society."
The former Group CEO and Managing Director of the National Australia Bank added that he believed "we are poorer for the loss of our great freedoms of thought, conscience and belief that made for a truly diverse, just and respectful community."
Victorian State Premier and long-term Essendon member Daniel Andrews publically derided the Dons for their choice of appointment, stressing Thorburn's regressive views were "just wrong".
"I don't support those views, that kind of intolerance, that kind of hatred, bigotry, is just wrong," Mr. Andrews offered.
"Those sort of attitudes are simply wrong and to dress that up as anything other than bigotry is just obviously false."