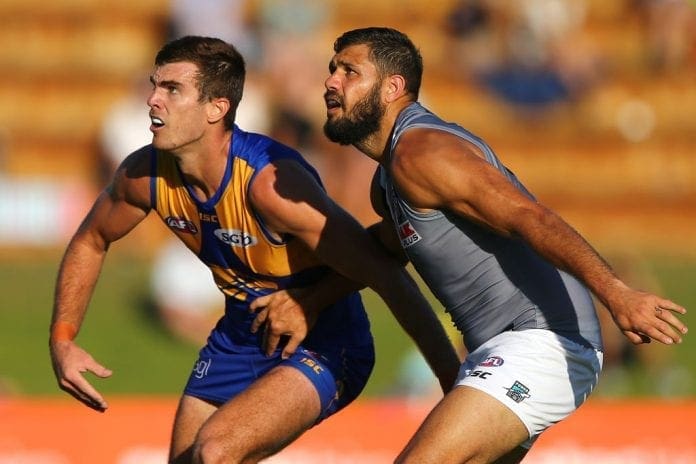 West Coast's Scott Lycett is ready to bounce back in a big way in 2018 after overcoming a series of shoulder issues he battled through last year.
The Eagles' ruck stocks were severely depleted last season due to Lycett and Nic Naitanui being off the park but the ruckman is ready to go for 2018.
"It was tough (last year), but I think I'm in a better place now for it," he said
"A lot of players go through injuries – they just probably don't have two reconstructions (PCL and shoulder) in a row – but I'm definitely in good stead for it now and after a full pre-season ready to launch into 2018.
"It's good to have general soreness after a game and not something specific.
"It's good to be back."
When fit, West Coast boast one of the deeper ruck divisions in the competition with Nathan Vardy having a strong 2017 season and with the pair understanding Naitanui is the club's number one ruckman, there has been no shortage of heated battles throughout the preseason.
"No one really knows what's going to happen with Nic – I think he might play in JLT2 – but Vards and myself have been smashing each other in training all summer, so we're definitely both putting our hands up for that position," Lycett said.
"If Nic's not there then hopefully we can keep playing like we did yesterday together."
Naitanui's fitness and recovery has remained a guessing game for much of the last six to eight months however Lycett warned fans it will take time for the athletic Fijian to rediscover his best form when he does return.
"I played against him during the week in some match sim stuff and his touch was pretty good," he said.
"You could definitely see all the signs were there of the player that he was when he was at his best.
"I'm confident that he can get back to it. It might take a bit of time.
"I think people need to be patient, because people expect him to be at his best straight away because he is Nic Nat.
"But he is human and I think just like anyone it's going to take a bit of time to get confidence."