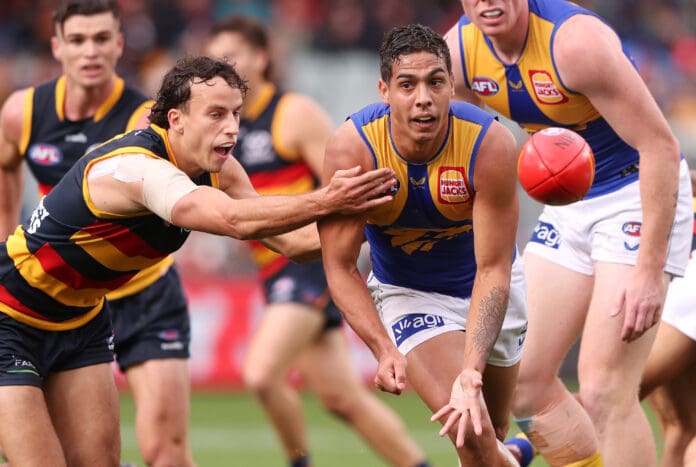 West Coast senior coach Adam Simpson has acknowledged the difficult situation that surrounds young forward Isiah Winder, who was involved in an alleged altercation in Geelong over the weekend.
Winder, who is said to have been stood down by the club following the incident, is currently unable to train under Simpson, however still has access to the Eagles' facilities at Lathlain Park.
Police are continuing their investigation into the matter, which occurred after Winder took part in the AFL/AFLPA Indigenous and Multicultural Players Summit in Victoria last week.
The Eagles are looking to support the 20-year-old where possible, however understand the delicacy of the matter and the ongoing investigation.
Speaking to the media, Simpson said Winder has "a little bit of work to do", with the club "disappointed" in the young forward.
"Not much has changed since we released the statement," Simpson said on Wednesday.
"There's a police investigation, so we can't comment on what happened. Where he sits with the club and the playing group at the moment is that he's still part of the playing group. He just won't be training with the senior squad at the moment.
"He's still got use of the facilities and all those sorts of things.
"We're sorting of heading in this direction while we sort of transition our list and bring some youth in and some excitement, and he's got a little bit of work to do get that back.
"[We're] really disappointed... we still need to look after his health and wellbeing though, and make sure he's okay in that sense but there's a bit of work to do."
Winder was re-drafted by the Eagles just days before the alleged altercation took place, with West Coast delisting the Eaton product before adding him back to their list through the Rookie Draft.
Simpson said the club will likely further assess the situation surrounding their promising forward in the new year, with Winder likely to remain away from the senior group for the finals weeks of pre-season training in 2022.
"These things, obviously when they become so public, he's a young man, so obviously we have to look after both sides of the situation," Simpson added.
"We're an AFL club and we've got standards, but we've also got to look after the person. We'll get through Christmas and then see where we're at and see how he's going.
"...He's a rookie list player, he's 20 years old and he's made a mistake. He made his way back onto the list through his work ethic and dedication to getting fit.
"I know it's a big deal, and it is for him, but we've just got to try and respect the young man that he is."
Winder has played seven games under Simpson since making his debut last season against St Kilda, while he featured in six matches this year, including a three-goal haul against GWS.