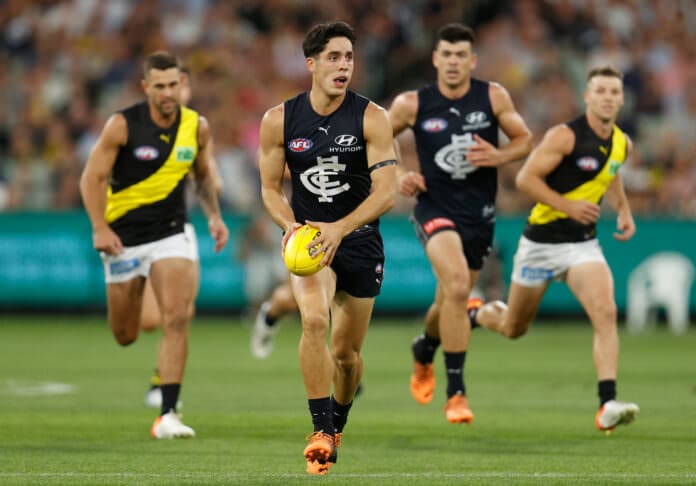 There will be no grand final rematch to kick off the 2023 AFL season, with league fixture makers opting to start things with a bang on back-to-back nights at the MCG.
In a turn back to tradition, long-term foes Carlton and Richmond will do battle on the season's opening night, per reports from 7 News' Tom Browne.
The call comes less than a year after schedulers at AFL House opted to pit Melbourne against contemporary rivals the Western Bulldogs to start the 2022 AFL season.
Yet, with just 58,002 patrons turning out to witness the 2021 grand finalists recommence hostilities on a Wednesday night, the ploy proved a fizzer.
While the promise that the Blues and Tigers will draw a sea of fanatics through the MCG's gates is sure to excite AFL powerbrokers, Browne stated that a double-dose of all-Victorian action was also on the league's agenda, with Collingwood and Geelong locked in the face-off in Round 1.
"The AFL will release the first round of the fixture this weekend and (includes) confirmation that the season won't begin with a grand final rematch. (With) the league reverting to tradition, Richmond and Carlton will kick things off on the Thursday night. Collingwood will play Geelong on the Friday night," Brown told 7 News.
Earlier this year, Carlton and Richmond's Round 1 fixture saw 72,179 supporters flock to the 'G, eventually witnessing the Baggers run away from the Punt Roaders in the final term.
During the opening week of the 2022 AFL Finals series, the Pies and Cats played off before 91,525 supporters - the largest attendance for the year, outside of the grand final.
Stay tuned to Zero Hanger for further fixture leaks, locks and analysis.