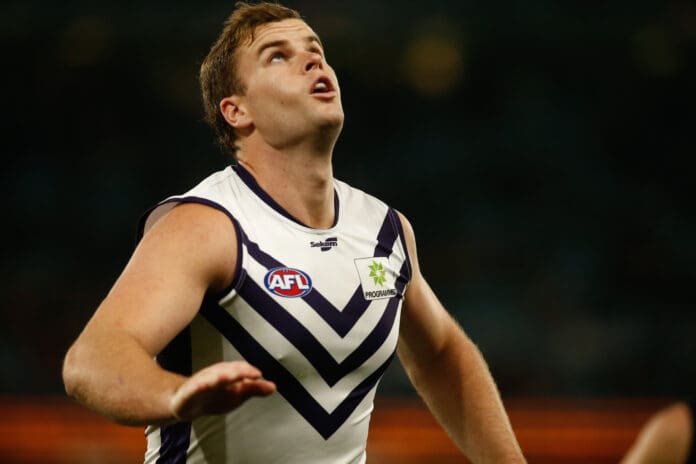 Trade rumours are swirling regarding Fremantle ruckman Sean Darcy who comes out of contract at the end of 2024, with SEN's Tom Morris believing that the Dockers will re-sign him.
Speaking on SEN Breakfast, former Port Adelaide player Kane Cornes expressed his concern for Darcy, whose position in the Fremantle side may be threatened due to the arrival of ex-Demon ruckman Luke Jackson.
"It means that he would feel threatened, I think. Despite his form being really good, Luke Jackson is a ruckman. We saw that on the weekend [against Melbourne] that his best football is as a ruckman," Cornes said.
"They've committed to him, that's the future. What does it mean for Darcy? Could Fremantle look to take him for a first-round pick and inject some more talent through the midfield?"
Fremantle committed to Jackson, signing him on a long-term seven-year deal worth around $900,000 a season.
Tom Morris made it clear that Fremantle has no interest in trading Darcy despite Cornes' call to add some players to bolster their midfield.
"Well, I can tell you this morning that not only will Fremantle not trade him this year, but they are trying to extend him beyond next year," Morris said.
"So they see him as part of their future beyond his free agency year in 2024.
"If they're trying to extend him, they don't want to trade him anytime soon."
Darcy has been performing well as the Dockers' number-one ruckman this year but was subbed off late in the second term. Jackson had to undertake sole ruck responsibilities finishing with 19 touches and a goal.