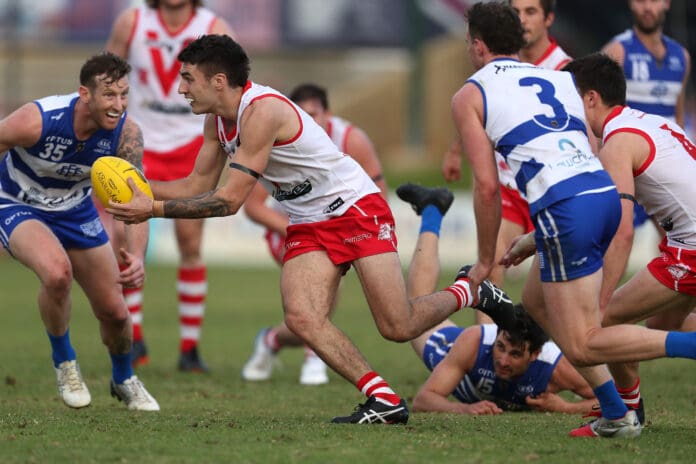 As the late, great Tina Turner would say in her iconic 80's hit, Round 7 was "Simply The Best" of the 2023 season, with four of the five games decided by less than three goals.
From West Perth's third home loss to East Fremantle's stunning second half fending off Claremont all the way and Perth's massive upset over the fancied South Fremantle, this past weekend of footy had plenty.
But just who was the best in Round 7 of the WAFL? Let's find out here.
CLAREMONT VS EAST FREMANTLE [62-80]
The north eastern coastal town of Broome played host to the clash between Claremont & East Fremantle over the weekend.
The Tigers had the upper hand in the main break but a seven goal to four second half saw the Sharks defeat Claremont for the third time in their last four encounters by 18 points to catapult into the top two.
With tall forward Jonothan Marsh absent due to injury, Cody Leggett was instrumental for East Fremantle kicking 3 goals and had plenty of support inside 50 with Dillon O Reilly kicking two majors while pulling in six marks inside 50.
From the middle, Milan Murdock (19 disposals, 2 marks, 5 tackles) and Thomas Bennett (19 disposals, 3 marks, 1 tackle) were vital in getting the clearances out of the centre, while South Australian Fraser Turner made the biggest impact with 25 disposals, 5 marks and 2 tackles.
Claremont's midfield had a massive hole with the absence of 2021 Sandover Medalist Bailey Rogers but fellow medal winner Jye Bolton who was primarily back in the centre saw plenty of the footy with 33 disposals and 7 marks.
Up forward the Tigers had Talon Delacey, Zac Mainwaring and Tyron Smallwood each kicking 2 goals but were not able to capitalise on further chances up forward in the final quarter when the game was in the balance.
SUBIACO VS SWAN DISTRICTS [57-53]
Subiaco remained in touch with the top 3 after grinding out another close victory, this time by four points over the desperately unlucky Swan Districts.
The Swans led at every change but fell behind late in the final term, it all came down to a mark and shot for goal after the siren by Swans forward Tom Edwards, it fell short and the Lions got out of jail.
Once again Subiaco had drivers aplenty from the midfield led by the experience of Zac Clarke in the ruck (48 hit-outs, 26 disposals, 9 marks, 3 tackles) on what would be a day out.
Liam Hickmott (34 disposals, 8 marks) and Max Walters (20 disposals, 7 marks) saw a lot of the ball and were efficient when delivering to their forwards who were again led by the stalwart Ben Sokol who kicked 2 goals where scoring was a major premium.
Despite another heartbreaking loss, Swan Districts had plenty of winners around the ground but none bigger than Aidan Clarke, he was in just about everything at the contest at both ends of the ground, amassing 31 possessions, 5 marks, 1 tackle & 2 goals.
Jarvis Pina also was a key for Swan Districts across half back in restricting the Lions scoreboard pressure, his delivery to the midfield provided the midfielders with ample opportunities, he finished with 23 disposals, 5 marks and 4 inside 50s.
WEST PERTH VS PEEL THUNDER [68-77]
West Perth went into the 2nd half leading by 4 goals but Peel Thunder snatched the game with an amazing second half turnaround to win by nine points and stand alone at the top of the WAFL ladder.
The defeat would mark West Perth's 3rd loss at Pentanet Stadium and for Peel Thunder, it becomes their best start since their premiership years of 2016 & 2017.
They had 16 less inside 50's than West Perth but Peel Thunder's on ball pressure and clearances were huge, led by Corey Wagner who had 33 disposals, 4 marks and 4 tackles and provided plenty of support for Neil Erasmus and Benjamin Hancock who each had 28 disposals and had 7 inside 50's between them.
Up forward, the electric Sebit Kuek was as elusive as ever, kicking another 3 goals to make it 6 in the last two games and with Sean Darcy suffering an injury for Fremantle at the MCG over the weekend, Kuek could be the one to fill the void.
West Perth had Shane Nelson once again in form in the midfield, he was everywhere around the footy (32 disposals, 7 marks, 2 tackles & 11 Inside 50's) and was backed up brilliantly by Nathan Murray (26 disposals, 7 tackles).
Up forward for West Perth, Tyler Keitel proved why he should have been selected in the state team with 3 goals inside 50 but lacked support from his other goal avenues in the second half.
SOUTH FREMANTLE VS PERTH [73-77]
Who saw this coming? Not a lot of fans gave Perth a chance against South Fremantle at Fremantle Oval but a late goal from defender Matthew Taylor saw the Demons shock the Bulldogs by just four points.
The win lifts the Demons to 7th on the ladder, leaping them above the Bulldogs whose 2023 campaign is going from bad to worse following their pre-season salary cap breach and losses to Swan Districts & Subiaco.
South Fremantle's control of the game inside 50 was on par for 95% of the game with former Richmond player Matthew Parker contributing 12 inside 50's to go with his 22 disposals and 6 tackles.
The midfield was led by the returning Jake Florenca who was in form like he never left, 28 disposals, 5 marks, 10 tackles and 5 inside 50's while up forward Zach Strom was the key weapon in the forward 50 with 4 goals from 13 touches.
Speaking of the forward line, the Demons had young gun Jaiden Hunter, a leading Mid-Season Draft prospect, on fire with 5 goals with strong leads and strong marking in front of the one on one. He had solid support up forward with Charlie Thompson's 2 goals telling in the second half.
The Demons' tackling was also impressive on Saturday with key mids Jack Cooley [11] and Charlie Thompson [12] amassing 23 tackles between them. Avery's game was again true to his form with 25 disposals.
WEST COAST VS EAST PERTH [66-140]
Round 7 of the WAFL Finished on Sunday at Mineral Resources Park with East Perth staying in touch with the five by handing the West Coast Eagles another hammering, this time by 74 points.
East Perth broke a 3 game losing streak after winning their first 3 games, they started off strong with a six goal to two opening term.
The Royals midfield looked dominant from the out-set with Mitchell Crowden leading the charge with 31 disposals but also did more around the contest, 5 marks, 3 tackles and 7 inside 50 and capping it off with a fine goal.
Angus Scott also had a touch of class around the ball along with the usual imposing suspects in Hamish Brayshaw (26 disposals, 9 marks, 3 tackles, 9 Inside 50's) and Angus Schumacher (24 Disposals, 2 marks, 4 tackles) once again were the key contributors for East Perth.
Up forward Mitchell Schofield announced himself with 4 goals on what was a good day for the Royals forwards along with Riley Saunders who kicked 3.
The Eagles again had few positives to look at for a possible AFL recall but one of those who did put his hand up was Zane Trew who was again impressive in midfield and in a little stint up forward, he kicked a goal and finished with 30 touches.
There was effort by the Eagles but it did lack the tidy ball use that East Perth exhibited all day but the likes of Callum Jamieson (22 touches) and Campbell Chesser (15 touches, 5 inside 50's) all improved in the second half.