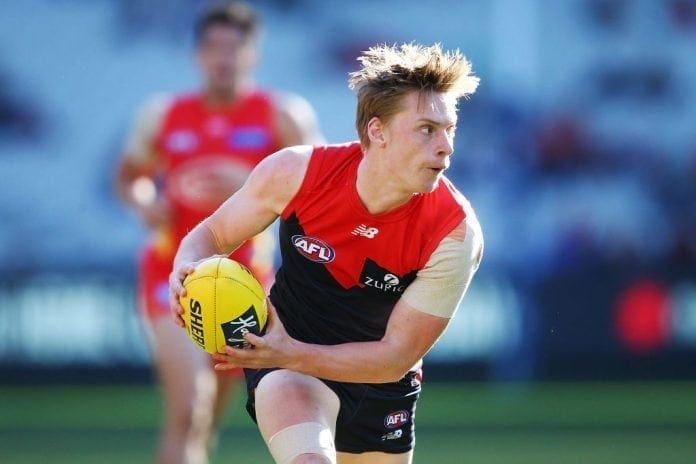 Melbourne conduit Charlie Spargo was forced to exit the Demon's Grand Final week match simulation on Saturday night after sustaining an ankle injury.
The 21-year-old departed Mineral Resources Park prior to the cessation of the intra-club hit-out, but with reports that he was back on his feet by the end of the night, Spargo is likely to lace up the boots again in next weekend's Grand Final.
The Albury-born small forward has played in each of the Redleg's 24 games this season and has proven a vital asset in offense due to his ability to drive the ball into the arc and through the sticks.
The former second round draftee has recorded means of 11.6 disposals and 2.2 inside 50s per week in 2021, as well as a return of 17.15 when shooting for goal.
In further injury news from the Demons' camp, All-Australian full back Steven May's hamstring is reportedly on the mend.
The former Sun completed drills both with and away from the main group, including sprints to test the tendon's health.
"He's slowly building his program up towards his full training come the back end of next week," Simon Goodwin said of his star defender.
"He's in really good shape, really positive about where that sits with him and he's really confident in the way his body's tracking.
"Today's just a stepping stone in that process and we're really confident he'll be right to play."
Fellow hamstrung defender Joel Smith completed lap running exercises with May around the boundary, whilst his preliminary final replacement Michael Hibberd saw out the session alongside many members of last weekend's starting-22.
Despite completing the match practice within the reserves side, speedster Jayden Hunt is also still given a very real chance to return to Goodwin's lineup for the decider.
"I think there's a few guys that come into that mix," Goodwin said.
"We've got Jayden Hunt, Michael Hibberd and Joel Smith, who's got to get through some rehab work with his hamstring first and foremost to be available for selection.
"There's some decisions to be made, no question about that. We've got a lot of training to get through yet before we have to make those decisions, so there's a lot that can happen in that time frame as well."
Melbourne will continue their preparations in Perth this weekend ahead of the club's first Grand Final appearance since 2000.