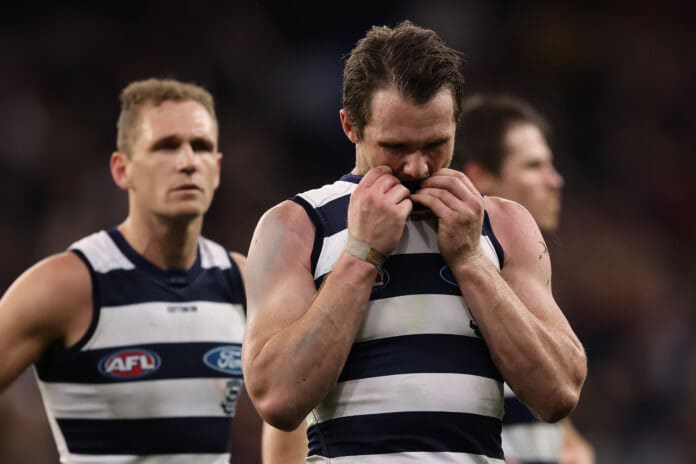 Injured Cat Patrick Dangerfield has claimed his stint on the sidelines will likely be over far sooner than later.
While a corked calf forced the 2016 Brownlow Medal winner out of Chris Scott's selection frame for Geelong's mouthwatering date with the Dockers at Kardinia Park, Dangerfield could well return in Round 8.
The former Crow was also an omission ahead of the Cats' procession like victory over North Melbourne in Hobart over the course of the ANZAC weekend.
With this secondary injury complaint coming off the back of a corked quad picked up earlier in the season, the reasons behind Dangerfield's statistical drop-off have been evident.
Across the course of the 2021 season, the eight-time All-Australian produced an average of 23.2 disposals across his 16 appearances in blue and white hoops.
However, across his hampered, five-game campaign in 2022, this mean has dipped mildly to 21 due to spending more minutes ahead of the ball.
Speaking ahead of the Cats' three-point loss to their visitors, Dangerfield told patrons at Geelong's president's lunch that a return to face GWS next Saturday afternoon was on the cards.
"(I) had a very solid hitout (on Saturday morning) – not very solid – but it was solid enough," Dangerfield stated.
"Should be right to go next week, a few boxes to tick Monday and main training next week but all things going well, should be right to do.
"It was just a bit more of a conservative route this week."
Should the superstar's rehabilitation program outlined by former teammate Harry Taylor during the week yield the correct results, a fit and firing Dangerfield is sure to be thrust back into stoppage action against the Giants.
And with the Dockers proving able to shade the Cats by a 43-38 margin at the coalface at Kardinia Park, the triple-time Carji Greeves medallist will be a welcome addition for the 4-3 side.