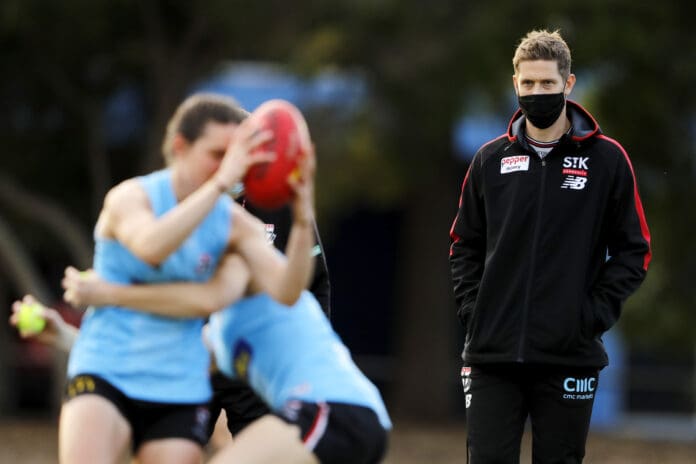 The Saints' tough start to 2022 is set to be compounded, with senior coach Nick Dal Santo to miss their clash with Collingwood due to AFL health and safety protocols.
The Saints went down by 38 points to Richmond in the season opener and would be looking for a more competitive performance against the in-form Pies.
With the absence of key midfielders Georgia Patrikios and Tyanna Smith for the likely entirety of 2022, the Saints continue to search for a plan B
Head of player development and strategy Paddy Hill will act as senior coach over the weekend and will be supported by VFLW senior coach/AFLW development coach Dale Robinson.
"As with everyone at the moment, we have to remain flexible and roll with the punches," Head of AFLW Tessie McManus said.
"Nick will still be heavily involved in our program, albeit off-site for the next few days.
"I have no doubt Paddy will do an excellent job coaching the side this week."
Nick expressed his disappointment but remained optimistic that he can still have an impact and support the acting coaches from a remote setting.
"While this isn't ideal, I'm very fortunate to be able to do much of my role remotely, and I'll be assisting where possible throughout the week and on game day," Dal Santo said.
"We're very fortunate to have some experienced heads in our coaching ranks who I know will be able to coach the side with ease in my absence."
The Saints will travel to Victoria Park on Saturday to face the 1-0 Magpies, with the first bounce scheduled for 3:10pm.