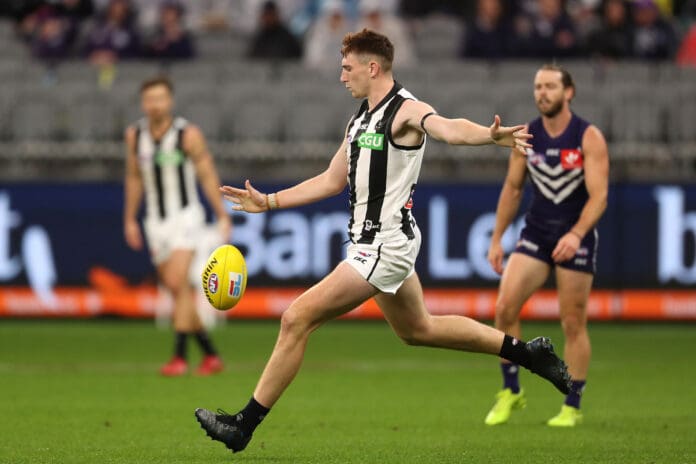 Former Collingwood player Mark Keane has indicated he is open to a return to the AFL. As reported by AFL.com.au, the Irishman walked away from the game just months ago, however it now appears he would strongly consider a return.
Playing five games for the Magpies during his three seasons in the AFL system, Keane chose to return home after battling homesickness over the past two years.
After his best season in 2021, Keane made the shock call to remain in Ireland after returning home for the Christmas break.
Prior to that, he had shown signs he could have a future in the AFL, demonstrating composure and an ability to win the contested ball. However, following two tough years where Covid prevented the chance for him to be home with family, Keane made the tough call.
See Also: Tigers, Pies set to gain Mid-Season Draft boost
Speaking to AFL.com.au this week, he spoke openly about his time in the AFL.
"I'd probably love to come back," he said.
"I still love AFL. I've probably watched every single game so far this year. I've been watching the boys and all the teams. I still kick around here at home.
"It is anyone's dream to go over and play AFL. I definitely wouldn't rule it out to go back and play. Collingwood has been riddled by injuries, so I definitely wouldn't rule it out."
With Collingwood being as supportive as possible, allowing Keane to travel home whenever he requested, the distance proved to be too much. Despite that however, Keane still holds a special place in his heart for the club.
He spoke of having his time again and doing things differently.
"I came back to Melbourne in November for pre-season and I had missed the first couple of days. Then I tested positive for COVID and then I had to do 14 days and then I came out and had about eight or nine days before we were finished up for Christmas.
"Then I decided I'd head back home for Christmas. I probably shouldn't have headed back home for Christmas. COVID was rampant again, so I had to enter another isolation period. My Munster team was in a hurling final so I ended up playing that and missed the first couple of days of pre-season in January.
See Also: Dockers tall linked with Vic clubs
"Then I made the decision that my heart wasn't in it at the time. When I was ready to go back, my heart really wasn't in it. It was unfair on the coaches, the club and the players as well. I decided to stay at home, where my heart was at the time."
Perhaps realising an opportunity missed, the tall defender spoke of how he'd love to be able to help relieve his former club of some of their current injury concerns.
"It's frustrating because I love 'Fly' (Craig McCrae). When I was in isolation in Australia he came and visited me and gave me a package and stuff like that. Then when I came out of isolation I felt like I was playing well in training and was getting my fitness up and felt like I was in for a big year.
"It was a pity that love for hurling and football back home is probably something that Australians just don't get. If you even come over for a weekend in Ireland, you would understand how much it means to your hometown.
"We don't grow up transferring clubs and moving clubs and getting drafted into a team. The team you play for is where you grow up; you can't move; you have to stay there.
"It is frustrating knowing that I could have put my best foot forward if I stayed, could have put a really good pre-season in if I stayed there for Christmas and been available for round one selection. It just didn't go that way unfortunately."
See Also: Bulldogs set to land crucial signature
While nothing is set in stone, the Pies have kept in touch with Keane since he returned home. Just in case.