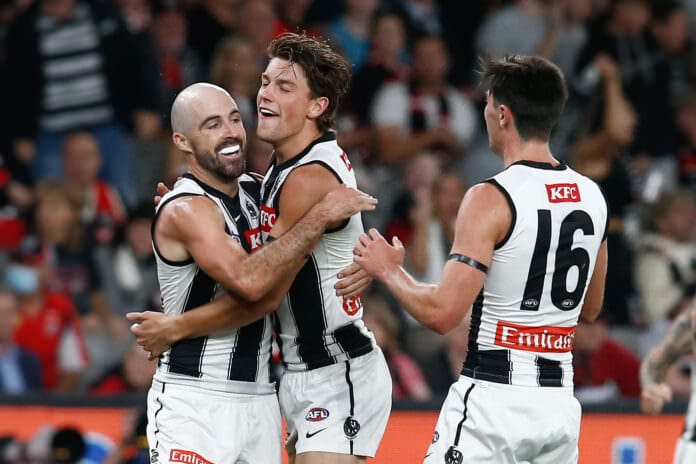 Collingwood enjoyed a season 2022 like no other.
From goals after the siren to record-breaking close wins, an 11-game win streak to reaching a preliminary final.
All of this under a first-year coach in Craig McRae.
It can be seen on the faces of the players that Collingwood seems to be a fun place to be at this moment, and vice-captain Steele Sidebottom agrees.
The Magpies veteran spoke with RSN Breakfast Club on Friday morning, providing some insight into McRae's coaching method.
"He's a ripping bloke, you want to be around him, he's fun to be around," Sidebottom told RSN.
"All his meetings, he starts off with a bit of a theme and tells a little bit of a story. Guys can just be themselves and I think when you're able to do that, that's when you're going to be able to play your best footy.
"It was enjoyable, there wasn't too many times where I was rocking up and didn't want to be there at all.
The 2010 premiership player gives credit to the new face coaching group.
Defensive coach Justin Leppitsch, who has matched the senior coach's light-hearted demeanour, midfield coach Brendon Bolton, who Sidebottom has loved working under and new coach Scott Selwoodplay supporting roles to McRae.
The Murray Bushrangers export further reveals that the Pies' magical run of close wins may have been magic after all.
"He's (McRae) actually got this little magic rock that he carry's around with him all the time, so maybe it's the rock," he said.
"His little daughter Charlie gave him a rock at the start of the year, and he used to just always carry it in his pocket, and after a good win he'd say 'I've still got this magic rock'."
This season has seen Sidebottom take a bit of a step back to allow youth to shine, but his importance to the side remains as significant as ever.
While he hasn't been at his best, a peak that saw him win two Copeland Trophies (2017-2018) and an All-Australian blazer (2018), he feels as if he still provides in other ways.
"There's times where you go through your footy career and you want to go out there and star, kicking four and stuff like that, but for me this year, I had to just make sure I was playing my role," the near 300 gamer said.
STEELE SIDEBOTTOM
Midfielder

Collingwood

2022 SEASON AVG

18
Disposals

3
Tackles

1.6
Clearances
"Doing a lot of work during the week with younger guys and trying to fast track their careers but I guess for me if I'm doing my job than that allows me to then steer others around me.
"Not always been best on every week, you know I certainly didn't have the numbers like before, but for me there's no doubt I had big impact on games without the footy."