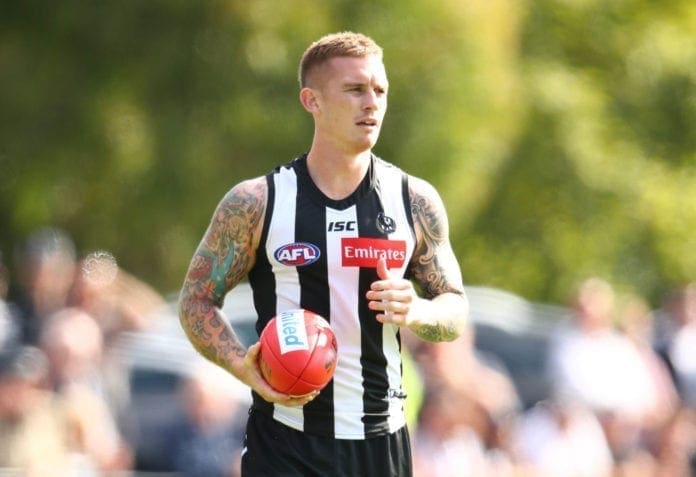 Collingwood star Dayne Beams has opened up on the extent of his gambling and drug addictions in a tell-all interview on the Sacked Podcast.
Beams has not featured for the Magpies since halfway through last season after an ongoing battle with mental health issues.
"I struggled with two things, gambling and the prescription painkillers," Beams said.
"It ends up controlling your life, it really does and then as a result of that, your mental health deteriorates.
"Once you stop you have got a whole lot of work to do to get yourself back on track. The hardest thing to break was the actual prescription drugs.
"They actually cause a change in your brain, the chemistry in your brain.
"(Brisbane) put in a bit of a plan about what was going to happen but to be honest whatever plan they put in place was not going to work.
"I started engaging in some really addictive behaviours to try to deal with the pain I was feeling.
"That's when things started to go really downhill. At that stage I was caught up in some stupid things and wasn't actually feeling anything.
"I thought this is great, this is helping me, but it wasn't. It was the worst thing I would have done because it caused a lot of pain.
"Two years later I feel like I could have handed things a lot differently."
Beams moved to Brisbane in 2014 to be closer to his Dad, who was battling cancer and eventually returned to Collingwood after four seasons with the Lions.
The midfielder opened up on how the loss of his father effected his career.
"I stopped losing passion for footy pretty much when dad died," Beams said.
"It really started to fizzle out in me. The main reason for coming back to Victoria was to try and find that (passion for footy) again.
"It just didn't work out that way. Things happen in life. For me it no longer became a love and everything became really, really hard to do.
"The retirement's been a little bit of a different one.
"It's not like it's been a decision where I've made it and a week later, we've released a statement and people know that I've retired.
"It's sort of been one of the worst hidden secrets. Most people know that I've retired, but it hasn't been official yet."
Beams was a member of the Magpies' premiership side in 2010 and won a best and fairest with both Collingwood and Brisbane.
You can contact Lifeline on 13 11 14 or beyondblue on 1300 22 4636.