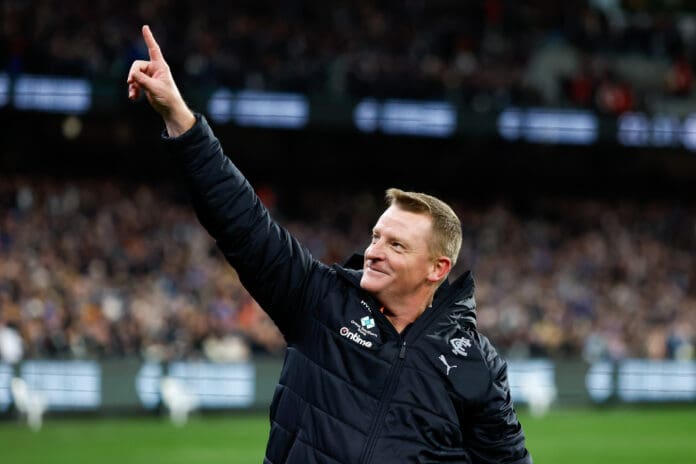 Carlton coach Michael Voss will have a selection dilemma on his hands as the Blues advance to a preliminary final after defeating Melbourne by two points on Friday night.
The narrow and thrilling victory sees the Blues' September path steer them toward the Gabba for next week's penultimate weekend of action, where Brisbane will be waiting to book their spot in the grand final.
The Lions will come up against a firing Carlton side, who have notched up close wins over Sydney and Melbourne so far this post-season to return to a preliminary final for the first time since 2000.
They'll do so with some reinforcements on the way, with star forward Harry McKay (concussion) and livewire Jack Martin (suspension) both expected to return to the Blues' side next week.
While injury concerns regarding Sam Docherty, Blake Acres and Jacob Weitering linger, Voss is confident a near-full-strength list will travel to Queensland next week.
The Carlton coach is set to reflect on Friday's heart-stopping win at the MCG over the coming days, but knows his team will only be buoyed by the incoming McKay and Martin.
"They will both be available," Voss said of the absent pair.
"I haven't thought that far ahead to be honest, other than to say that we made it hard for ourselves at times in that game. Our contest and defence were keeping us in it, but some of our ball movement needs some work.
"Clearly when we were going forward we weren't connecting enough, the skill errors were there and we lacked a bit of connection. We'll have to look at that pretty hard.
"Having 'H' (McKay) up there with Charlie (Curnow) helps us a lot. It alleviates some of the things that he has got to do and he's got a mate down there that can help him out.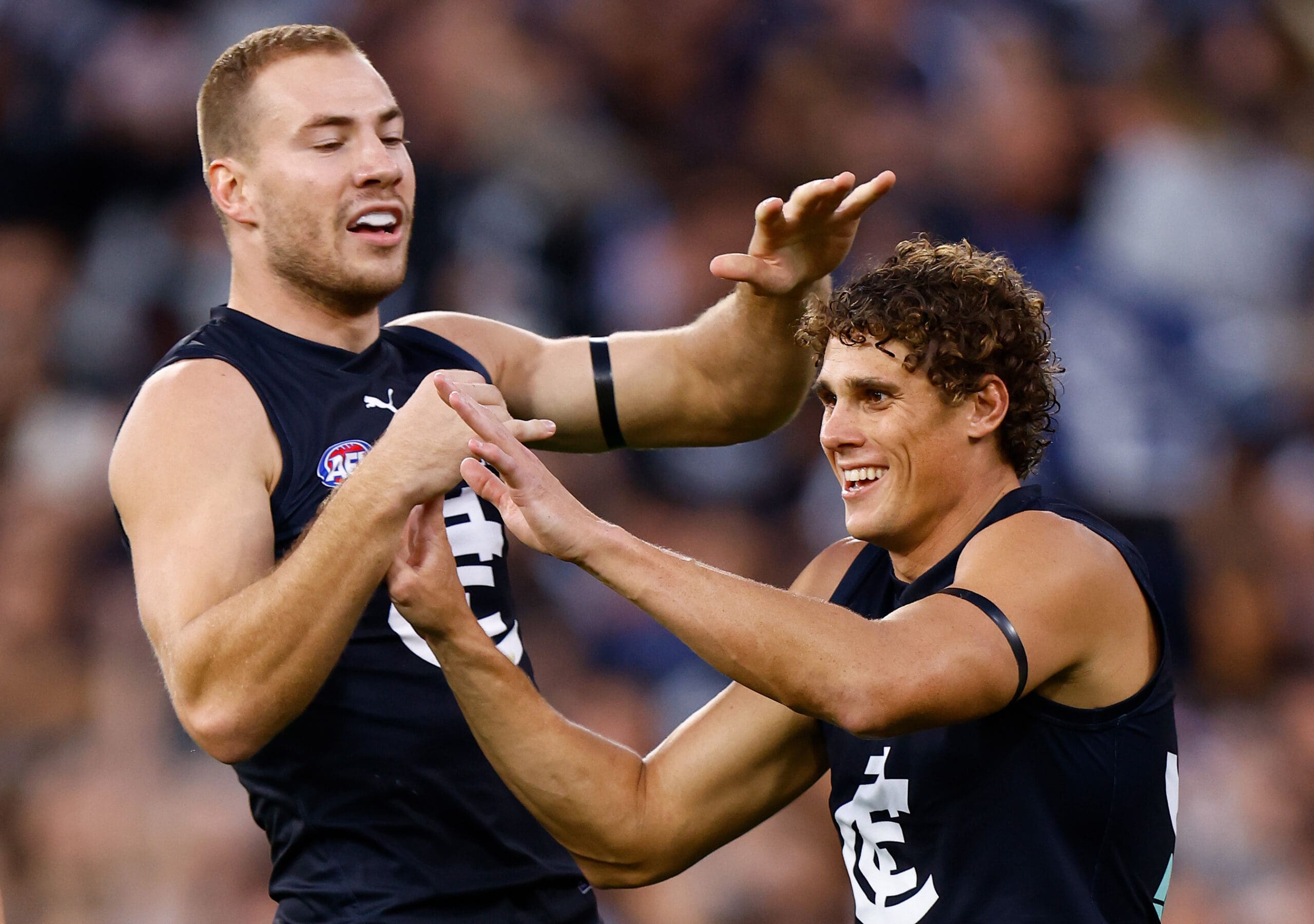 "One thing I can guarantee is if Harry is available he'll be playing."
Friday's semi-final win was littered with crucial moments that would define the game, with recruit Blake Acres stepping up in the final minute to boot the match-winning goal for the second time in as many weeks.
Acres added to his strong elimination final showing to boot two goals against the Demons, offering as much in attack as he did the other way.
"He's been pretty big for us, he's added to our defensive integrity," Voss said of Acres.
"We were specific in looking at what we needed to add to our group at the end of last year, we felt like we needed a real power runner on the outside.
"He values defence first, but coincidentally it was actually two goals that he kicked that helped us.
BLAKE ACRES OH MY GOD!#AFLFinals pic.twitter.com/kpqM0Udcq7

— AFL (@AFL) September 15, 2023
"He's been an incredible addition to our team and he brings a new level of energy, the boys love playing with him."
The man who assisted the game-winning goal was former captain Sam Docherty, who took a contested mark on the wing before breaking away and launching the ball deep into attack and into Acres' hands.
Docherty would play out the match after suffering a dislocated shoulder in the opening half, with the veteran Blue overcoming any injury concern to help steer Carlton to victory.
The courageous efforts of Docherty came with little surprise to his coach, who detailed a half-time discussion the pair had when the game was in the balance.
"He's incredible, it sort of doesn't surprise me with him," Voss said.
"I spoke to him at half-time and said 'what've you got?' and he said 'I'll give you everything I have got'.
"It seems like it actually pulled up not too bad. Obviously we wouldn't have put him back out there if there was too much of a risk, but he was able to strap it up and get back out there and play.
"It certainly won't feel right if we're forging ahead without him, that's for sure. I'm sure he'll get to work pretty hard and get himself right for next week."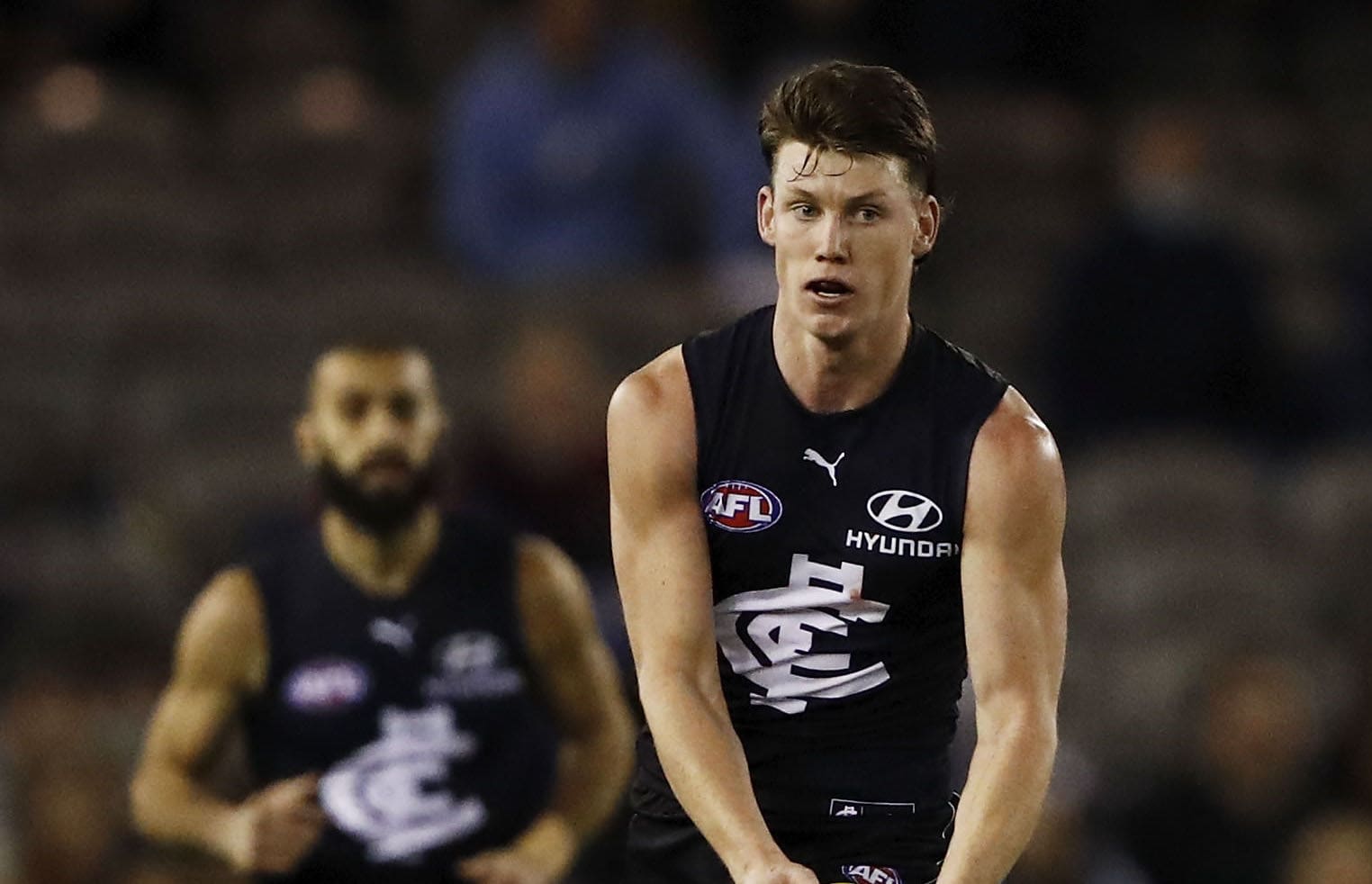 Carlton midfielder Sam Walsh was arguably the best player on the field in the two-point win, recording a game-high 34 possessions and booting two goals in what was a herculean effort from the fifth-year player.
Much like a majority of his teammates, Walsh stood up to the occasion in what was just his second-ever finals appearance, earning the plaudits of his coach.
"He was brilliant," Voss said.
"He was sort of involved in all those little moments. It's amazing how good players just find themselves in those sorts of moments.
"There's been a lot of players who have been waiting and biding their time for this, it's taken some time to get here.
"To be able to walk into a prelim is pretty incredible. To be able to get there from where we were, and the climb we've had to have, this year let alone last year, we'll just absorb it now.
"We'll have a couple of days rest and then we'll somehow turn ourselves back into next week."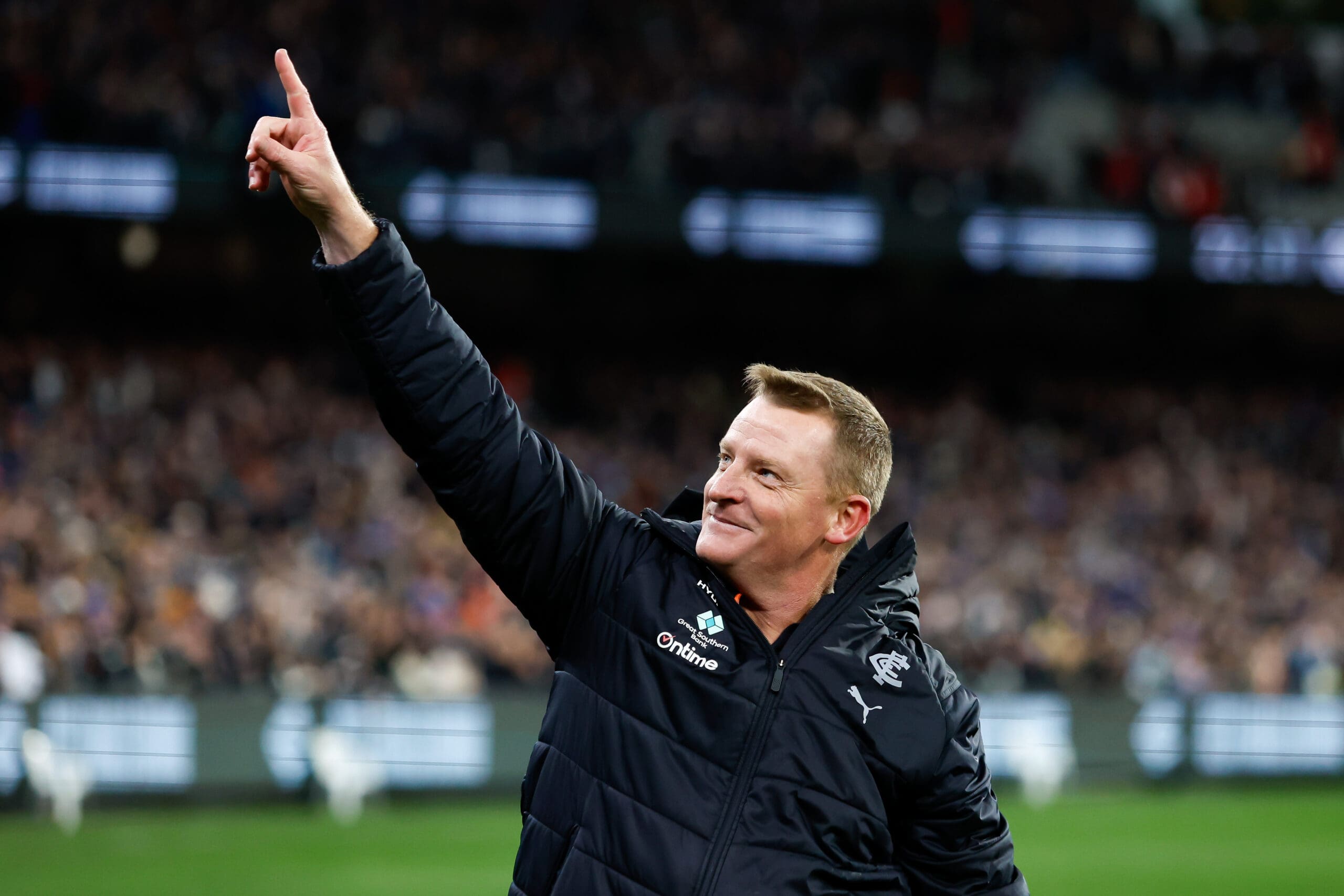 Voss will now face his beloved Brisbane Lions, likely next Saturday, in what shapes as a mouth-watering affair for both sides.
Having mounted a decorated career with the Bears and Lions in Queensland across 289 games before stepping into the Brisbane coaching role in what was a difficult period for all parties, the 48-year-old will return to the Gabba as "a Carlton person".
"It should be exciting," Voss said.
"Without doubt, the person that's going there is a Carlton person."