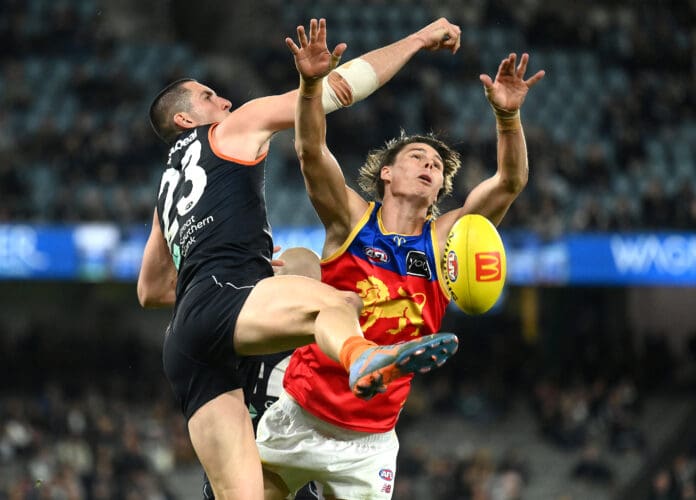 Carlton's Jacob Weitering firms as the Blues' key piece in their push for a September showing this year, with his title as the AFL's best one-on-one defender helping keep the Victorian powerhouse in the fight for finals.
Prior to this season, Weitering had recorded a CDL (contested defensive one-on-one loss) rate under 20.8% in just one of his seven seasons in the navy blue - recording 13 lost contests from his total of 86 for a rating of 15.1%.
This year, Weiteirng has lost just six (10.9%) of his 55 CDOOOs (contested defensive one-on-ones) from his 15 matches, half of which came in Carlton's season opener against Richmond. From Round 2, Weitering has lost just 6.38% of his defensive one-on-one contests.
Weitering has also lost just one of his 35 CDOOOs in his past 10 games for a staggering loss rate of just 2.86%.
For reference, the best loss rating last year among the AFL's top 25 defenders for CDOOOs was Melbourne's Steven May at 10.6%, while the year before the title was held by Weitering's old partner in crime Liam Jones at 11.8%.
Jones' efforts in 2021 came in a year where Carlton's midfield group struggled to defend opposition entries, ranking fifth worst in the league for forward 50s conceded as both Weitering and Jones were forced to deal with the result of the Blues' inefficiencies in the middle.
While Jones may now be wearing the Bulldogs' red, white and blue, Weitering has only continued to mature into a reliable shutdown defender on Carlton's last line, with his most recent performance no exception.
Sunday's win over Hawthorn saw Weitering post his best CDOOO return rate, another clean sheet from a total of six one-on-one contests to go alongside his five intercept marks and nine intercept possessions.
The performance only strengthened Weitering's bid for a maiden All-Australian selection, refining a formidable 2023 campaign under Michael Voss this year.
Weitering's season CDL rating of 10.9% places him ahead of first-year Richmond backman Tylar Young, who is a surprising second-place among the competition's top 25 defenders for CDOOOs with a loss rating of 11.4%.
After Young, Hawthorn captain James Sicily (14.3%) and Adelaide's Nick Murray (14.9%) are grouped together, while there's a 2.1% difference until the next best in Gold Coast's Sam Collins (17.0%).
Among those likely competing with Weitering's for an All-Australian blazer will be Collingwood's Darcy Moore (17.5%), Brisbane's Harris Andrews (20.3%), Suns backman Charlie Ballard (23.4%) and Saint Callum Wilkie (29.6%).
Jones' return to football placed him in the conversation for an All-Australian selection prior to his injury setback, with his CDL rating sitting at a loss for every four CDOOOs he's faced, while Weitering's current defensive partner Lewis Young is placed 23 out of the top 25 overall at 29.3%.
Young is only ahead of the aforementioned Wilkie and Essendon's Brandon Zerk-Thatcher, with the latter sitting last among the top-competing defenders with a poor rating of 37.3%. In seven matches this year Zerk-Thatcher has lost two or more CDOOOs and has only gone four games without losing one.
Defensive partner Jayden Laverde - who doesn't qualify among the top 25 - has managed a loss rating of 40% from his 20 contests in 2023, while there's less concern for teammate Jordan Ridley, who managed a loss rating of 23.5%.
The best one-on-one defenders in the AFL for 2023: 
Top-rated defenders for CDL% among defenders who have faced 34 or more CDOOOs. (CDOOO = contested defensive one-on-ones, CDL = CDOOO losses. Stats via AFL.com.au)