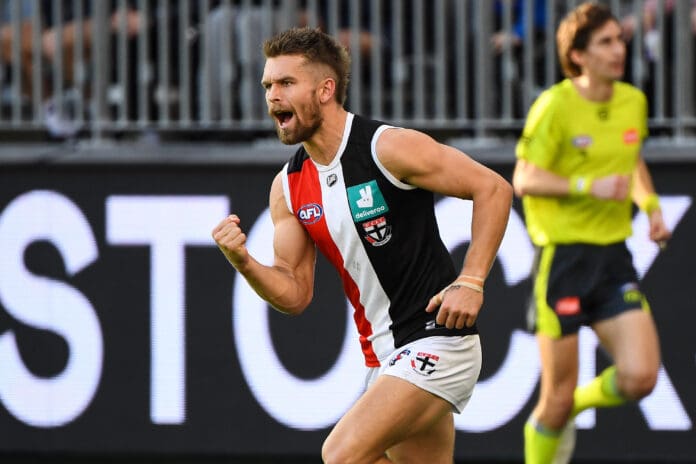 St Kilda small forward Dan Butler has spoken about how he and his parents opened the doors to the family property in regional Victoria to the Saints playing group and staff.
Butler said that the trip away to Bungaree included as many as 70 players and staff and was used as a way to form stronger connections throughout the club.
A night in the shed at the Butler property was a continuation of the Saints commitment to mental health development and team bonding.
Butler told media that it was a special night for all involved given the climate of the last two years.
"It was pretty special," Butler said.
"It's probably the first time in a few years where the players and staff have actually been able to interact as one due to Covid. It was a great opportunity to meet new people in the admin department and connect with them."
Butler said that the group had the chance to reflect on club legend Danny Frawley and learn more about the journey the man known as "Spud" went through prior to his passing in 2019.
"We went back to Bungaree and touched base with our Danny Frawley connection again and had some of Danny's old mates come in and speak to the group," Butler detailed.
RELATED: Spud's legacy is that it's always time to talk.
"We want to build on what we've been working on for the last few years in building that connection.
"It's really important for all the payers to hear what he went through, it was a great opportunity to get together as players and staff and combine as one.
The Butler's were lucky enough to avoid havening to cater for the travelling party with the Saints looking after the food bill.
The speedy goal kicker joked that his parents didn't get off scot-free.
"All up there was probably about 70 players and staff there, it was a lot of work for them (Mum and Dad)."
The Saints have an intra-club game tomorrow afternoon but will be without Dan Hannebery and Paddy Ryder for the hitout.
Butler said both were tracking ok despite their absence.
"He (Hannebery) is coming back so I think he's ok," Butler said.
"He's on his own individual program and needs a little bit more time. Over the next few weeks, he will be back into some solid training.
"Similar to Dan, Paddy is on his own program. He's done enough pre-seasons, this is his 17th or 18th so he knows what his body needs to do to get ready."
Nick Coffield will also miss tomorrows scratch match after he injured his ACL last week, ruling him out for the entire 2022 season.
Butler said the group has been rallying behind Coffield as he heads in for surgery.
"He's getting surgery tomorrow. Obviously, it's a really tough time but all the boys are trying to support him as much as we can," Butler said.