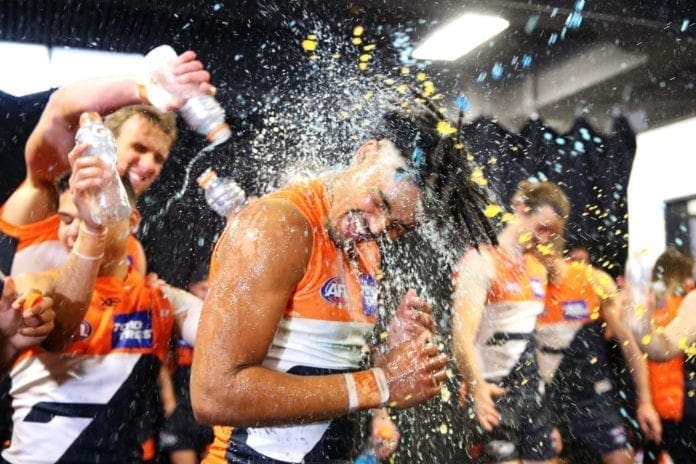 The GWS Giants have received a welcome boost to their defensive stocks with quiet achiever Connor Idun agreeing to terms on a four-year extension.
Idun, 21, first walked through the doors at Tom Wills Oval in 2018 after being plucked with the 61st pick of that year's draft.
While Idun was thrown forward to start last weekend's loss to the Saints in Canberra, it has been in defense that the Geelong Falcons product has begun to carve his legacy.
Since debuting for Leon Cameron's side in Round 20, 2019, the London-born backman has gone on to claim several key scalps throughout his 32 appearances in the orange and charcoal.
After signing on the dotted line to secure his future, Idun spoke with the club's media department, claiming that the environment forged in the heart of rugby league territory was one he was overjoyed to remain a part of.
"It's a real family club," Idun stated

"I know it's easy to throw that phrase around, but I truly feel that the staff, players, and coaches are like family here and that was one of the main things that got me over the line. 
"Everyone here backs me in to just be me, both on and off the field, so it was a no-brainer for me as soon the offer came around."
Having only begun playing our indigenous code at the age of 12, Idun's build towards earning a consistent senior start has been staggered.
But alongside the likes of Nick Haynes and Sam Taylor, the dreadlocked defender's magnet is nigh-on glued to Cameron's whiteboard at the present.
While the rewards are being reaped, Idun delineated that his ability to make the grade was built off the back of the love and support of his surrogate family.
"I think 2020 was a really tough year for everyone, but especially those of us that weren't getting a game, and I guess I was just a bit sick of being a fringe player," Idun said. 
"I had a couple of games late in that year that gave me a bit of a taste that I belonged at AFL level, and I knew that if I put the work in I'd be able to sustain that. 
"It was a tough off-season that year. I had to put the chocolate away and start training a lot harder, and some of the senior players at the club really helped me do that. 

"The club's done nothing but fill me with confidence since I've been here so that made it pretty easy for me to take that next step up."
With the prospect of tackling an in-form Adelaide forward line on Saturday afternoon, it appears near-certain that Idun will recommence his role behind the ball, with a mouthwatering duel between he and rookie Josh Rachele on the cards.
The opening bounce in the latest clash between the expansion sides is scheduled for 1:10 (AEST) at the Adelaide Oval.