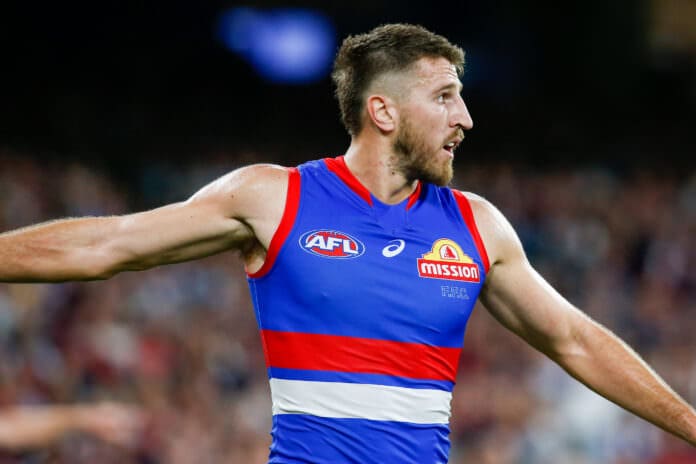 Western Bulldogs Brownlow-contending captain Marcus Bontempelli could be in MRO strife after a questionable bump on Port Adelaide defender Dan Houston on Friday night during the Power's victory at Marvel Stadium.
Houston, who never took possession of the ball, was collected by Bontempelli's bumping action in the second quarter, with the MRO question becoming whether the majority of impact was to Houston's shoulder or head.
Bontempelli with a big collision with Houston and collects him high. Anything to worry about here?

📺 Watch #AFLDogsPower on ch. 504 or stream on Kayo: https://t.co/c5Vwhmfd1e
✍️ BLOG https://t.co/GXwsiZJugF
🔢 MATCH CENTRE https://t.co/tVeE6S0pVv pic.twitter.com/3It04TNtav

— Fox Footy (@FOXFOOTY) June 9, 2023
Speaking to the media post-game, Bulldogs coach Luke Beveridge cited Thursday night's Dan Butler-Nick Blakey incident when discussing the potential ramifications his superstar midfielder could face from the MRO.
"Young (Nick) Blakey hasn't got the broadest shoulders. If he (Butler) is tackling a ruckman, then maybe [Blakey's] head doesn't hit the ground," Beveridge began.
"So you can be a bit stiff depending on who you tackle as well, so there's all those variables.
"But, look, I'm a big believer that when we look at it, and even if we're looking to evolve, is to really focus on if there's any intent to actually hurt a player.
"And it probably should be the civil test, or the balance of probabilities -- 51 percent, no it didn't look like he was trying to hurt him, then I think it's OK because there's accidents in sport.
"But it's a challenge in our game at the moment and the package came out from the AFL around tackles and ultimately, you choose whether you show your players because they're just going to be unlucky if we keep going on the way we are."
Port Adelaide coach Ken Hinkley, meanwhile, praised the precautions taken to enhance player safety but also warned not to "make too much out of" contact between players.
"I think the game has been cleaned up for safety reasons and I think that's a great result and I think we've just got to understand that and we work with that," Hinkley said.
"I think players, you can see it by the week, can't you? You can see the tackle attempts, you can see players being more careful.
"The game is always played quite ferociously, we don't need to make too much out of taking too much contact out of the game because these guys just go crazy at each other – they're pretty brave the way they play."
Butler's conduct was ultimately deemed careless, with medium impact and high contact, and was hit with a one-game sanction on Friday evening.
Any decision on Bontempelli is likely to come on Saturday evening.
The Bulldogs are scheduled to play North Melbourne in Round 14, before having their bye in Round 15.