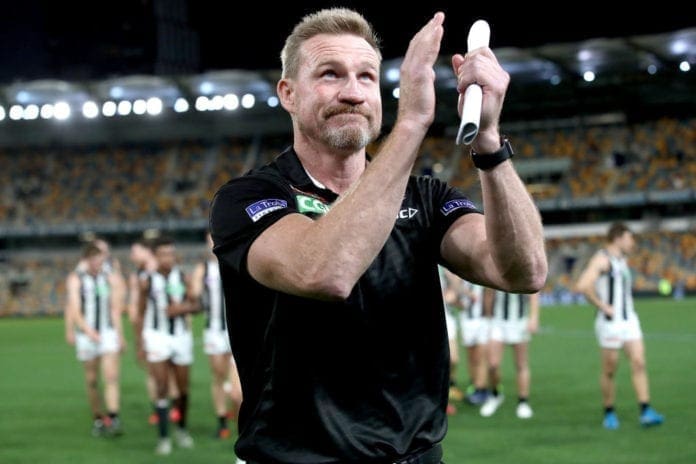 With his 24-year relationship with the Collingwood Football Club now officially over, legendary Magpie Nathan Buckley has wasted no time in explaining his exit from the Holden Centre.
In a tell-all interview on SEN, the 49-year-old revealed that a lack of conviction entering the 2021 season acted as the catalyst for his departure following Collingwood's Queen's Birthday victory over Melbourne.
"I was 'umming and ahhing' at the start of last year at whether I thought I was the best person to lead Collingwood into the next phase," Buckley began.
The seven-time All-Australian and winner of six Copeland Trophies went on to state that his fate was sealed due to the club's powerbrokers holding the same view.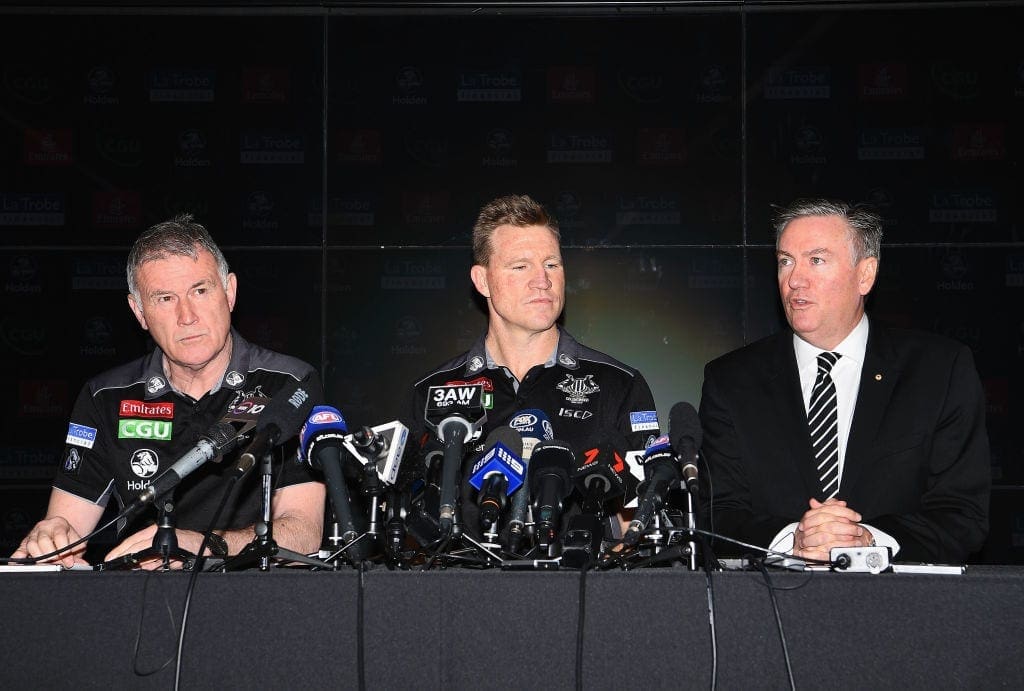 "When it became evident that the other side was probably thinking the same, it was an easy decision to say no," Buckley continued.
"I couldn't put my stake in the ground and commit for the next four years for instance, because I didn't know whether I was exactly the right person or the right fit to keep going."
Now eight months out of the AFL system, Buckley claimed that his choice to part ways with the Woods was "the right decision" and one that he remained at "ease" with.
The Brownlow medallist also expressed that there was no bitterness on his part given the respect that he was shown by former teammates and current club employees.
SEE ALSO: 2022 AFL Season Preview - Collingwood
"I think the club were really respectful, and 'Wrighty' [ex-teammate and current Pies' GM, Graham Wright] in particular was amazing," Buckley said
"He was fresh eyes and had come in and recognised the need for change and had that conversation.
"Obviously, the club just moves on, you don't stay there forever, and it is humbling when you realise that the club is the thing that needs to get the most focus and attention because people come and go but the club will remain.
"That's the way I've always viewed it."
While his relationship with Wright remains intact, Buckley pulled the curtain back further by divulging that he was still yet to speak to Adam Treloar following the midfielder's messy trade at the cessation of 2020.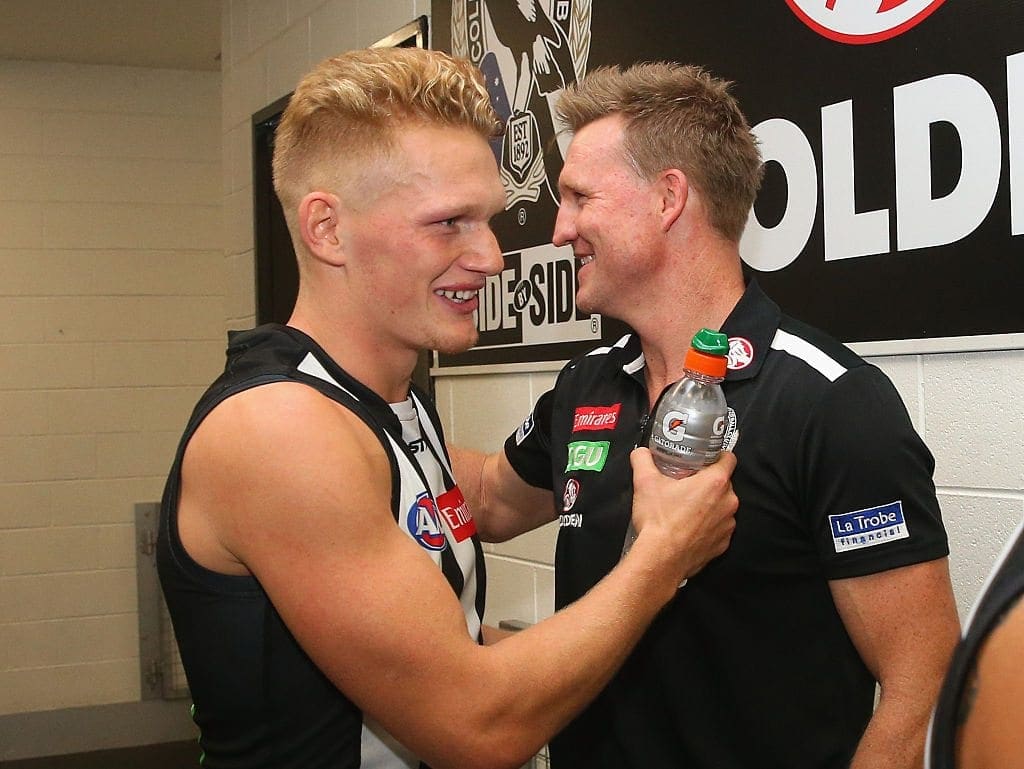 "I still haven't been able to sit down with 'Ads' [Treloar]. Now that may or may not happen. I'd be up for it, but it needs to be something that he's comfortable with as well," he said of the fragmented partnership.
"He's got a full life, a young family, and at a new club full of football commitments. "If and when the time is right. I'd love to connect with 'Ads' again."
Despite lines of communication between himself, former president Eddie McGuire and ex-teammate Heritier Lumumba also lying dormant, Buckley stressed that he had a desire to link up with the pair in the future.
RELATED: The black and white of the Eddie McGuire era
"I haven't had a chance to sit down with Ed [McGuire] since I've moved on and he moved on. The last couple of years with covid sort of made that and I've made myself scarce, but we'll get to that," he said.
With Lumumba residing in Los Angeles and Buckley's past efforts to open dialogue failing to bear fruit, the man who coached and played alongside the premiership-winning Pie was willing to accept that a meeting may not eventuate.
"I'd like to," Buckley said of his desire to speak with and listen to Lumumba.
"But you can't have someone present the way that you want them to. You've got to meet them where they are, and sometimes they don't want to be met. I accept that.
"I have attempted to [contact him]. 'H' is over in LA, he's in a solid relationship, he's got a young boy. I don't know the ins and outs of how he's gone the last four or five years in particular."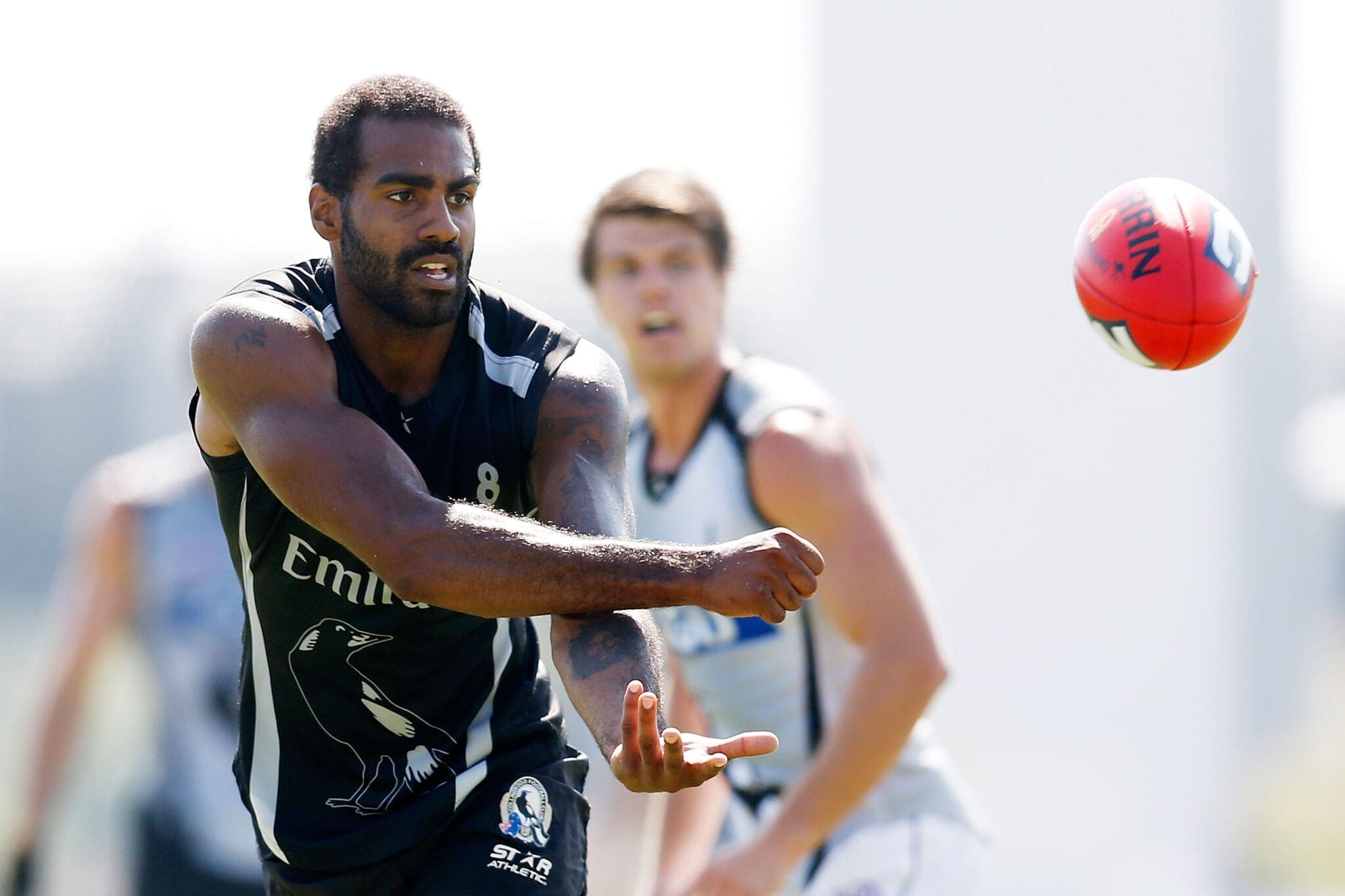 Lumumba has long been critical of Collingwood's approach towards racism found within the club's corridors. And while the side was labelled as "systemically racist" by the findings of the 'Do Better' report, Buckley believed that the black and white side was not alone on this front.
"Every football club, every organisation in Australia, has an issue with systemic racism," he expressed.
"There's still plenty of work to do, but there's no organisation in Australia that is beyond reproach with that.
"There's still a lot of work to do in that space."
Despite 2022 providing Buckley with an opportunity to step back into the media landscape with roles a SEN and Fox Footy, the 218-game head coach claimed that there was a myriad of offers to jump straight into the coaches box at other clubs.
Still, the same lack of desire that saw him cut ties with Collingwood also acted as the reason why Buckley rebuked each offer.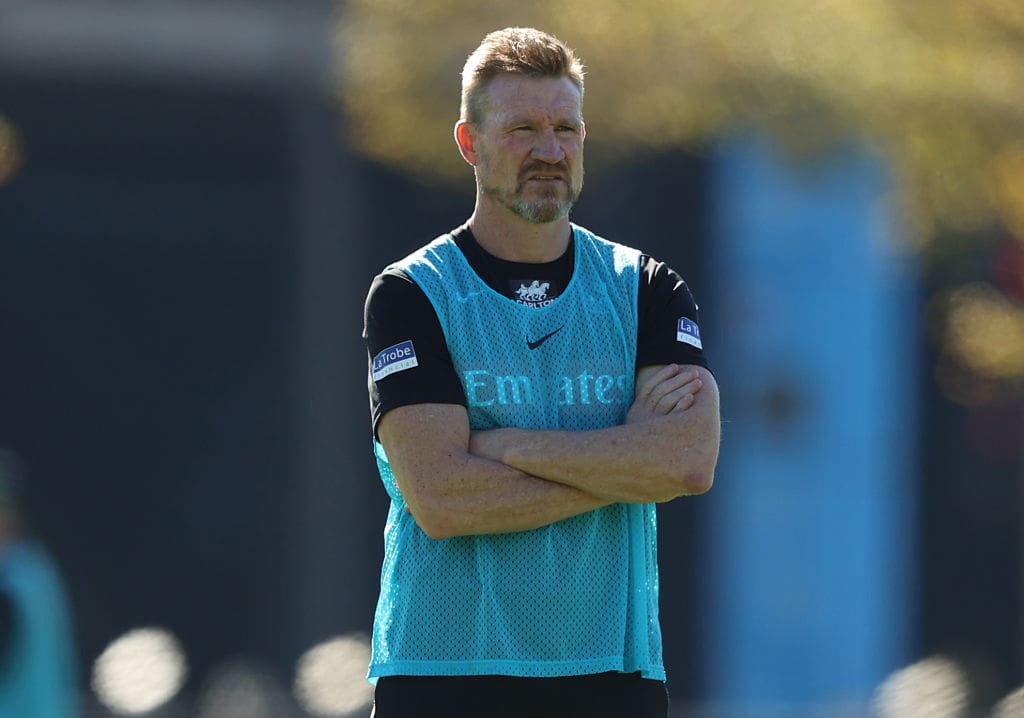 "There was, like immediately," he said of the veracity of overtures from rival clubs.
"July, August last year there were a lot of taps on the shoulder about, 'what about this, what about that', and I had to say hand on heart to a couple of clubs, 'I wouldn't be doing the right thing by you to put my hand up for this because I don't know right now whether I'm right now in the right space to be able to give the people at your organisation and your organisation the best of myself, I need a bit of time'.
"It was really easy to say that, I'm an open door, it's fair to say I'd have a chat with anyone about anything at any time, but it needs to fit and I'm not in a mind to force things."
Buckley's successor Craig McRae and his rebuilding Collingwood side are set to commence their 2022 campaign when they face St Kilda at Marvel Stadium on Friday, March 18.
The Woods will be afforded one final tune-up against the Giants in the AAMI Community Series this coming Sunday.