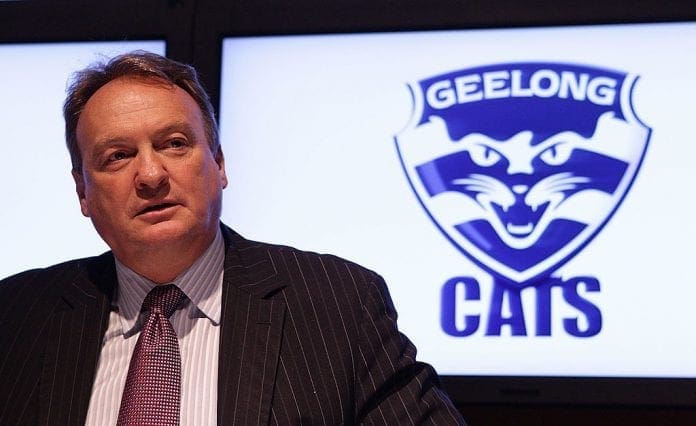 The Carlton Football Club have added a wealth of knowledge to their off-field cabinet with Brian Cook officially announced as the Blues' new Chief Executive Officer.
Cook, who has spent the past 22-years in the same role with Geelong, has filled the vacancy left by his predecessor Cain Liddle's departure and will commence his role in mid-October of this year.
Prior to his decorated tenure at Kardinia Park, Cook also played a leading hand in aiding West Coast to claim the 1992 and 1994 flags - ironically at the expense of the Cats.
Having led major tangible and non-tangible redevelopments in the Pivot City across the past two-decades and change, Carlton President Luke Sayers was of the belief that Cook was the prime candidate to lead the Blues back to glory.
"This is a significant pillar of the Club's 'reset' strategy, whereby our football club is striving to bring in the best available people with strong leadership, who thrive on building and driving a high-performing culture," Sayers said.
"That is exactly what Carlton needs to take our next, significant step, and nobody fits that criteria better than Brian Cook.
"Brian is an experienced leader who, to put it simply, knows what success looks like and more importantly, knows everything that is required to achieve it – on and off the field.
"He has directly overseen necessary changes and driven elite standards to generate an improvement in football performance, ensuring these elite standards are not only met but are sustained over a long period of time.
"Brian has also been the driving force behind GMHBA Stadium's redevelopment and that invaluable experience will be crucial as we move towards completion of the IKON Park Masterplan redevelopment in 2022.
"While our club is in a strong position off the field, we intend to take this to another level, by being proactive and innovative and Brian, as CEO, will play a pivotal role in leading that approach.
"To attract arguably Australia's most highly regarded sports administrator to the position of Chief Executive Officer at our club is significant and from this point on, our plan cannot be clearer and more resolute to achieve the sustained success we are striving for."
With his stint with Geelong ending after the club's calamitous 83-point loss to Melbourne in last weekend's preliminary final, Cook stated that an opportunity for a new challenge with a club of Carlton's magnitude was an offer that could not be refused.
"When Luke presented this opportunity to me, he did so with a clear vision – to make the Carlton Football Club a benchmark in striving for high performance in all areas – the chance to help achieve that for a club with such a massive supporter base, with unmatched passion, this decision was a simple one for me," Cook explained.
"Football clubs are built on its people – its players, coaches, staff, members, supporters and commercial partners – my first focus will be connecting with as many of our people as possible and making sure we are all aligned on how we are going push this football club to achieve the success it is striving for.
"There is no doubt that is going to take a lot of hard work, from a lot of Carlton people. In my experience though, there is absolutely no better feeling than when a group of people come together for one common cause and achieve the ultimate success.
"That thought should get every Carlton person excited for what lies ahead for their football club and we are going to share that experience every step of the way together."
Aside from his wealth of administrative knowledge, Cook will also enter Princes Park with a list of academic achievements akin to those of an emeritus scholar.
With this significant piece of the puzzle in place, Carlton can now turn their full attention to filling the role of head coach for season 2022 - a search that has now extended into its 23rd day.
However, due to professional ties that have been forged since 2011, there is a view that Cook's appointment could help the Blues poach Chris Scott from his contracted post with the Cats.