Former North Melbourne coach Brad Scott has been appointed to a new role in the AFL's revamped Football Department.
Scott has been strongly linked to Carlton's head coaching job in recent weeks but will now continue his career on the administration side of the AFL.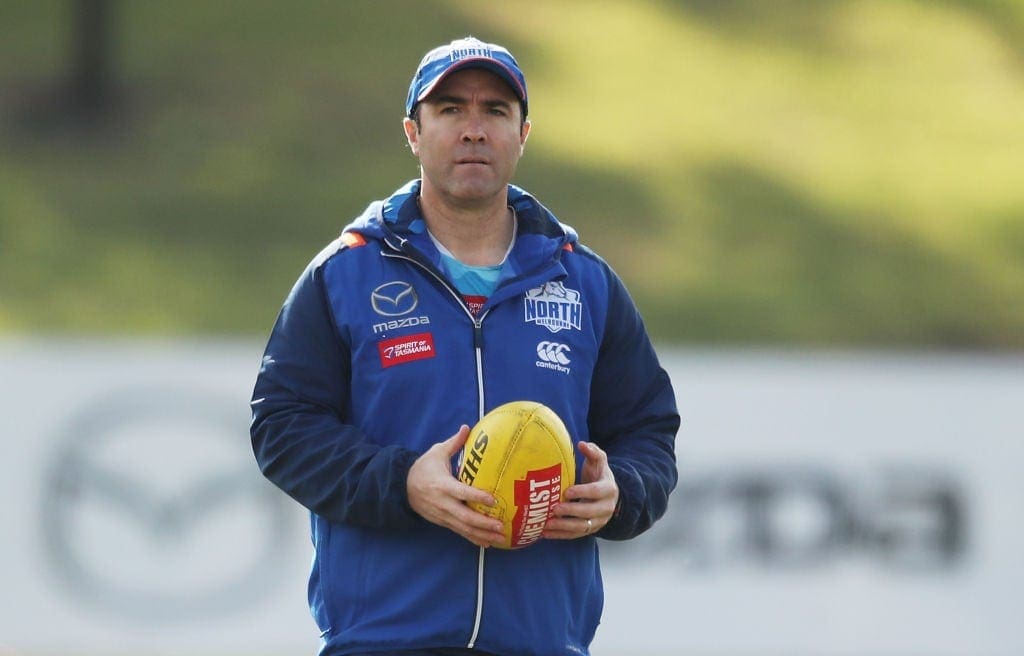 It's not known to what extent the Blues were keen to bring Scott in to the club but he had been seen as the favourite by some in recent weeks.
Scott has been the head of VFL Victoria since 2019 after resigning as Kangaroos coach half-way through his tenth season.
The AFL's Football Department has undergone heavy restructuring this year after general manager of football operations Steve Hocking stepped down in July.
Scott had been expected to take the role left vacant by Hocking, but that role will be left in the hands of Andrew Dillon. Scott will report to Dillon, who was Hocking's interim successor.
Dilon has been appointed as permanent boss of the football department.
The AFL today announced its new-look department with Scott becoming the general manager of football in the AFL.
AFL CEO Gil McLachlan told AFL.com.au he was proud of Scott's development within the AFL.
"Brad's transition from coaching to administrator over the last 18 months has impressed everyone he has worked with, both within our organisation, across the 18 clubs and within community football in Victoria," McLachlan said.
"Brad has first-hand experience in dealing with all aspects of AFL football, from coming through our talent pathway program, to premiership player, assistant coach, senior coach and most recently as an AFL administrator, and his leadership and resilience throughout is what has set him apart."
Among the other appointees, current North Melbourne football operations head Laura Kane is now the general manager of competition management, with Kate Hall (head of mental health and wellbeing) and Nicole Livingstone (general manager women's football) rounding out the team.
"We congratulate both Brad and Laura on their new roles," McLachlan added. "We know they will add great value and leadership to our football operations department and as members of our senior leadership team across the broader organisation."