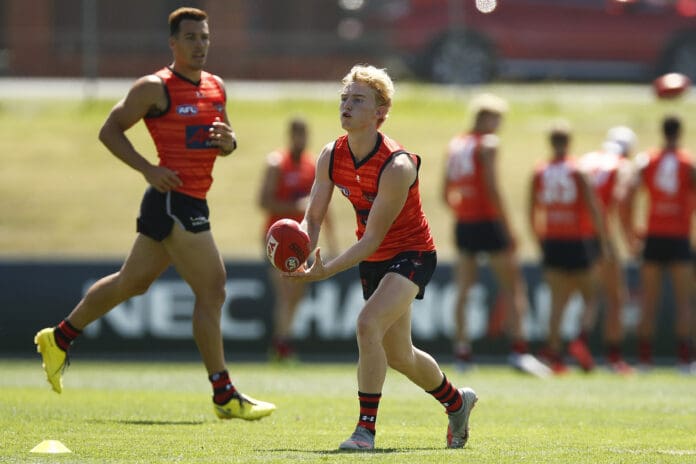 Ex-Bomber Tom Hird is set to commence the latest chapter of his footballing journey with VFL powerhouse Port Melbourne, signing on with the Borough for the 2023 season.
Hird was initially brought through the doors at Tullamarine as a Category B rookie prior to the 2020 AFL season having spent time in both the Netherlands and UK trialling as a professional soccer player.
Despite failing to earn an AFL debut throughout his three seasons at The Hangar, the 21-year-old became the fourth Hird to walk Essendon's halls, following in the footsteps of his legendary father, James, grandfather, Allan, and great-grandfather, Allan Snr.
In a Tweet posted by the Port Melbourne Football Club on Friday evening, the Borough welcomed Hird to their fold, hinting that a post off half-back could be on the cards in 2023.
Welcome to Port Melbourne, Tom Hird!#BornAndBred pic.twitter.com/HiLU85BYVj

— Port Melbourne FC (@PortMelbourneFC) November 18, 2022
Hird will now be afforded a chance to claim premiership glory with another footballing titan, with Port already holding a league-leading 17 flags to their name.
Weighing in at just 76kgs ahead of the 2022 season, Hird's light frame was reminiscent of his father's during his fledgling 'Baby Bomber' days. The sight of another Hird wearing the No.49 guernsey also acted as a sight for sore eyes at Bomberland.
Hird donned the sash on 28 occasions for Essendon's VFL outfit, ending 2022 with an average of 13.9 disposals throughout 18 appearances.
The old-fashioned utility hit his peak during the Dons' Round 5 fixture against Collingwood, collecting 27 touches and slotting 2.3 in his side's heavy defeat at Windy Hill.